As long as the right technology stack is used and adapted to your job requirements, virtual onboarding can result in high efficiency. Remote working has become a popular choice among companies around the world, large and small, amid the pandemic of COVID-19.
The pandemic has made the power of flexible remote work a global focus. Several enterprises have been testing out this virtual onboarding arrangement for some time now. The world of today is becoming increasingly technologically advanced.
Consequently, people embrace remote boarding or working and onboarding processes as we continue to adapt to the "new normal". This page will provide you with a detailed description of what virtual onboarding is all about. You will learn what remote employee onboarding is, its benefits, and what its shortcomings are.
What is Virtual Onboarding?
Virtual-onboarding is a concept that is quite new. As with a traditional onboarding process, this virtual onboarding plan involves video conference tools, online resources, and webinars; however, the onboarding takes place virtually. New employees have eased into their new job thanks to such easy-to-understand onboarding procedures.
The same company never uses the same terms and conditions repeatedly. Virtual or remote team onboarding is an effective tool to help organizations continue their work during the COVID crisis. To find out anything about the company, newly hired employees previously had to ask their old colleagues working there for decades.
Many companies are implementing remote onboarding processes so that freshmen can access online resources, tutorials, employee purchase program benefits, and interactive videos from a laptop during various onboarding stages.  
Challenges of Virtual Onboarding
Unlike many other activities a company performs, virtual onboarding appears to be quite straightforward at first glance but is one of the most challenging to manage. Below are some of the most frequent obstacles businesses encounter:
1. IT issues and logistical errors
Assistance is needed whenever an employee needs a laptop computer, an ID card, or a first-time login. An organization must ensure the comfort and support of users when working within a virtual environment. Do employees have access to sensitive information using their own devices or remotely from outside locations?
It may be advantageous for you to assign remote IT assistance to employees who have difficulty accessing important company documents and project-related documents. They can help them with any questions they may have.
2. Coordination gaps
HR cannot spend the entire day on a video call with new employees because of communication gaps. It is not uncommon for new employees to have a lot of questions; address them while training remote employees.  
3. Instilling conduct codes and work culture
Every organization has a different work culture and set of core values, which can be seen in the environment when employees are working within the organization. When people work remotely, it is hard to achieve the same feeling.
4. Online training planning
The provision of online training and support to new employees becomes simplified and easier if you have a well-designed onboarding process in place. This helps employees feel comfortable and make sure they are up-to-date on their work.
5. Confusion over job role
An employee will not become familiar with his role by simply learning about the tasks and responsibilities. Training programs assist new hires in understanding their roles as effectively as possible. The new employees are often left with many questions unanswered in online meetings. The effects of this can affect employees' perceptions of what they have to do.
6. No human connect
An employee could have made a great impression on the management in the same onboarding meeting; however, this human connection is missing with remote onboarding. For many people, starting a new job can be an exciting experience, especially for people who have just graduated from college. There is a bit of resentment toward the virtual onboarding process because the event doesn't feel as special.
7. Prompt communications
Keeping new employees informed of what's to come is key to making new workers feel comfortable. Exactly what does the new employee need to do to be prepared? What resources are available to them? Onboarding tools make it easy for users to communicate timely, something that is very important.
8. Handling multiple digital documents
Right now, you can start taking advantage of technology. Digitally initiating some of the forms and processes before employees are onboarded is a feasible option. We will produce a seamless onboarding process by collecting and processing certificates, digital signatures, and approvals when required online.
Virtual Onboarding Process
Initiation
During pre-onboarding, which happens between the time a candidate accepts your offer and the time they join, the first phase of virtual onboarding begins. Your candidates are in the most uncertain of times since they don't know where the future will take them. Pre-onboarding should include the completion of all paperwork.
As they may still be working at their previous employers, give them enough time to complete their exit tasks. Learn if they are relocating before you offer assistance. Alternatively, you can give them a brief overview of how your organization works and what to expect on their first day by sending a document or video.
Welcoming
An orientation session is usually scheduled in the second virtual onboarding phase to help new employees adjust to their new workplace. As simply as possible, begin the day. When you are orienting new employees, demonstrate how your work aligns with the company's organizational culture. Talking about time off rules, medical insurance, and salaries, for instance, would be appropriate. It would be best if you directed them towards parking, cafeterias, and medical facilities whenever possible.
Training
A successful new hire's success in their job is directly correlated to how well they are trained during onboarding. If training is not formalized, your employees are unlikely to be ready for success. Therefore, they may feel dissatisfied and tend to leave the company. Learn how to use your Learning Management System before employees begin training as part of your virtual onboarding template.
Your new hires can choose between blended learning, self-paced learning, microlearning, and other styles of learning to suit their preferred learning style. Ensure that all onboarding learning materials are in a location where they can be easily accessed and referenced. 
Transitioning
Towards the end of the remote onboarding checklist, employees will transition from their role as new hires to that of full-time employees. Make sure new team members understand their responsibilities by encouraging your managers to lay out clear expectations. Establishing smart goals can help employees see what quality, effectiveness, and productivity at work look like. You could conduct a performance review after a month or quarter to acknowledge their efforts so far and assist them in improving their performance.
Autonomous Bulk Order Program
Autonomous Bulk Order Program is a groundbreaking program of Autonomous - your gateway to seamless and efficient office furniture procurement! At Autonomous, we understand the unique needs of businesses aiming to create productive and inspiring work environments without the hassle of managing individual orders. With our Bulk Order Program, you gain access to a streamlined and cost-effective solution for acquiring top-quality office furniture in large quantities.
Whether you're furnishing a startup, a rapidly growing company, or a well-established enterprise, our program is designed to cater to your specific requirements. Explore an extensive selection of ergonomic chairs, height-adjustable desks, storage solutions, and more, all crafted to enhance comfort, productivity, and wellness in the workplace. Experience unparalleled convenience and professional support from our dedicated team, ensuring a smooth and effortless process from order placement to final delivery.
Elevate your office furniture sourcing experience with the Autonomous Bulk Order Program today!
Summary
In conclusion, virtual onboarding is a dynamic and transformative process that has revolutionized how organizations integrate and nurture their new employees remotely. Dispelling the myths surrounding virtual onboarding, it has proven to be just as effective, if not more so, than traditional in-person methods. By leveraging innovative technologies and fostering strong communication, companies can create a welcoming and engaging virtual onboarding experience for their new hires. Embracing this approach opens doors to a broader talent pool, increased flexibility, and enhanced productivity in the modern workforce. As we continue to adapt to evolving work dynamics, virtual onboarding emerges as a powerful tool, driving success and growth in the ever-changing landscape of the professional world.
Video ads for product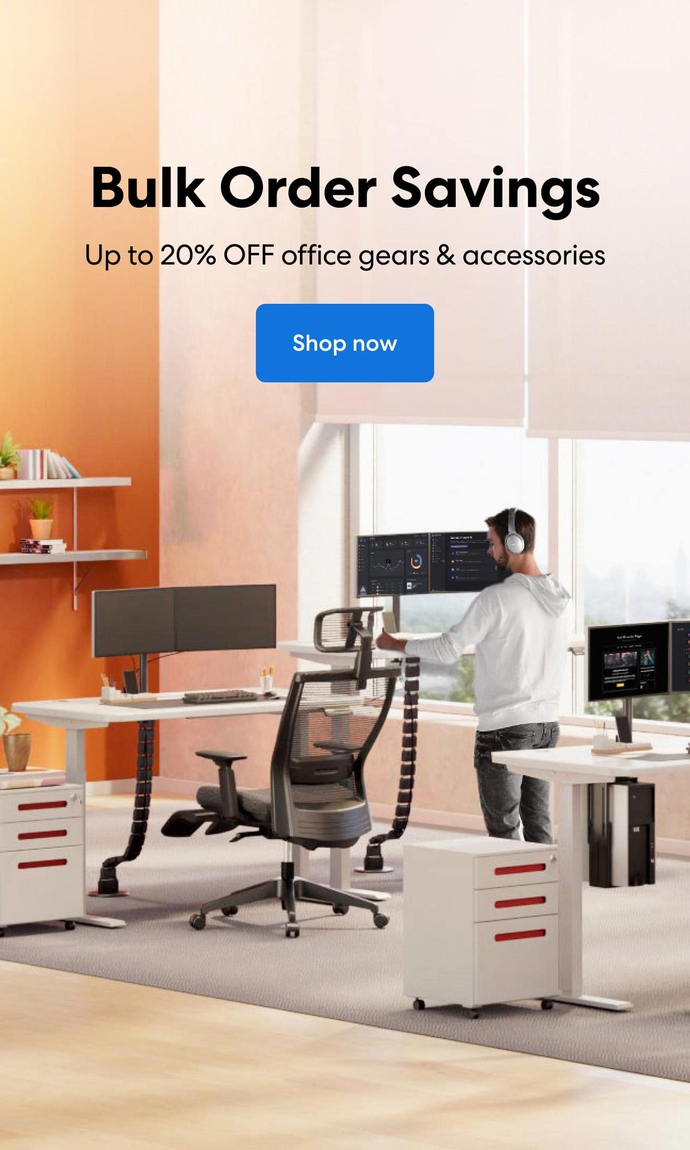 Subcribe newsletter and get $100 OFF.
Receive product updates, special offers, ergo tips, and inspiration form our team.