Smart Products
Top 20 Best Walnut Desks of 2023: Ratings and Reviews

Autonomous
|
Feb 12, 2023
1,005 Views
Are you looking for a stylish and functional desk for your home or office? Look no further than a walnut desk!  
Thanks to its rich, warm tone and timeless aesthetic, a walnut desk is a versatile piece of furniture that can elevate any workspace. With so many options, how do you choose the best one?  
This guide will walk you through the key factors when selecting the perfect walnut desk for your unique needs and style preferences. Get ready to upgrade your workspace and create the ultimate productive oasis! 
Walnut Desk Buying Guide
Here are the things you need to consider before buying walnut office desks. 
Size and Space Requirements
When choosing the best walnut desk, it's essential to consider the size of your office and the available space.  
Walnut computer desks come in various sizes, from small desks for home offices to significant executive-size desks for corporate offices. Consider the type of work you do and the amount of desktop space you need. 
Style and Aesthetics
Walnut executive desks are available in various styles, such as traditional and modern, and come in multiple finishes. When choosing a style that will suit the rest of your décor, examine the other furnishings in your office.
Product Features
You also need to take into account product features such as storage space, adjustable shelves, and cable management solutions when looking for a walnut executive desk.  
Ensure the desk has enough storage space and adjustable shelves to accommodate your computer monitor and other office supplies. Look for desks with cable management solutions to keep your cables organized and out of sight. 
Considering these factors, you can choose the best walnut desk that fits your needs and enhances the look of your home or office. 
Top 20 Best Walnut Desks You'll Love
Here are the top 20 walnut office desks that you can choose from. There are 20 different options here, so take your time, review every feature, and go for the option that best suits your needs! 
1. Autonomous SmartDesk Pro
This height-adjustable smart desk is the solution for those who demand more range and power in their workspace.  
With a customizable height range of 26.2 inches to 52 inches, you can find your perfect ergonomic setting to enhance your comfort and productivity.  
The desk features four programmable settings, allowing you to personalize your experience with the touch of a button. 
2. Autonomous SmartDesk Core
The essential standing desk is a powerhouse of productivity and wellness. With its sturdy solid steel frame and powerful electric dual motor, it effortlessly lifts to 265-270 pounds, making transitions from sitting to standing and back smooth and effortless.  
This desk has a two-stage frame, ensuring a stable and secure height adjustment. With its ability to increase energy levels, reduce fatigue, and improve posture, this home standing desk is the perfect solution for anyone looking to enhance their all-day productivity and well-being.
3. EUREKA ERGONOMIC AED 72 inch Standing Desk with Keyboard Tray, Walnut
A desk area of 72x23.6 inches accommodates your music, studio, or live streaming equipment, gaming gear, and printers, while you still have ample room to move. Made of smooth carbon fiber texture, it is water- and heat-resistant.
Advanced Dual Motor system generates enough power to lift the table smoothly, evenly, and quietly. Adjustable height ranges between 29" to 48", ideal for any adults. Single- and Multi-Color Lighting with 6 RGB colors and 1 white lighting option for daily use. Built-in Light Controller helps you switch from battling to working mood easily.
4. FinerCrafts Desk: Curved Top
Elevate your workspace with a premium automated standing desk that sets the bar for quality and style.  
With a powerful dual motor frame and a sleek, one-piece, ergonomic desktop, this desk is the epitome of efficiency and comfort. Choose six color combinations to match your style and make a statement in your workspace.  
5. FENGE 2-Tier Standing Desk: USB Ports and Tablet Stand
Experience the ultimate height adjustability with this 55-inch desk. The desk has three programmable settings, allowing you to personalize your work environment with the touch of a button.  
Stay connected and charged with the built-in USB charging port, making it easy to stay powered up and productive. The upgraded electric motor is powerful and quiet, operating at 49 decibels. 
6. FENGE Electric Desk: 2-Tier Desktop
Transform your workspace with a height-adjustable desk from 32.2 inches to 52 inches, offering unparalleled customization and comfort. 
The 2-tier standing desk is designed for ease of use, with a quick 15-minute installation process so that you can get back to work in no time.  
These three programmable settings allow you to personalize your work environment and find your perfect ergonomic position with just a touch of a button. 
7. Northread CompactDesk: Programmable Keyboard
With a height-adjustable range from 26 inches to 46.7 inches, you can easily switch between sitting and standing positions, helping to reduce the risk of aches and pains associated with prolonged sitting.  
This desk with a grommet hole has four programmable settings, allowing you to easily personalize your work environment and find your perfect ergonomic position.
8. Skyline Decor Disa: 2-Drawer
Bring sophistication and style to your workspace with a modern mid-century desk that will turn heads.  
The walnut wood finish adds a touch of warmth and elegance, while the two drawers provide ample storage for your office essentials.  
However, the angled solid wood tapered legs create a sleek, modern silhouette, and the metal handles offer a touch of industrial chic. This desk requires assembly, giving you the satisfaction of building your piece of furniture. 
9. Skyline Decor Pull-Out Keyboard Tray and Three Drawer Pedestal Desk
Bring a fresh and modern look to your workspace with a contemporary-style desk designed for form and function.  
The white laminate finish creates a clean and crisp look, while the sliding keyboard tray provides a comfortable and ergonomic typing experience.  
This three-drawer pedestal includes an open storage compartment, allowing you to keep your office essentials organized and within reach.  
10. Skyline Decor Carine Desk
Make a statement in your workspace with a modern and contemporary desk with a touch of warm elegance.  
The wenge brown finished wood is beautiful and durable, creating a unique and inviting environment for your work or study.  
These three pull-out drawers offer ample storage for your office essentials, and the horizontal slatted design on the drawer faces adds a touch of style.  
11. Skyline Decor Dark Grey and Walnut Brown: Storage Desk
Experience the perfect blend of style and functionality with a desk crafted from engineered wood and finished in a beautiful two-tone color scheme of walnut brown and dark grey.  
With three shelves and a spacious compartment behind doors, this desk provides ample storage for all your essentials. The silver-tone polymer handles add a touch of modernity and elegance.  
The angled polymer legs complete the look, giving the desk a unique and stylish appearance that sets it apart from the rest. 
12. Skyline Decor Delta: Writing Desk
Bring warmth and elegance to your workspace with a desk made from high-quality composite wood and finished in a rich walnut hue.  
The transitional furniture style seamlessly blends traditional and modern elements, making it a versatile choice for any decor. 
13. Trio Supply Expandable Desk
This desk is part of the Cassa Collection and can be purchased as a standalone piece or as part of the set. Made from heavy-duty engineered wood, this desk is durable and stylish.  
It features two convenient storage drawers and an open-back bottom shelf, allowing you to store all your essentials and keep your work area clutter-free. 
The expandable design of the walnut computer desk provides ample desktop space, so you can quickly spread out your work and tackle any task.  
14. Techni Mobili L-Shaped Desk: Storage and Hutch
This is the ideal solution for expanding your work area. Overall, this walnut L-shaped desk combines an industrial aesthetic with a touch of rustic charm.  
Boasting a wood-grain finish and metal accents, it features an elevated hutch and two handy pull-out drawers, offering ample storage for all your office essentials. 
Supported by a sturdy powder-coated steel frame, these L-shaped desks are built to withstand the demands of everyday use. 
15. Skyline Decor Clifton: Desk Computer
This desk showcases a unique and contemporary design that will go great with your home furniture, featuring a perforated lower frame for an added touch of style. The silver powder-coated frame finish adds to its overall sleek appearance and durability.  
It is equipped with self-leveling floor glides for added stability, making it a suitable choice for any workspace. The desk also comes with a one-month warranty for added peace of mind.  
16. Skyline Decor Walnut Brown: Computer Desk
Introducing a sleek and sophisticated desk designed with a modern workspace in mind. Expertly crafted from engineered wood, this desk boasts a warm and inviting brown walnut finish that will elevate any office or study space.  
Boasting 10 side shelves and one middle shelf, you'll have ample storage space for books, files, and other essentials, so your workspace stays organized and clutter-free.
17. Skyline Decor Walnut Brown and White: Computer Desk
A contemporary and stylish walnut executive desk designed to elevate your workspace features a two-tone finish of white and warm walnut brown on engineered wood construction.  
Its spacious rectangular desktop is complemented by 10 shelves, offering ample storage and display space for your belongings.
18. Skyline Decor Black Metal Desk and Brown Wood Storage
The desk in question showcases an innovative design that combines metal, engineered wood, and PU paper to offer a perfect balance of durability and aesthetic appeal. Its construction is a testament to the manufacturer's commitment to quality and craftsmanship.  
Its two-tone finish of warm walnut and sleek black provides a bold and stylish look that will leave a lasting impression on anyone who enters the room.  
It also has two open storage compartments and a drawer, providing ample space for all your office essentials.  
Whether you're looking for a functional and stylish workspace for your home office or need a desk that can accommodate all your office supplies, this desk has you covered.
19. Skyline Decor Walnut Wood: Black Metal Shelves
This walnut executive desk stands out with its distinct openwork metal frame, giving it a modern and minimalist look that is ideal for today's contemporary work environments.  
Its open shelves offer ample space for all your essentials, allowing you to keep everything organized and within easy reach.  
Additionally, this desk has the added advantage of being wall-mountable, allowing you to customize your workspace to your specific needs and preferences. This feature can maximize your desktop space or create a chic home office setup.
20. Eureka Ergonomic Standing Desk: Hutch and Double Drawers
Transform your workspace into a multi-functional hub with the innovative height-adjustable desk.  
Designed with ergonomics in mind, this ergonomic desk with drawers and built-in USB ports, allows you to keep your essentials close at hand while you game or work.  
The unique design provides ample room for your work area and puts you in control, allowing you to switch to different heights according to your posture, which helps to protect your neck and keep you healthy throughout the day. 
Final Thoughts
Choosing the suitable walnut executive desk for your home or office is a process that requires careful consideration. You need to consider size, style, functionality, and budget factors.  
With so many options available in the market, it can be overwhelming to make the right choice. However, by keeping your needs and preferences in mind and doing your research, you can find the perfect walnut computer desk that not only meets your functional requirements but also enhances the aesthetic appeal of your space. 
Make a wise investment in a beautiful and functional walnut desk and create an inspiring and productive environment for your work and leisure.
Video ads for product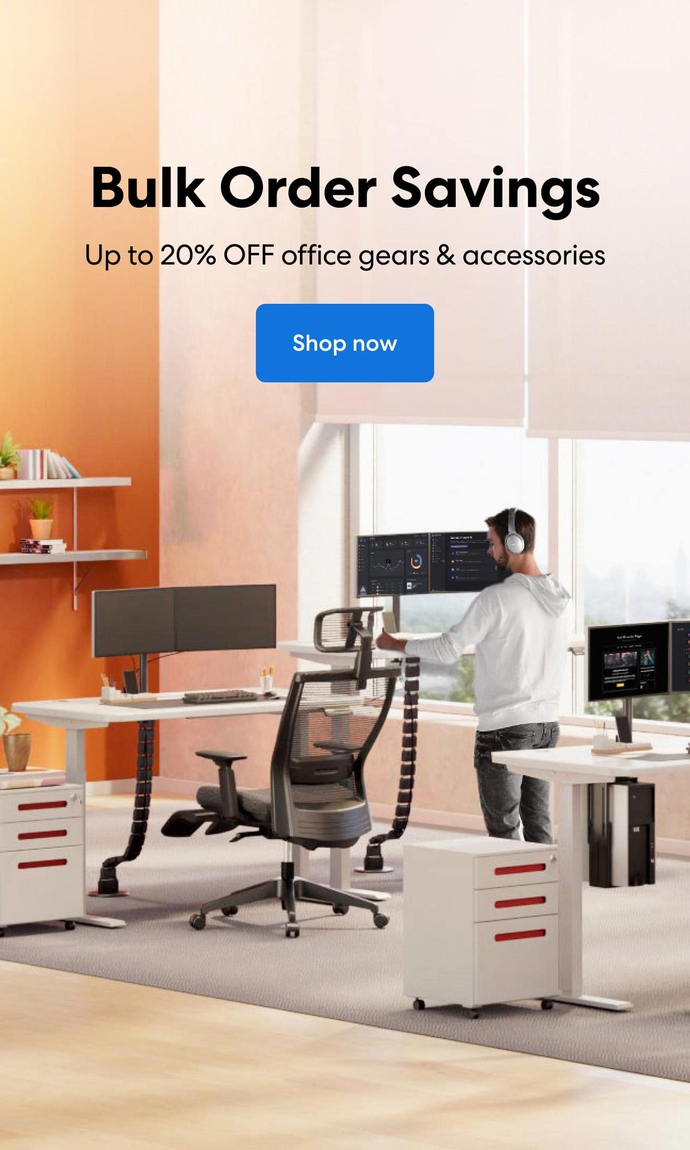 Subcribe newsletter and get $100 OFF.
Receive product updates, special offers, ergo tips, and inspiration form our team.