Smart Products
Here Is What to Expect at Top Furniture Stores in Huntsville

Autonomous
|
Sep 18, 2023
1,313 Views
If you are looking for top-tier furniture stores, Huntsville has many great options to consider. Buying furniture is often a long-term investment, meaning you have to pay a lot of attention to the type of products you spend your money on. This is not the kind of purchase you would want to do again in just a couple of months. 
However, when faced with many different options, it is not always easy to know which furniture outlet to go for. The decision is made even more difficult because most of these stores all claim to be the best at what they do, with impressive ads and a wide range of promotions added to sweeten the deal. 
What is a customer supposed to do in such a situation? Well, it helps to have a good idea of what to look for in a top Huntsville furniture outlet. If, for example, you are shopping for discount desks to furnish your brand-new office, you should always make a mental note of the kind of features and services a top furniture store will provide. 
This article will discuss the things you can expect from a reliable furniture supplier, as well as a few important considerations to make when buying furniture. By the time you finish reading, you will be able to go out confidently and choose the right option from among the many great furniture stores in Huntsville have to offer. 
What Buyers Should Expect at Top Furniture Stores in Huntsville?
Not all furniture stores in Huntsville, AL are reliable. Some suppliers and manufacturers are only concerned with making a profit, and do not put the needs of the customer first. When you buy products from such outlets, it is usually a recipe for disappointment. 
To help guide you in your decision-making process, here are a few things that every top-rated furniture store needs to have: 
High-Quality Products
The quality of your furniture is something you can never compromise. Learning how to differentiate between good and poor-quality wood, metal, or plastic is a great skill to have when shopping for furniture. 
One thing you can count on is that no Huntsville furniture store will ever own up to supplying inferior products. It is often up to you to decide whether the furniture being sold is worth the price and will last a long time. 
Usually, if you know the type of material that was used, a little bit of research will tell you whether it is good quality or not. You can do your research before going out shopping so that by the time you get there, you already know what type of products to avoid.
Diverse Choices
When shopping for furniture, for example, an office ergonomic chair, you do not always know straight away what material, design, colors, or features you are looking for. Therefore, it helps when the furniture store has a wide range of choices for you to consider. 
Not many furniture outlets can provide diverse options for every product. This is usually because of space limitations. That is why buying from an online store makes sense. You can browse through as many options as you want without ever having to step outside your door. 
Superior Customer Service
The best furniture stores in Huntsville have to offer are those that are well-known for their excellent customer service. These days, with the level of competition for customers being so high among furniture stores, there is no need for you to put up with poor service when there are a lot of better options to consider.
Customer service is not just about being greeted by a floor salesman when you walk through the door. It is about the store being willing to bend over backward to make sure that your needs are met. 
This means that even when browsing the store's website, you should be able to tell that this is the kind of business that is willing to put the customer first. If not, there are many more furniture stores in Huntsville, AL to consider.
Wide Range of Prices
Let us say, for example, that you are looking for a good chair to buy. Ergonomic chair suppliers usually have a wide range of choices for you to consider if they are reliable. This means you can decide how much you are willing to spend and then find the perfect chair that is within your budget. 
Always be wary of furniture outlets that claim that all their items are very cheap. This is usually a sign that the store only sells inferior products. A good supplier needs to be able to cater to the needs of different customers by having a wide range of prices to choose from.
Convenient Delivery Options
The top furniture stores in Huntsville, AL, are those that are willing to assist customers with delivery options. Furniture items can be very difficult to move, and if you have to deliver your own purchases, you risk damaging your products even before reaching your destination. 
A good furniture supplier will provide reliable delivery services, whether it is for an extra shipping cost or as part of the deal. The supplier should also be able to guarantee a replacement or refund in case your products are damaged in transit. This means you will rest assured that your items will arrive in one piece. 
Great Warranties
When you spend money on a piece of furniture, such as a corner standing desk, how long do you expect it to last? If the manufacturer claims that the desk is made of good quality material, they should have a great warranty to back it up. 
Usually, when furniture outlets offer only a couple of months or no warranty at all, they know fully well that their products are not built to last. Therefore, keeping an eye out for the warranty being offered is a good way to judge for yourself whether the furniture outlet is a reliable supplier or not.
7 Considerations When Shopping for Furniture
These days, shopping for a few items for your home or office doesn't mean having to visit all the furniture stores in Huntsville. If you know exactly what you need, you can make your shopping experience a lot more efficient and enjoyable. 
Here are seven considerations every customer has to make when buying furniture:
1. Amount of Space
How much space do you have available in your home or office for the furniture items you want to buy? This should guide you when choosing the size of products you want. A good practice is to take accurate measurements before you go out to buy your furniture. 
Many customers do not realize that the design of the furniture may trick them into believing that it is bigger or smaller than it actually is. This is why you have to know exactly how much space you have to work with and the dimensions of the product you want before heading out to the Huntsville furniture outlet of your choice.
2. Comfort Level
When buying furniture, it is not all about the looks. An office chair that looks great but is very uncomfortable to sit in is not a great product. You need to try as much as possible to balance aesthetics and comfort. 
In some cases, if you are buying furniture for a private room that does not receive many visitors, for example, your home office, you can even prioritize comfort above all else. After all, it is you who is going to spend many hours a day seated in that chair, so choose wisely.
3. Durability
The top-rated furniture stores in Huntsville, AL are those that are known for supplying durable furniture. Consider what you intend to use the furniture for and how long you expect it to last. 
A chair meant for the visitor's lounge in a busy office, for example, needs to be a lot more durable than one that is meant for a home library. One will be used many times during the day, while the other can go for days or weeks without being touched at all. To be safe, you can always look for very durable furniture regardless of the intended use. 
4. Color
What sort of décor are you going for? Do you have specific colors that you have in mind? Are there any colors that you must definitely avoid? What are the primary brand colors for your business? These are the type of questions you need to ask yourself before you buy a smart desk or other type of furniture for your office or home. 
Usually, certain colors are recommended for offices while others are more suited for the bedroom, kitchen, or living room. Always consider the room where you want to use the furniture and the type of décor you are going for.
5. Cost
Your budget is one of the most important things that will determine your choice in furniture stores. Huntsville has many options to consider, so you should be able to easily find a supplier whose products you can afford. 
However, do not always go for the cheapest option. While you may not be able to afford some of the high-end products, remember that cheaper is not always better. If you are going to end up replacing your furniture in less than a year, you may have been better off spending a little extra on your original purchase for better quality items. 
6. Type of Material
There are so many different types of material being produced these days that you have to be very careful when you make your choice. It is not enough to simply go out looking for a wooden chair because there are so many types of wood to consider, such as teak, oak, pine, birch, maple, cedar, and many more. 
You also have to consider the sustainability of the material you choose. Many customers are becoming more conscious of the need to preserve the environment, and as such, they would rather buy furniture made from bamboo or other sustainable materials. If the best ergonomic chair available is made at the expense of the environment, you may want to consider another type of material.
7. Features
What are the particular features you are after? If, for example, you are buying an office desk for home use, you may be more concerned about having plenty of storage. A desk for the reception area of your offices, on the other hand, needs to be as aesthetically pleasing as possible. A good Huntsville furniture store will be able to offer you a wide range of options to consider.
Try the Autonomous Bulk Order Program
If you are looking for a Huntsville furniture outlet to supply furniture for your home or office, you should consider buying online at Autonomous. As a bulk office furniture supplier, Autonomous can offer you some great deals on a wide range of products. 
The Bulk Order Program allows you to select the items you want and get a special discount for buying in bulk. This means if you want to buy a sit-stand desk for each of your employees, for example, you can save a lot of money and make the logistics a lot easier to manage through the Autonomous Bulk Order Program. 
Autonomous is ideal for customers who have been looking for a Huntsville furniture store that supplies high-quality wholesale office chairs, desks, cabinets, and other office accessories at great prices and with an irresistible warranty.
Looking for a Top Furniture Store? Buy Online at Autonomous
There are many furniture stores in Huntsville, AL, but not all of them are reliable. If you do not want to risk ending up with inferior furniture, choose a top-rated furniture store, such as Autonomous. As an online furniture outlet, Autonomous allows you to sit back and browse through an impressive catalog of some of the best-quality furniture in Huntsville, AL.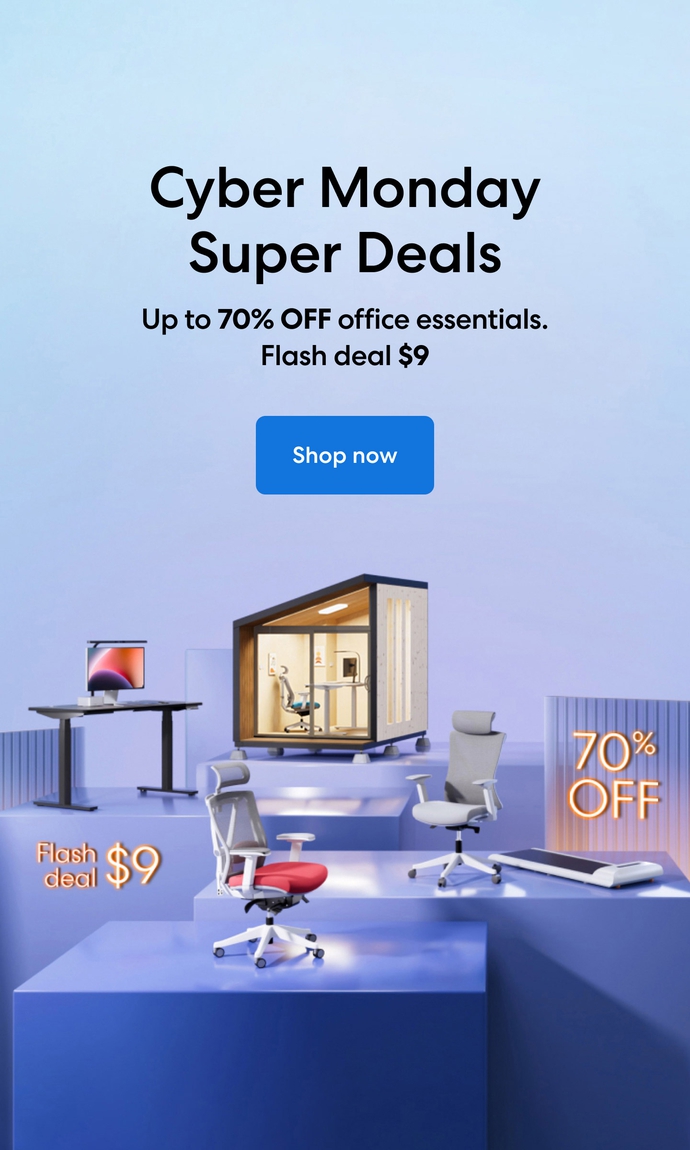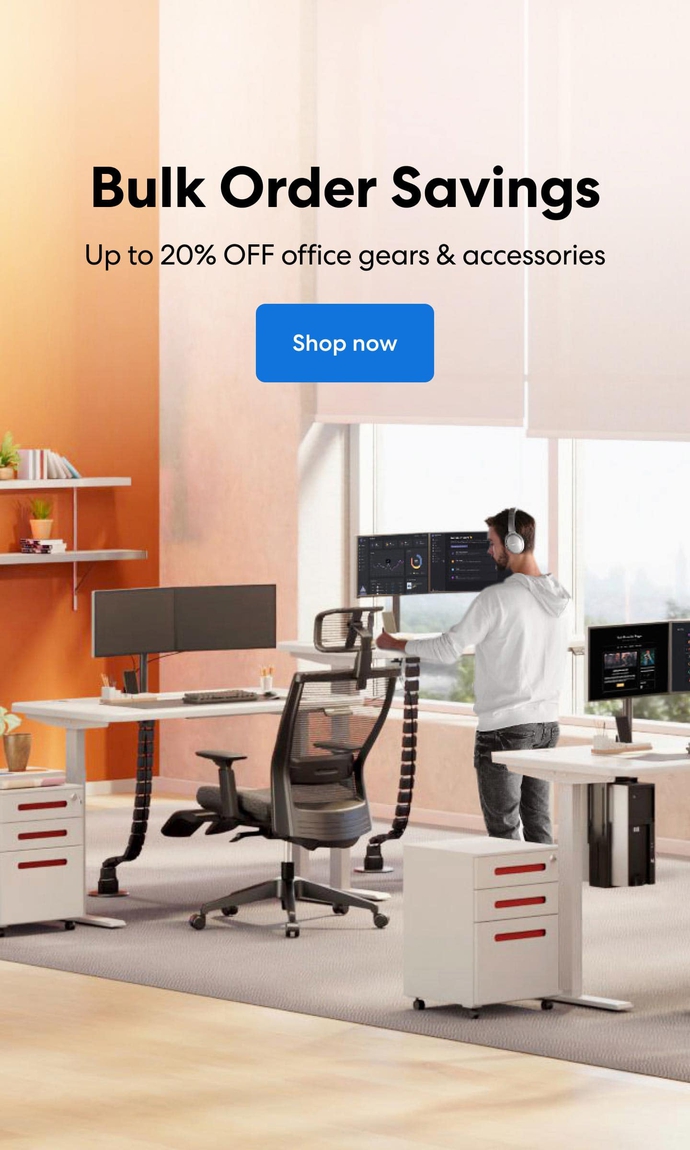 Subcribe newsletter and get $100 OFF.
Receive product updates, special offers, ergo tips, and inspiration form our team.