Smart Products
Creating a Productive Workspace: Your Guide to Office Furniture in Ottawa

Autonomous
|
Oct 30, 2023
1,147 Views
Welcome to the ultimate guide on creating your dream office space in Ottawa! If you're searching for the perfect wholesale office furniture to boost your productivity, exploring the world of used office furniture for affordability, or considering an ergonomic office chair and a standing desk for enhanced comfort and efficiency, you've come to the right place. We've got the lowdown on transforming your workspace into a haven of comfort and efficiency. Let's find out how to create a work environment you'll love coming to, even if you're on a tight budget.
Things That You Need to Consider Before Buying Office Furniture
1. Comfort
When it comes to picking office furniture in Ottawa, comfort should be your top priority. We all know that sitting at a desk for a long time can lead to physical discomfort, tiredness, and even pain, which can have a big effect on both your work and your health as a whole. For the most comfort, you need office furniture that fits your body size and shape and supports your stance.
Think about it: An office chair with adjustable height, tilt, and back support can make a big difference. This simple choice can greatly affect how comfortable you are during those long workdays.
So why stop there? Adding items like a footrest, a keyboard tray, or a monitor arm can make it even more comfortable. These ergonomic add-ons can improve your workspace's general comfort and ergonomics, making your work hours easier.
2. Productivity
Productivity is another crucial factor to consider when selecting your office furniture. After all, your goal is to work efficiently, effectively and be output-focused. To achieve peak productivity, your office furniture needs to align with your work style, tasks, and goals.
Begin with the basics: a desk that provides ample surface area for your computer, accessories, documents, and other essentials. Consider investing in cabinets or shelves to organize files, books, or supplies. Having an environment that supports efficient storage and easy access to your work materials can significantly enhance your work output.
Add some high-tech tools to your workspace, like a wireless charger, a powerful speaker, or a smart lamp, to boost your output even more. These useful tools can make your work easier and help you get through your daily tasks.
3. Style
Last but certainly not least, don't underestimate the importance of style when selecting office furniture. Your workspace should be a reflection of your personality, values, and culture. It should not only inspire you but also enhance your image and reputation.
Search for office furniture that resonates with your preferences, tastes, and themes to achieve your desired style. Look for pieces that complement the existing design and decor of your office or home office. Consider colors, patterns, and materials that resonate with you.
Whether your style leans towards modern, traditional, or ergonomic, there are furniture options out there that can suit your aesthetic. Feel free to add personal touches like photos, plants, or art to make your workspace cozy and inviting.
Autonomous Bulk Order Program
If you're in Ottawa and looking to streamline your office setup with cost-effective solutions, consider placing a bulk order from Autonomous. They offer a wide range of smart and ergonomic office furniture that can help you create the perfect workspace.
Whether you're interested in used office furniture in Ottawa or restocking office supplies in Ottawa, Autonomous has you covered. Their collection includes everything from stylish and functional desks to ergonomic chairs and accessories.
With Autonomous, you can transform your workspace, whether it's in a corporate office or your home. Explore their selection of home office furniture in Ottawa that combines comfort and style.
Choose Autonomous for your bulk order needs to eliminate the hassle of furnishing your workspace. Check out their offerings at Autonomous Office Furniture in Bulk and create an efficient and stylish workspace today!
Frequently Asked Questions (FAQs)
1. Where can I find the best deals on a wholesale office chair in Ottawa?
Are you looking for a comfortable yet budget-friendly office chair? Autonomous has got you covered! Go through their website to find a fantastic deal for yourself on a wholesale office chair that won't break the bank.
2. What are some tips to save money on office supplies in bulk?
There are several ways to save money on office supplies in bulk, such as:
Ordering only what you need and avoiding overstocking or wastage.
Reusing or recycling office supplies whenever possible.
Sharing or exchanging office supplies with other businesses or individuals.
Looking for generic or alternative brands that offer similar quality and functionality.
Joining loyalty programs or rewards clubs offering points or cashback for purchases.
3. What are some examples of office supplies that I can buy in bulk?
Some of the common office supplies in bulk that you can buy to save money and time are:
Paper products
Writing instruments
Notebooks and pads
Folders and binders
Staplers and clips
Scissors and cutters
4. How does good office furniture affect productivity?
Good office furniture promotes comfort, organization, and reduces distractions, all of which can enhance productivity. Ergonomic designs and functional storage solutions contribute to a more efficient and focused work environment.
Conclusion
If you're in Ottawa and seeking efficient solutions for furnishing your workspace, Autonomous is your ultimate destination. They offer diverse options, including wholesale office chairs and office desks, allowing you to create a functional and comfortable office environment. In addition, Autonomous makes it simple and convenient to purchase office supplies in large quantities, simplifying the process of keeping a workspace adequately stocked. Look into the various goods and services they offer today to take the efficiency and comfort of your place of business to soaring heights.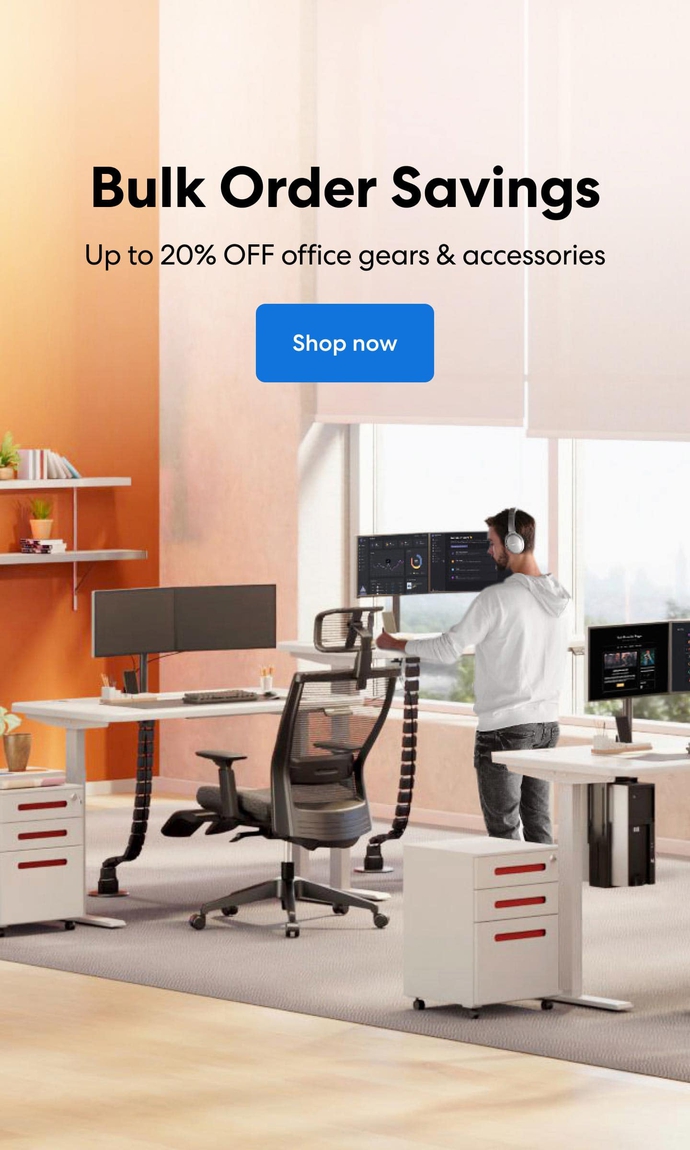 Subcribe newsletter and get $100 OFF.
Receive product updates, special offers, ergo tips, and inspiration form our team.