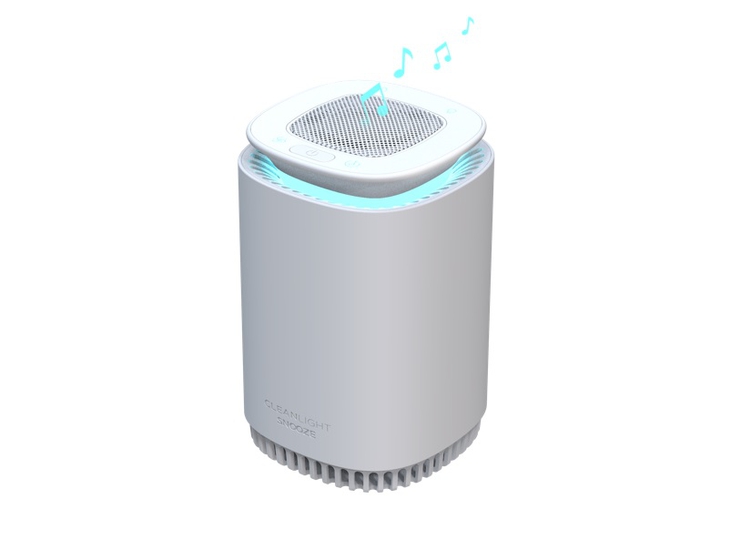 KeySmart Keysmart CleanLight 4-in-1 Air Purifier: Diffuser & Night Lights
Notify me when this item is available
Enter your email below. We'll let you know when it's back in stock.
Bought by 1 thoughtbot employee
Sold and shipped by KeySmart.
• Sterilizes with UVC light • Customizable with 5 different soothing sounds • Built-in night light • Built-in aromatherapy diffuser • Built-in sleep timer
• 1-year warranty
The 4-in-1 Air purifier and Sound Machine support deep, restorative, sleep and removes 99.5% of pathogens from the air for you to breathe freely.
Deep dive into specs
5 SOOTHING WHITE NOISE SOUNDS
Pick Your Own Favorite Sound!
Find your favorite sound and adjust the volume: white noise, brown noise, pink noise, ocean/wave, rain.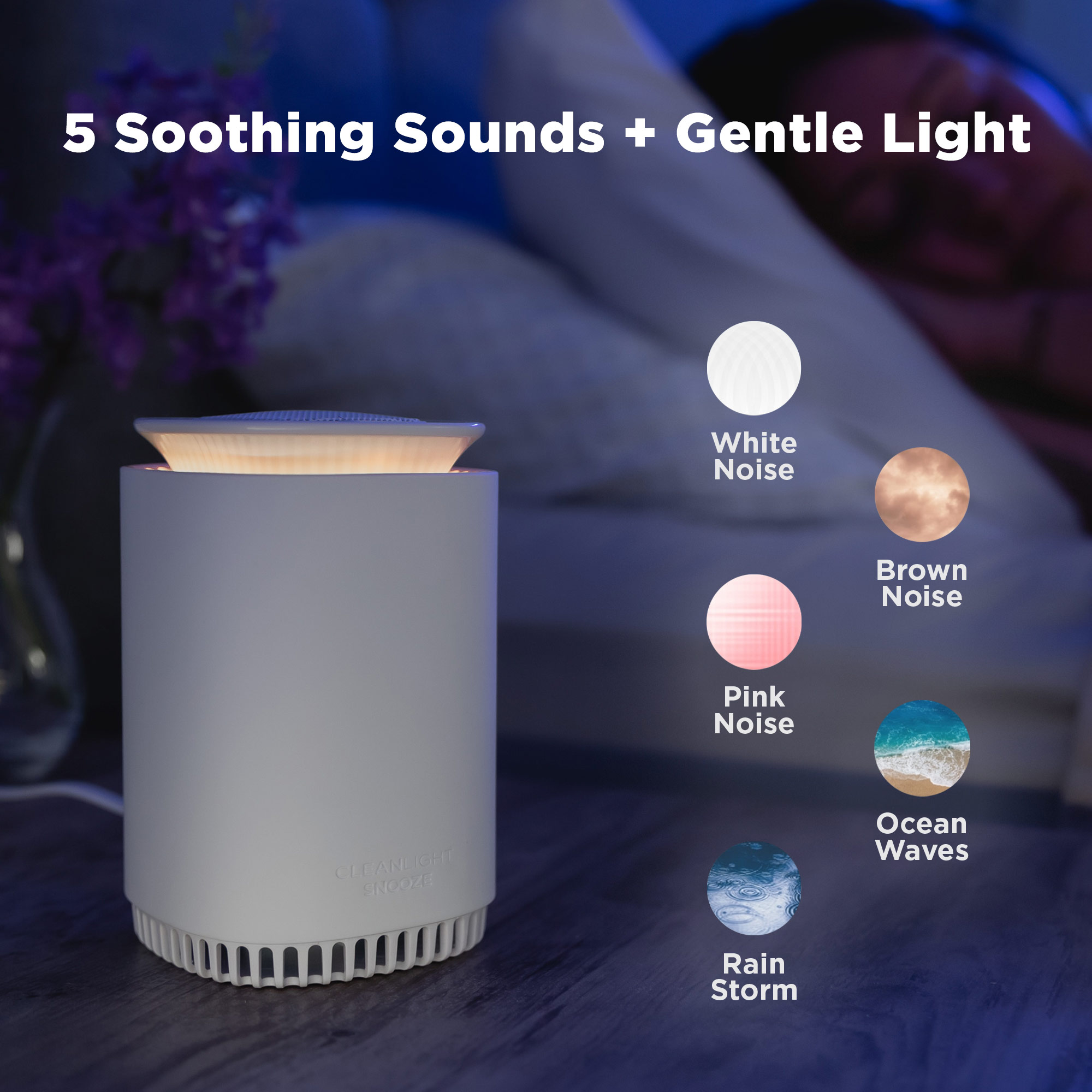 2 STAGE AIR PURIFICATION
Clean Your Air Efficiently
An H13 HEPA filter and UV Light capture 99.95% of allergens, smoke, dust & other harmful particles. Simply remove and replace the accessible HEPA Filter every 3 months for maximum performance.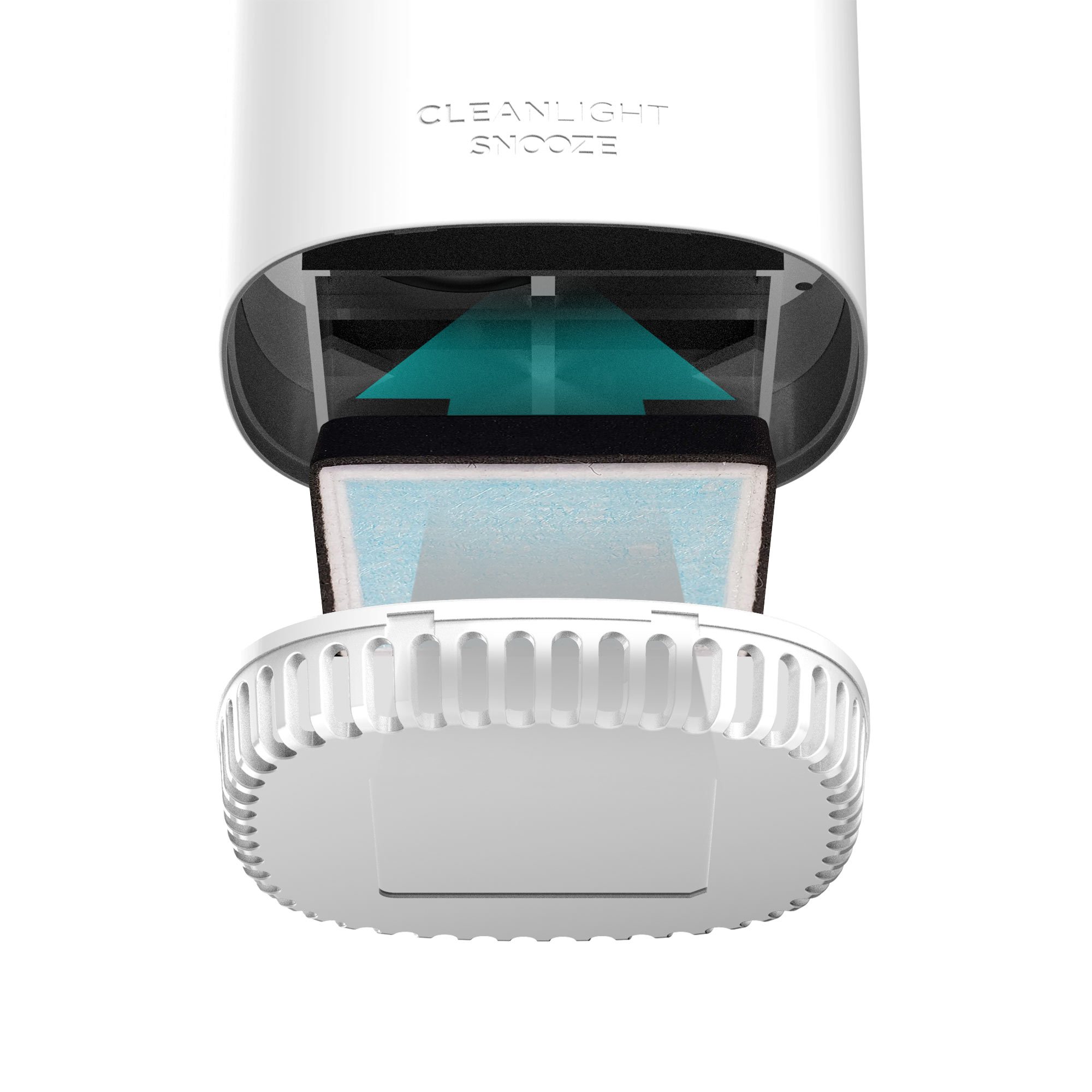 COMPACT & TRAVEL-FRIENDLY
Breathe Clean Air Wherever You Are!
Take your CleanLight™ Snooze and enjoy clean, fresh air wherever you go. This air purifier is perfect for bedrooms, hotel rooms, and nurseries.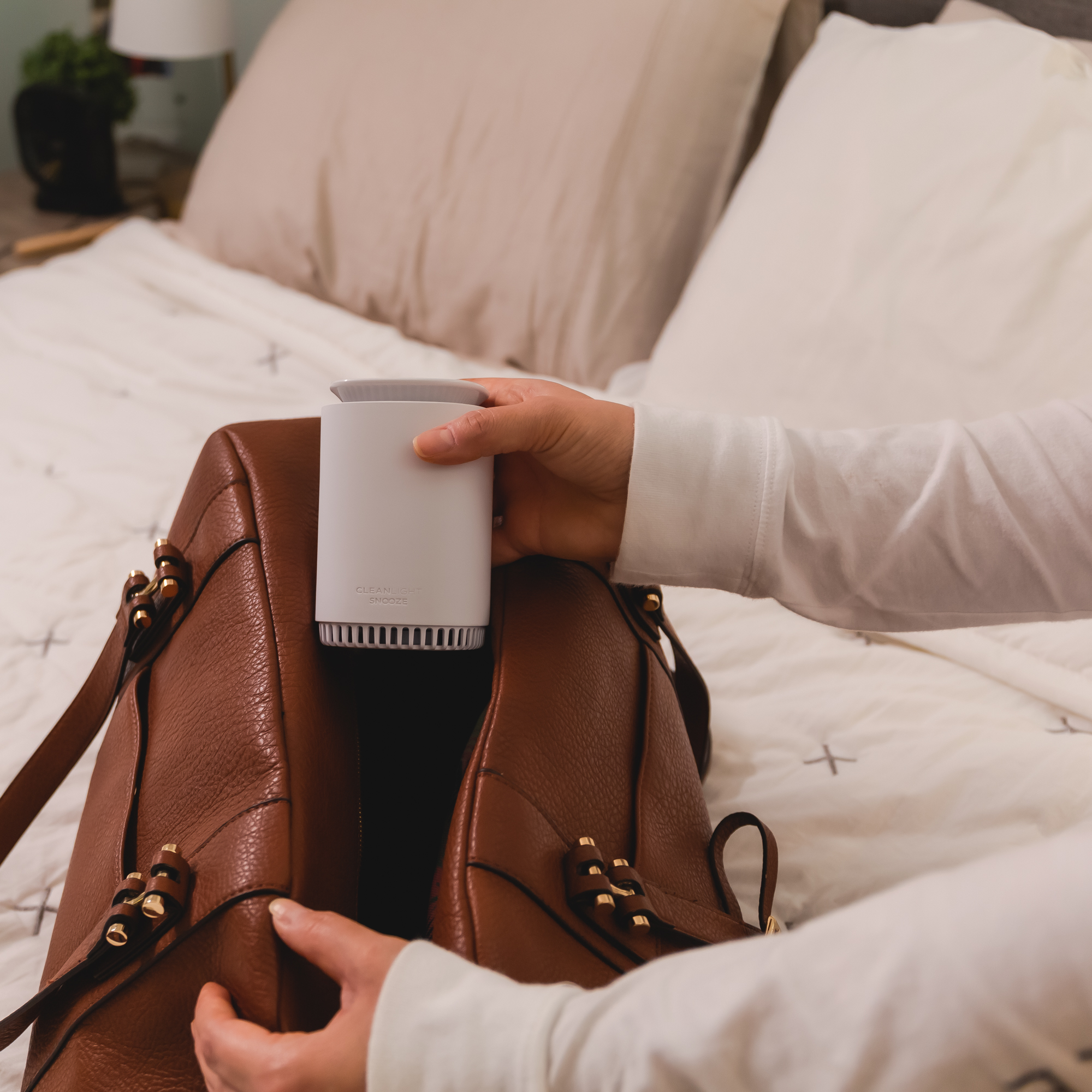 ESSENTIAL OIL DIFFUSER
Choose Your Favorite Scent
Add essential oils to the diffuser sponge to infuse your air with your favorite scents.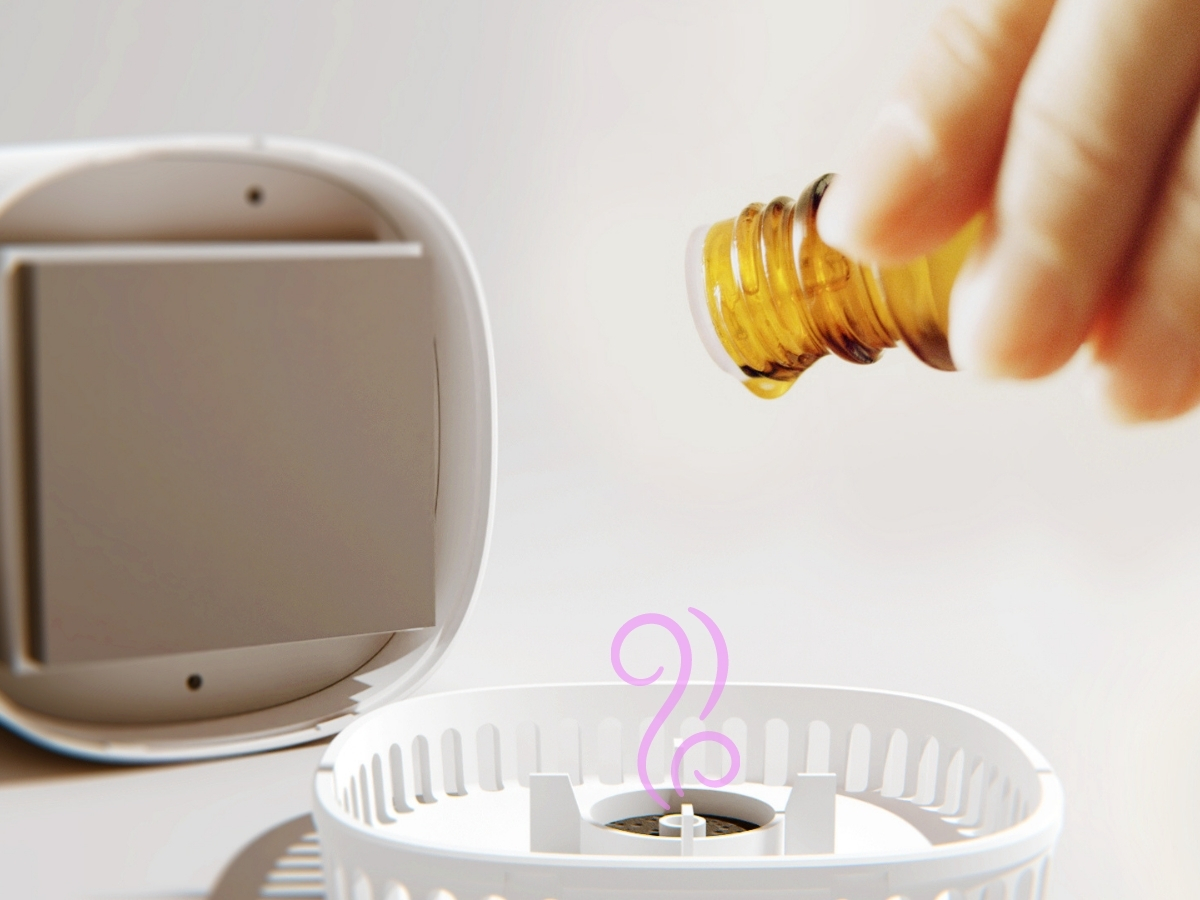 BUILT-IN NIGHT LIGHT
Enjoy Restful Restorative Sleep
Night light emits a soft, warm light and can be turned on or off.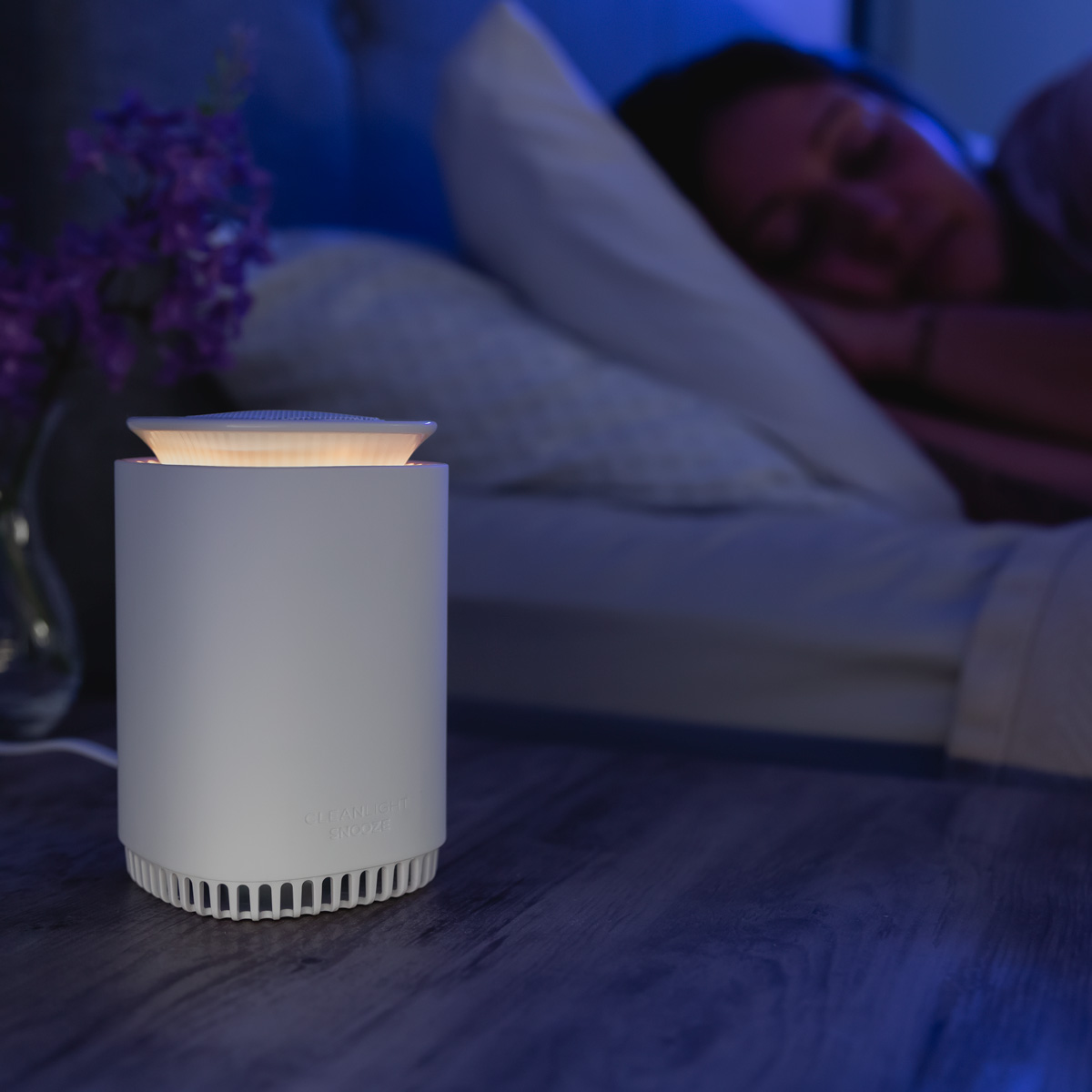 Indoor environmental air quality is critical whether you work in a specialist field or look at portable air purifiers for allergies to help you return to work after the epidemic. Air purifiers are a dependable approach to meeting new air quality requirements. There are people who don't even know the difference between air purifier and air humidifier. The ease with which tiny air purifiers may be set up, used, and maintained is one of its most enticing characteristics. You may easily connect air purifiers into places that require filtering instead of performing costly alterations to your whole ventilation system, CleanLight Snooze air purifier is the answer to your prayers in this regard. Autonomous offers 10 best quiet air purifiers. Automobile exhaust and industrial smoke aren't the only causes of pollution in the atmosphere. Fungal spores, dust, pollutants, and pet hair in the air all cause issues for those with allergies and asthma. CleanLight Snooze air purifier can capture these particles, offering allergy relief. Continue reading to learn more about the advantages of portable air purifiers.
How Does Cleanlight Snooze Air Purifier Work?
The electric charge of an electronic air purification traps dirt and dust. The electrical zap employed to trap the unclean air-borne particles is an excellent approach to catch the contaminants in the air and produce cleaner, healthier air to breathe. Electrostatic attraction pulls air through the ionization portion, where the particles get their electrical charge. After being charged, the particles congregate on a plate. The particles are easier to weigh down and release using this plate since it is charged in the opposite way. Some small air purifiers are helpful since they are less costly than traditional air purifiers while providing the same level of protection. Furthermore, the panels used in Cleanlight Snooze air purifiers are simple to clean and maintain, allowing them to be reused without needing to be replaced. As a result, these air purifiers are inexpensive. Another benefit of electric air purifiers is that they work well for their size, allowing you to buy a portable air purifier and carry it with you wherever you go.
Get An UVC Light Air Purifier
Although an air filter is not always required in every situation, there are various advantages to purchasing this 4 in 1 air purifier. Air filters are wonderful when it comes to enhancing the interior environment. Poor air quality may stifle development, create illnesses, and increase sick days, many of which have a direct monetary impact on a business's bottom line. As a result, you'll need this UVC light air purifier for traveling even if you're not traveling. Air cleaning devices are needed because some areas have high concentrations of dangerous microbial infections in the air. For example, traveling by car necessitates the use of a portable air purifier, while flying across the country necessitates the use of a portable air purifier for the plane. Flu strains and the diseases that cause them, for example, are airborne contaminants like COVID-19, which can transmit infections.
Cleanlight Snooze Air Purifier
Many studies and analyses have shown that a home air purifier is an effective option in these situations. Air purifiers function by circulating air through a series of internal fans. These fans draw in the ambient air and filter it via a series of filters to eliminate dangerous dirt and specks of dust such as bacteria, grime, allergen, and microdust motes. The air is then recirculated throughout the space, this air purifier sound machine doesn't make much noise as well.
Choose Your Favorite Sound!
Find and modify the level of your favorite sound: white noise, pink noise, brown noise, ocean/wave, rain.
Effortlessly Clean Your Air
Allergens, smoke, dust, and other dangerous particles are captured 99.95 percent by a Filtration system and UV light. For optimal performance, just replace the available HEPA Filter every three months.
Wherever You Are, Breathe Clean Air!
Take your Cleanlight Snooze air purifier with you everywhere you go and breathe clean, fresh air. Bedrooms, hotels, and nurseries will all benefit from this air purifier.
Select Your Favorite Fragrance
Add lavender oil to the diffuser sponge to fill your air with one's favorite aroma.
FAQs
Don't see the answer to your question?