Black Standing Desk - 53" x 29" - Home Office
- Home Office Standing desk
$449
$499
(-10%)
Free shipping
Buy now
Add to cart
FREE shipping Jun 08 - Jun 12. FREE 30-day returns.
Bought by 2,100+ Microsoft employees
Sold and shipped by Autonomous.
Black Standing Desk - 53" x 29" - Home Office at a glance.
The essential standing desk. For all-day productivity and increased well-being.
• Lifts 265 -270 lbs with ease
• Solid steel frame
• Electric dual motor
• 2-stage frame
Programmable Keypad Desk
• Height-adjustable between 29.4" to 48"
• 4 programmable keypad settings
• 3 desktop options with pre-drilled holes : 43"L x 23" W; 53"L x 29"W or 70.5"L x 30" W (XL size desktop available only in the US + CA)
• 5-year warranty
Deep dive into specs

BEYOND INDUSTRY STANDARD
A generous height range.
Ideal for a broad range of bodies, the SmartDesk Core is adjustable from 29.4" all the way to 48". Explore your perfect sit-to-stand.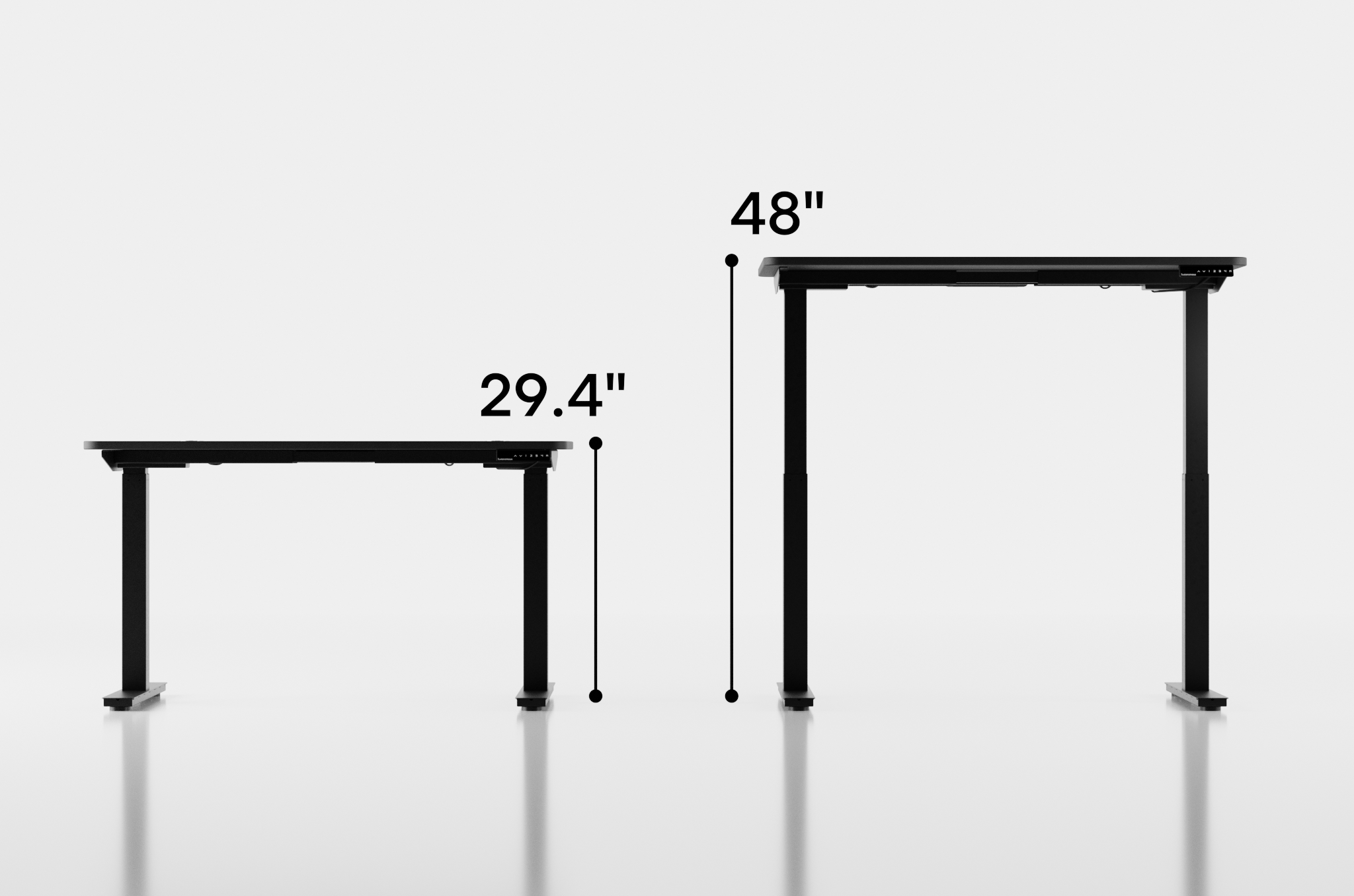 PROGRAMMABLE KEYPAD
Simple controls for greater convenience.
Save up to 4 custom heights to move effortlessly between them. Set yourself up for success.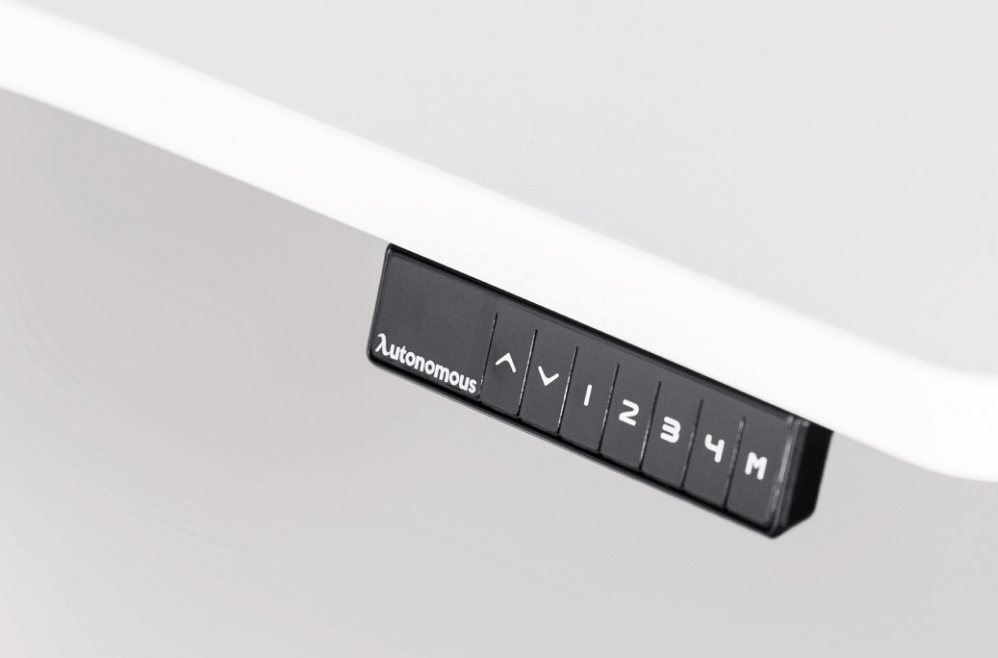 2 STAGE LIFTING COLUMNS
All about that core strength.
Lifts 265 lbs at just 50 dB. Moves 1.1" a second while carrying its maximum load, and stays rock-solid the entire time.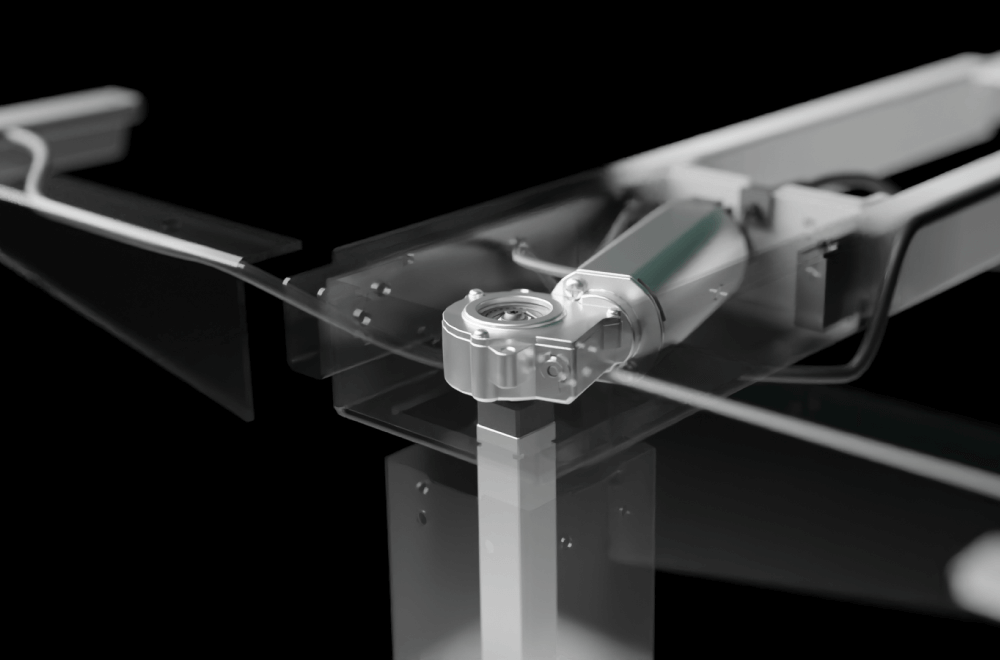 ROBUST CONSTRUCTION
Certified super durable.
Stands on a solid steel frame, powered by an energy-efficient dual motor. Globally vetted for strength and safety by BIFMA, and EMC.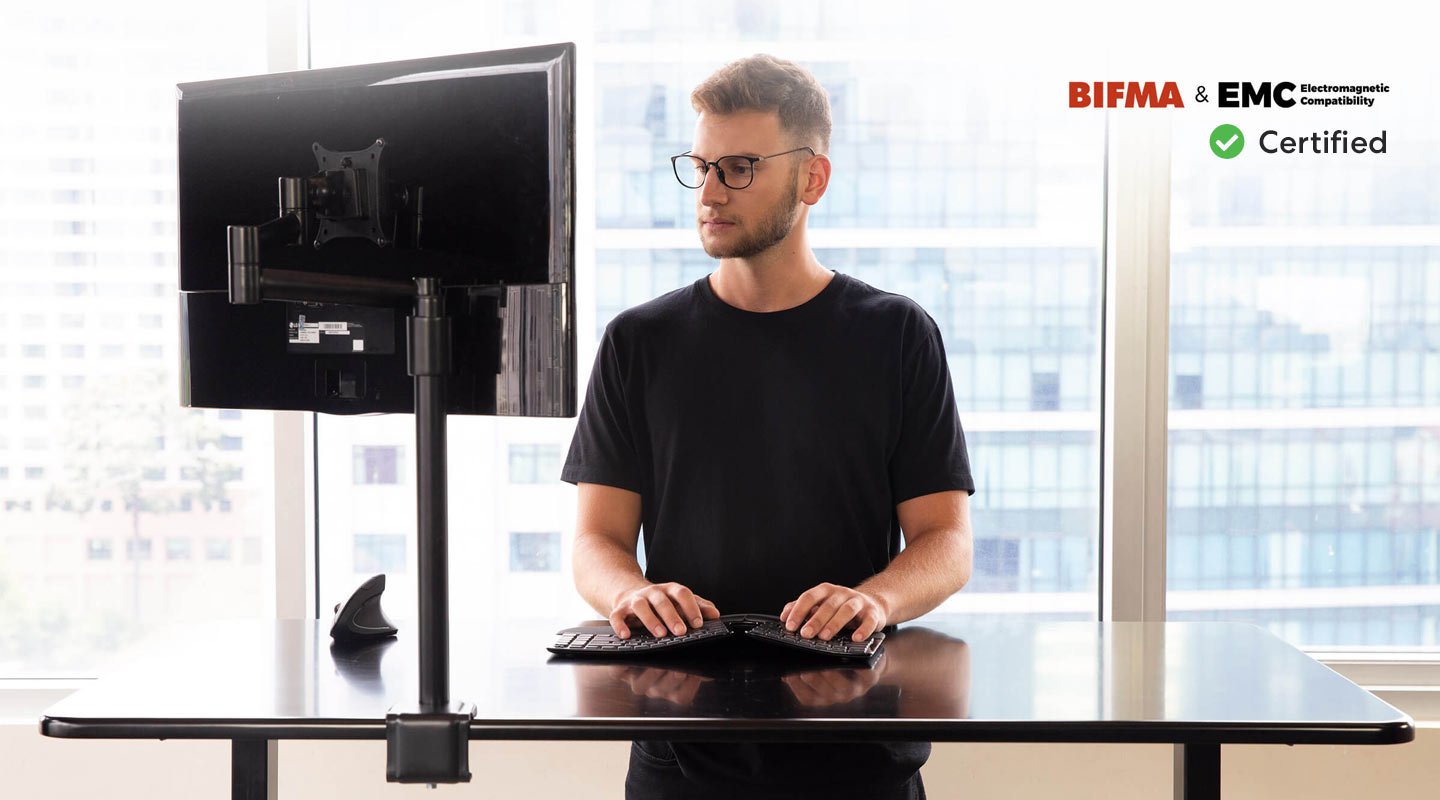 More options. Better choices.
For those who have a modest office space and need a compact solution, choose between the 43"x24" or 53"x29" desktop. For a more robust and solid desktop option, we now offer a Chunky Oak Top with a hefty 1.6" thickness.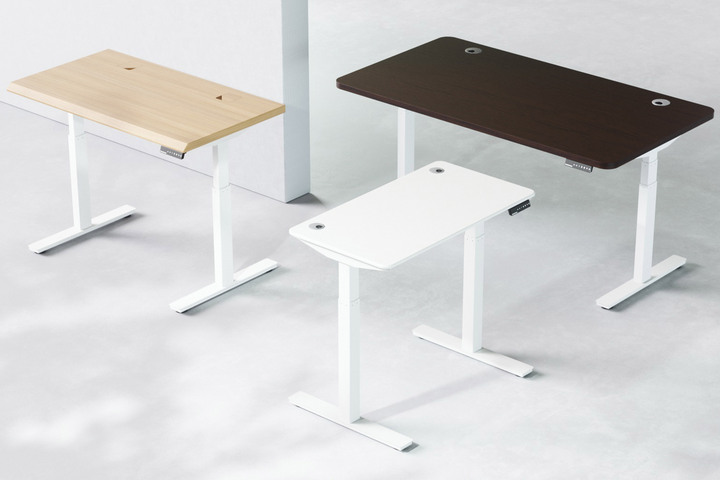 Stay Energized, Stay Laser-Focused with An Ultra-Powerful Motorized Desk Frame
Made with a heavy duty industrial steel frame and combined with an advanced dual-motor system, our black frame standing desk is super sturdy and can easily lift up to 265 lbs. - more than enough for most home office gear. The black frame desk is built to last and backed up by our warranty.Working is such a big part of our lives - it's important that we enjoy what we're doing, wherever we're working. Our black standing desk has been proven to increase your energy levels, making for a more positive and productive working day. It's also a great tool for gamers to stay on their A-game for longer periods of time by switching it up between sitting and standing. See how a black sit-stand desk can give you the enthusiasm and energy you need to get through that midday slump.
Matching Black Accessories with A Sleek and Dark Aesthetic
Pair this desk with some great black office accessories, like our Ultra Wide LED desk lamp, or our black standing mat to help keep your knees from experiencing pressure and pain when you work or game standing up. Mix and match accessories and colors—everything looks great with our black standing desk! Dark, sleek, and stealthy! Available in Classic and XL sizes, our black standing desk tops are made from high-quality 1-inch thick MDF wood, featuring a beautifully finished and water-resistant smooth black. It's a durable choice for people who want a stealthy, modern look to their home office setups, and it's particularly popular with gamers! The black standing desk lends itself to pops of bright color, a perfect backdrop for all your LED-strewn gaming gear. Beyond that, it blends into its surroundings and compliments them perfectly with its minimalist design cues and aesthetics. Sophisticated, bold, and professional, the black stand up desk is a great choice for gamers and office workers alike.
Whisper-Quiet Engine - Vetted for Safety, Strength and Compatibility
The SmartDesk black standing desk comes with a keypad that enables you to program 4 custom height presets. As the dual-motors produce only 45 db of sound, you can glide almost silently between your favorite sitting and standing positions with your home standing desk at just the touch of a button. All our home standing desks carry certification from the global safety body UL, one of the U.S.'s oldest independent inspection agencies. Our products strength and environmental safety claims have also been certified by the Business and Institutional Furniture Manufacturers Association (BIFMA). Finally, this home standing desk has been certified for Electromagnetic Compatibility (EMC), meaning it's the best standing desk for home office that is safe for all of your electronic devices.
Is the black standing desk right for you?
The SmartDesk black standing desk is a home standing desk and an office standing desk perfect for working professionals who want to take their workflow to the next level. Are you looking to buy a black adjustable standing desk? Explore why the SmartDesk is the best standing desk for home office.
Professional Tool & Ultimate Gaming Battlestation
The black stand up desk is designed with minimalist aesthetics, optimized for a perfect fit in nearly any home or corporate office setting. Anyone looking to buy a home standing desk can choose the black electric standing desk with white, grey, or black frame options. The black standing desk is a great choice for gamers as it tends to complement gaming setups in a way other desk finishes just can't quite match. It's durable and scratch-resistant, and lets any colorful gaming gear you keep on your desk really pop. Best of all, it can handle all of your gaming gear, PC, and consoles up to 300 lbs! The technological innovations are part of what make the black sit-stand desk truly special. Its powerful dual electric motor is whisper-quiet, making it appropriate for the home or the workplace without being loud enough to bother your coworkers or roommates.No matter what your style or aesthetic, the black standing desk blends in and incorporates, rather than dominating the aesthetic of your office space or gaming battlestation. It's your space, your work, your SmartDesk, and it's the best black standing desk for home office designed to compliment you.
Who is it for?
The black sit-stand desk is specifically designed for working professionals who want to buy a black standing desk to upgrade their home offices with a more ergonomic standing option. Developers, creative professionals, IT, accountants, executives, the list goes on. No matter what professional tools you use, the SmartDesk's spacious surface is enough to handle all of it—up to 300 lbs! Not only is it great for work, it's great for play too. Gamers can benefit from this amazing home office standing desk, with the option to sit or stand to keep their energy levels up and their eyes on the prize.
Health benefits
The black electric standing desk is for anyone who values their health and wants to get the most out of what they do every day. Science tells us that a sedentary lifestyle can have negative long-term health impacts, causing back pain, circulation problems, and even carcinogenic effects that can lead to cancer. Having the option to stand even for just a few minutes every day can help you combat the ill effects of a sedentary lifestyle. Using methods like the Pomodoro method can help you time your workday and schedule work periods and break periods. You can also use it to time your sit-stand sessions! The SmartDesk black adjustable desk features 4 programmable memory settings that you can use to present specific heights you need throughout the workday. That means you can take the guesswork out of hitting the right height; just the press of a button gets you to the right height every time.
FAQs
Don't see the answer to your question?
May I use PayPal to pay for this desk?
Due to transaction limits, we can only accept PayPal payments from the 1st to the 15th of every month. PayPal's account policy permits us to accept a limited volume of payments per month, and with current sales volume, we normally reach our limit by the 15th.
What are the differences between the SmartDesk Core and SmartDesk Pro?
Pro frame (without top) has a height range of 25" - 51" and holds 300 pounds of weight and has a 7-year warranty.
Core frame (without top) has a height range of 28.5" - 47" and holds 300 pounds of weight and has a 5-year warranty.
All tops are covered by a 1-year warranty.
Does this desk use a regular 120 volt outlet?
Yes. Our standing desk is compatible with standard 110 volts - 240 volts outlets. Both currents are automatically converted by the desk. US orders are installed with the standard two-prong plug. For international orders, we convert the plug to the type used by the destination country.
I see that there is a "black box" to be installed on the underside (aside from the control panel), with power and data connection. Is this like a power strip and data plug-in?
Yes, this is the control box. It must be attached under the standing desk to use the Smart Keypad. It is connected with the Smart Keypad to control the height of the desk, and with the power source to tell the electric motor(s) when to move up and down.
We do! We have shipped to more than 60 countries so far, and we're still counting! Please select your country for localized checkout and appropriate pricing, duties, and taxation processing.
How much weight can your SmartDesk support? I have two wide monitors, 27" each. Will they be safe?
Premium frame can lift up to 300 lbs.
Home Office frame can lift up to 300 lbs.
How long does shipping take?
Once your order is processed (less than 1 business day), shipping takes 3-5 business days for continental US addresses and 12-15 days for international orders.
Can you give me more information about your 30-Day Trial policy?
If you don't like your desk, we'll take it back. It's that simple and easy. You have until 30 days after delivery to build and use your desk. If you change your mind, you can then request to return the desk for a full refund (we even cover shipping!), no questions asked. This policy applies to all desks delivered inside continental U.S. and returned in their original packaging only. International orders do not qualify for this program. Please note that the returned standing desk needs to be in its original packaging. If not, we reserve the right to refuse your request.
Is there a way to reset my SmartDesk Core?
The Re-set function for Premium and Home Office is the following:
1. Press the up and down buttons at the same time until the desk goes to re-setting position and beep sounds up.
2. Release both buttons.
This should reset the desk. If not, please feel free to contact us at
[email protected]
, so we can help you reset your standing desk.
How easy is it to assemble the Autonomous SmartDesk Core? Which tools do I need?
Assembly is not difficult. We include all the assembly tools needed in every package! Most customers finish setting up their new desks in just 15 to 30 minutes.
Does the outlet for the standing desk needs to be grounded? Is a separate circuit necessary for each desk?
No, it doesn't. The Autonomous SmartDesk is very energy efficient and draws only 0.06 watts while on standby.
How long is the cord /plug wire? In another words, how far can this desk be from an outlet?
How high does the desk go?
Premium frame extends up to 52 inches.
Home Office frame extends up to 48 inches.
What is the thickness of the table top of the SmartDesk Core?
The thickness of the table top is 1 inch.
What is the warranty on the SmartDesk Core?
The Premium frames have a 7-year warranty. The Home Office frames have a 5-year warranty. All tops are covered by a 1-year warranty. In the unlikely case of any problems, we will quickly fix the desk, free of charge, or send a brand new standing desk to your location of choice.
Do you have non-wood table tops for the SmartDesk Core ?
Our only non-wood option is the bamboo table top standing desk, made of 100% real bamboo and just as durable as our wood standing desk table tops.
Is the 70.5 inch x 30 inch SmartDesk Core XL less stable than the classic size?
No. The only difference between the XL and the 53-inch standing desk top is that the XL offers more space and is heavier.
Do you offer local pickup?
Local pickup is available in Southern California only (our warehouse is in Riverside, CA). Please contact us in advance at
[email protected]
to schedule a local pickup.
Is the walnut table top a solid hardwood table top?
No, our white, black, walnut, and white oak wood table tops are high-quality MDF with hardwood veneer. Our bamboo table top is 100% real bamboo.
What is the width of the space between the desk's legs on both Home Office and Premium?
Premium frame's width between the legs is 40-73 inches.
Home Office frame's width between the legs is 40-73 inches.
Do you offer express or next-day shipping on the SmartDesk?
At this time, we do not offer express or upgraded shipping.
Does the SmartDesk Core come standard with pre-drilled cable holes in the top of the desk?
Yes, we offer the grommet holes on our tops.
How do I configure the presets on my SmartDesk2?
First set the desk to your desired height, then press the M button until the LED screen on the keypad flashes. Next, select the number you want to associate with that height. Now you are ready to work smarter!
How far apart do the legs have to be? Is there only one distance that works or can I put them closer together?
For Premium frame, the leg placement can be safely extended within range of 40-73 inches.
For Home Office frame, the leg placement can be safely extended within range of 40-73 inches.
How loud is the motor on the SmartDesk Core as it raises and lowers?
Our motors are the most silent on the market. Featuring advanced noise cancellation engineering, our SmartDesks are whisper-quiet at only 45dB during movement.