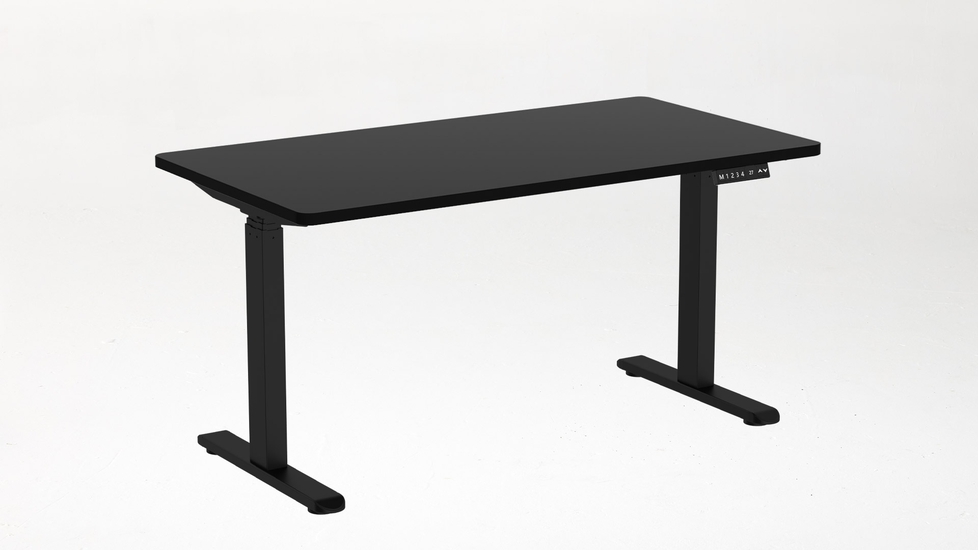 Wistopht CompactDesk: Programmable Keypad
Bought by 2 Google employees
FREE shipping Mar 23 - Mar 27. FREE 30-day returns.
Sold and shipped by Aoke. Visit our store
Wistopht CompactDesk: Programmable Keypad at a glance.
Transform any smaller space into an ergonomic work haven with the Compact Desk. Minimal or fully loaded, let this powerful office standing desk do all the heavy lifting for you.
• Tabletop size 47"L x 28"W x 1"H
• Height range of 25" - 51"
• Lifts 265 lbs with ease
• Dual motors
• Max speed of 1.6"/sec
• Top with no pre-drilled holes
• Easy installation
• 5-year warranty
Deep dive into specs
Why you should use standing desk for work
We all want to keep our workplace easy-going and thus always look for smart office accessories. Many who don't have a spacious workplace often get confused about placing office accessories and desks in the right place. Here, all can look for a Wistopht small office standing desk that can be a good option for an office space with a small area. Using a compact standing desk for office helps to convert small office space into a perfect space for working. The compact design of standing desks is easy to install at the workplace, and these come with certain health benefits. At present, we can notice a huge rise in usage of a compact adjustable desk in various companies with exclusive features and benefits that have made them quite popular. If your office space is not too spacious, you need to select a desk with a compact design so that it will not get stuck in the place and you can easily install them in a small workspace. Remember to check whether these are cable friendly or not. You will surely don't want a desk that creates hazards while placing cables. Well, an advanced home standing desk comes with simple holes that allow you to place the cables without hassles. An advanced Wistopht small office standing desk possesses an LED keypad that maintains multiple height settings. Some standing desks for small spaces are flat and simple, but many come with advanced shelf space for accessories and placing other valuable items.
Helps in calorie burning - Relief from back pain: Standing desks are also considered good for health benefits. It seems difficult to burn calories sitting all through the day. Working standing throughout the day will help people a lot in burning almost 1000 calories per week. Hence there will be a low risk of weight gain. Sitting for a long time can cause serious back pain, and sometimes it can transform into chronic pain. Selecting an advanced compact standing desk is always a good option as per your office requirements.
Lowering blood sugar & cardiovascular disease: Sitting all through the day at your workspace is not healthy at all, and many suffer from high blood sugar. It is a fact that if you can stand or walk for at least 180 minutes after a meal, it seems healthy. Hence, a Wistopht small office standing desk is considered healthy for the employees at the office. If your blood sugar level is low and you burn enough calories, you are less likely to get attacked with cardiovascular diseases. Working in front of a compact sit-stand desk for business will lower the risk of cardiovascular diseases.
Wistopht small office standing desk - A smart choice for today's offices
1. Basic features: Easy to assemble - Easy to control
The compact adjustable desk is facilitated with four programmable settings. The existence of a solid steel frame has enhanced its durability. It is easy to assemble, and hardly takes 15 to 30 minutes to assemble. You can assemble it yourself. It comes with four different types of custom heights which you can adjust as per your requirement. The simple controlling system can be moved effortlessly.
2. Wide range of heights with Excellent strength
The compact standing desk for office is available at different height ranges between 25" to 51". This makes it possible to adjust the height as per the person's height who will work in front of the desk. The compact adjustable desk comes with a compact design, but it does not mean that it is not sturdy. It can lift a weight of 265 lbs and can carry a maximum load. The longevity of the desk is awesome as it stays sturdy throughout its lifetime. The Wistopht small office standing desk has become popular due to its robust design and stands on a steel frame, and it collects its power from an electric-efficient dual motor.
3. Top-quality material to fulfill all your office needs
Perfect for every office space, the compact sit-stand desk for business is made durable with top-notch warp-proof MDF wood and made robust with natural bamboo desk top. Wistopht small office standing desk has emerged beneficial at various workspaces. Hence, select the standing desk for small spaces and make your office space a perfect place to work.
FAQs
Don't see the answer to your question?
Does this desk use a regular 120 volt outlet?
Yes. Our standing desks are compatible with standard 110 volts - 240 volts outlets. All currents are automatically converted by the desk. US orders are installed with the standard two-prong plug.
I see that there is a "black box" to be installed on the underside (aside from the control panel), with power and data connection. Is this like a power strip and data plug-in?
Yes, this is the control box. It must be attached under the standing desk to use the Smart Keypad. It is connected with the Smart Keypad to control the height of the desk, (and with a power source) tells the electric motor(s) when to move up and down.
We currently ship anywhere in the USA. International delivery is on the way, we'll be sure to keep you updated!
I think I want to get a standing desk. I'm 6' 3". Is the Compact Desk suitable for my height?
Yes! The Compact Desk provides a generous height range of 26-52 inches (with tabletop). One of our team is 6'5 and uses his Compact Desk comfortably every day.
Can you give me more information about your 30-Day Trial policy?
If you don't like your desk, we'll take it back. It's that simple and easy. You have until 30 days after delivery to build and use your desk. If you change your mind, you can then request to return the desk for a full refund (we even cover shipping!), no questions asked.
Does your 30-Day Trial policy apply worldwide?
Our 30-day trial policy applies only to SmartDesk Frames delivered inside the continental U.S. and returned in their complete original packaging. International orders do not qualify for this program. Please note that the returned standing desk frame needs to be in its original packaging. If not, we reserve the right to refuse your request.
How many amps does each SmartDesk use?
Is there warranty provided with the SmartDesk?
Yes! There is a 5-year warranty for the standing desk frame, 3-year warranty for the control box and 1-year warranty for the tabletop.