Buying a new chair for your home office can be either a fun or a difficult experience, depending on what your needs are. If you're setting up your home office for the first time, it may be confusing as to what the best home computer chair for you is. 
Thankfully, there are many products and features out there waiting to be discovered. It all comes down to choosing the best chair type for your office, choosing a model with the right features, and assembling it in your room. 
On this page, we're going to take a look at the most common chair types, as well as a list of the 15 best home computer chairs you can get today! 
What Home Office Desk Chair Do You Need?
As mentioned before, there are many computer desk chair options available on the market for you, but not all options work in the same way. While you must focus your attention on finding something suitable for your home office setup, you must also ensure it has everything you need to stay comfortable while you work. 
Here's an overview of the most popular chair types you can find at home office environments: 
Office Chair
This is the most common computer desk chair type for people. As the name implies, these chairs are made to be used at a desk in an office. Some features include swiveling, wheels, and adjustable height. Finally, they come with a load-bearing leg which you can use to adjust the chair to your liking. 
While an office chair is good enough as a home computer chair, it may not be as comfortable if you're planning on working on it for several hours a day. Most office chairs don't come with ergonomic features, such as back support, neck support, and others. 
On the contrary, if you're planning on using the home office desk chair for short periods, an office chair can be enough for your needs. 
Pros and Cons of Office Chair
They come in many different designs.
They are more affordable than other models.
They adapt to most office environments.
Lack of ergonomic features.
Stool Chair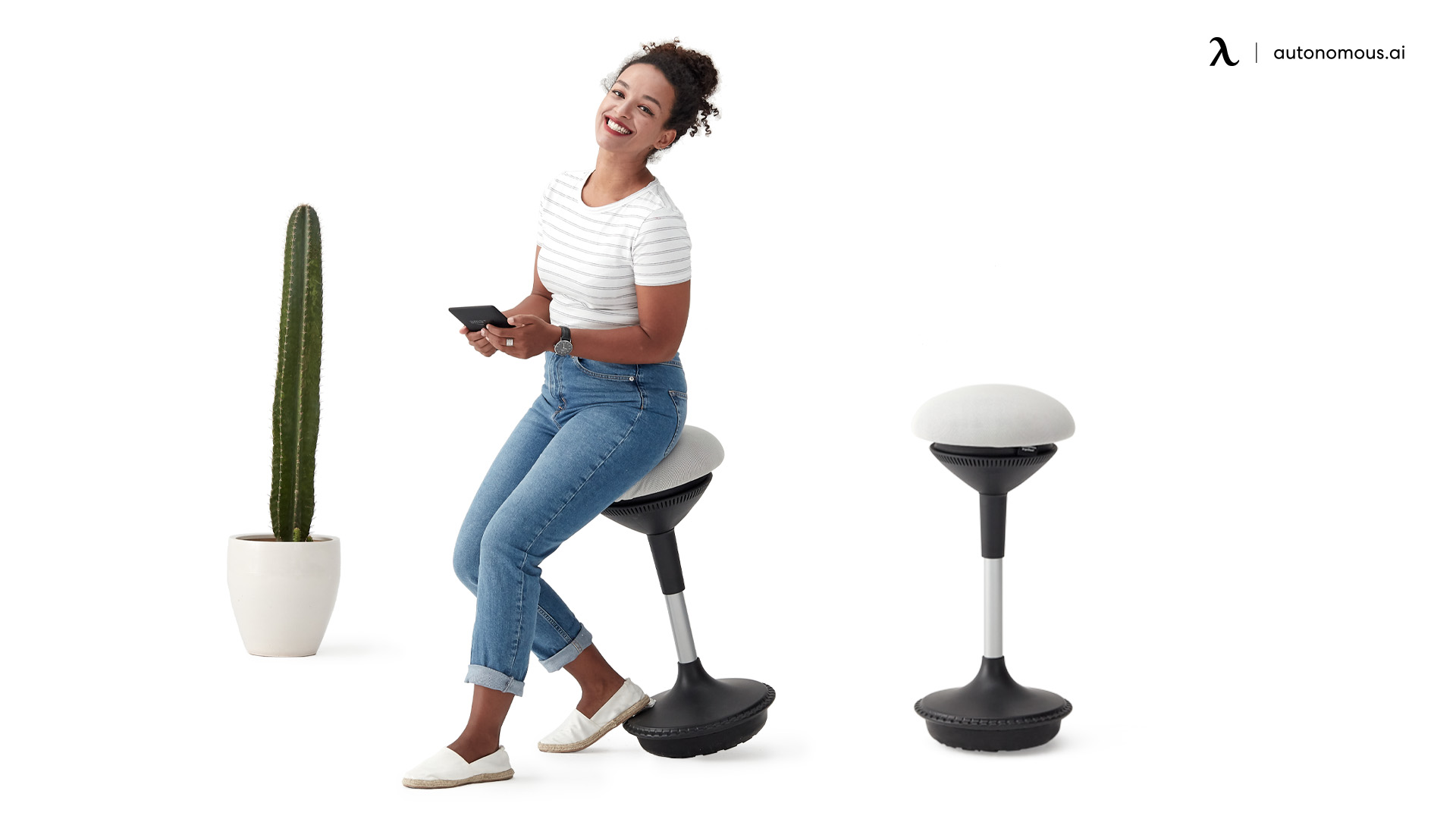 Contrary to popular belief, a stool isn't the same as a traditional chair. A stool is a "chair" without an armrest or backrest, and it typically isn't as high as other chair types. People use these chair types for sitting or using them as steps to reach for something. 
Traditional stools aren't too friendly for users, especially for those who work for extended periods. Thankfully, there are newer, ergonomic models that people can purchase to have a more dynamic sitting experience. However, remember that stools lack back, arm, or neck support, so if you're planning on sitting all day long, this may not be a viable option for you.
Pros and Cons of Stool Chair
They're dynamic chairs.
They're great for promoting active sitting.
They're not as comfortable for working as traditional chairs.
Ergonomic Chair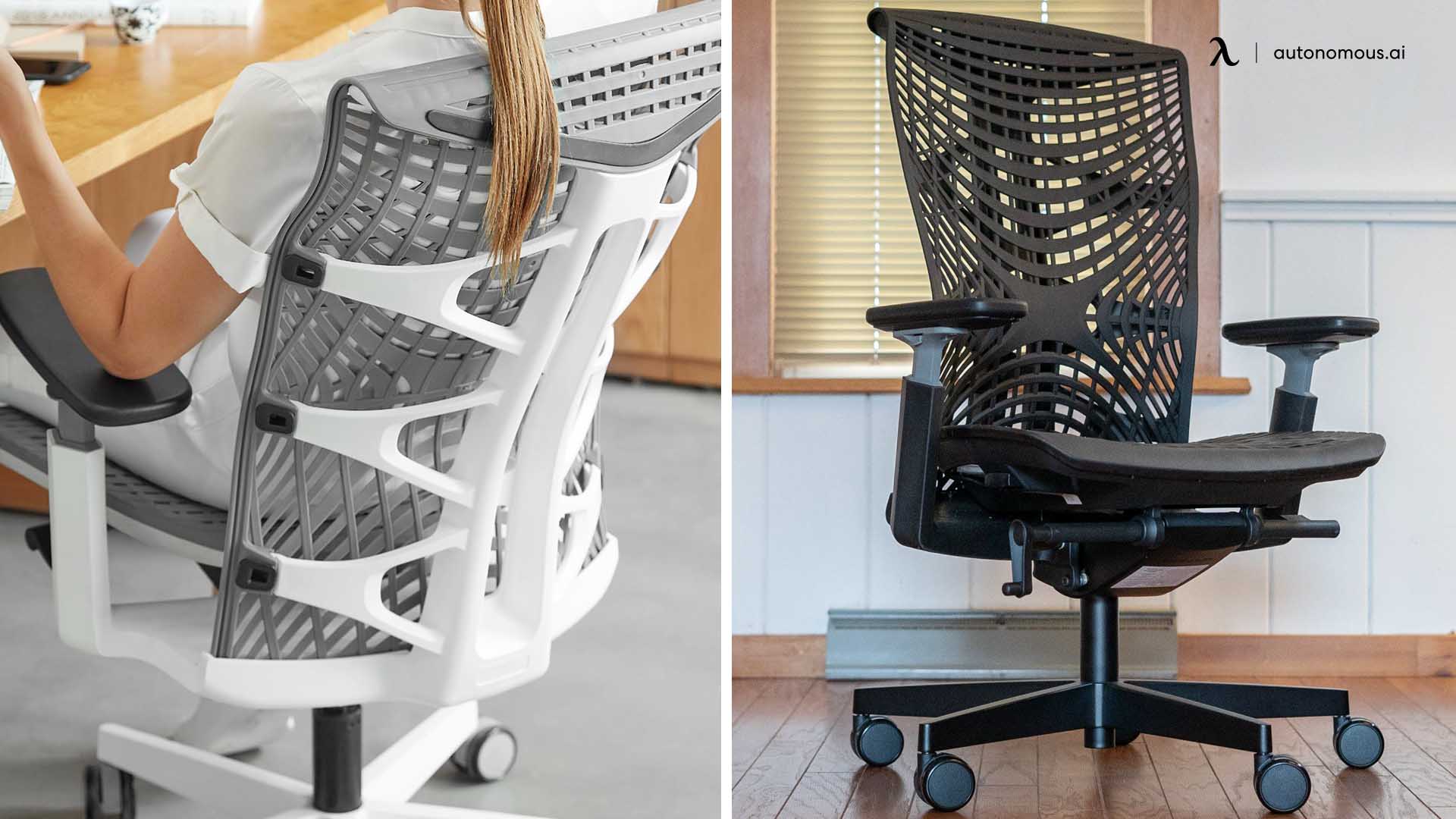 Ergonomic chairs are the newest addition to office environments, and they're revolutionizing how people sit while they work. Overall, an ergonomic home computer chair is designed to adapt to your specific needs and to do that, they come with a plethora of features, such as adjustable seat height/depth, lumbar support, neck support, and more. 
The most remarkable aspect about the ergonomic home chair is that it can help you improve your posture over time. Additionally, it reduces back pain, which can greatly improve productivity levels in exchange. This has been proven to be the best computer chair for long hours.
Pros and Cons of Ergonomic Chair
Many different features.
Great for improving your posture.
Great for boosting productivity.
They tend to be more expensive than other models.
Gaming Chair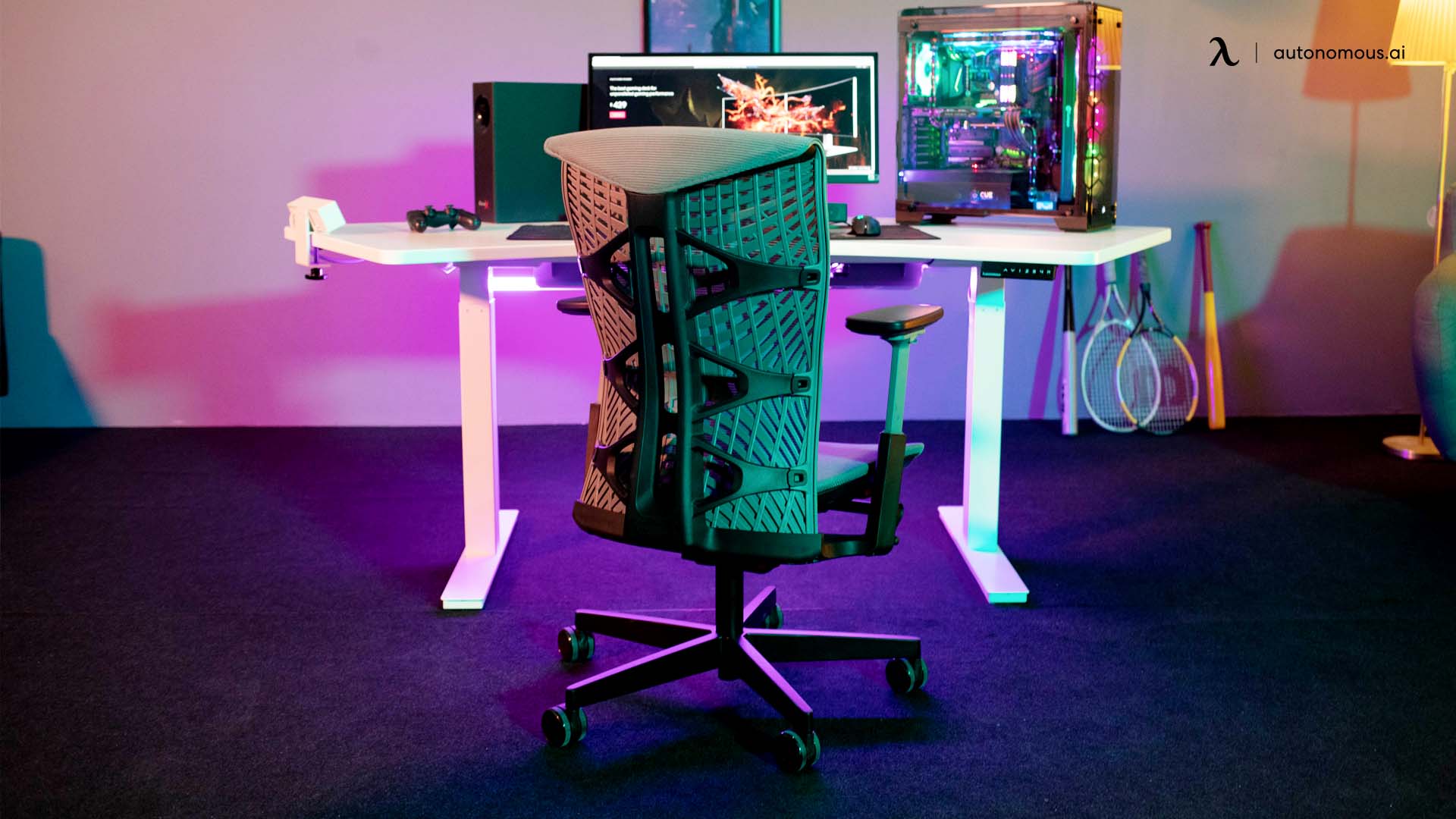 Gaming chairs take the concept of ergonomics and take it one step further. Aside from all the features that a regular, ergonomic chair includes, gaming chairs typically have more padding, better reclining, and excellent lumbar and neck support.  
Most professional gamers tend to sit for too many hours a day, and these chairs were designed to ease some of the consequences that come from sitting for too long. Overall, this is an excellent option for a home computer chair.
Pros and Cons of Gaming Chair
Perfect for sitting for long hours.
Adjustable to the user's preferences.
They're expensive.
Kneeling Chair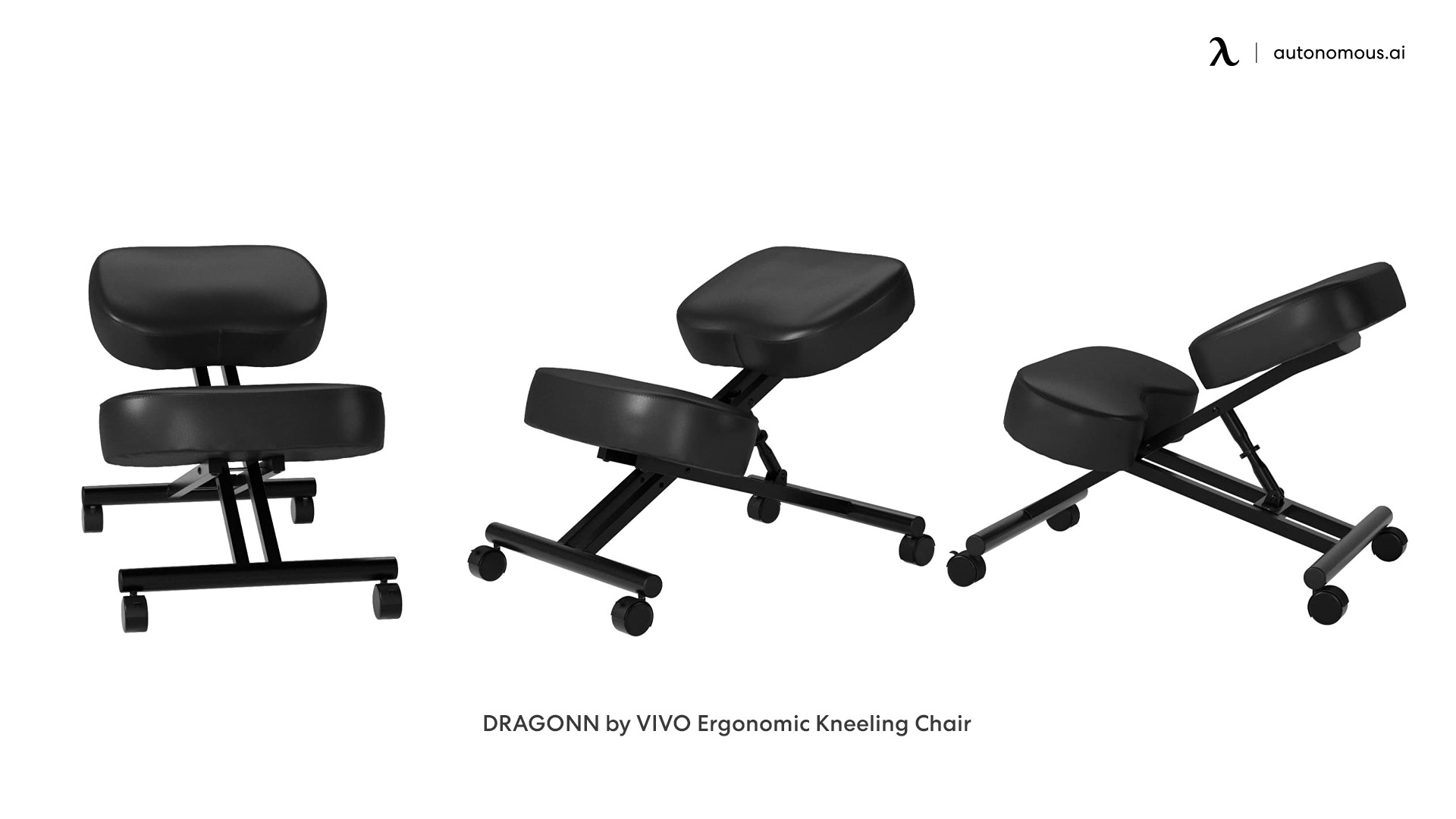 Kneeling chairs are slightly different from the chair types we've explained above. The main difference is that these chairs are designed to help avoid back pain by allowing you to rest your thighs on a rocker base at an angle of 60-70 degrees. 
One of the primary concerns with kneeling chairs is that some people believe they can cause knee pain. However, you're not going to have any problems as long as you don't sit for way too long.
Pros and Cons of Kneeling Chair
They alleviate lumbar pain.
They promote better focus and productivity.
They may feel uncomfortable for some people.
High Back Office Chair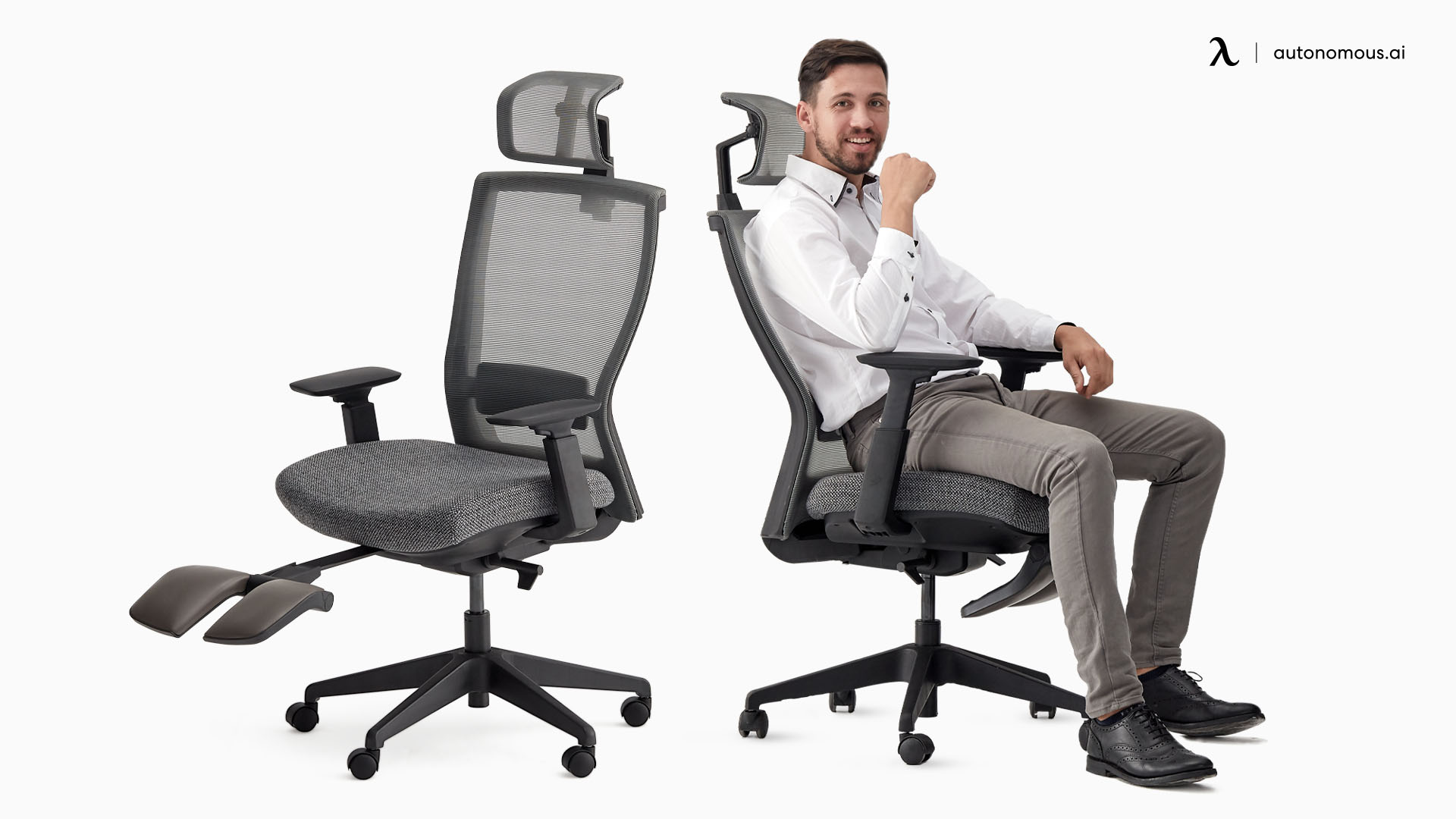 A high back-office chair is similar to an office chair; the difference relies on the back height. These home office desk chairs tend to offer much better support for your body, especially your back. If you're planning on sitting for extended periods or are looking for an ergonomic chair for back support, this may be a suitable option.
Pros and Cons of High Back Office Chair
Excellent back and neck support.
There are many different designs available on the market.
They're expensive.
Mesh Office Chair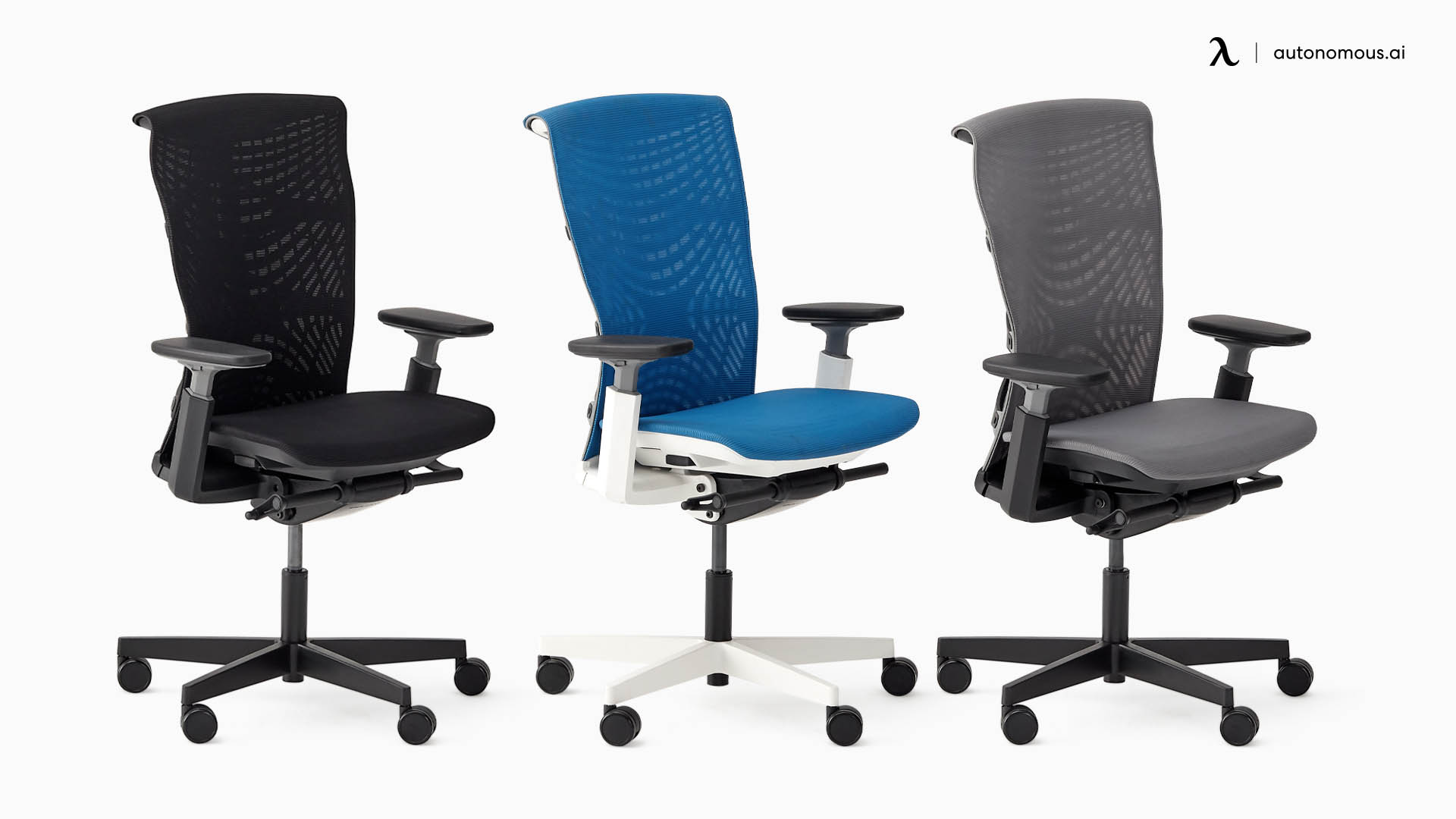 Mesh office chairs are almost identical to ergonomic chairs. However, mesh chairs are made from a mesh fabric that extends all over the back. The main benefit of these computer desk chairs is that they allow for better breathability for your body. 
In case you work somewhere with too much heat, a mesh ergonomic office chair can be an excellent choice since it promotes better airflow.
Pros and Cons of Mesh Office Chair
Better airflow over your body.
Great for rooms with hot temperatures.
The frame may be uncomfortable in some chair models.
15 Best Home Computer Chairs for 2021
As you can see, there are many home computer chair types you can choose from, and not all of them work the same for all users. To make it easier for you, we've compiled the 15 best home computer chairs you can purchase today. Additionally, we put them in separate categories so that you can have a better idea of what may work for you. 
Ergonomic Chairs
1. Autonomous ErgoChair Pro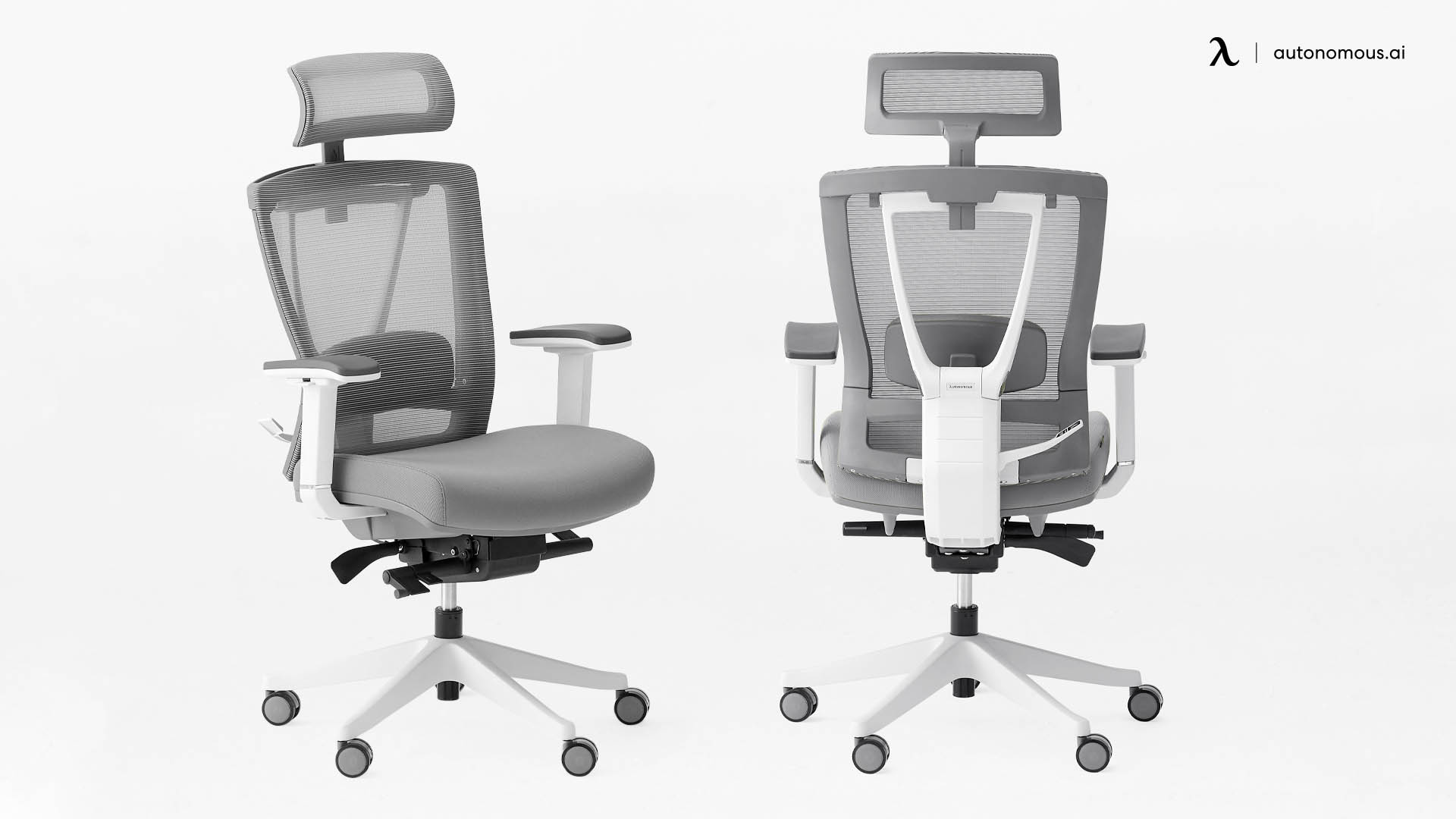 If you're looking to buy an ergonomic chair, the ErgoChair Pro is one of the best ergonomic computer chair options you can consider. It features all the features you need to ensure a much better working experience at home, such as lumbar support, height adjustment, adjustable armrests, and more. 
This ergonomic home chair works actively to fix your posture, so regardless of the position you're working in, this home office desk chair model does its best to ensure you're always comfortable and ready to work. 
2. Autonomous ErgoChair Plus
ErgoChair Plus can be the perfect ergonomic computer chair for you if you have the budget for it. Aside from having all the features that made the ErgoChair Pro famous, you also have adaptive spinal support, earth-friendly TPE materials, and breathable mesh. 
Both ErgoChair models work perfectly for your needs, although you may consider the Pro+ model if you're looking for an advanced, more professional experience.
3. Autonomous ErgoChair Recline
Sometimes the only thing you need is a reclining executive chair to make your body feel much better. In this case, the ErgoChair Recline is an affordable and beautiful option to consider.  
Overall, it comes with an adjustable armrest, seat tilt, headrest, and more. Thanks to its foam seat and reclinable mesh back, you're going to ensure a pain-free working.
4. Herman Miller Ergonomic Chair
If customization is what you're looking for, this home computer chair has everything in place for you. You can adjust everything you want to achieve the best seating experience possible according to your needs. 
While the design isn't as stylish as other ergonomic home chair models, it may still be a viable option if you want to prioritize comfort over other things. 
Kneeling Chairs
5. DRAGONN Kneeling Chair
The DRAGONN kneeling chair provides a user-friendly design with better back support that allows you to sit in an upright position. If kneeling chairs are what you're looking for, this is an affordable and viable option to ensure you're taking care of your back while you're working at home.
6. Varier Variable Balans Kneeling Chair
One of the most remarkable features of this kneeling chair is that you can use it in many ways. You can either kneel on the chair or sit in an upright position, whichever feels more comfortable for you. Additionally, the chair is made of flexible wood, which adds up to a cleaner, more modern look for your room.
7. VIVO Rocking Kneeling Chair
Aside from the benefits that kneeling chairs offer, this ergonomic home chair allows you to rock back and forth thanks to its curved, rocker frame. Keep in mind that working in this position may not be as viable for everyone, so think about it thoroughly before making a decision. 
Stool Chairs
8. Autonomous ErgoStool
While stools are not that viable for working for long periods, Autonomous' ErgoStool takes you the closest to a fun, dynamic seating experience. As opposed to regular stools, this product comes with a weighted dynamic base, a height-adjustable range of up to 10 inches, and it supports up to 270lbs, which is perfect for most users. 
If you're looking for dynamic sitting experiences, this ergonomic stool is one of the best picks you can take.  
Gaming Chairs
9. Secretlab Titan Softweave
This is one of the best ergonomic home chairs you can get if you're looking to maximize comfort. It offers a leveled seat base, which makes the experience much more comfortable as the hours pass. Additionally, it features a built-in lumbar support system, which is great if you're continually dealing with back pain and other related issues.
10. Neue Chair
The Neue Chair is a mix between office chairs vs gaming chairs. While its design isn't that attractive for people, it offers one of the sturdiest materials for users. This ergonomic computer chair is also highly comfortable, making it ideal for long working sessions. 
If you don't mind focusing on comfort rather than style, this is the one for you.
11. Corsair T3 Rush
The T3 Rush may look like an ordinary home computer chair, but thanks to its soft fabric, 4D armrests, and memory foam lumbar pillow, you're going to ensure one of the most comfortable seating experiences of your life. 
12. Secretlab Omega
While this ergonomic computer chair doesn't feature height adjustment or neck support, it's still one of the most versatile chairs to ever come on the market. The Omega model is especially great for those who are into racing games since the seating provides the comfort you need for these gaming session types. 
Back Support Chairs
13. ZipCode Mesh Chair
If you're looking for a budget-friendly computer desk chair that can support your back efficiently, this may be a great option for you. Overall, this product was designed to support your spine's natural curve, reducing back pain.
14. Tivoca Ergonomic Chair
The Tivoca home computer chair takes the seating experience one step further thanks to its entirely customizable headrest. This ergonomic computer chair offers everything you need for a comfortable and productive working session without having to spend so much money.
15. Gabrylly Mesh Chair
Gabrylly's computer desk chair offers one of the best ranges of motion we've ever seen in a chair. Additionally, it features amazing lumbar support, making it ideal for long working sessions.  
Bottom Line
Whether you're looking for the best chair for back pain or just a new chair to fit your home office setup, you must make sure to choose carefully. Remember that having a good chair also means your body is going to be more comfortable while you work, ensuring a safer experience. 
On the other hand, if you are already considering buying a new chair, you may also consider getting an office standing desk to maximize your productivity.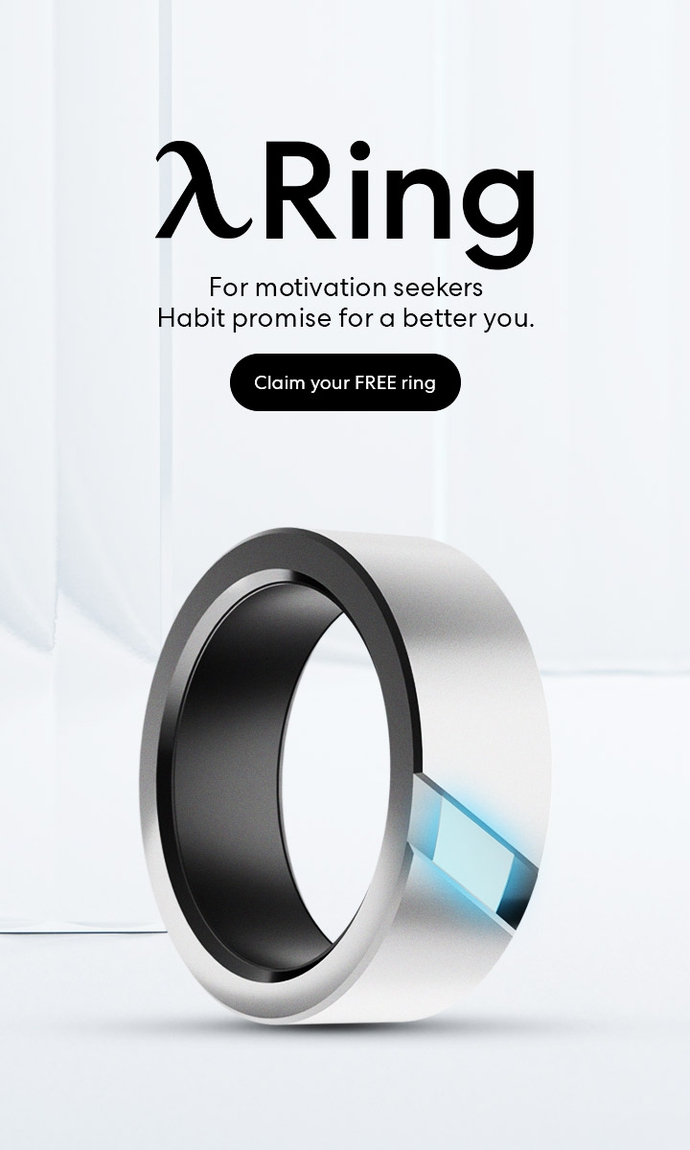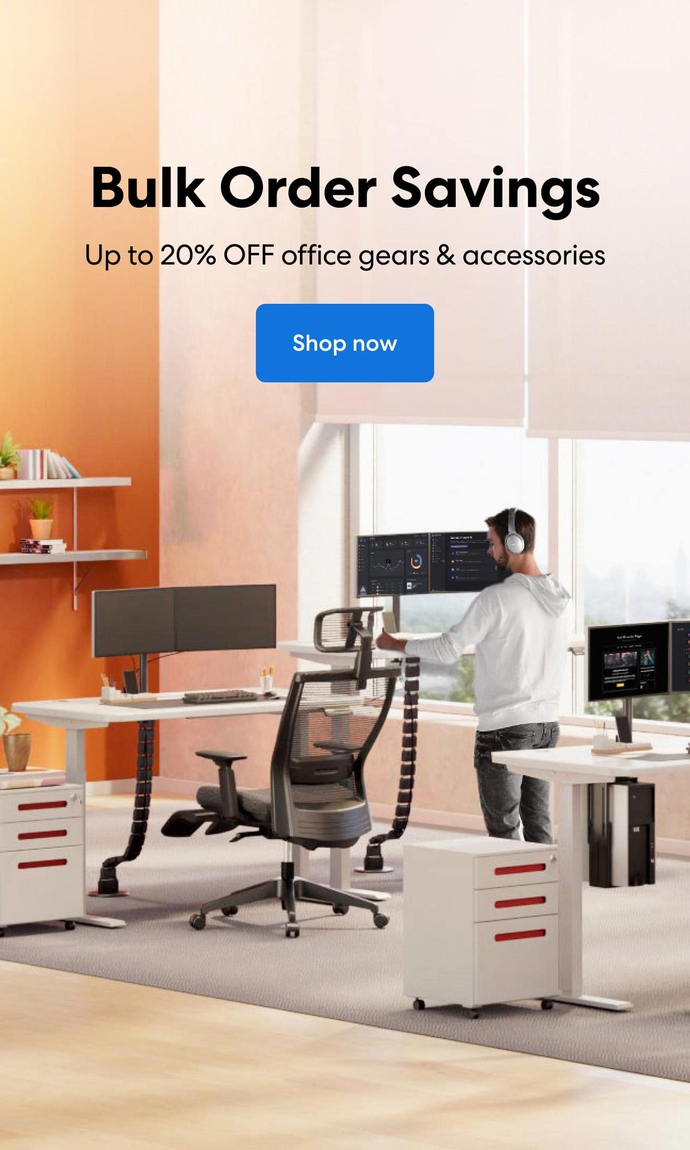 Subcribe newsletter and get $100 OFF.
Receive product updates, special offers, ergo tips, and inspiration form our team.