We're well into 2022, but that doesn't mean you can't set your performance goals for your team-high. It's best to aim for the very best results. Here are some great performance goals you can set for your team to optimize your output and productivity in 2022.
The first month of 2022 has come and gone - but the opportunity to enhance our performance within the workplace is still here. A new year is a new start, and a new shot at leveling up how well you perform in the office. But these goals don't end with January - they can take us all the way through the year and beyond. What we implement now can directly impact how well we get on further down the line.
Studies have said that January is known to be the least productive month in the workplace. However, that doesn't mean that February has to be the same. As we set ourselves new goals at the start of the year, we begin to reap the benefits in the following months. So there's no time like the present to give yourself a kickstart for a productive and successful 2022. Here are five important workplace performance goals to set yourself for the year ahead.
Transdisciplinary Skills
To give yourself the best shot at owning your goals - it's best to keep a broad perspective. By implementing transdisciplinary skills in the workplace, you are enhancing your knowledge of the company beyond just your job role. You're more likely to be better at your job if you understand fully how your company dynamic works - department to department.
Set dates with colleagues from different departments to share knowledge and experiences. This way you can better understand how both of your roles coincide and see the bigger picture with the performance of both your company and yourself. Go one step further - and try shadowing these colleagues in their daily work.
At the end of each month, arrange a time to share what you've learned about the company and how the business operates with colleagues. You'll not only be helping others, you'll be widening knowledge on the business and at the same time boosting your own performance outside of the role you are assigned.
Workplace too big? Don't let that hinder your goal-setting. The Ohmni Telepresence Robot lets you set up communications from different parts of the workplace without having to move away from your area.
Decision Making Skills
The best leaders are excellent decision-makers. A strong skill to have in any job is being able to make a decision that you know is right, and stick to it.
Make 2022 the year that you become great at making decisions. Aim to get training in probability before March, so that you have a foundation moving forward for the second quarter of the year.
Limit your subjective thinking in certain difficult situations. Give yourself fewer options, and critique the number of objective factors in each decision. Keep practicing this over the next couple of months and see how it impacts your decision-making.
Stop putting off the difficult decisions that you have to make and start facing them head-on with your new skills.
Cognitive Flexibility
Not everyone possesses the same level of cognitive flexibility as others. This is an ability to process unpredictable change with resilience. If you're not wildly confident with being a skill of your own, 2022 is the year that you can change that.
There are different ways to better your cognitive flexibility, including physical exercise, a switch-up of routine and self-awareness.
Allocate yourself half an hour a day to self-reflect, or 'brain dump' - where you assess and reflect on your experience. By doing this every day, you are taking yourself out of the current mindset that you are in and allowing yourself to look inward.
Give your mind and body a release of feel-good chemicals by exercising for around half an hour 3-5 times a week. This will make you feel better but will also feed your brain at the same time - enabling it to learn. Don't stop there - the rest of your working day doesn't have to be sedentary. Something like the ErgoStool will keep you active even when you're at the computer.
Change up your daily routine to keep your awareness constantly engaged. Try things outside of your comfort zone, such as surrounding yourself with others who you wouldn't normally engage with, or take part in events that you haven't tried much of before.
Creativity
Even the most self-proclaimed 'uncreative' person has a level of creativity to them, they just haven't necessarily tapped into that part of themselves yet. This year, how about finding ways to improve your creativity in the workplace and channeling that into your work performance.
Creativity can be a huge benefit to our self-confidence and this can crossover into how well we apply ourselves at work. In a typical office environment in 2022, we've already adapted new ways to boost our creativity, such as by using standing desks - which are believed to enhance workplace productivity and creativity.
To check-in with your imagination, start going on long walks regularly throughout the week without any music or podcasts playing in your ears. Take in your surroundings, see what insights and thoughts that the environment triggers within your mind.
Engage with pattern-detection, by reading detective fiction, listening to true crime podcasts and playing problem-solving games such as sudoku for around an hour and a half each week.
Take up a new hobby with something you haven't tried before and dedicate some time each month to improving your skill. Monitor your development and acknowledge your consistency and dedication.
New Virtual Media
Last year we saw a huge rise in the need for virtual communication channels in the workplace. These not only give us new ways to collaborate with our colleagues, but they also give us more freedom in the work that we do. That's why it's important that we set ourselves the goal of being well-versed with all the new tools and information that comes with each App's ever-growing development.
Staying up to date on apps like Slack and Zoom will boost your performance when it comes to handling projects efficiently.
Before the end of the month, update yourself on the different tools available in the market.
Research and outline the necessary communication tools used by your organization. Then, by the end of March, schedule an in-company training appointment so that you can share your research and knowledge with the rest of your company. This will ensure that the whole company is working at the best performance level possible.
Start it & stick to it
Every time we start a new goal, it's important to stick with it. You won't necessarily reap all of the performance benefits straight out of the gate, but each goal is an investment in your future performance. Keep a record of each goal you set in a planner, or organize each goal into the separate categories listed above.
Try to remember that you're setting your future self up for success every time that you dedicate yourself to a new goal. The journey to the best version of you starts now!
Video ads for product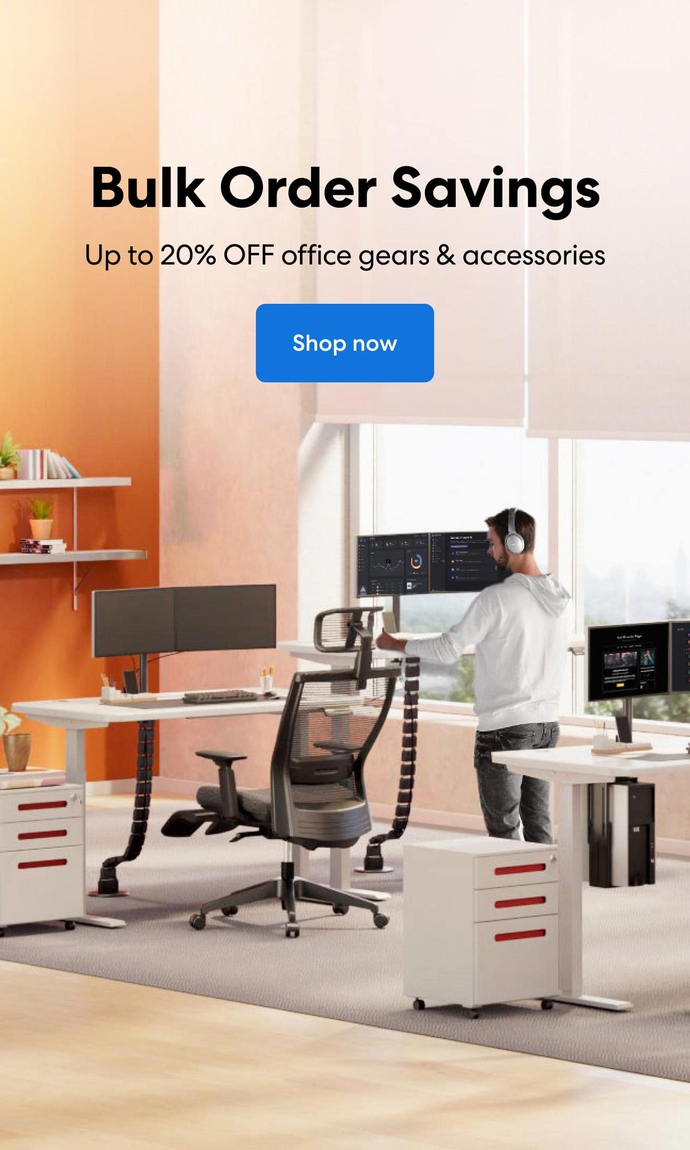 Subcribe newsletter and get $100 OFF.
Receive product updates, special offers, ergo tips, and inspiration form our team.