Latest Updates
Innerstate Works In Ergonomic Coworking Spaces To Meet Their Needs

Autonomous
|
Sep 2, 2021
1,583 Views
We want people to know and feel that they are appreciated and we want this space to work as best for them as it can.
Located in the heart of Menlo Park, home to Facebook HQ and arguably one of the world's most successful entrepreneurial spaces in the world, Innerstate Coworking is owned and operated by an amazing couple focused on giving small-businesses the perfect place to fulfill their visions. They've managed to provide an open space where companies of all industries can afford to chase risk and accomplish their best work simultaneously together and independently. In doing so, they've established themselves as movers and shakers in the best sense.
What is the story behind "Innerstate"?
We started Innerstate because my wife, Meg, started a private practice and needed a space to work. Real Estate was expensive for a solo practitioner so I learned about the growing coworking model and thought this is what we need to do. So many others struggle to find space, either due to cost, or due to the length of terms. We wanted to be a part of the solution.
Can you tell us more about "Work where you feel welcome", achieving a balance between mental wellness and high-intensity work performance?
There are a lot of growing coworking spaces and all have their own unique vibe when you walk through the doors. We wanted to design a place that felt warm and inviting. We didn't want it to feel like your living room but also didn't want to feel like a boring sterile office. So we feel we blended the two nicely and provided a "welcoming" feeling when you walk in and get to work! Also we welcome people from all industries and we wanted to build a close community. We are owner operated, so Meg and I run the space. We want people to know and feel that they are appreciated and we want this space to work as best for them as it can. We want them to feel welcome!
In your view, what helps you stand out and consistently attract communities of entrepreneurs, creatives and technology professionals?
We have a great location surrounded by some of the biggest tech companies today. So it's a buzz of entrepreneurship and creative professionals all around us. People love the different conference rooms and meeting options, along with a quiet and professional place to build their companies with flexible options to grow. We are owner operated and want you to succeed!
What was the biggest challenge your business has ever faced doing coworking space in Menlo Park and what was learned from it?
Getting found. Marketing and building our "brand" sure comes with its challenges. We continue to learn and have fun exploring and testing new ways to connect to our target market.
Tell us about a defining 'aha!' moment (if there was a particular moment) where your company experienced noticeable growth.
For the first 6 months the space was open, I was working another full time job while Meg was managing the space and growing her practice. Once her practice grew a bit more I left my job to run and manage Innerstate full time. We are owner operated and it's been an incredible journey so far.
What do you think is the most important component in maintaining a creative and motivated environment in your workspace?
Interaction with your members. Get to know them and learn from them. People work in different ways. So being open to suggestions and adjusting along the way is key. You have to be able to move and react. The space should constantly be reinvented to maximize its full potential to meet the needs of the community.
What are some misconceptions about your industry?
That it's a fad. I believe it's here to stay. Long term traditional leases just don't make as much sense anymore. Not for small startups or companies looking to open up remote locations.
What's exciting news that you have observed recently in Menlo Park?
There are a lot of companies moving into the area as some of the other towns around are getting full. As Mountain View and Palo Alto continue to get over saturated, Menlo Park is another great place to build a business and have direct access to all that Silicon Valley has to offer.
What can you tell us about your workspace that we couldn't find out anywhere else?
We are owner operated which helps set us apart from others. Meg and I designed the space and put together every piece of furniture ourselves. We truly are building Innerstate from the ground up and has been a fun journey. We're here to build community and help individuals and companies do their best work! We love connecting with our members and getting to know them and what their passion projects are that they're working on. Oh and we always have a full candy bowl!
How do you envision the future?
We're looking toward continued growth and expansion. Continuing to blur the lines between mental health and wellness and big business. Making it more mainstream and accepted to focus on as part of a business's culture. We want to continue growing our community and promoting Innerstate in multiple locations as a place where anyone is welcome to work on themselves and their business. We take care of the office space so people can focus solely on growing their businesses!
Why did you choose Autonomous?
Autonomous has been great. We have over 50 desks, chairs, and filing cabinets throughout the space. We have the white/white desks and some gray and green chairs. They are clean and sturdy looking. They really give the space a professional aesthetic. Members rave about the stand/sit capabilities and is utilized quite often. The price point is great for the quality of the desk you get. As we continue to expand, Autonomous will be the first place I go to help furnish Innerstate.
Video ads for product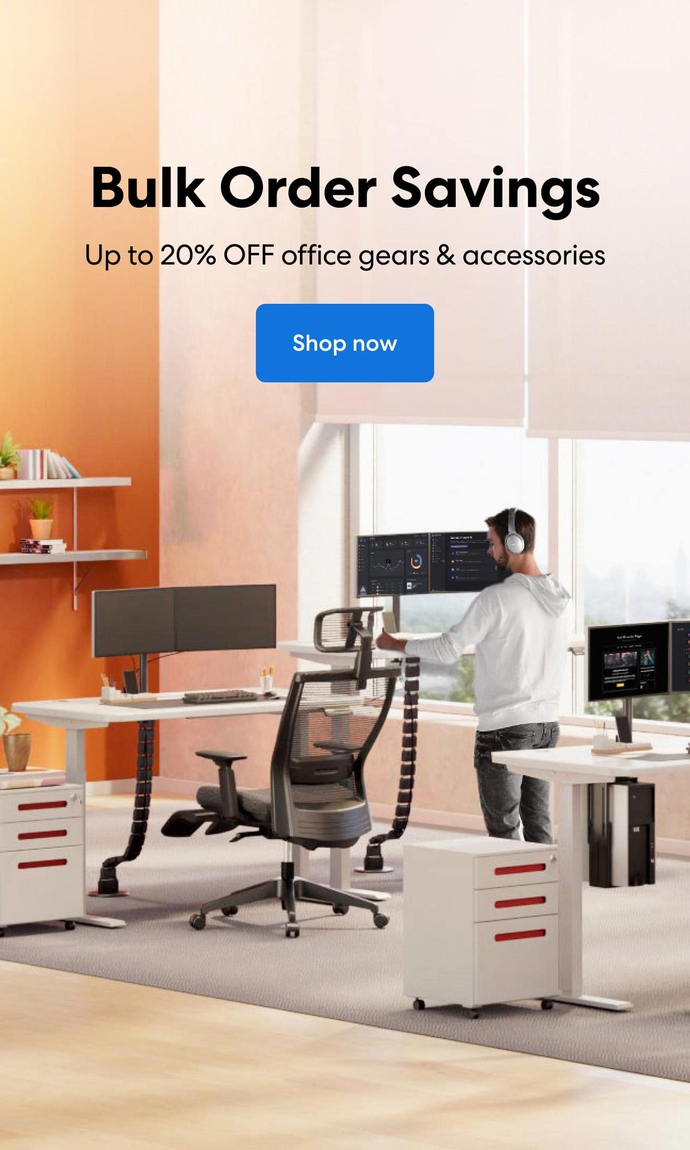 Subcribe newsletter and get $100 OFF.
Receive product updates, special offers, ergo tips, and inspiration form our team.