Hoteling at a workplace is an innovative solution to improve efficiency without spending too much on infrastructure and office expansion. For offices with limited space but more employees, hoteling is proven to be a working method.
But office hoteling policy is not a piece of cake to apply. From making the right policy to consider the important factors, office hoteling policy is important to improve efficiency and flexibility. This article will guide you about the important factors in office hoteling policy and vital policy elements.
Office Hoteling
For people wondering what is office hoteling? Must know that it is a way of sharing workspace without compromising flexibility and causing disturbance to any employee. There are various office hoteling etiquettes and office hoteling apps that ease this transition in the workplace.
Office hoteling is essentially ideal for businesses that follow a hybrid workforce. There is no better option for remote workers looking for a place to work smoothly than office hoteling. Office hoteling gives the employee the freedom of reserving their seats based on their ease and availability.
It also allows the organizations to reduce their infrastructure footprint as more people are assigned as remote workers, thus cutting up the expenditures and costs. According to research, 30% of enterprises are thinking about reducing their footprint as more employees are working from home while 50% realize they would need more space for efficient working and proper social distancing guidelines.
As much as hoteling is beneficial for both employers and employees, its proper application is the main concern. To make things clear, here is how a hoteling system works:
    Employees submit their reservation to the system to check the availability

    When availability is confirmed, the seat is reserved

    The system is updated with new information each time a seat is occupied

    The employee is emailed the proper information regarding their reserved seat

    Upon checking in on time, the worker can reserve their seat and enjoy working
Factors to Consider When Applying the Office Hoteling Policy
Making a transition in the workplace, such as implementing a hoteling policy, is important, but it is to be done smartly. As per the American Psychological Association (APA), a change in the workplace is one of the most leading causes of stress for employees. If you are willing to transition as big as this one, make sure that each employee is on board with you.
For people with hybrid remote work already, hoteling is not much of a change but a better way to collaborate and work with their colleagues, and they are more likely to be on board with it.
To make sure you choose the right strategy and office hoteling policy for your business, here are some factors to consider before making the hoteling decision.
Need of Variety in Workspace
Boredom is the major cause at a workplace why employees get so unproductive, besides workplace stress, of course. If you are introducing an office hoteling policy and all your desks and seating arrangements are the same, then what is the point of having the option to reserve different seats? To create an interesting place and a great environment, consider combining various individuals' needs and reaching common ground through that.
Personalization
Not everyone is a fan of change; some employees love their personal space and bring their special coffee mugs. For these employees having to change their space and shift their entire stuff each day is troubling. This issue can be solved with the right storage lockers and cabinets fixed for each employee to keep their stuff and settle accordingly.
Desk Hoteling Software
Having to remember to reserve a desk each day is tough. Especially when you are a person with anxiety. Office hoteling is not helpful without an efficient software system that takes reservations seriously. Moreover, each employee should be aware of how the office hoteling software works.
Missed Check-Ins
Many times with office hoteling software, some reservations go unused. This is a particular problem as the software shows occupied, but the space is free in reality. An office hoteling policy system must have a suitable check-in or check-out system to find out whether a seat has been occupied or not.
Hygiene
With employees changing their desks each day, a person with a viral cough or flu could transmit germs throughout the office within a week. It is essential to keep workspaces clean when implementing the office hoteling policy.
Software and Hardware
Don't forget to invest in the most important factors: the software and hardware. For office hoteling policy to work, each desk must be equipped with the right hardware, desktops, computers, and systems. On the other hand, the cloud-based system is important to store information to access their work from anywhere in the office.
List of Important Office Hoteling Policy Elements
The formation of office hoteling policy requires a close emphasis on certain factors, which will make this transition and application much easier. Some of the important office hoteling policy elements to be included in the policy template are as follows:
Eligibility
The eligibility criteria contain the policy application. For starters, who does the policy apply to? All employees only or even to the management. By discovering the right workforce for policy implementation, there will be an easy transition to the office hoteling system.
Locations
When it comes to office hoteling policy, the approval of locations is important; choosing the right locations to work and be implemented is an important factor. The locations should be at a realistic geographic place where employees can reach. Moreover, the place needs to be comfortable and noise-free as well.
Access to Resources
As employees choose a new place each day, they cannot discover whether a place is well equipped for their duties and task requirements. Employers need to make sure each hoteling office desk is equipped with the right facilities and proper equipment to help employees work smoothly and efficiently.
Concluding Remarks
Office Hoteling Policy allows the employees to enjoy flexibility and hence they can choose to work from office spaces or even work from home as they please. This results in having employees control over their work routine, so they feel more productive to find office Hoteling best Practices their own.
Video ads for product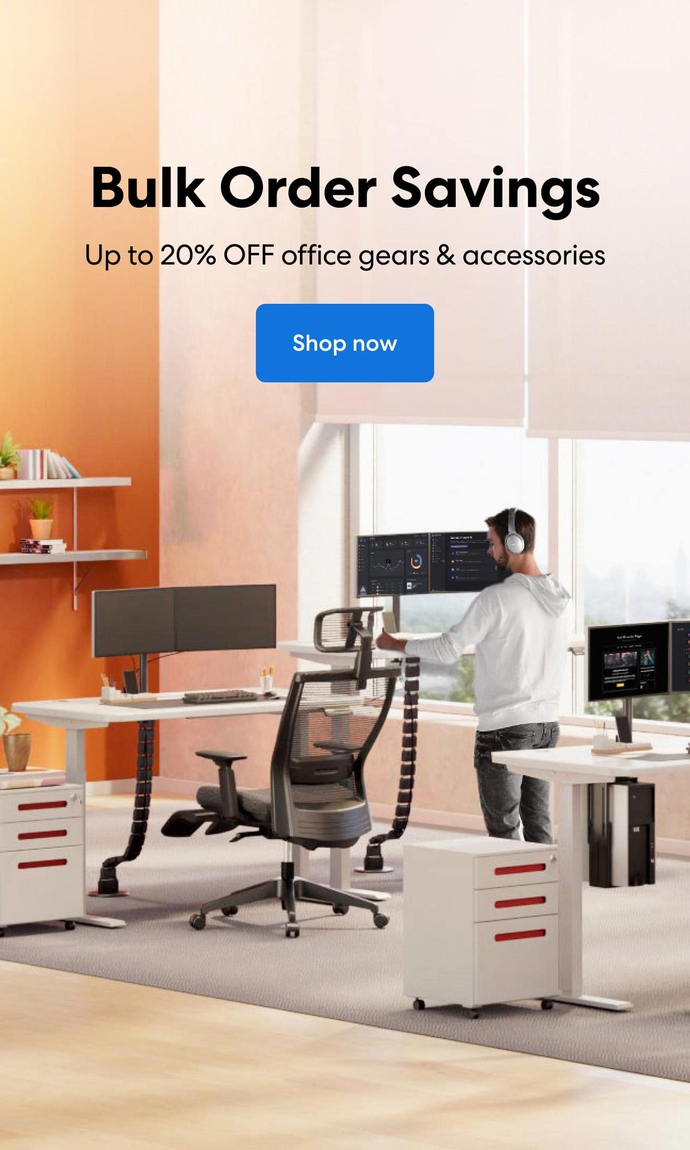 Subcribe newsletter and get $100 OFF.
Receive product updates, special offers, ergo tips, and inspiration form our team.