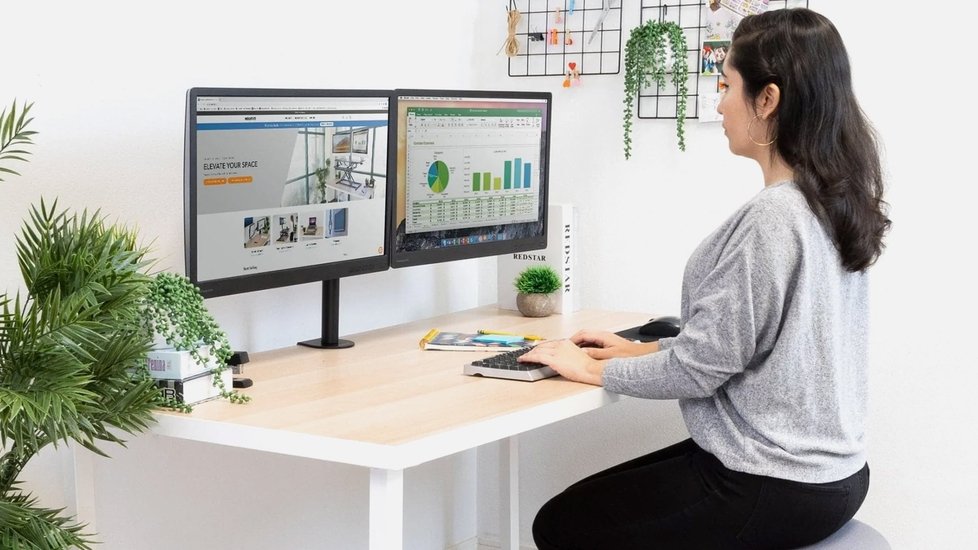 Mount-It! Full Motion Dual Monitor Desk Mount: Heavy-duty
128 Bewertungen
Visit our store
Kostenloser & flexibler Versand
GroßbestellungSparen Sie bis zu 

4%
Jetzt kaufen
In den Warenkorb legen
Kostenloser Versand Dec 04 - Dec 06 KOSTENLOSE 30-tägige Rückgabe.
Gekauft von 200+ Apple Mitarbeiter.
Verkauft und versandt von Mount-It!
• Compatibility: 75mm x 75mm and 100mm x 100mm VESA patterns, and screens from 13" - 27" • Weight capacity: 17.6 lbs per arm • Height Adjustable: Up to 17" • Tilt: +/-80 degrees • Swivel: 360 degrees • Easy installation: Clamp-On and Grommet Base
• 10-year warranty
If you're looking for comfort and increased productivity, then this dual monitor mount is the perfect solution. The full motion range allows you to adjust your screens to the right height and angle, reducing strain on your eyes and back.
Tief in die Spezifikationen eintauchen
Merkmale
FAQs
Spezifikationen
Bewertungen
4.7
About Mount-It!
Mount-It is a renowned brand that specializes in providing high-quality mounting solutions for various electronic devices. With a commitment to innovation and customer satisfaction, Mount-It offers a wide range of products designed to enhance your workspace's ergonomic and functional aspects. The best features differentiating Mount-It office desk accessories from other players in the market are consumer satisfaction and ease. The company emphasizes manufacturing products that are easy to use and provide a comfortable solution to the problems that users experience. Moreover, their products are made of premium quality materials, have a lifetime warranty, and have an easy 60-day return policy. All these aspects make Mount-It a brand that takes immense care of the happiness of its customers. In today's digital age, having a reliable and versatile dual monitor setup has become increasingly essential for maximizing productivity and efficiency. Whether you're a professional or a gamer, the Mount-It Dual Monitor Stand presents a compelling solution to elevate your workstation. We are here to delve into this dual monitor desk mount arm's features, benefits, and installation process, enabling you to optimize your workspace for enhanced comfort and improved workflow through sophisticated computer accessories.
Mount-It Dual Monitor Stand – The Best Productivity Solution
The Mount-It Full Motion Dual Monitor Desk Mount is a versatile, sturdy mounting system that accommodates two monitors. You might need two monitors side-by-side if you are a gamer or a video editor. This innovative Mount-It monitor stand is made to provide a comfortable viewing experience by offering a stand that can be adjustable accordingly. The full-motion dual monitor desk mount arm is compatible with various monitor sizes and features a robust construction to ensure stability and durability. Moreover, there is no need to worry about its installation as you can simply mount this stand by clamping it on a hard surface. Assembly and installation are as easy as it gets. Overall it is the best dual monitor setup.
What is a Full-Motion Dual Monitor Desk Mount?
A full-motion dual monitor desk mount is a specialized mounting system that allows users to attach two monitors to a single stand. It provides the flexibility to independently adjust each monitor's position, height, and angle, enabling users to create a customized ergonomic setup. The full motion feature allows for easy swiveling, tilting, and rotation of the monitors, enhancing comfort and reducing strain on the neck and eyes, acting as one of the best PC gaming accessories.
Unlocking the Benefits: Exploring the Advantages of a Dual Monitor Setup
A dual monitor setup offers numerous benefits for users. It enhances productivity and workflow by enabling efficient multitasking. Additionally, adjustable monitor settings improve ergonomics, ensuring a comfortable and healthy working posture while reducing the risk of skeletal disorders. Mounting monitors on a single stand optimizes workspace by freeing up desk space and creating a clean and organized environment. Moreover, the full motion capabilities of a dual monitor desk mount provide flexibility, allowing users to easily customize their monitor positions according to their preferences and specific task requirements.
When to Use It
A full-motion dual monitor desk mount arm is incredibly versatile and can be advantageous in different situations. It proves to be particularly useful in office environments where employees need to multitask and effectively manage information. In creative work, such as graphic design or video editing, the expanded screen real estate provided by dual monitors enhances visualization and streamlines the workflow. Additionally, gamers find dual monitor setups highly appealing as they offer a broader field of view and the ability to multitask while immersing themselves in gaming experiences.
Who Should Use It
Programmers, data analysts, and video editors can significantly benefit from a dual monitor setup to boost productivity and streamline tasks. Moreover, Gamers who want to elevate their gaming experience and create an immersive PC gaming setup can utilize the full-motion dual monitor desk mount for an enhanced field of view.
What to Consider When Buying a Full Motion Dual Monitor Desk Mount
When purchasing a full-motion dual monitor desk mount arm, it is important to consider several factors. First, ensure compatibility by checking the manufacturer's specifications for monitor size and weight. Look for a desk mount with ample adjustability options, including tilt, swivel, rotation, and height adjustment, to customize it according to your ergonomic needs. Sturdiness and stability are crucial, so opt for a mount with a robust and durable construction to prevent any wobbling or sagging. Easy installation with clear instructions and necessary mounting hardware is also desirable. Additionally, prioritize a desk mount that offers cable management solutions to keep your workspace organized and maintain a clutter-free environment.
How to Use Full Motion Dual Monitor Desk Mount Properly
Properly utilizing a full motion dual monitor desk mount arm is essential for an optimal experience. Begin by preparing your workspace, clearing enough space for the monitors and easy adjustment. Follow the manufacturer's instructions to assemble the desk mount, ensuring all components are securely attached. Attach your monitors to the mounting brackets using the appropriate fasteners, ensuring alignment and levelness. Take advantage of the full motion capabilities to adjust each monitor's height, tilt, swivel, and rotation to your preferences, aiming for an ergonomic alignment with the monitors at eye level. Finally, sit in your usual working position and evaluate the monitor placement, making any necessary adjustments to achieve ideal viewing angles that maximize comfort and productivity in your multi-monitor setup.
Boost productivity now!
The Mount-It Dual Monitor Stand offers a practical and ergonomic solution for optimizing their workspace and enhancing productivity. Investing in a high-quality dual monitor desk mount like the Mount-It Dual Monitor Stand allows you to create an efficient and comfortable working environment that supports your needs. If you want a 3-monitor setup, check out the other best dual monitor desk mounts.