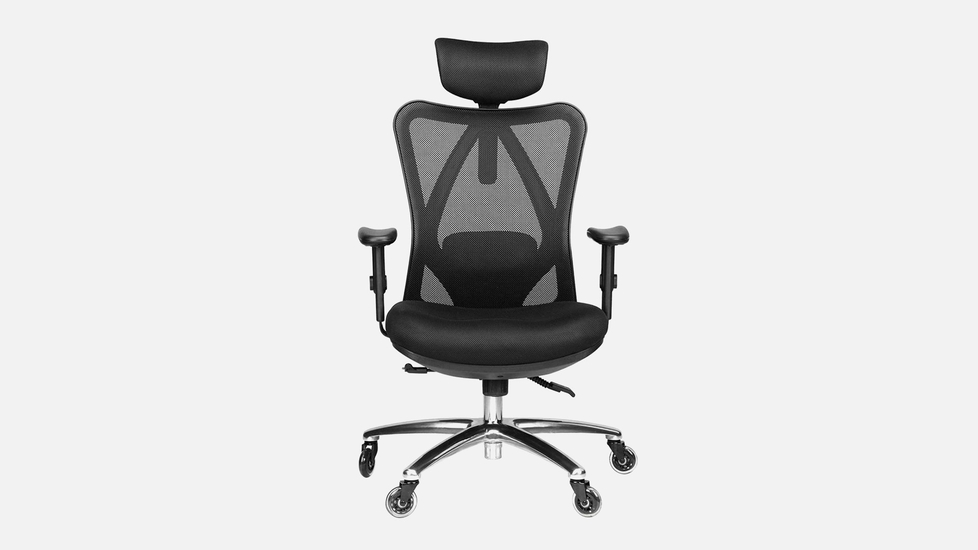 Duramont Ergonomic Office Chair: Adjustable Desk Chair
Buy now
Add to cart
FREE shipping Dec 06 - Dec 08. FREE 30-day returns.
Sold and shipped by Duramont

Price Match Guarantee
• MORE ADJUSTABLE THEN ANY OTHER CHAIR IN ITS CLASS — Unlike the office chairs sold by our competitors, which allow you to either fully recline or sit upright, we have a SECOND adjustment lever that allows you to lock in your desired recline angle at ANY degree. That way, you can be assured of finding the perfect comfortable seating position just for you. • BREATHABLE MESH - The breathable mesh back on this ergonomic office chair provides support while keeping your back cool and comfortable. Cool air circulates through the mesh keeping your back sweat-free and allowing you to sit in the chair comfortably for longer periods of time compared to traditional chairs • FULLY ADJUSTABLE BACK SUPPORT - Having back issues or don't want to develop them? Our unique office chair includes adjustable lumbar support that goes in and out, up and down, and a recline feature that allows you to tilt the backrest back or sit straight. Now you can quickly find a position that makes your back feel the most comfortable! • EASY TO INSTALL - Simple instructions enable anyone to put this executive chair together in eight simple steps! Then once built you'll be able to adjust the chair to your individual needs. The chair's pneumatic controls will let you raise or lower the seat and tilt back the backrest or sit straight up. You can easily find the ergonomic position that will allow you to work comfortably for long periods of time • HIGHEST QUALITY WITH 5-YEAR WARRANTY - This adjustable task chair is made to last. It has a weight capacity of 330 LBS and is made from the highest quality materials, including a soft cushion seat, sturdy arm and head rests and rollerblade caster wheels that allow you to move easily across the office floor. Get your office chair – and boost your work comfort! Your purchase will be backed by a 100% money-back guarantee. Try this chair for 90 days - if you don't love it, you can return it.
• 5-year warranty
Adjustable Desk Chair with Lumbar Support and Rollerblade Wheels, High Back Chairs with Breathable Mesh, Thick Seat Cushion, Head, and Arm Rests, Reclines
Deep dive into specs
Do employees at your place of business often slouch on their traditional office chairs? If so, you should get fresh furniture before you suffer from the spine or joint deterioration. Your search for the perfect chair ends with the Duramont ergonomic office chair. The standard for what it takes to have a happy, positive workforce has increased with the popularity of ergonomic office chairs. For the sake of discussing why those seats are so fantastic, let's first define the term "ergonomics." Despite spending more time in armchairs than in beds, most people don't value chairs as highly as they do beds. Purchasing a Duramont ergonomic chair has several advantages, including reducing back and joint pain and boosting productivity.
Reasons To Get Adjustable Office Chair With Lumbar Support
Any chair designed with the user's health, comfort, and proper posture in mind is considered a Duramont ergonomic adjustable office chair. A lumbar support office chair that is ergonomically sound will have certain features. The correct size and form for the user are among the characteristics of a good chair, like a Duramont office chair. Your feet should be able to rest flat on the ground when you sit on a Duramont ergonomic adjustable office chair, and there should be 2-4 inches between the back of your thighs and the front of the chair.
Benefits Of Adjustable Office Chair with Lumbar Support
Ergonomic chairs with adjustable lumbar are designed to provide their customers with the most comfort and relaxation. In particular, if you're purchasing several chairs for your team, we advise trying out a special chair for at least one day before purchasing it. The most comfortable office chair is the Duramont office chair. Traditional chairs are often linked to bad posture and provide insufficient back and lumbar comfort. Therefore, it should not be surprising that backache is the most common complaint among those who work in offices all day. The majority of workers in the contemporary workforce spend their time seated, which may lead to a number of health issues. Ergonomic chairs contribute to a well-designed workspace, boosting productivity and the caliber of work in organizations where employees spend a lot of time sitting at a desk. Numerous studies have shown that office chairs, like a Duramont chair increase workplace morale and productivity.
Features of Duramont Ergonomic Office Chair
Easy Installation & Possessing a Firm Foundation
The pneumatic controls just on the side of the Duramont ergonomic office chair allow you to change your seat height at the touch of a button. The chair's headrest, back tilt, and armrests are all completely adjustable. Find the most relaxed working position that nevertheless enables you to do your tasks during a regular Monday - Friday workday. Due to its strong construction, a Duramont reclining desk chair can comfortably hold up to 250 pounds. When looking for a leather desk chair, it's a top choice.
Best Back Comfort with Recliner
Officiality and comfort go hand-in-hand. You can easily hold the optimal position with the Duramont recliner office chair's locking mechanisms. Simply pull the back toward you and flip the footrest over to make the chair into a recliner. This leather chair offers the greatest lumbar support of all the leather chairs. It will be comfy to sit on for extended amounts of time, which will help you accomplish more. You should start wearing a back brace right away. The Duramont chair boasts an adjustable lumbar support network and a reclining mechanism to provide you with the most comfortable sitting posture.
Outstanding Quality
Duramont ergonomic adjustable office chair has robust armrests, a supportive headrest, and a luxurious cushion that can handle up to 330 lbs. It can be moved about the office with ease thanks to its rollerblade caster wheels. Duramont ergonomic adjustable office chair with adjustable seat height and back recline, thick seat cushion for home and office use.