Smart Products
Top 10 Executive Office Chairs with Lumbar Support for Conference

Autonomous
|
Dec 22, 2020
12,109 Views
What is something that you use on a daily basis for multiple hours? It is something that is incorporated into both your work life and home use. The answer is, an office chair!
Office chairs are more important than we believe them to be. This item carries our entire body weight and affects our overall health. A chair impacts you in more ways than you realize. Traditional office chairs simply do not do the job any longer.
What you need is an ergonomic chair with lumbar support. One of the biggest things that people complain about is back pain. Your chair could be the main reason for this. Investing in a new executive office chair with lumbar support could be the solution to all of your problems.
This article discusses our top 10 options for a beneficial office chair that is going to reduce back pain and the other negative side-effects that intense sitting provides.
What Causing Low Back Pain?
Experiencing lower back pain can be extremely uncomfortable and may lead to more serious health conditions in the future. It is crucial to understand what causes back problems so that you can avoid these specific activities or take precautionary measures to prevent pain.
Having a sore back is one of the most common reasons why people go to the doctor or take leave from work. Missing a day of work can turn out to be really stressful for some people; therefore, preventative measures need to be taken.
What causes lower back pain? There are really simple factors that can lead to this condition.  The majority of these causes are as a result of injuries due to everyday life activities, such as exercise as carrying things. These causes include:
Ligament or muscle strain
This can be caused by something as minor as lifting heavy objects, strange movements, or sitting in the incorrect chair. This places pressure on your back which leads to pain.
Health conditions such as arthritis or osteoporosis
These conditions cause issues with your spine's vertebrae. This leads to pain that needs to be consulted with by a doctor.
Bulging or ruptured disks/ Disk injury
Disks are the soft material that is between your vertebrae. When these disks bulge or rupture, they place pressure on your nerves, which causes discomfort.
Abnormal spine curvatures
Examples of this include scoliosis, lordosis, and kyphosis. This results in poor posture and a sore back because it places pressure on your muscles, tendons, vertebrae, and ligaments.
Back pain is caused by both serious and minor conditions. Small changes to your lifestyle, such as switching out your office chair for an ergonomic chair can make a huge difference and relieve some of this pain. If you are suffering due to a serious illness, it is recommended to see a doctor.
Why You Need an Executive Office Chair with Lumbar Support Function
Do you sit in a chair for multiple hours a day? Sitting for long periods of time can result in negative effects, such as poor posture, back pain, tiredness, and increased stress.
An executive office chair with lumbar support is going to support the natural shape of your spine which promotes correct sitting posture. When your spine stays in its' common form, you are less likely to experience any aches and pain.
An ergonomic chair with lumbar support provides a variety of health benefits, both mentally and physically. This piece of furniture is a need because:
It helps to correct your posture.
Support is provided for the natural curve of your spine.
There is a reduction in back pain.
These chairs are adjustable and customizable.
It eliminates neck pain.
There is relief from strain on your hips and glutes.
It improves your blood circulation.
This leads to increased energy levels and morale. As a result of this, a more productive and efficient work environment is created.
You are more relaxed and comfortable. This leads to a more positive outlook on your job.  
These beneficial feelings lead to an increased quality of work.
It is important to invest in one of these chairs as it contributes to your health and eliminates the negative effects of prolonged sitting. Self-care and looking after your overall health and well-being is vital.
The downside of an adjustable lumbar support chair is that it can be very expensive; however, price should not matter when your health is in question.
General Features to Look for in an Office Chair with Lumbar Support
The market for these products is continuously growing. Choosing which chair you are going to purchase can become overwhelming when looking at all the options. There are specific features that you need to ensure are present in the product you are looking at. These non-negotiable characteristics are:
You need to be able to change certain factors to ensure that maximum comfort is provided. Adjustable features should include the seat height and depth, the headrest, and the arm height and depth.
Investing in a good quality seat is important. Warranty and quality are two things you need to observe. When buying an office chair, you want to ensure that it is for the long-term.
An office chair with wheels is beneficial as it makes things more convenient for you.
10 Best Office Chairs with Lumbar Support
We have compiled a list of what we believe the ten best office chairs on the market are, to narrow down your search.
1. Autonomous ErgoChair 2
The ErgoChair 2 has to be at the top of our list. This high-quality ergonomic chair ensures that optimum lumbar support is provided. This seat is a combination of comfort, style, performance, and support. The patent emphasizes the fact that you are not going to find another office chair, quite like this one.
Admirable features include the flexible lumbar system and the Italian-designed tilt function. Hence, this is perfect for office use and contains all the elements needed to prevent any back problems.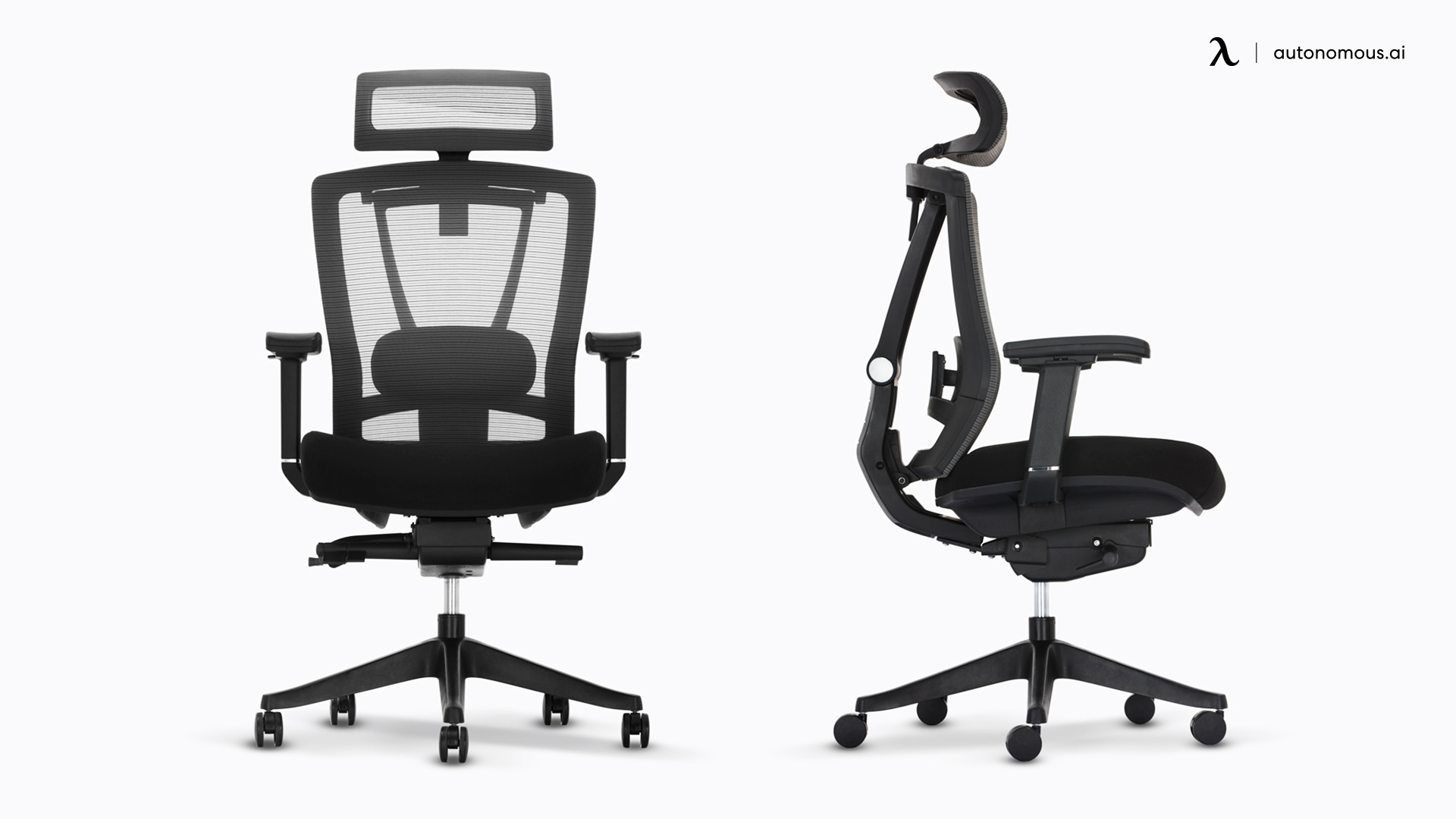 This is a slightly pricier product; however, the completely customizable features justify this. The ErgoChair 2 is the ideal choice for anyone searching the market for new office furniture.  
2. Autonomous Kinn Chair
The Kinn Chair is another option that has been categorized as one of the best executive office chairs with a lumbar support feature. This is so because it has been specifically designed with back pain and good posture in mind. This unique option contains a fishbone structure for back support and is made out of TPE materials. The specific structure ensures maximum support for your spine. If you are someone who suffers from lower back pain, then this is the chair for you.
Durability, alignment, environmentally friendly, and a reclining feature are all included in the Autonomous Kinn Chair.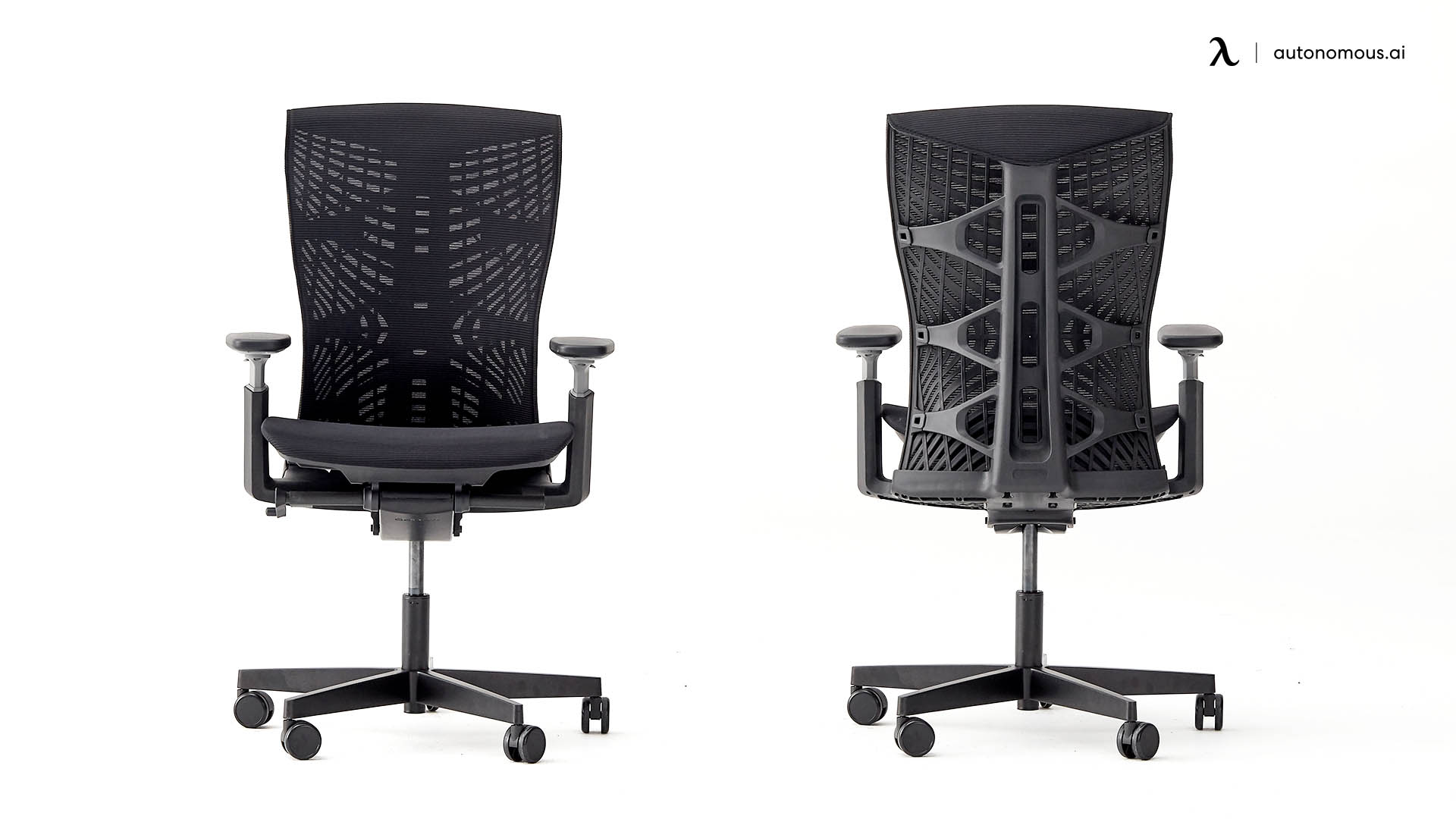 3. Autonomous MyoChair
The MyoChair office chair by Autonomous contains qualities that promote good back health. These qualities include a reclining feature and comfort. The product is more affordable than other ergonomic chairs with lumbar support features. There is an auto-balance feature, and there are adaptable properties that make this a convenient option. The pressure is relieved from both your upper and lower back, as there is a customizable headrest, backrest, and armrest.
The benefits associated with this is that it offers complete support, contains a footrest, and accommodates your entire back, which reduces any aches. Many people use the Autonomous MyoChair as an office, computer, and a gaming chair.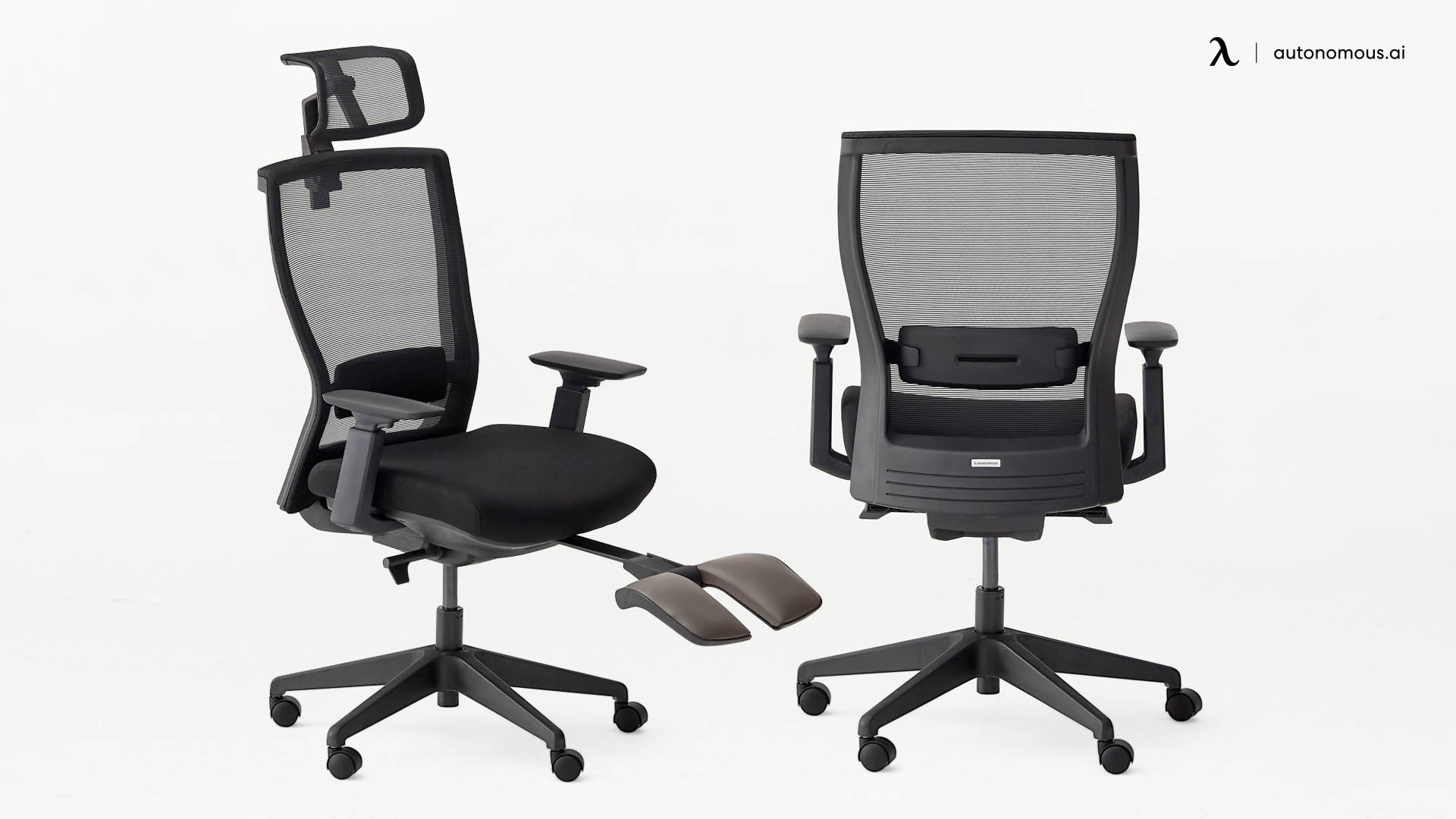 4. Autonomous AvoChair
The AvoChair is the perfect office chair for lower back pain. It is the perfect example of a modern-day product as it combines style and comfort. Sleekness and minimalism are in! This product is all about integration as it incorporates both natural and human-made qualities that promote correct posture. This product design does not lack creativity. This is a mesh office chair with lumbar support. The manufacturing of this product accommodates good spine health. This is provided through the curved design of the chair.  The chair is also completely adjustable and does not cause any discomfort whatsoever.  It is one of the few eco-friendly chair options available.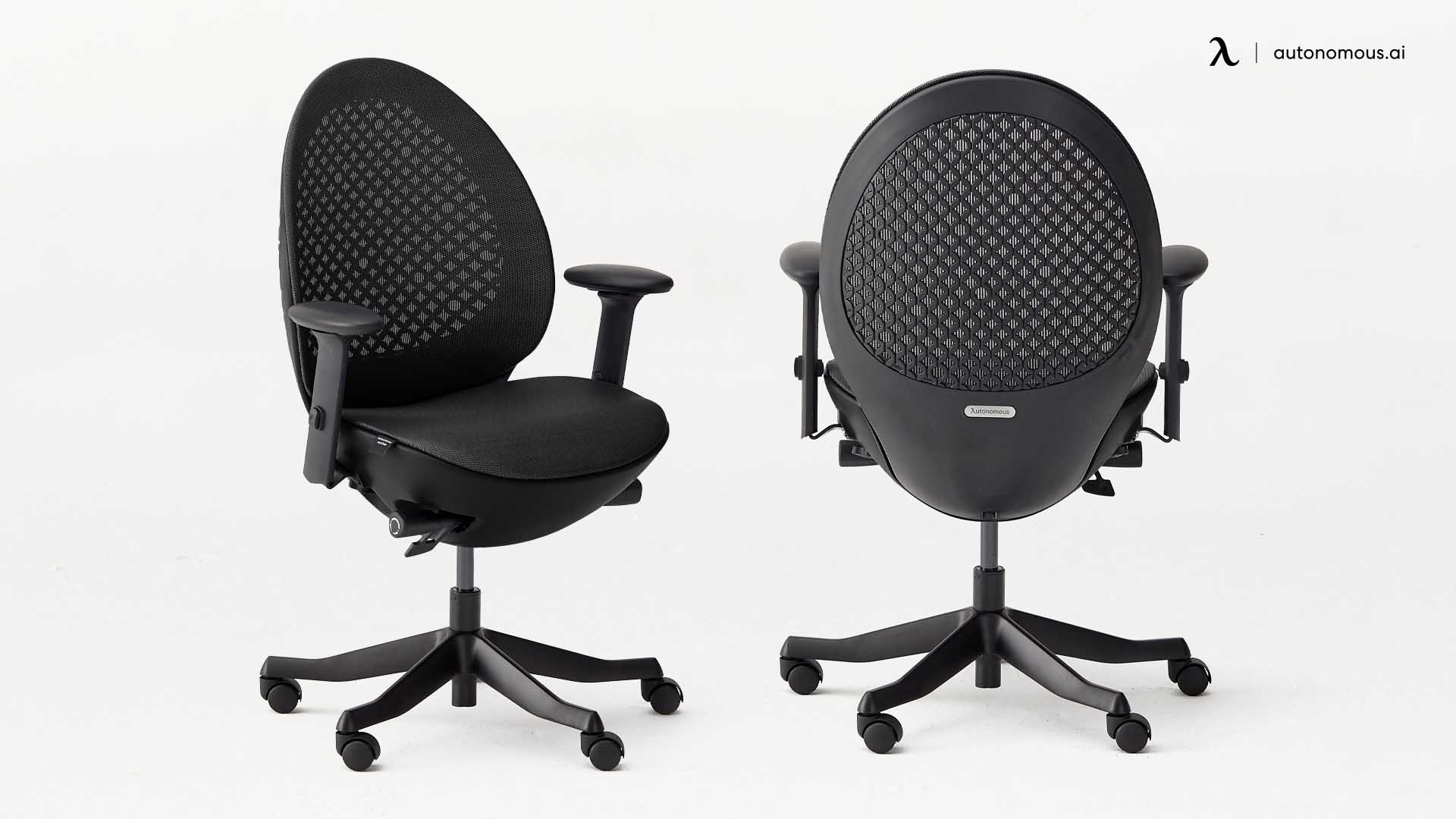 5. Herman Miller Ergonomic Chair for Back Pain
This popular product has been designed for appropriate spine alignment and reduced backaches. It is 100% adjustable with its adaptable lumbar support feature, chair angles, armrest depth and height, tilt levels, and chair-size.
The price range of these chairs can be out of one's budget. Most products from Herman Miller average over $1 000; however, they are amazing quality.
6. Embody Chair by Herman Miller
This chair was specifically designed with health and wellness in mind. The Embody's structure has been formulated so that you are comfortable sitting for multiple hours at a time. The focus is on promoting blood circulation. It relieves pressure from your spine, which helps to eliminate the negative side effects of previous bad posture.
This option, however, is a big monetary investment for a product that does not offer any head or neck support.
7. Steelcase Leap Fabric Chair
This Steelcase chair uses technology to its advantage as it possesses a feature that enables the item to adapt to support each of your movements. As a result of this, there is less pressure placed on your joints. It is also a completely modifiable product. One feature that does distinguish it from others is that it contains a portion on the side that supports and holds up your thighs.
However, a few people believe that the price to performance ratio of this executive office chair with lumbar support is not completely justifiable as it is not the most comfortable chair on the market.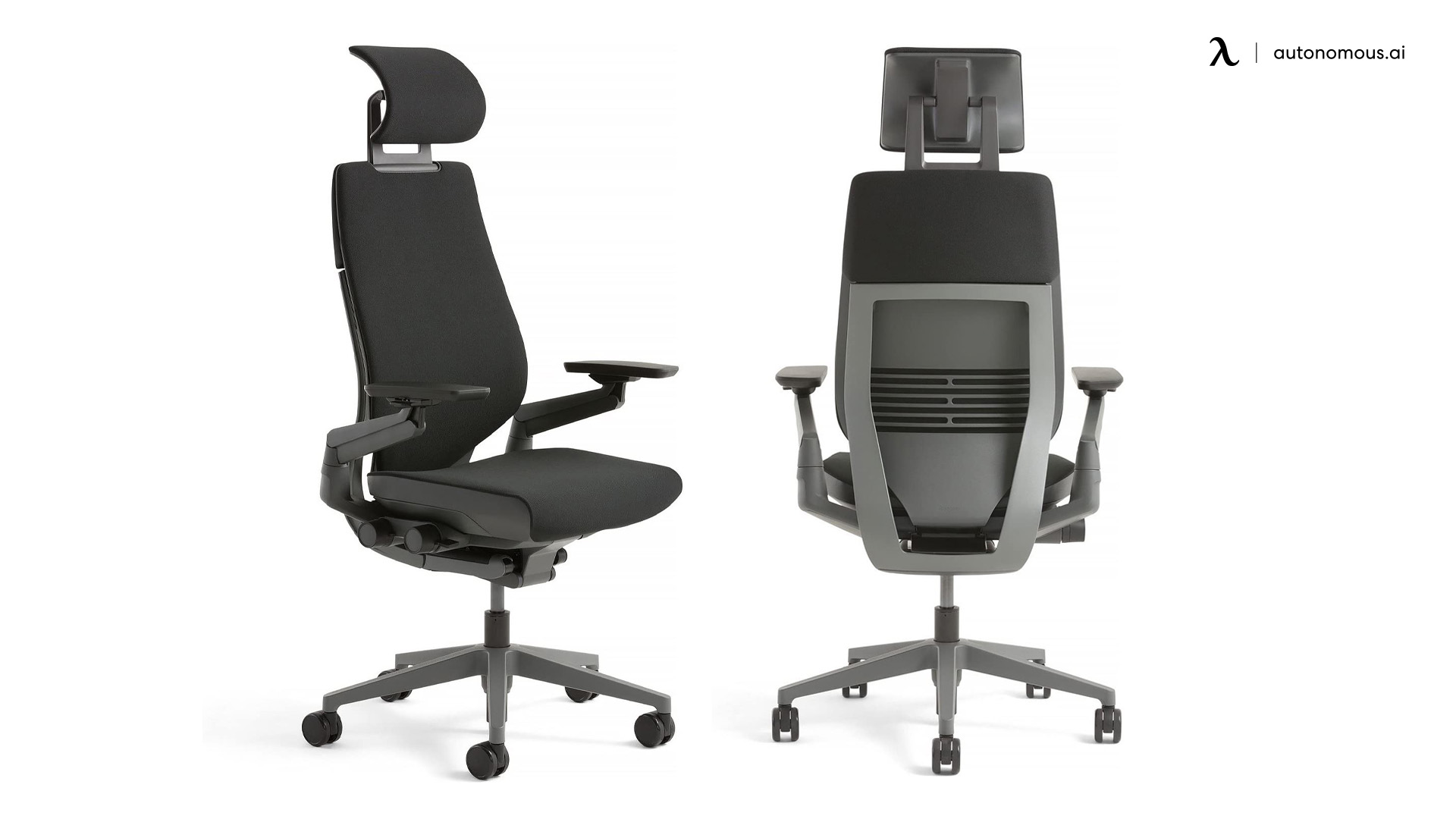 8. Modway Articulate Mesh Chair with Lumbar Support
This is an appropriate option as it contains customizable sections and a lumbar support feature. All the necessary characteristics are present in this option, which makes it a more affordable and appropriate choice.
Out of the different chairs on the list, this is not one of the most durable items. It is an affordable and convenient seat, but it is not manufactured for long-term usage.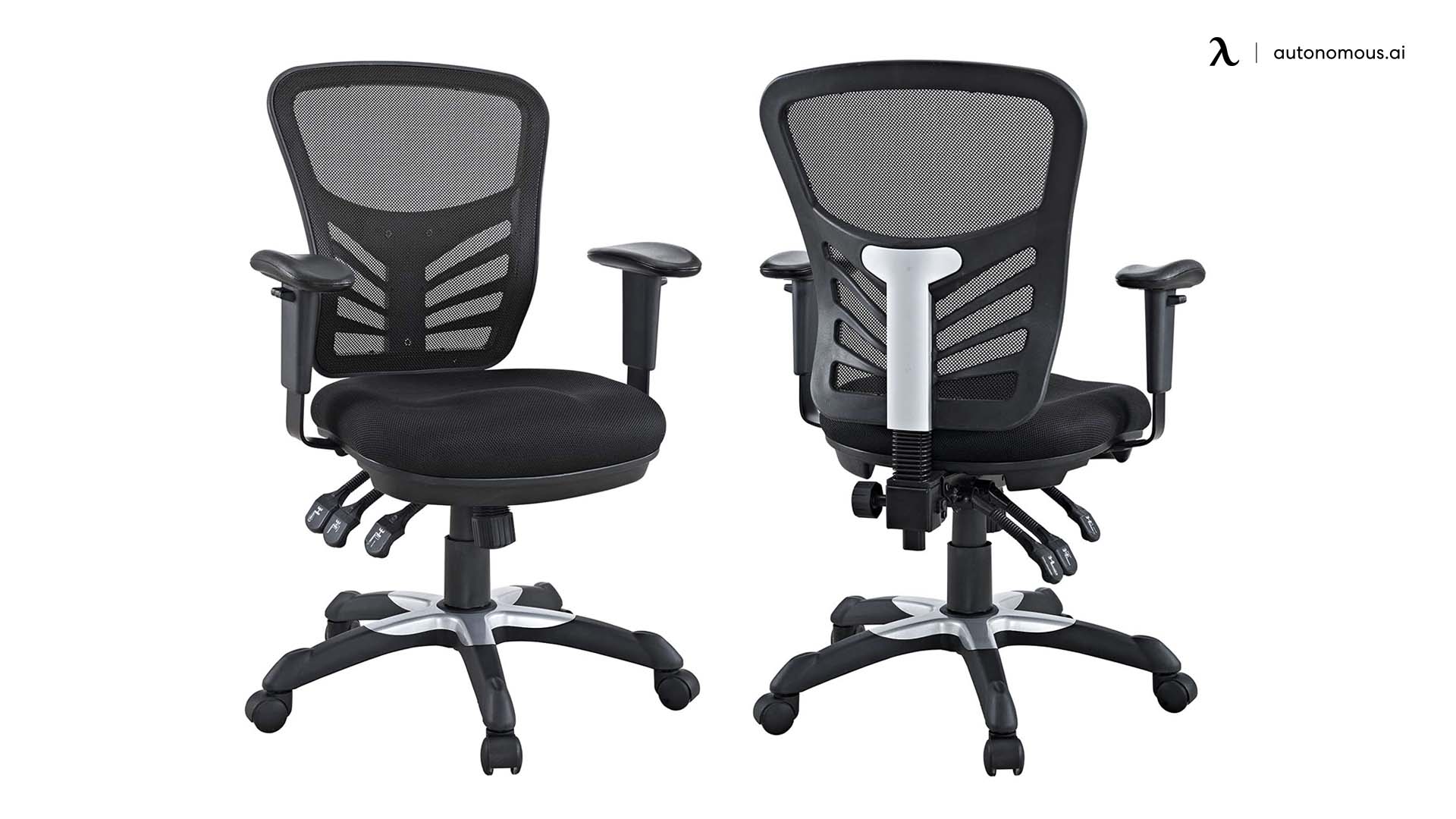 9. Zipcode Mesh Chair with Lumbar Support
Ergonomic properties that are said to have health benefits are present in this chair. The unique mesh backrest, which follows your spine's natural shape, provides efficient lumbar support. As a result of this, you can expect to see reduced back pain.
The disadvantage of this choice is that it is not going to provide you with maximum comfort, as it is quite shallow and does not contain much cushioning.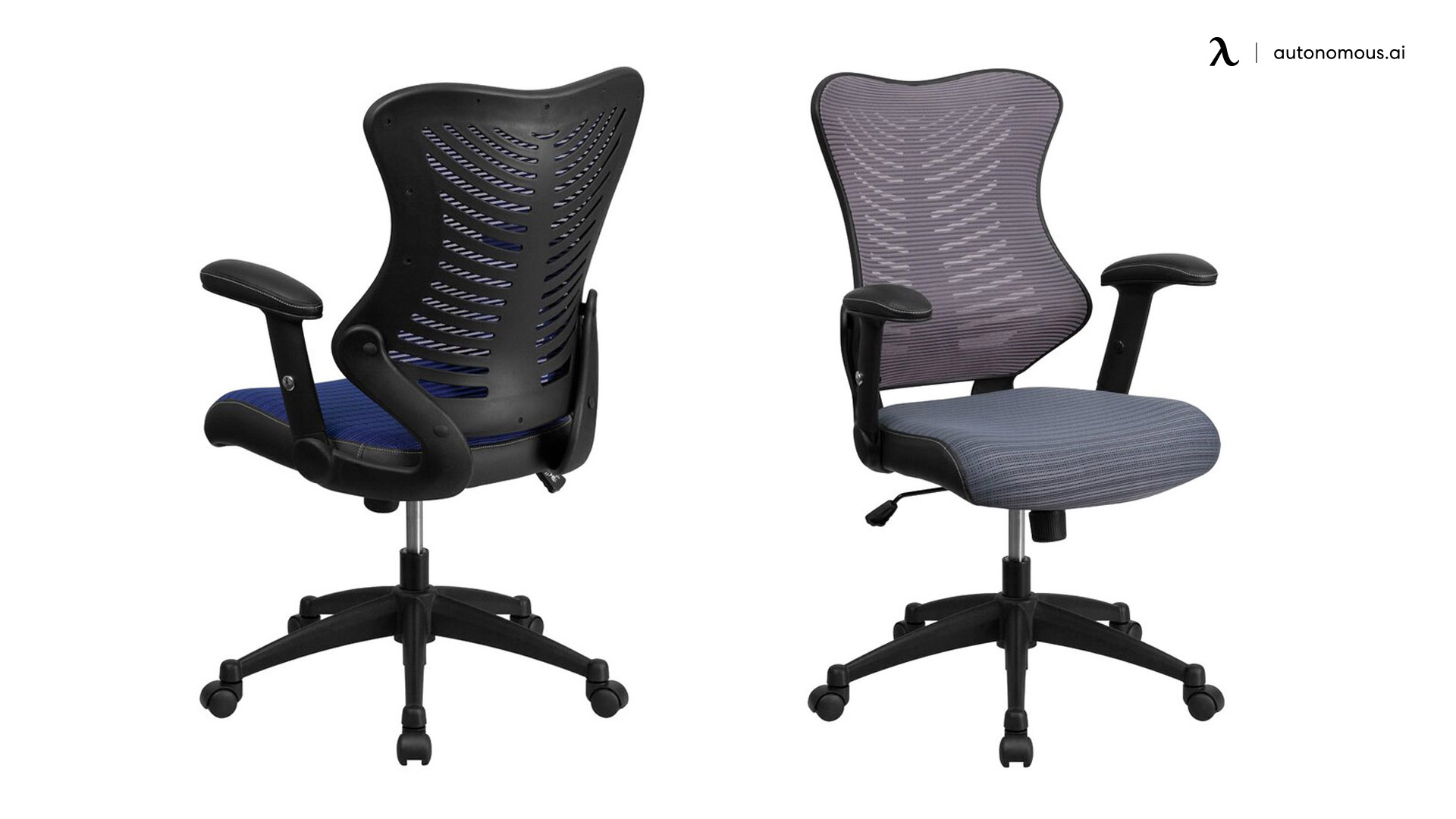 10. Viva Office High Back Mesh Chair
Affordability, design, and comfort all in one product. What more could you want? The Viva high back office chair contains a mesh backrest, which has beneficial properties of its own. One of these is a cooling and breathable effect. This property makes it easier to increase productivity while working. Like many of the other options, you can benefit from the adjustable and comfort characteristics.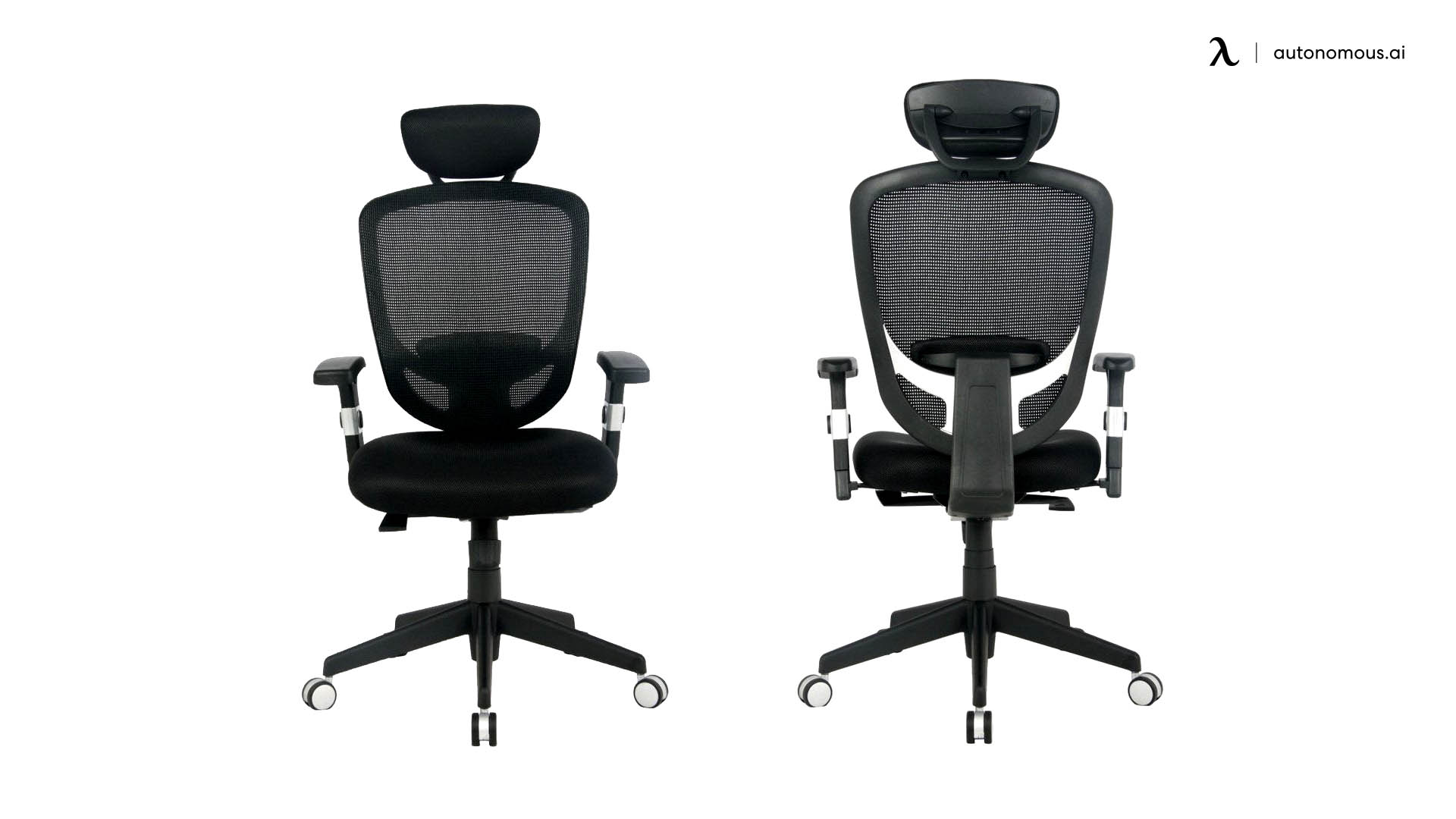 Conclusion
Choosing a new chair does not always have to be a quick thing. It is a decision that requires thought and research as there are so many factors to consider. This decision is going to affect your health, so you need to make this a priority. If you are someone who is always complaining about experiencing back pain, this could be one of the major contributing factors. If not dealt with this could lead to more serious health conditions down the line. It is time to invest in yourself and a new ergonomic office chair for back pain.
Video ads for product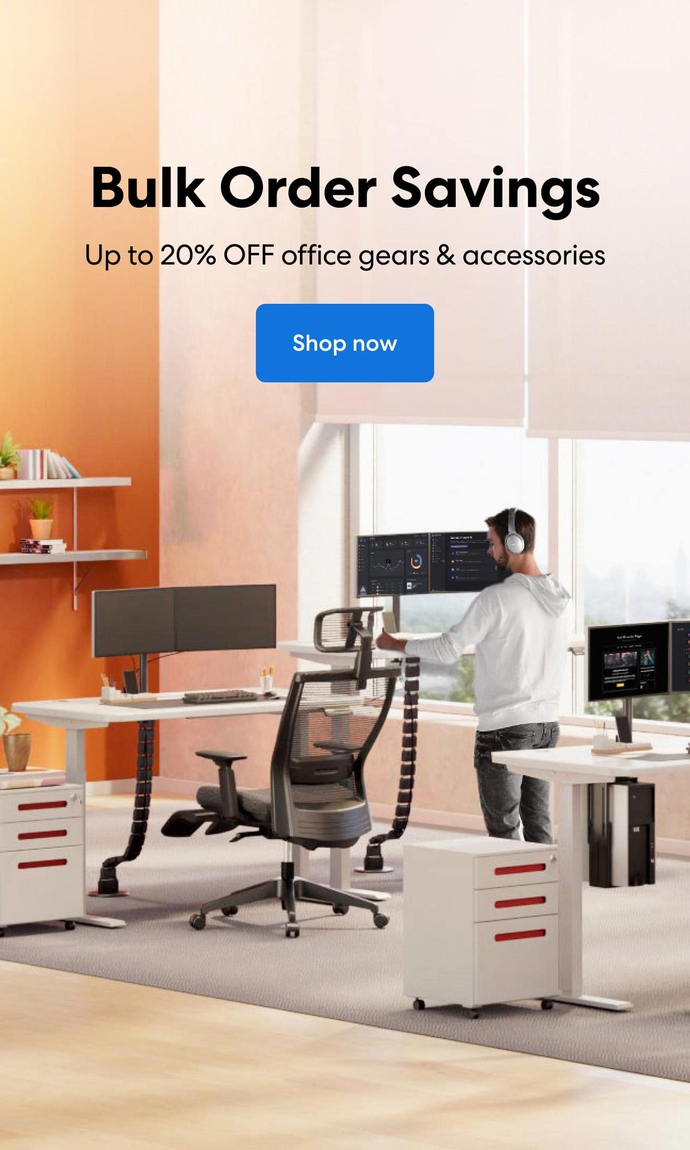 Subcribe newsletter and get $100 OFF.
Receive product updates, special offers, ergo tips, and inspiration form our team.