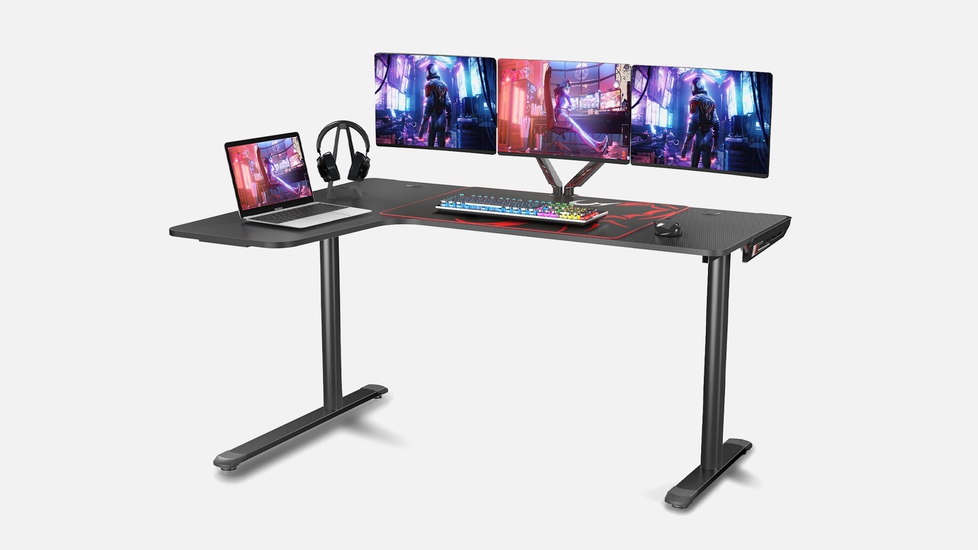 EUREKA L-shaped Desk: Carbon Fiber Surface & Additional Mousepad
10 reviews
Visit our store
Buy now
Add to cart
FREE shipping Dec 07 - Dec 11. FREE 30-day returns.
Sold and shipped by EUREKA ERGONOMIC

Price Match Guarantee
• 60"W L-shape carbon fiber texture Top • Cable Management box & tray • Come with Larger Mouse Pad (600 x 800mm) • Weight Capacity: 180kg • Materials: Steel+ABS+P2PB
• 5-year warranty
60"W L-shape carbon fiber texture Top Desk with Additional Mousepad
Deep dive into specs
Features
FAQs
Specs
reviews
4.7
Physical discomfort and spinal tension are prevalent when gaming, but it doesn't stop most people from playing. Constantly sitting in front of a screen is bad for your spine and may have negative effects on your overall health and well-being. And several studies have shown that prolonged exposure to video games may lead to a wide range of health problems in both children and adults. While gaming cannot be eliminated entirely, its negative effects may be mitigated with the correct setup, like using a carbon fiber gaming desk by Eureka Ergonomic store. If you're a gamer thinking about making the jump to a regular workstation, a sit-stand carbon fiber desk is your best bet. Does a standing carbon fiber gaming desk burn calories? The short answer is yes, and there are many more advantages to using standing desks, such as those offered by an electric standing carbon fiber desk, which enables you to alternate between sitting and standing, the healthiest and most productive positions for any task. Long periods of sitting may impair metabolism and raise the risk of diabetes and cardiovascular disease. Rather than wasting time sitting at a desk, the best gaming sit-stand carbon fiber desk encourages you to get up and get moving, increasing your metabolic rate and allowing you to burn more calories. It's also useful for relieving tension in the shoulders, neck, and back. Some gamers find that they can concentrate better and have more fun when they're not sitting down.
Why L-Shaped Desks Are Best For Offices and Gaming Setups?
L-shaped office desks are not only functional for work, but also for playing video games. An L-shaped carbon fiber computer desk allows you to have all of your office supplies within easy reach. The space may be separated into two distinct areas, one for personal use and the other for business. In addition to providing you with a more comfortable and efficient gaming environment, an L-shaped gaming desk also helps you stay organized. Because of the always-growing interest in esports, more and more players are constantly looking for new strategies to improve their games. If you want a more organized gaming area, an L-shaped carbon fiber computer desk may be a good solution. An L-shaped desk, like a Eureka L-shaped desk, could seem to be too bulky at first. This is correct; however, it does depend on the kind of desk you buy. However, a large desk might make up for its physical bulk by improving your workplace's efficiency. Since an L-shaped desk provides extra surface area, it is a great choice for those who use a mouse and keyboard or who need to place numerous monitors on their desk. There may be plenty of room for all the additional gaming gear you could need in the future, depending on the desk you choose. Having a Eureka L-shaped desk is popular among gamers since it provides more storage and may help you get more done. This desk is great for gamers who want to have everything in one location, but it does take up a lot of room. This L-shaped workstation eliminates the requirement to have specialized storage for gaming equipment.
Features of Eureka L-shaped Carbon Fiber Desk
Better Cable Management
Among the various stores you may buy from, this Eureka L-shaped gaming desk may be the most interesting one. Easily improve the aesthetic value of your gaming rig with the help of the sit-stand desk's specially designed gaming layout. The shelves on each side are perfect for storing your beverages and other small items. A cable management system of the Eureka L-shaped gaming desk may help you organize your gaming PC, laptop, and other peripheral wires so that you can focus on gaming instead of untangling them.
Several Distinctions & Excellent, Durable Metal
A power outlet holder with adjustable feet, a cord management system including grommets for cords and a power strip, and an extra-stable base. The carbon steel construction of the desk's structure ensures that it can hold even the heaviest of equipment.