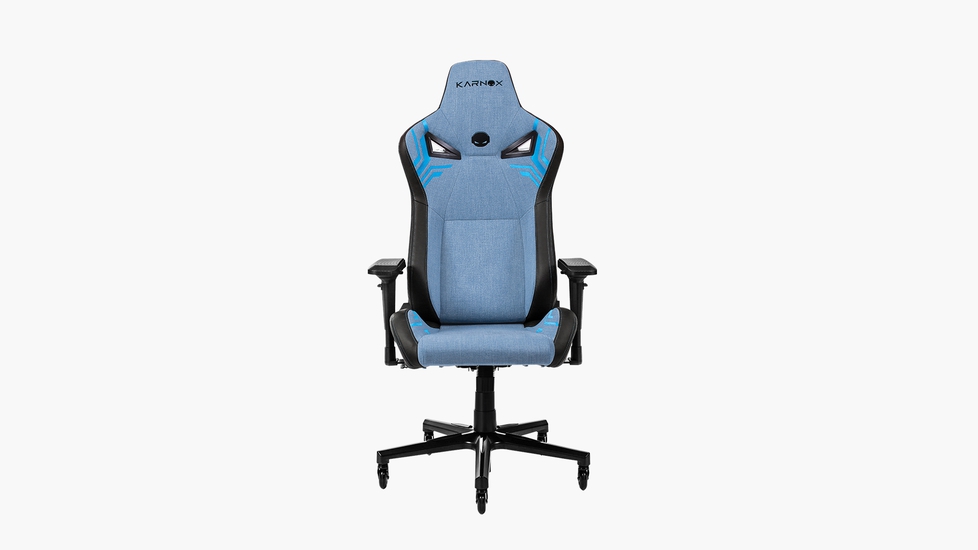 Karnox Legend Bluish Gray Edition
Notify me when this item is available
Enter your email below. We'll let you know when it's back in stock.
Sold and shipped by Karnox
Karnox Legend Bluish Gray Edition at a glance.
Made from 2.0 PU leather or breathable LIVORNO fabric and highly adjustable, this gaming chair is designed for everyone from novice gamers to pros.
• 2.0 PU leather
• 4D Armrests
• Class 4 Gas piston
• Aluminum base
• 3'PU Castors
• Soft breathable and durable LIVORNO Fabric
• Adjustable height, 4D armrest, and seat tilt
• 90-155° reclining backrest
• High Density Mould Shaping Foam
Deep dive into specs
Recently, gaming seats have become a hot item, and for a good reason. This spike in computer use has been substantial since the outbreak. If you spend a lot of time at the desk, selecting the perfect chair that is comfortable is essential. This may cause you to ponder which one to go with if you want to play or work for long periods of time without discomfort. A gaming chair with armrests is wonderful because it provides support for your elbows, reducing the stress on your shoulders. However, if you are looking for gaming chairs for heavy person, Autonomous has a guide for you. The Karnox gaming chairs are among the most popular on the market. High-quality materials ensure that these chairs will survive for at least ten years, making them an excellent investment. That means you can expect nothing but high-quality products from the firm that makes them. Quality and comfort are important to ultimate players. It is essential that they have a sturdy chair like the Karnox gaming chair Legend Bluish Gray Edition since they sit for long periods of time without moving. Here are an Autonomous explaining 5 benefits of a gaming ergonomic chair.
Why Go For Karnox Adjustable Gaming Chair:
The seat height may be adjusted first. For certain people, the standard height of such a chair may not be ideal, therefore, having the ability to change the chair's height is essential, and the Karnox gaming chair Legend Bluish Gray Edition has this feature. Even a single person's demands might need this type of flexibility, since you may wish to be lower at times but higher at others. Karnox is an independent gaming chair manufacturer that is noted for its quality and dependability. If you want a fabric gaming chair that will keep you comfortable for long periods of time as you play, then you should consider getting a Karnox gaming chair Legend Bluish Gray Edition. This blue and black gaming chair enables you to recline and then lock the angle to get extra points since their backrests may remain in a reclined posture even when you aren't sitting in them. This 4D armrest gaming chair lets you rest your arms at regular intervals. Armrests aren't often used forever, but they come in handy when you only want a place to rest your arms. Adjustments, particularly those that are 4D, add a lot of flavor to this dish and your gaming.
Karnox Gaming Chair - Legend Bluish Grey:
Karnox gaming chair Legend Bluish Gray Editions are the gaming furniture in comfort and style. PU leather covers the Knox suede gaming chair, which is accented with luxurious suede-like fabric. You may tilt and raise the seat to your desired height in terms of adjustability. Class 4 gas pistons lift the seat by 55 inches, making these chairs ideal for those who are taller than average. The Karnox gaming chair Legend Bluish Gray Edition seats come with a lifetime frame guarantee, a 10-year moving parts warranty, and a two-year back-plus rear warranty. What are you waiting for? You'll be hard-pressed to find a better product with a longer warranty than this.
It's good for lengthy periods of time.
LIVORNO Fabric & PU leather gaming chair, 4D armrests, class 4 pistons, Aluminum base, 3.0' PU casters, head cushion, and lumbar pillow included in the Karnox LEGEND blueish grey series gaming chair.
Crafted with ease in mind
The Karnox gaming chair Legend Bluish Gray Edition has a broad seat, a tall back, side lumbar support, and a cushioned headrest for extended hours of gaming.
Supple as butter leather
This new Karnox 2.0 PU leather features a glossy, plump, and smooth finish for its users. It is also water-resistant, making it simple to clean.
Simple to move
Because of the aluminum wheelbase, this Karnox gaming chair Legend Bluish Gray Edition has superior base support and is more stable thanks to the caster wheels.