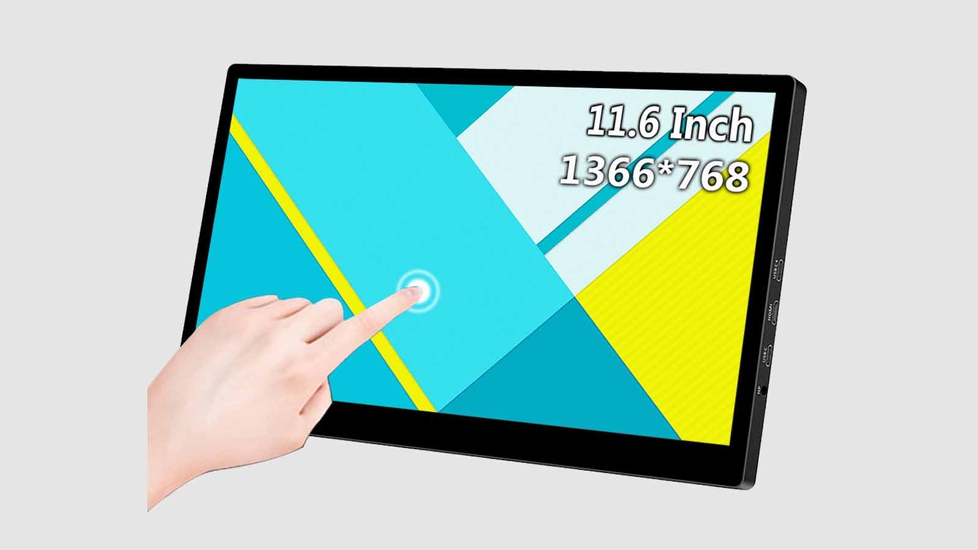 Magedok 11.6 Inch IPS 1366x768 Resolution Portable Monitor
Buy now
Add to cart
FREE shipping Oct 05 - Oct 09. FREE 30-day returns.
Sold and shipped by Magedok
• [IPS PORTABLE MONITOR]: 1366*768 Resolution, 800:1 Contrast Ratio and 600cd/m² High-Brightness [CAPACITIVE TOUCH]: Adopts Ten-Point Touch Technology and Supports Gestures Such as Tapping, Sliding, Scrolling, Zooming Out, and Zooming In [SPEAKERS AND STANDS]: With Simple Bracket and Four VESA Holes, Dual-loud speaker [ULTRA THIN AND PORTABLE]: CNC Full Aluminum Case, High grade And Beautiful [PIUG& PLAY, WIDELY APPLICATION]: Widely Use for Raspberry Pi,Jetson, Tinker Board, Latter Panda, Banana Pi、BB Black And So On
• 1-year warranty
T116E is a 11.6-inch IPS 1366*768 touch monitor, with USB C/HDMI input, built-in speakers, wall-mounted support, the touch function Support Win7/8/10, linux and andriod.
Deep dive into specs
Looking for a crystal-clear, immersive viewing experience? An IPS monitor is the answer. This portable touch monitor offers exceptional color accuracy, wider viewing angles, and better contrast than other monitors. If you want to upgrade your workspace or gaming setup to a dual monitor setup or a triple monitor setup, consider the Magedok IPS 1366x768 monitor. With its 27-inch screen, 144Hz refresh rate, and 1 ms response time, you'll be able to enjoy stunning visuals and seamless gameplay. Say goodbye to eye strain and say hello to a more comfortable and enjoyable computing experience with the Magedok portable monitor.
About Magedok
Magedok is a leading brand in the monitor industry, providing high-quality displays for gaming, work, and entertainment purposes. With a focus on innovation and customer satisfaction, Magedok designs and produces a wide range of monitors that meet the needs of diverse customers. Their products feature advanced technologies such as IPS panels, high refresh rates, and HDR, offering immersive and vivid visual experiences. Magedok portable monitors are also designed with ergonomic considerations, providing comfortable and flexible viewing angles for prolonged use. Additionally, they offer reliable customer support and fast shipping, making them a top choice for many users looking for a top-notch monitor.
What is an IPS Portable Monitor?
An IPS portable monitor is a type of display that uses In-Plane Switching (IPS) technology to provide superior color accuracy, wide viewing angles, and a fast response time. Unlike traditional TN (Twisted Nematic) panels, IPS panels offer a more natural and lifelike color reproduction with deeper blacks and brighter whites. This makes them an excellent choice for professionals, gamers, and anyone who demands high-quality visuals. The portability factor of the monitor allows users to take it with them anywhere they go making it a versatile and convenient option for those who are always on the go. The Magedok IPS portable monitor is a perfect example of a high-quality IPS monitor that offers all these benefits and more.
What Does a 1366x768 Monitor Mean?
When it comes to buying a monitor, one of the most confusing terms you may encounter is "1366x768." Simply put, it refers to the resolution of the screen, with 1366 representing the number of pixels horizontally and 768 representing the number of pixels vertically. This resolution is commonly found in smaller displays such as laptops and portable monitors. While it may not be as high as the resolutions found in larger monitors, it is still capable of displaying clear and detailed images which makes it a popular choice for those who prioritize portability without sacrificing visual quality. So, whether you're looking to upgrade your laptop's display or are in the market for a portable monitor, consider the 1366x768 monitor resolution option, such as the Magedok IPS portable 1366x768 monitor, for a crisp and vivid viewing experience.
What is a Portable Touchscreen Monitor? How Does It Work?
A portable touchscreen monitor is a display screen that can be easily carried around and used with a variety of devices. It is a convenient solution for people who need a second screen for their laptops, smartphones, or gaming consoles. The portable touch monitor functionality allows users to interact with their devices more intuitively, whether they are navigating menus or drawing directly on the screen. The monitor connects to devices using various ports such as HDMI, USB-C, and DisplayPort. Some models even have built-in batteries that eliminate the need for a power source. A portable touchscreen monitor offers flexibility, convenience, and enhanced user experience to users on the go.
Things To Consider When Buying IPS Portable Touchscreen Monitor
Display Quality, Size and Portability
The quality of the display is crucial when it comes to portable monitors. Look for a monitor with a high resolution and color accuracy to ensure that your images and videos appear sharp and vibrant. Consider different monitor sizes, as well as its ease of portability. A lightweight and compact monitor is ideal for traveling, while a larger display may be more suitable for a stationary setup.
Compatibility and Connectivity
Check the compatibility of the monitor with your device and the connectivity options available. Ensure that it supports the operating system of your device, and look for monitors with multiple connectivity options like USB-C, HDMI, and DisplayPort.