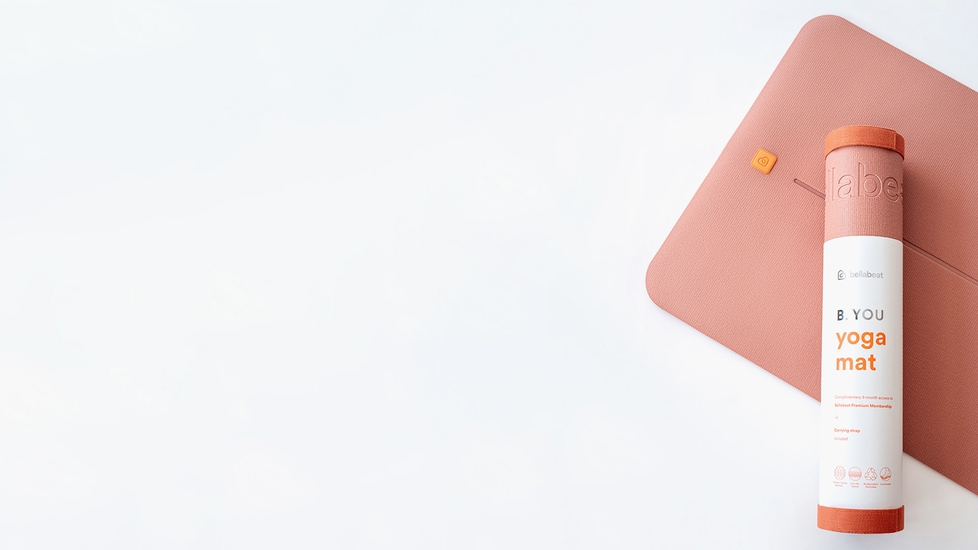 Buy now
Add to cart
FREE shipping Dec 10 - Dec 12. FREE 30-day returns.
Sold and shipped by Bellabeat
• Premium Quality Materials Made out of polymer environmental resin, this yoga mat is created to endure all your yoga sessions. • Biodegradable Recyclable​ A hypoallergenic, toxic-free formula, perfectly complements your wellness journey while protecting our planet. • Anti-slip Texture The carefully designed anti-slip texture helps you maintain your grip even in the most challenging positions. • Comfortable The 6 mm thickness ensures adequate joint support and provides extra comfort.
• 1-year warranty
Created to provide support, stability, and cushioning where you need it most. The B.YOU premium performance & comfort yoga mat — a perfect addition to a healthy lifestyle.
Deep dive into specs
About Bellabeat Yoga mat
Practicing yoga has grown in popularity over the years, and for a good reason. It benefits both physical and mental health and promotes general well-being. A yoga mat is an essential piece of equipment for any serious yoga practitioner. Supported and cushioned by a high-quality mat, your muscles and joints may relax, and you can concentrate on your practice. This article will discuss the benefits of a non-toxic and foldable yoga mat and why the yoga mat by Bellabeat is the best yoga mat you can have for your home studio or at work yoga.
About Bellabeat
Bellabeat is a business that creates various wellness items for women, emphasizing holistic and all-natural remedies. The business's offerings include high-tech wristwear like smartwatches, fitness trackers, and other fitness equipment items. The Bellabeat Leaf Urban and their best yoga mat is a best-seller that can be worn in various ways (necklace, pin, clip) thanks to its technology. It connects to a companion app on the user's smartphone and keeps tabs on several health indicators, including activity, sleep, and menstrual cycles. They have improved women's lives with their great and amazing products.
About The Bellabeat Yoga Mat - The Best Yoga Mat
Bellabeat is now selling yoga mats, a relatively new addition to the company's catalog. These mats are constructed from sustainable materials and are meant to cushion your body during yoga. Because of their lightweight construction, portability, and attractive patterns, these mats are ideal for yogis on the road who seek the best yoga mat. The Bellabeat foldable yoga mat strikes a fine mix between firm support and soft padding for your muscles and joints. These comfortable yoga mats are great for your practice and the environment because they're built from sustainable materials that don't harm either. The mat's portability and light weight make it ideal for traveling yogis or an essential part of great home yoga studio ideas.
What Exactly Is A Non-Toxic Yoga Mat?
It is possible to find the best yoga mats that don't contain any potentially dangerous chemicals or toxins by looking for what is known as a "non-toxic" designation. Most yoga experts agree that using one of these mats is better for your health and the planet.
Safe For The Skin & Durable
Non-toxic yoga mats don't cause skin irritation or allergies and are created from non-hazardous materials. The environmental effect of a yoga mat may be minimized by choosing one produced from non-toxic materials.
Eco-Friendly Yoga Mat That is Good For the Environment
Non-toxic yoga mats are often more long-lasting than typical mats since they are often crafted from higher-grade materials meant to survive frequent use. As a result, yoga practitioners may be confident that their non-toxic, comfortable yoga mat is always clean and bacteria-free. Unlike standard yoga mats, typically produced from PVC and other synthetic fabrics that are not disposable and damaging to the environment, these eco-friendly yoga mats are created entirely of natural materials and are thus environmentally friendly.
How To Use And Protect Yoga Mats?
An integral element of your yoga routine is maintaining your yoga mat. It helps to create a clean and secure space for your practice and extends the life of your mat. Here are some recommendations for maintaining the life of your yoga mat:
Clean Your Mat Regularly & Dry Your Mat
It's crucial to clean your mat with a moist towel or a yoga mat cleaner after each usage to prevent the buildup of sweat and bacteria. Doing so will aid in maintaining a clean and odor-free mat. Keep your mat mold- and mildew-free by drying it thoroughly after each use. This is paramount if you often train in a damp climate.
Use A Protective Cover & Keep It At Right Place
Invest in a mat cover to keep it clean and safe while it's not in use. These coverings are intended to shield your mat from debris like dirt and dust that may otherwise wear it down. Your mat will last longer if you keep it out of the sun and dampness while it's not in use. Avoiding these conditions will extend the mat's life and keep it looking fresh.
Avoid Abrasive Materials & Do Not Put The Mat In The Dishwasher
Avoid using anything too abrasive when cleaning your mat, as this might scratch the surface. When cleaning your yoga mat, use only products that are safe for use around your mat. Avoid placing your yoga mat in the dishwasher since it was not made to resist the high temperatures and pressures of a modern household appliance. Doing so risks damaging the mat and rendering it unusable for practice.