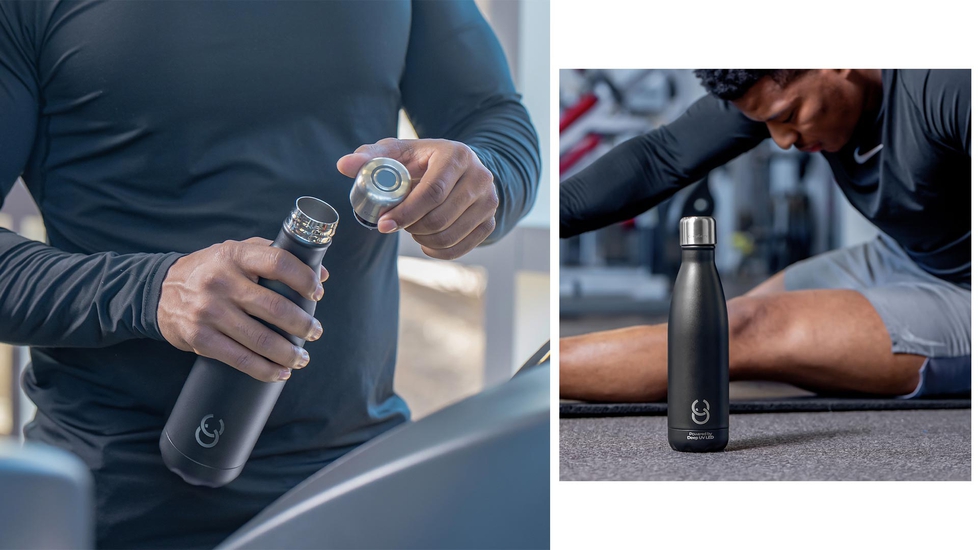 WAATR CrazyCap 2.0 Purification Bottle
1 Review
Visit our store
size:

Not available

Not available
Notify me when this item is available
Enter your email below. We'll let you know when it's back in stock.
Sold and shipped by WAATR
WAATR CrazyCap 2.0 Purification Bottle at a glance.
This smart water bottle automatically sanitizes your water with a built-in UV light that activates itself. Enjoy clean, pure water anywhere in a durable and eco-friendly bottle.
• Modern design
• Keeps hot inside to 12 hrs
• Keeps cold inside to 24 hrs
• Super durable stainless steel
• UV water purification
• Automatically kills germs and bacteria
• Planet-friendly
• Easy operation
Deep dive into specs
Features
Specs
FAQs
reviews
4.0
CRAZYCAP 2 Filtered Water Bottle – Keep yourself hydrated at all times!
The CRAZYCAP 2 Filtered Water Bottle is an excellent choice if you want to make sure that the water you drink is as clean as possible. It includes a built-in UV light that will remove all the potential bacteria and germs that the water may contain. It can be part of your home gym ideas or your office accessories. According to experts, it is recommended to drink about 2 to 3.7 liters of water per day for women and men, respectively. However, this self-cleaning water bottle will make sure that the water you drink is 100% purified. Therefore, you will be able to enjoy even more benefits in the long term than you think of, regardless of whether you're an office worker trying to get the home office essentials or an athlete.
Benefits of using a purified water bottle
The CRAZYCAP 2 Filtered Water Bottle can help you purify the water you drink on a daily basis. Purified water is associated with tons of benefits that will help you in your everyday life. Here we mention some of the advantages that you will enjoy after acquiring the purified water bottle by CRAZYCAP. The CRAZYCAP water bottle is the best option for people that live in the gym 24/7 or office workers that often forget to drink water throughout their day.
1. Purified water is helpful for your digestion. This purified water bottle will neutralize the water's pH levels, which will allow you to reduce your body's acidity as well. This effect translates into a better digestive process. It is especially helpful for people that have reflux.
2. It will help you have a better performance at work and at the gym. It is well-known that drinking water improves focus. Furthermore, it helps you maintain your body fresh and your joints and muscles lubricated.
3. Hydrating your body is necessary for detoxifying your body. We deal with tons of toxins on a daily basis. However, when one drinks enough clean water, you will make sure that your kidneys are functioning properly. Thus, all those impurities and toxins will eventually be flushed out naturally.
4. Drinking water is excellent for your skin. It is recommended that people who suffer from dry skin or other conditions drink water regularly. Purified water is excellent for improving your skin's moisture and elasticity. The absence of chemicals during the purifying process of this self-cleaning bottle makes sure that all the water you take throughout the day is 100% safe for you.
5. Purified water tastes better. Tap water often has an unpleasant taste and odor, making it challenging to drink it frequently. However, purified water tastes way better and has a neutral smell. Therefore, it will be easier for you to drink it. As you can see, there are tons of benefits associated with the CRAZYCAP 2 Filtered Water Bottle. If you want to follow a healthier lifestyle, one of the first steps you need to take is to drink as much water as possible.
How does a self-cleaning water bottle work?
The CRAZYCAP 2 Filtered Water Bottle is easy to use. It only takes 60 seconds to purify the water you'll drink. After pouring the water, all you need to do is "tap" the cap two times. Then, the bottle will start the quick cleansing process. You will also be able to take advantage of the 2-minute-deep purification. All you need is to tap the cap five times for the bottle to activate it. Let's not forget that we're describing a self-cleaning water bottle. The CRAZYCAP 2 Filtered Water Bottle will clean itself every four hours with the built-in UV light in the cap. Therefore, your water will remain as fresh and clean as possible even if you forget to drink water for a long while. If you want to ensure that your purified water bottle works at all times, confirm that your self-cleaning water bottle is appropriately charged. It includes a port-less USB cable. The CRAZYCAP 2 Filtered Water Bottle is the best option you can choose if you want an eco-friendly purified water bottle that's useful for you in the long term.
About CRAZYCAP
CRAZYCAP is a company that offers reusable purified water bottles to the public. Considering that about 29% of the world's population drinks contaminated water, Rakesh Guduru founded CrazyCap in 2019. Since then, the company has become one of the leading water bottle brands.