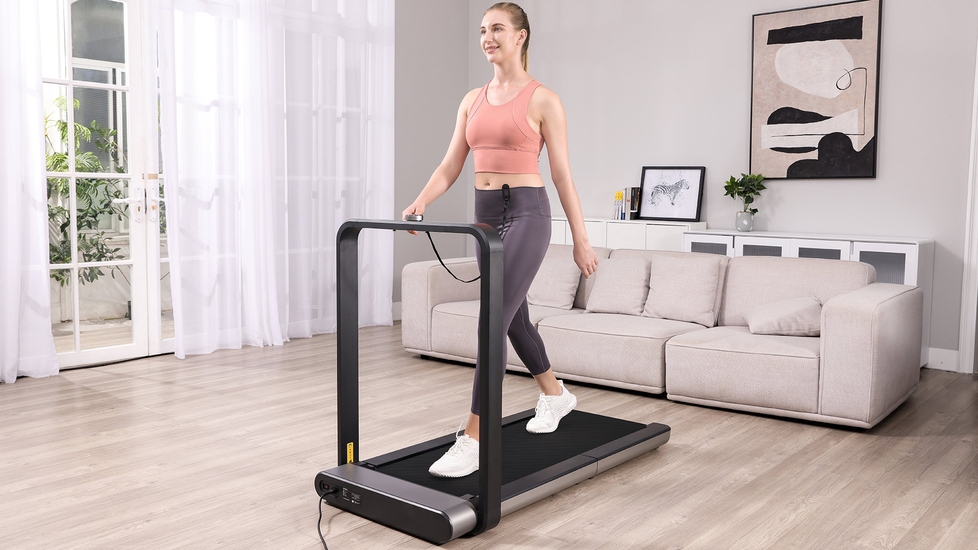 WalkingPad Double-Fold Walk-Run Treadmill X21
102 reviews
Visit our store
Buy now
Add to cart
FREE shipping Dec 16 - Dec 18. FREE 30-day returns.
Bought by 205+ Apple employees.
Sold and shipped by WalkingPad
WalkingPad Double-Fold Walk-Run Treadmill X21 at a glance.
The world's first treadmill with Double-fold technology. Winner of the German Red Dot Award, and the IF Design Award. Control everything directly from the handrail and easily fold and hide away when not in use.
• Innovative folding technology
• Digital display
• One-touch operation
• Weight capacity up to 240lbs
• Speed Range 0.6 - 7.5 mph
• NFC pairing
• Digital monitoring smart app
• Detachable phone holder
• Premium powder coated frame
Deep dive into specs
Features
FAQs
Specs
reviews
4.8
You may place a walking mat beneath your desk for a low-cost treadmill with no extra bells and whistles. In terms of space, traditional treadmills are fairly huge and cumbersome, which means that they don't allow you to walk and work at the same time in your living area, home office, or garage. For the most part, small portable treadmills like a WalkingPad X21 small foldable treadmill on the market are fully flat, however, some come with an option for a detachable bar if that is something you want. When not in use, they can be folded up and put away, which is why they are much smaller and lighter than the typical gym treadmill. Autonomous has a guide on the best office treadmills to get fit while working. Prepared to invest? One thing to keep in mind is that a typical desk configuration does not work well with walking pads. To make your present desk height-adjustable, standing desks and standing desk converters are needed. Health and fitness have become more important issues for many of us. Nevertheless, we don't have a lot of free time to arrange exercises. Driving to a gym is not only inconvenient, but it may also take a lot of time. Two variables alone might hinder us from exercising on a regular basis. In that case, why not go for a jog while at work? It's a no-brainer. After a hard day at work, we won't have to find the motivation to work out or organize a gym visit.
Benefits Of WalkingPad X21 Small Foldable Treadmill
In reality, a large number of individuals have jumped on board. Some people like to work on a WalkingPad X21 small foldable treadmill or a standing desk converter. Many office workers and computer users have found the health advantages of walking and are now burning calories as they work. Now you can go to the gym in time for your evening workout session instead of slogging it out on the way back from work. You may now save an hour of your day by having a low impact indoor walking workout. It's been shown that standing and moving about as you work improves cognitive function and concentration. In the workplace, a more efficient and productive brian may help you get the task done quicker and more effectively. Walking is excellent for your bones, as per the National Osteoporosis Foundation. While you avoid the high-impact effects of running, the upright exercise of walking may still improve your bones, as your bones support the weight of the body. The third benefit of using small compact treadmill is that it improves blood flow (vs sitting). Cell development, organ function, and even better skin may all be boosted by increased blood circulation. If you're looking to improve your mood, the Arthritis Foundation believes it's an excellent choice. There is no need to be depressed to see the benefits of a 30-minute stroll. Then consider how much better you'll feel if you do it many times a day. Type 2 diabetes risk may be reduced by regular walking with WalkingPad X21 small foldable treadmill. Regular jogging has been demonstrated to increase insulin sensitivity. You may burn fat and calories even when you walk at a very sluggish pace.
Key Features Of WalkingPad X21
Twice as nice
The walkingpad folding treadmill is a step forward from its predecessor's 180°, adding a further 90° for ultra-compact storage.
Handrail controls for ease of use
Using the WalkingPad X21 small foldable treadmill's handrail, you may vary the treadmill's speed between 0.5 to 12 kilometers per hour (0.6 to 6.2 miles per hour).
Seamless LED Digital Display
When plugged in, the display glows to provide real-time information about your exercise. fitness has never been more fashionable.
Will not disturb the neighbors
Despite its high speed, the brushless motor of the best foldable walking pad maintains a steady output of power and emits just 75dB of noise.
A private racetrack for you and your friends
In order to mimic genuine jogging, the foldable walking pad treadmill's excellent track-grade 4-layer belt is used.