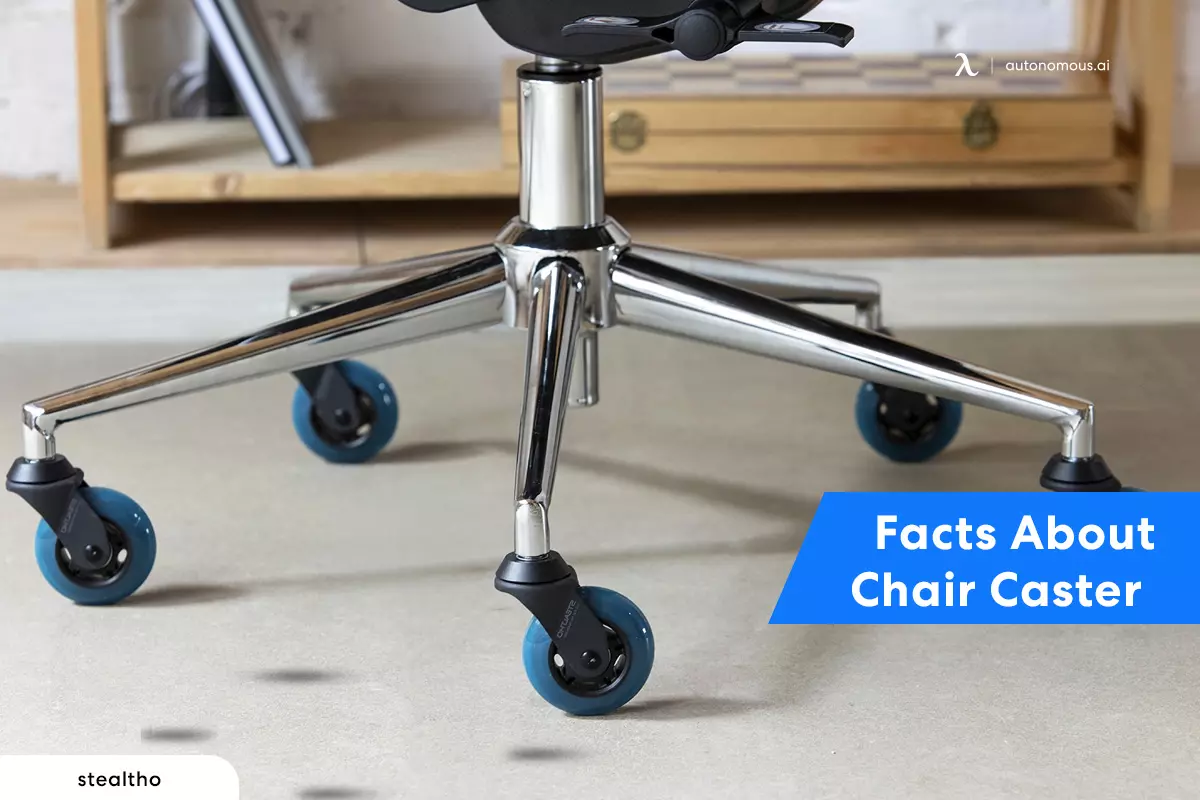 Smart Products
Facts You Need to Know About Chair Casters | Shop Smart!

Autonomous
|
Apr 3, 2023
1,578 Views
If you're in the market for an ergonomic chair, chances are you're looking at chair rollers as an afterthought. After all, most people consider other features like the seat, height, etc.  
However, the chair caster may be the most important feature of any office furniture, so it pays to give it the attention it deserves. In fact, office chair casters have multiple benefits, which you won't be able to find in chairs without wheels.  
Chair casters are an important investment for offices that seek convenience, mobility, and quality for their employees. High-quality wheels can prevent mishaps on carpeted floors while also allowing greater movement on hardwood surfaces.  
Whether you're shopping for yourself, your team, or the entire office, make sure to give the caster wheels for office chairs a thought before you move on.  
A Brief History of Chair Casters
Chair casters have come a long way since Charles Darwin used them for the first time in the 17th century.  
Also known as chair rollers, these are wheels that allow chairs to move easily and smoothly on most surfaces, including on carpeted floors. They are commonly used in both offices and homes to provide an ergonomic and comfortable seating experience. 
However, the idea of incorporating an office chair with wheels wasn't patented until late 1876, nearly two centuries after Darwin first used it. David A. Fisher was the one who reintroduced the concept, with the determination to boost employee morale and movement in the workplace.  
Today, caster wheels for office chairs are just as important as they were during the Industrial Revolution in 1876. The only thing different is how casters are now stronger, lighter, and also available in different materials. 
Need-to-Know Facts About Chair Casters
Whether you're shopping for a gaming chair, desk chair, or an office chair caster replacement, it's important to learn the basics so that you can make an informed decision.  
Let's take a look at some need-to-know facts about chair rollers and how they can help make your workplace or home office more comfortable. 
An office chair wheel can typically have four variations. You've probably already seen all of the types in different settings!  
Rigid Casters
These are the most basic casters and don't rotate in any direction. Think of the back wheels on a shopping cart – those are rigid casters.  
Swivel Casters
On the other hand, swivel casters are the complete opposite of the former variation. These can rotate to 360°. Similar to the rigid casters, you can find this type of roller on a shopping cart too, but they are usually on the front. 
Industrial Casters
Such rollers can handle heavy weight, up to 30,000 pounds on some occasions! The most common uses of industrial casters are in platform trucks, dolly carts, tow lines, etc.  
Braking/Locking Casters
These wheels come with a special brake feature, activated by a small lever. Wheelchairs, step stools, and other wheeled objects often use this type of caster. It's also a great option for any workstation or an office chair with built-in wheel locks. 
How to Measure and Replace Your Office Chair Casters?
Replacing poor-quality office chair casters is critical for a comfortable and functional work environment. Although easily overlooked, chair casters make moving around the office more efficient.  
However, the wrong type of chair rollers can end up damaging hard floors like wood, linoleum, and tile. Luckily, measuring office chair casters isn't too hard, and buying new replacements isn't expensive either. Not sure how to remove caster wheels, either? The following section can help you with that too.  
Measuring the Chair Caster Stem
The process might intimidate you at first, but don't worry – it's actually straightforward. Remove the chair caster from the furniture and measure the length of the roller stem.  
Casters come in different forms, too - the most common types are thread or grip systems. The former has a screw-like body, so you can usually pull it out by turning it clockwise. On the other hand, grip-system stems need lubrication and a rag to hold and pull out with force.  
This is what chair caster stems typically look like. You have to measure the length from the bottom to the top.  
Once that's done, measure the diameter of the stem as well. Always use calipers to get accurate numbers – measuring tapes aren't the most reliable in this case.
Choosing the Right Type of Chair Caster
Hard-wheel office chair casters work best for carpeted floors, whereas soft chair rollers are ideal for hardwood floors, such as tiles, linoleum, and wood. You can also invest in soft wheel casters if you have mats or rugs around the room. 
Invest in Quality Chair Casters | Buying Guide
When it comes to buying office chairs, the chair casters you choose are just as important as the furniture piece itself.  
Caster wheels for office chairs affect not only the furniture's look and mobility but also its comfort. As a result, it is really important to invest in quality ergonomic chair rollers, and this buying guide will help you make the best decision. 
Material
The ideal frame material when shopping for wheels for a computer chair is steel, as it is strong and works well with rubber rims for greater mobility.  
Steel is also resistant to corrosion, making it an effective choice for long-term use. Alternatively, strong fiber plastics can be a good option for those who are looking for something lighter and more portable.
Ball Bearings
Another important factor to consider when it comes to choosing chair rollers is the bearing type. This determines how much friction the chair caster produces while the furniture is in motion.  
Therefore, opting for casters with stainless-steel bearings is important, as this ensures better friction control, increased durability, and greater rust resistance. 
Stem
It's important to go for a stem fit that offers universal compatibility and ensures the wheel holds firmly. This will guarantee the office chair stays securely in place, has reduced friction levels, and is easy to move around the room.
Floor Type
As mentioned above in another section, the surface type can also determine what kind of chair caster you need to invest in. Your office chair for hardwood floors should have soft wheels, whereas hard wheel casters are better for carpeted surfaces.
Reviews
You can find plenty of chair caster models on the internet, but are they all really good? There's no way to differentiate between a poor and high-quality model online, but customer reviews can help here.  
Go through the one-star and five-star reviews to learn more about the pros and cons of the casters you want to invest in. This can give you valuable information about the quality, ease of installation, and the amount of noise or vibration caused by the caster itself. 
Buying quality office chair casters is an effective way to improve your office's comfort and ergonomic levels. 
With the right materials, bearings, and compatibility, you'll be able to create an environment that is comfortable, supportive, and, most of all, easy to move around in.  
Plus, you'll also be able to pay less for replacement rollers in the future since quality casters and bearings last significantly longer than the generic brands. 
Frequently Asked Questions
Chair casters are essential to any office furniture, but it can be difficult to know which size and type to choose. We're here to shed some light on shoppers' frequently asked questions about chair rollers.
Do All Office Chairs Use The Same Wheels?
No, not all office chairs use the same wheel or caster. While some chairs use hard plastic or rubber casters, others may have carpet-friendly wheels or anti-static casters, depending on the type of furniture piece. 
You should also take into account the surface the chair will be on and if you'll need caster brakes on it.
Can I Use My Office Chair Without Wheels?
Yes, it's possible to use a chair without wheels. There are several models available on the market with straight legs instead of casters, and many of these products are ergonomically designed to provide better back support.  
However, you can't expect optimal mobility on such chairs since you won't be able to roll around from one end of the room to the other.  
Can You Change The Rollers on an Office Chair?
Yes, it's easy to replace the casters on an office chair. You can purchase replacement caster wheels from office supply stores or online retailers such as Autonomous. However, if you're uncertain of the size of casters that your chair needs, consult the manufacturer for instructions or measure the existing caster stems. 
How Do I Choose The Right Size for My Casters?
Knowing what size caster your chair needs can be tricky, as there is no standard wheel measurement. However, you can take off the wheels to measure the stem length and diameter before shopping.
Are All Office Chair Casters The Same Size?
Not all casters are the same size, even if the office chairs have similar specifications. Although most models have a standard measurement of 2.5 inches, the stem is what sets the product apart from others.  
Make sure to purchase replacement casters based on the stem measurements of your specific chair. 
Should My Office Chair Wheels Have Brakes?
Whether you choose to have brakes on your chair is totally up to you, but having them will generally give you more control over movement. Don't know how to stop the caster wheels from rolling? Brakes are just for this purpose!  
They also help to keep the chair in place when you are sitting or standing on it for any reason, therefore reducing the risk of slipping or tripping accidents. 
Some office chair wheels come with locks or brakes, while others do not. It's important to understand how easy it will be to switch between different seating positions and decide whether you need a locking mechanism for your rubber chair casters.
Which Is the Best Ergonomic Chair with Casters on the Market?
Most experts agree that The Office Oasis Ergonomic Chair with Hardwood Floor Casters is one of the most comfortable, modern-designed chairs on the market right now. The rollerblade casters prevent scratches and nicks on tiled and linoleum floors. 
Are Bigger Casters Better for Office Chairs?
The answer to this question depends on your preferences. Bigger chair rollers usually provide better mobility, but they can also tip your center of gravity. You should always invest in wheels that are compatible with your specific chair model for optimal comfort and maneuverability. 
Why Are My Office Chair Casters Not Rolling?
One of the main reasons why chair casters don't roll is because of excessive dirt build-up. Practice regular cleaning if you want to prevent this from happening. Too much clogging can need caster replacements in the end.  
Cleaning casters isn't exceptionally hard. All you have to do is place the chair upside down and use tweezers to take out debris from in-between the casters. You can also take the wheels off for deep cleaning.  
Make sure to lightly lubricate the chair wheels with grease or oil once you put everything back in place. We recommend using WD-40 lubricants for this step.  
Conclusion
Although not everyone's first priority, the chair caster is a very important feature you shouldn't compromise on when shopping for an ergonomic office chair. The right model will allow you to move freely around the room without causing scratches and dents to your expensive floor.  
Swivel casters are the most common on task chairs, allowing users to turn 360° easily. However, make sure to choose a model that comes with brakes for more control. 
There are a variety of materials to choose from as well. Metal or steel casters are generally preferred for their strength, durability, and ability to withstand heavy weights. On the other hand, rubber casters are the ideal choice for people looking for a smoother and quieter roll without sacrificing support for heavier users. 
Investing in chair rollers can make your workday smoother and make moving around in your office fun. With the right casters, it's easy to make your workplace more comfortable and enjoyable.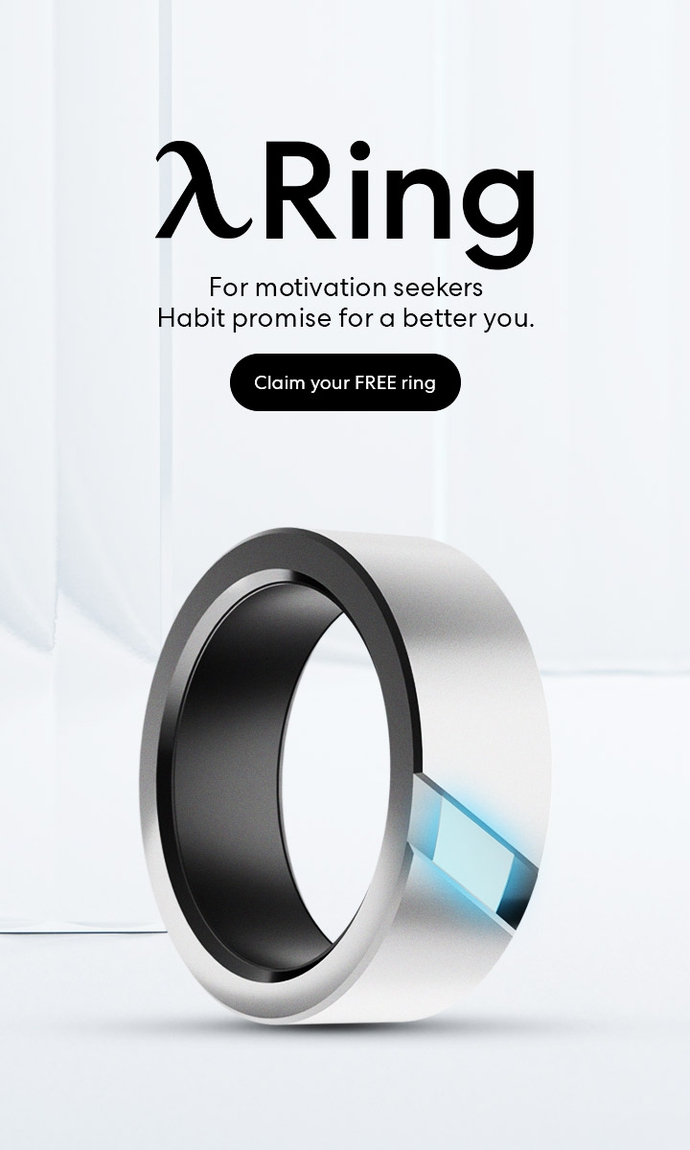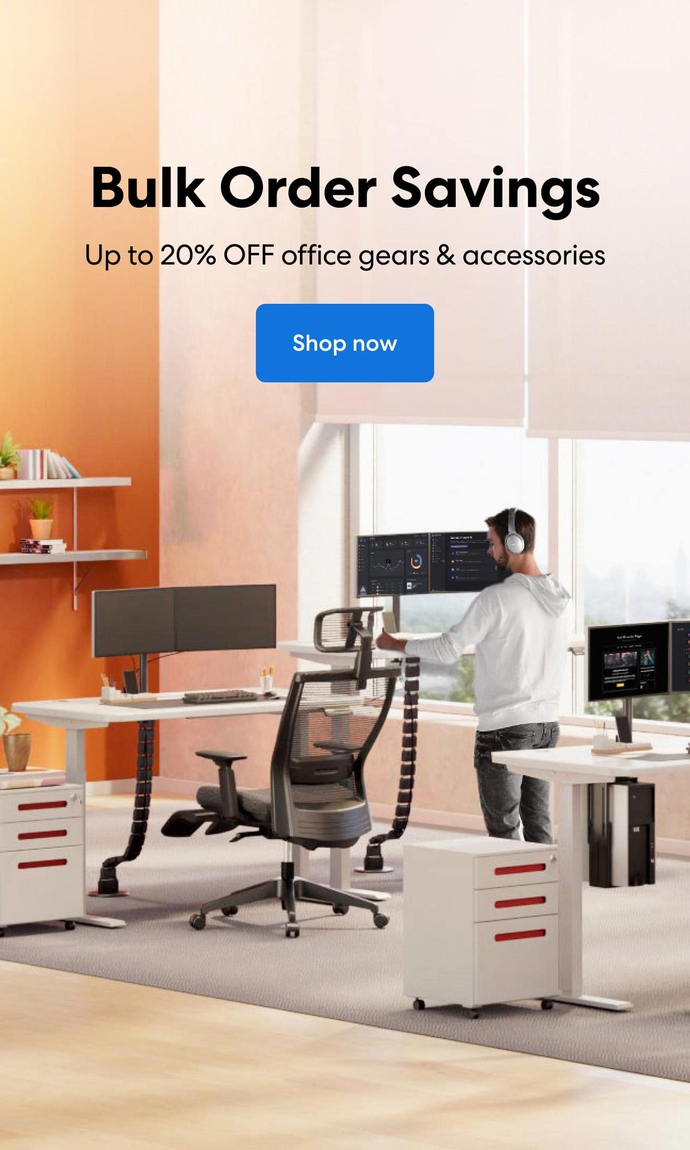 Subcribe newsletter and get $100 OFF.
Receive product updates, special offers, ergo tips, and inspiration form our team.