Smart Products
10 Best Office Chairs for Hardwood Floors in 2023
2,735 Views
Home offices became widely popular during the pandemic, and although people can now work at offices, many still work remotely. Whether you work at an office or home office, you should do what you can to keep your office from deteriorating or losing its shine. That includes your office floor, so it's the perfect time to get an office chair for hardwood floors.   
These chairs, in a nutshell, are meant to protect your floor from the damage regular casters can cause to it. However, not many people even know chair casters for wood floors exist, so they keep damaging their hardwood floors.  
We are here to help you protect your office from those issues! Dive into this page to know the 10 best office chairs to protect hardwood floors. Don't worry if you still don't get what chairs for hardwood are about since here, you can also find some information about that.  
What's the Difference Between Regular Chairs and Office Chairs for Hardwood Floors?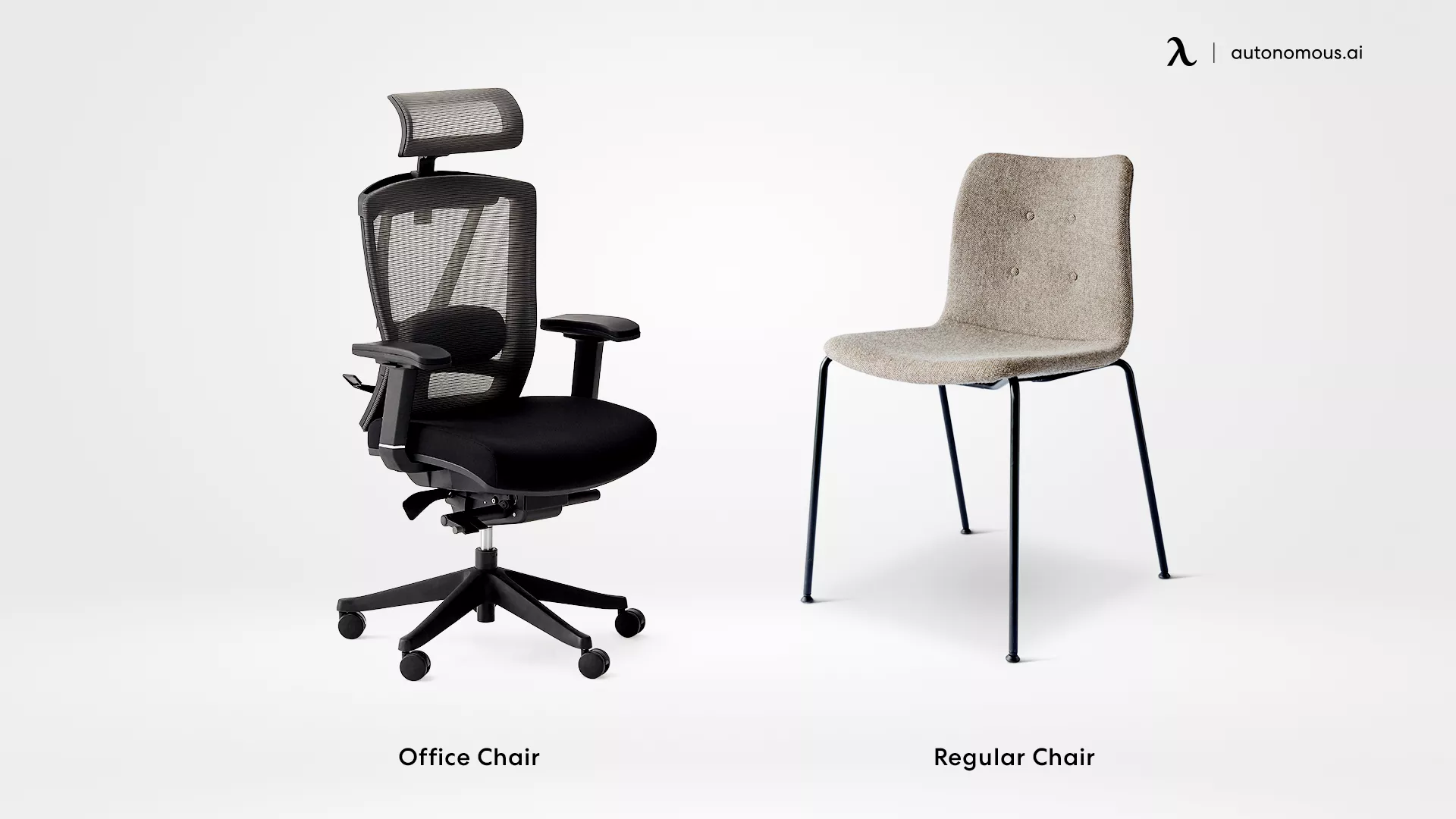 The main difference between a desk chair for wood floors and a regular office chair is their casters since some are designed to not damage hardwood floors while you move throughout your office while sitting on them. Standard chairs often have the same type of chair casters, which are casters with twin or dual-wheel designs.  
Nonetheless, the problem with those chairs is their nylon material since riding a lot on hardwood floors can cause scratches, scuffs, and even tear and wear. Fixing those issues is a nuisance, so it's way easier for you to get the best chairs for hardwood floors you can find.  
Many would think these products are more expensive than regular ergonomic chairs, but it's not always like that. Most chairs, regardless of their price, offer you the standard casters type, so it's not something that significantly affects the cost of the chairs you buy.

Nevertheless, what makes office chairs for hardwood floors good for hardwood floors? The answer is their design and material. Unlike standard casters, hardwood floor casters feature a single-wheel design and are made of soft polyurethane, which causes little to no damage to floors.  
Using these casters is also good if your office has a carpeted floor.  
10 Best Office Chairs for Hardwood in 2022
Now that you know the difference between standard chairs and an office chair for hardwood floors, it's time to know the best ones you can find on the market. None of the chairs on this list will cause any damage to your hardwood floor, and all of them are of the highest quality you can find out there.  
1. Office Oasis Ergonomic Chair for Hardwood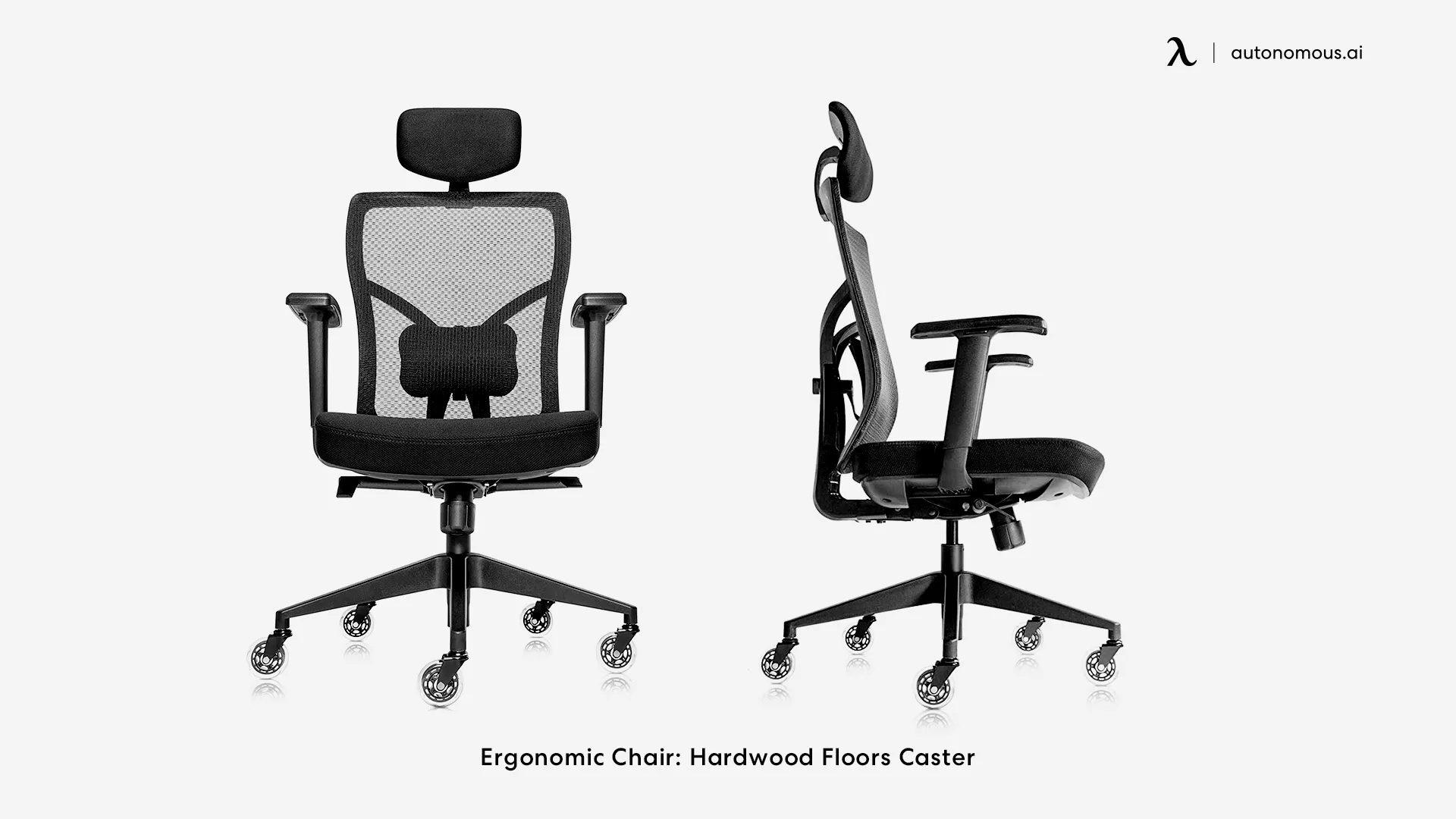 The first chair on this list is The Office Oasis Ergonomic Chair for Hardwood Floor, and you can buy it directly from its website or the Autonomous one. This product has a 100-day risk-free trial, so you can try it before fully getting into it.  
While this chair's casters are completely safe for hardwood floors, that's not its flagship feature since it's also the perfect ergonomic chair for office workers. Lumbar support is excellent in this chair, and it can relieve your back and neck pain while boosting comfort.  
If you are not currently suffering from back pain, sitting on this chair prevents it from happening by correcting your posture. When we said this chair was comfortable, we meant it, and that's because of its breathable mesh fabric that cools your back and keeps you from sweating.
Adjustability is also not an issue with this chair since it has more than five adjustable features for you to make the chair the ideal one for your taste. Spend all the time you need adjusting the chair's seat height, headrest, lumbar support, and armrest. We understand it may be difficult for some people to buy chairs that are this expensive, but Autonomous offers a solution to that.  
You can get special deals and discounts if you access Autonomous EPP. This Employee purchase program is made to help office workers get the best products they can find without spending all their budgets on them.   
If you don't want to spend a lot of money on a new ergonomic chair or prefer sticking to the one you already have, you can also buy The Office Oasis Rollerblade Chair Wheels and switch them with the standard casters your chair has.  
2. KERDOM Ergonomic Chair for Wooden Floor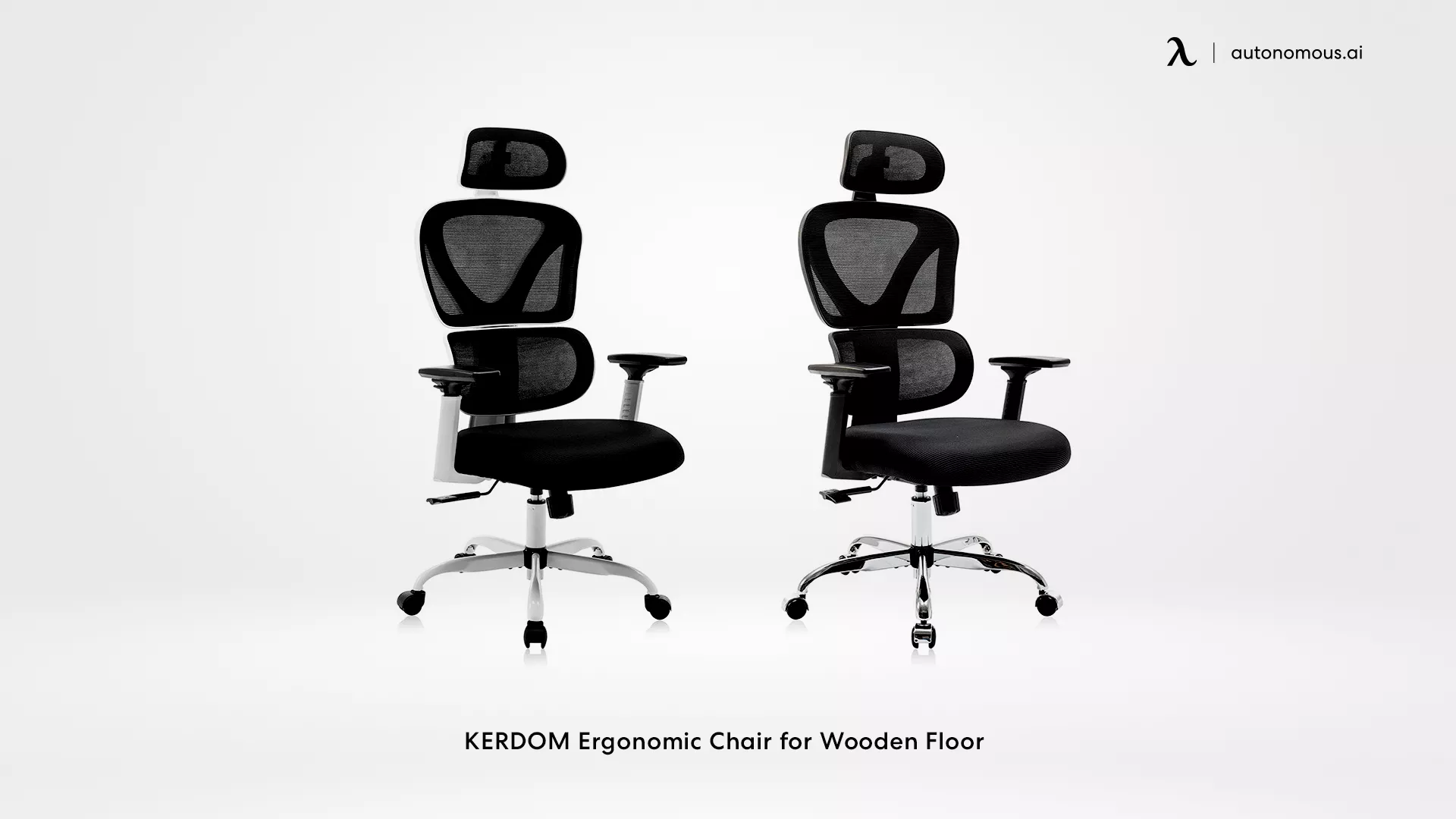 This is another best chair for hardwood floors. The KERDOM Chair for Wooden Floor is also available on the Autonomous website, so you can apply for the Autonomous Purchase Program if you feel like it. This product is only available in white and black, but its sophisticated design can fit most offices, so you won't have a problem fitting it into your workspace.  
As all the chairs on this list, the KERDOM chair is safe for you to use in hardwood offices. Regardless of that, this company takes a step further than just getting you to chair casters for wood floors and also gives you some of the quietest wheels you can find in an ergonomic chair.
Having quiet casters is beneficial if you work at an office where your co-workers get distracted easily since making a lot of noise can jeopardize their work. This product also excels when talking about comfort since it offers four support points while sitting.  
What that means is that the chair supports your head, back, buttocks, and hands, so sitting on this chair can make working more enjoyable than ever. Ergonomic chairs allow users to customize several features before sitting on them, and this chair is not an exception to that. 
3. Steelcase Series 1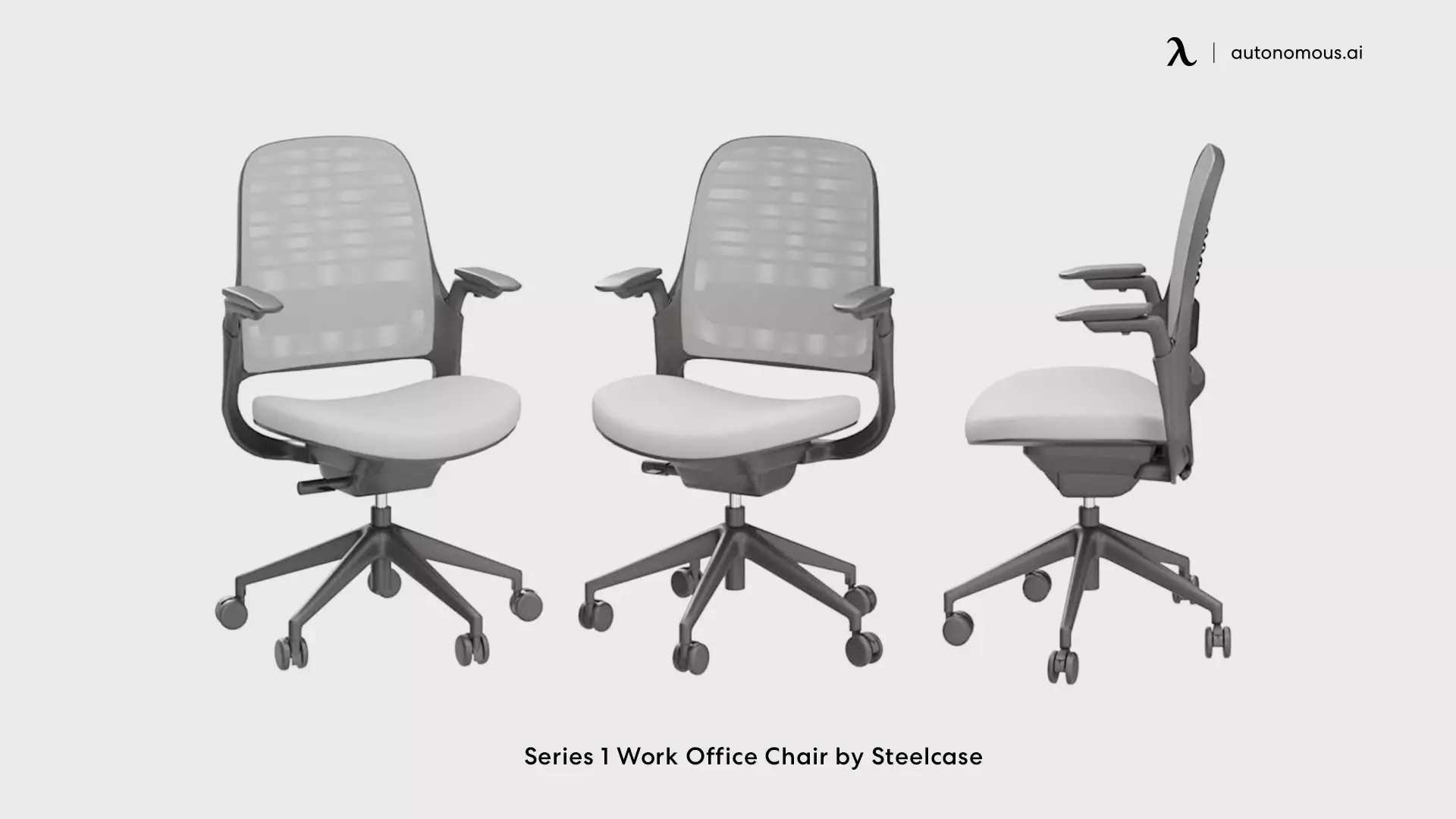 Steelcase is also one of the most popular ergonomics companies out there, and that's due to the quality of the chairs it develops. The Steelcase Series 1 is the perfect example of what you can expect from a Steelcase product.  
While not being as expensive as others on the list, this chair's "LiveBack" backrest is dynamic and supports your back regardless of the position you are in. Adjusting the chair's backrest, seat depth, and height only takes a few seconds, so you can do it anytime you feel like it.  
The thing about the Steelcase Series 1 is that it wasn't a desk chair for a wood floor when Steelcase released it, but now you can order it with chair casters for a wood floor.  
Weight capacity is also not a problem for this product, so you can sit on it regardless of your height or build.  
4. Steelcase Leap Plus Task Chair V2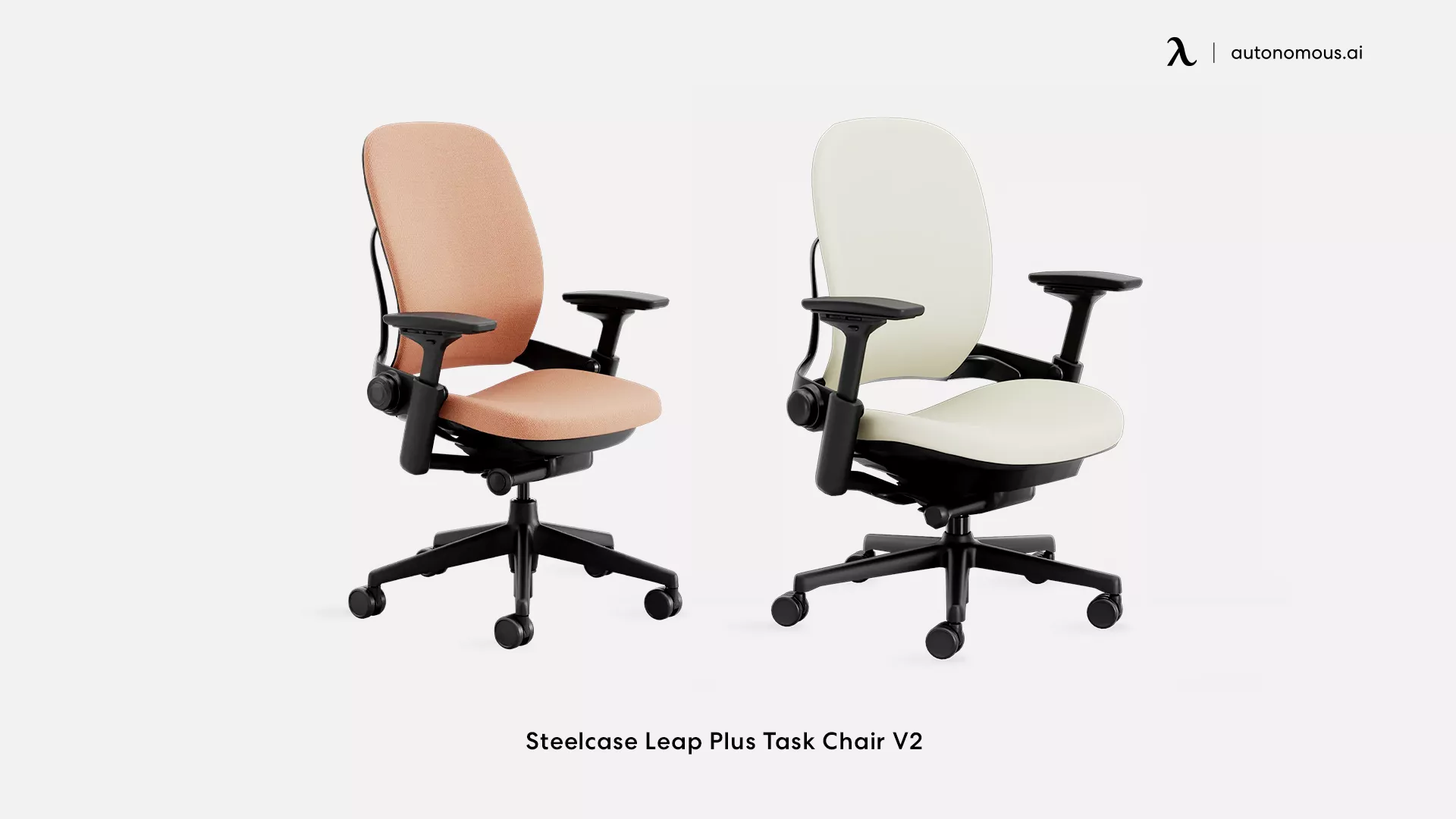 The Steelcase Series 1 is not the only Steelcase chair on this list since you can also go for the Steelcase Leap Desk Chair V2. Like it happened with the Series 1, this product didn't have special casters when it first came out, but you can now purchase it with them if you feel like it.  
Features on this chair are similar to the ones you can find in the Series 1, but this one offers you some other ergonomic features to make it different from others under the Steelcase's name. People who focus on aesthetics when looking for office products love the Leap Plus Chair.  
Looks are this product's greatest strength since it's available in a wide range of colors. Therefore, you can spend some time studying which color is best for your modern office setup depending on its design. Believe it or not, office workers are more productive when they work at a place they like. 
Don't worry about the environment when getting this office chair for hardwood floors since it's 98% made of recyclable materials, which makes it an excellent eco-friendly alternative. Adjustability is decent here, too, so you can adjust the basic features every ergonomic chair allows you to customize.  
5. NOUHAUS Velour Office Chair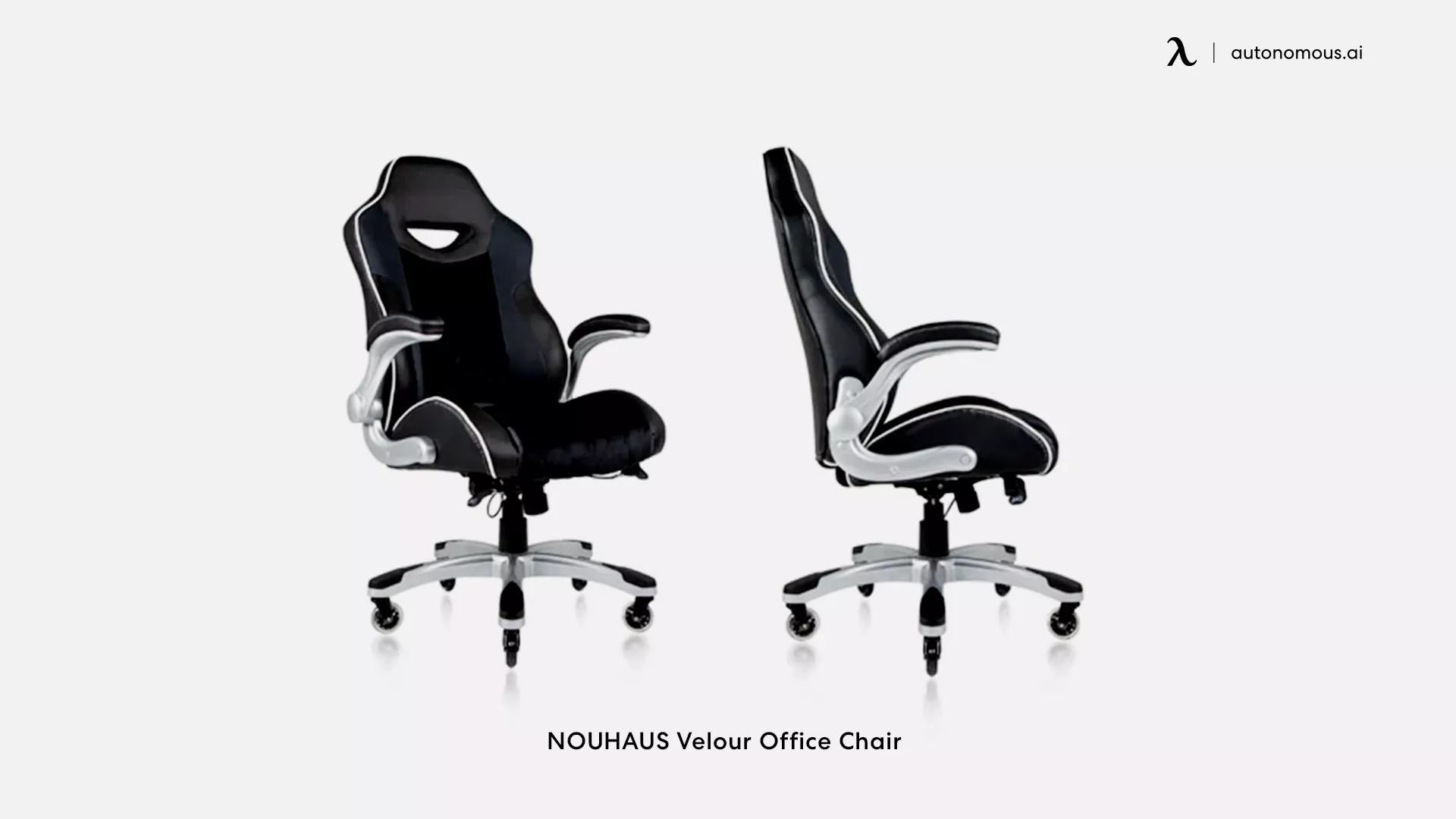 There are many NOUHAUS products available for you if you are looking for a chair you can use on hardwood floors. Among them all, we recommend the NOUHAUS Velour Office Chair, and this is also one of the best products of the whole company.  It is rated as one of the best chairs for hardwood floors.
Both gamers and office workers can go for this office chair for hardwood floors due to its comfort and ergonomic features. This chair has a plush seat that makes you feel how you feel when you sit on your couch. Despite not many people knowing it, breathability plays a fundamental role when talking about how comfortable chairs can be.  
Fortunately, this NOUHAUS release offers optimal breathability to make your back cool at all times and prevent you from sweating while working. The chair's high-density foam padding also makes it perfect for taking breaks and phone calls while reclining on the chair.  
It may not be available in many colors, but it's made of a classic black that fits with everything you have in your office. Since it's also an ergonomic gaming chair, you can see the modern influence that makes it a nice fit for both office workers and young people. You can also adjust the chair's lumbar support, recline range, height, and armrests.  
6. Tribesigns T18 PRO Ergonomic Office Chair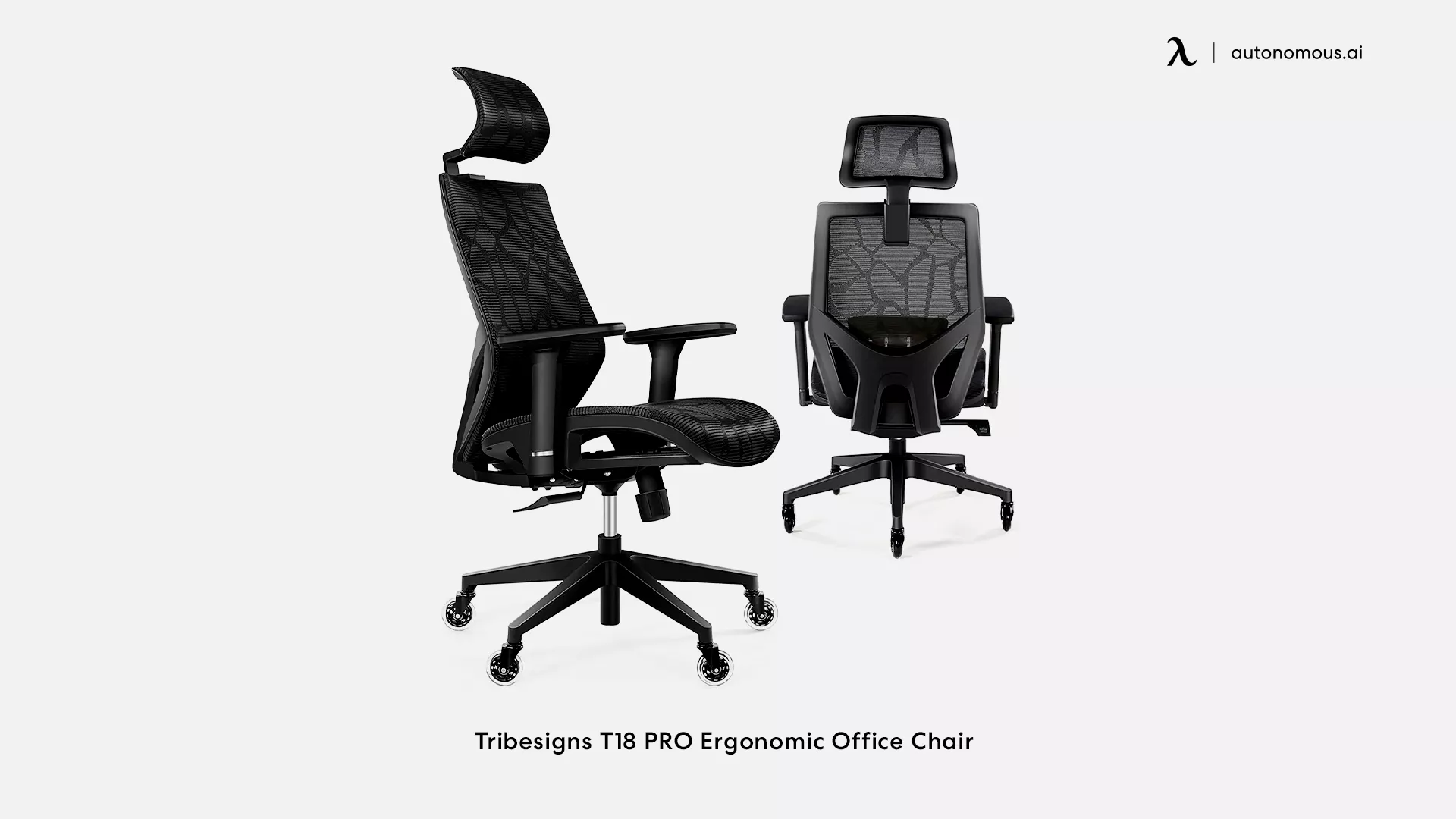 This is another desk chair for wood floor for you. Not all chairs need a flashy design or look too different from other chairs to be good products since minimalist designs are also an excellent option for many people. Therefore, many prefer going for the Tribesigns T18 PRO Ergonomic Office Chair. 
As we mentioned before, this desk chair for wood floor has a minimalist design that could fit perfectly in any office. Apart from that, this chair has the basic ergonomic design you need in all chairs, so don't worry about developing back or neck pain while sitting on it. In a nutshell, the Tribesigns T18 chair is more than a decent option if you want a simple chair with safe casters for hardwood floors.    
7. KOLLIEE Mid-Back Mesh Office Chair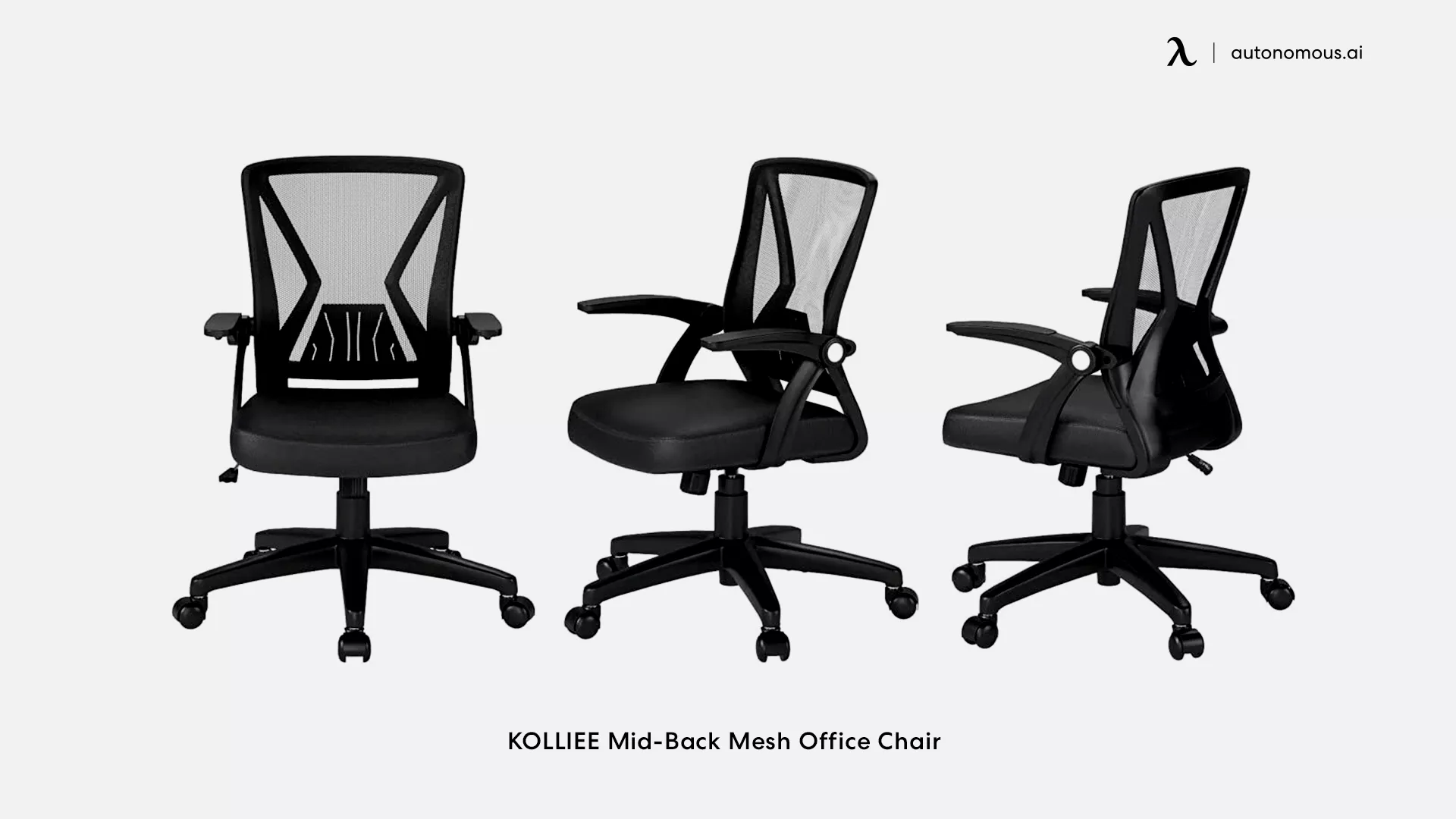 When people start looking for ergonomic chairs for the first time, they often need to choose between a high-back, low-back, and mid-back chair. The KOLLIEE Mesh Office Chair is ideal for people looking for a mid-back chair.  
Installing this chair is also easy and only takes a few minutes, so people who are not into DIY activities don't need to worry about spending all their day assembling an ergonomic chair. This product's materials make it sturdy and durable, too.  
8. iCoudy Swivel Desk Chair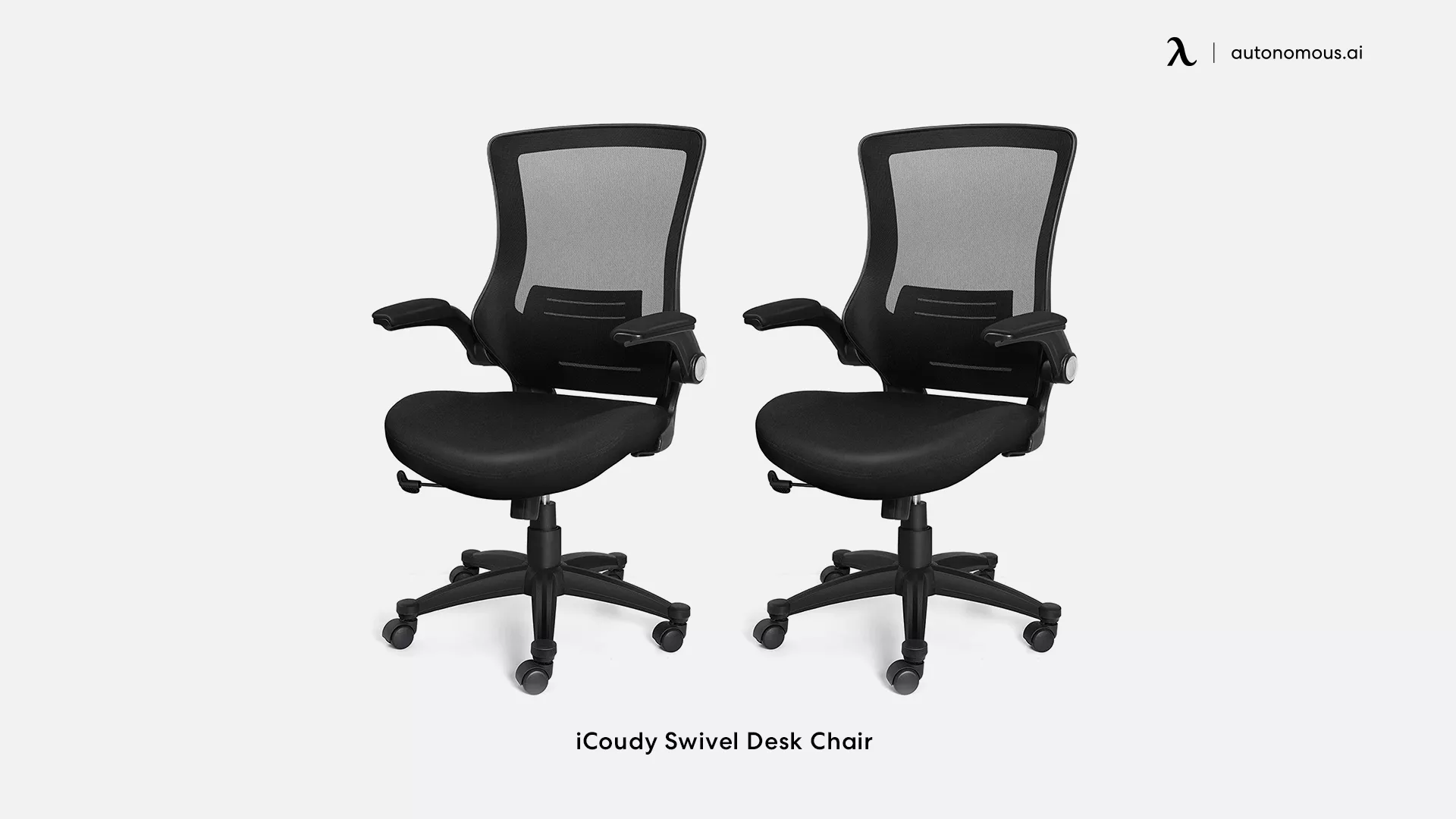 Adjustability is essential for chairs, even if you are looking for an office chair for hardwood floors. The iCoudy Swivel Desk Chair offers you a wide range of adjustments, and that means you can customize this desk chair for wood floor to be the perfect fit for you. Breathability is also good, as well as the chair's built-in lumbar support.  
9. NOBLEWELL Ergonomic Office Chair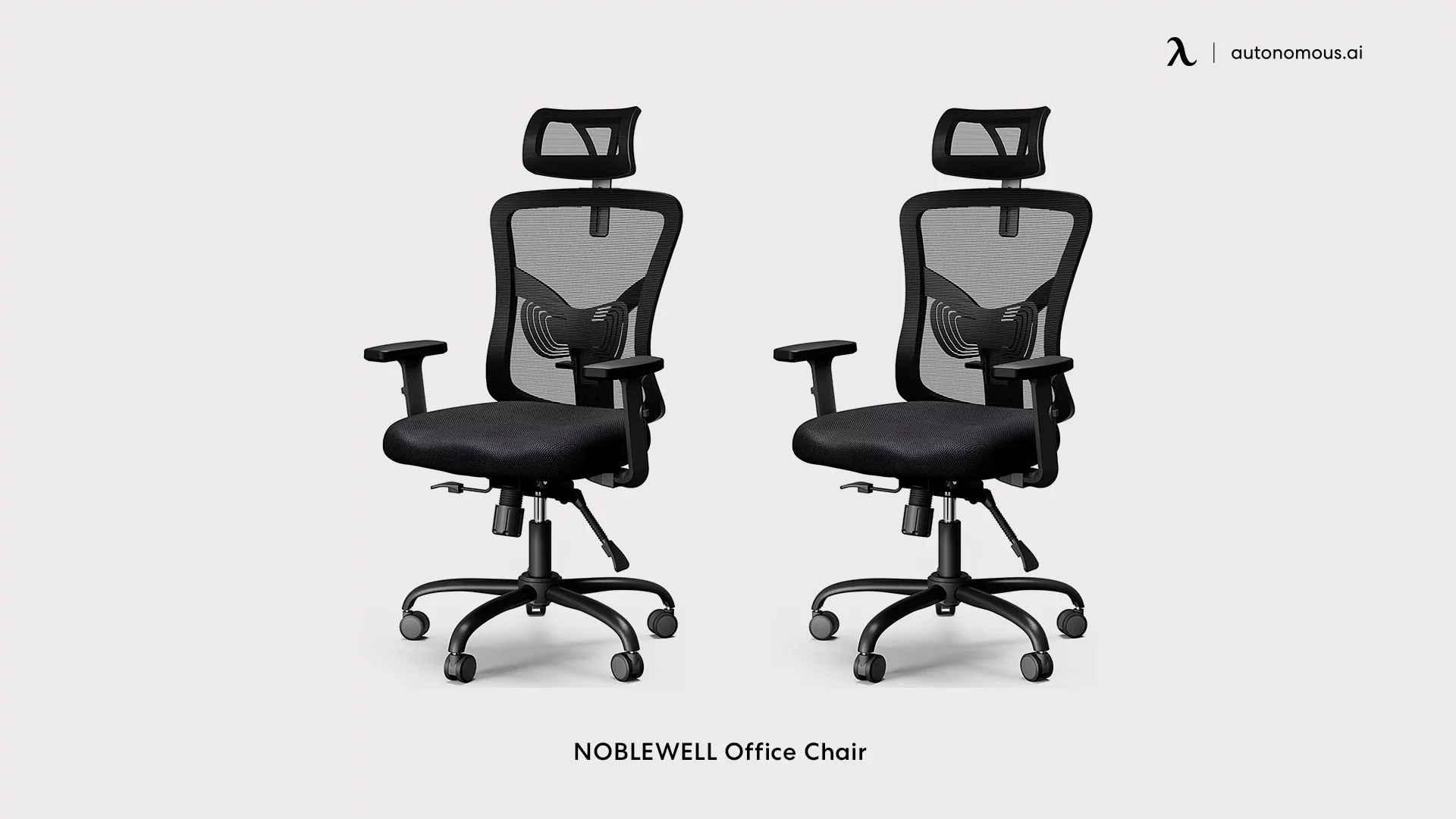 The problem with many ergonomic products is they are too expensive for office workers. Nonetheless, there are still many budget-friendly ergonomic chairs you can go for even if you are working on a budget, and the NOBLEWELL Ergonomic Office Chair is one of them.  
This chair can comfortably lift 300lbs and still keep stability with no problem, and regardless of your build, the comfort this comfortable office chair offers you is off-the-charts. That's thanks to its breathability, which keeps you from sweating, and the chair's sponge cushion that is soft enough for you to relax while working.   
10. BILKOH Ergonomic Office Chair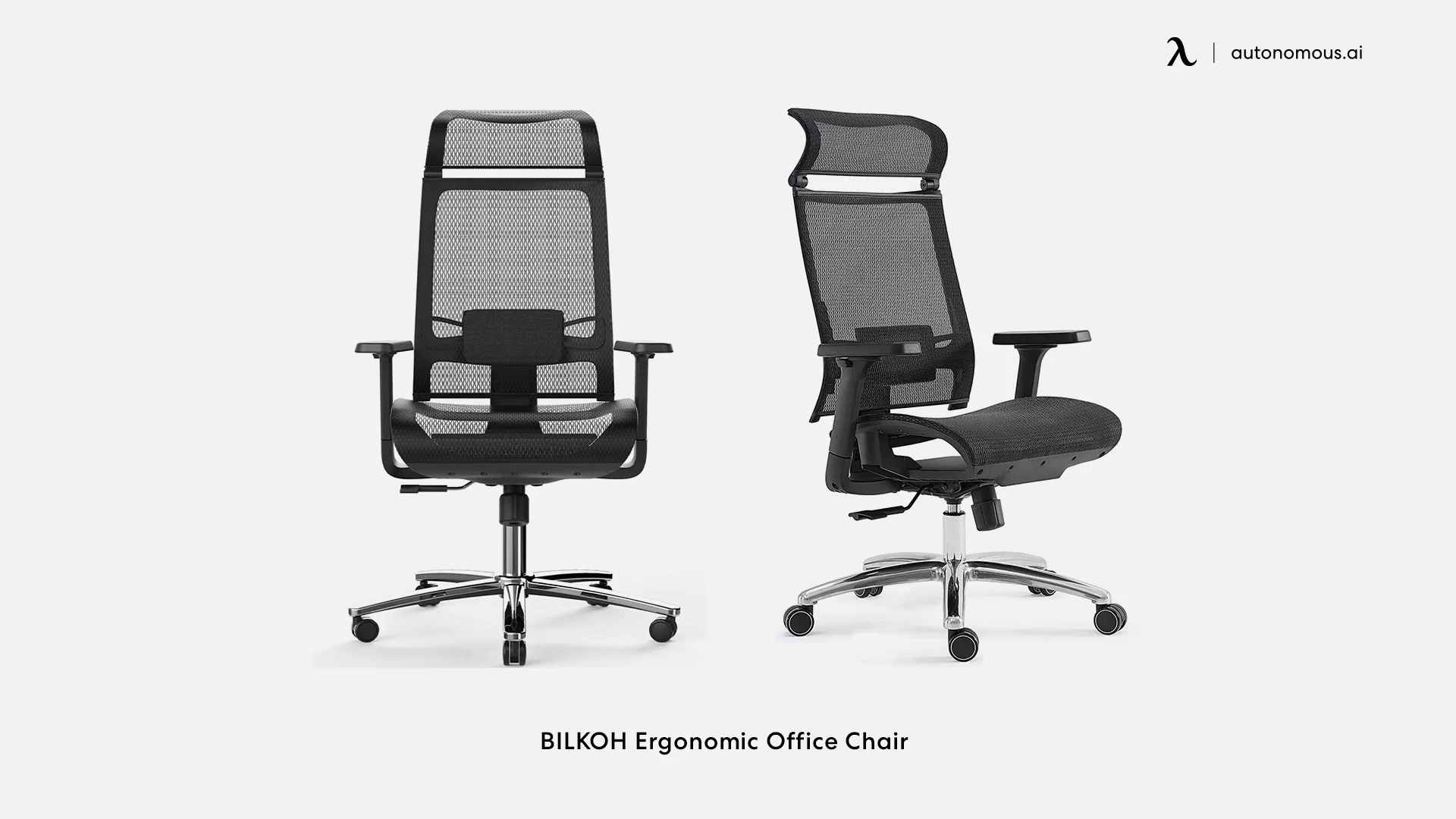 Being the last product on a list doesn't mean being a bad product, and the BILKOH Ergonomic Office Chair proves that. Besides all its ergonomic features, the chair casters for a wood floor, and the design, what shines about this chair is its recline range that allows you to take comfortable rests without standing up from your office chair for hardwood floors.  
Conclusion
All office workers should protect hardwood from rolling chairs by getting special casters for hardwood. Regardless of that, if you can't afford to get a new chair, there are many casters on the market that are safe to use on hardwood floors, so you can buy them and switch them with your chair's wheels. 
Keep up with Autonomous news
Stay informed, stay inspired with our new blogs.
WRITTEN BYAutonomous
We build office products to help you work smarter.