Smart Products
How to Shop for the Right Upholstery for Your Office Furniture

Karen Kimonye
|
Feb 1, 2021
2,756 Views
Choosing the right fabric and upholstery for your office furniture can be challenging. However, it's imperative to choose upholstery that's perfect for your setting because that will determine if your furniture stands the test of time.
When shopping for office furniture, fabric texture and color are two fundamental factors to consider. Fabric texture should not be coarse or rough, because this can cause discomfort. Also, fabric color choice isn't about making your office look attractive. Certain colors can boost creativity and productivity, improving the mood and performance in the office.
Factors to Consider when Choosing Upholstery
Typically, people choose furniture upholstery because it's inviting, comfortable in different temperatures, and easy to maintain as long as you choose upholstery that works well with your setting. Thus, there are many factors to consider before buying your office furniture.
Location: The durability of your fabric depends on how often you use your furniture. If you rarely use your office furniture, then you can get away with buying some more sensitive materials, such as linen and silk. But if you're purchasing office furniture for a high traffic area, such as a reception area, choose upholstery that can withstand use. Engineered and combinational fabrics are more durable than natural fabrics. Also, the tighter the weave, the longer the fabric lasts.
Will it be exposed to sunlight? Don't forget that fabric fades over time if it's in the sun, so you must consider this when shopping for your office furniture. Either you may want to keep your furniture away from any windows or you may need to choose fabrics that hide fading as much as possible. Also, avoid placing your office furniture near a heat source.
What pattern will match your décor? Most patterns hide stains and wear better than plain upholstery. However, make sure the patterns you pick blend with the rest of your style and are inviting to your customers or clients. Woven patterns last longer than printed ones. Also, choose patterns and colors that you will enjoy well into the future because your office furniture is something you will see daily. The size of the piece of furniture may matter as well. You may get away with having certain patterns and colors on smaller chairs, but they may not work well on office chairs or sofas.
The cleaning method you will use to clean your fabric: Water-based or dry-cleaning products can clean most upholstery. Check your office furniture for tags that might have cleaning instructions on them. Sometimes, furniture is labeled with a lettered cleaning code, allowing you to determine the cleaning method to use.
Will you need additional stain protection? Choosing stain-resistant treated fabric can prolong the life of your furniture. Stain-resistant treated upholstery, such as Crypton fabric, offers permanent protection against stains, bacteria, odors, mildew, and moisture. However, it's crucial to note that specialized fabric may require a specialized cleaning process.
Upholstery Options to Consider when Shopping for Office Furniture
If durability is your primary focus when shopping for office furniture, leather, vinyl, or even mesh are your best bets:
Vinyl
Vinyl furniture is cost-effective, and has a look and texture similar to leather, but requires less maintenance. Vinyl furniture comes in standard vinyl options as well as vinyl treated with a PERMABLOK® finish. PERMABLOK® finish is a protective coating that protects your office furniture against abrasion, germs, and stains. Healthcare vinyl is also a great option; it's resistant to common stains, urine, sulfide, moisture, and bacteria. Also, it cleans up well easily. Most types of vinyl rate high on the double rub test.
However, vinyl and some synthetic fabrics offer reduced breathability, making you sweat and stick to your office chair. 
Leather
Leather office furniture is classy and comfortable. If you're considering buying leather office furniture, think about its color—will it match your décor? Also, think about the quality of the leather and how well it cleans up. Leather lasts longer than other fabrics, and it becomes beautiful over time. Also, you can add a layer of protection to your leather by applying a leather protector before using your furniture.
Alternatively, you can buy protected leather office furniture. Nevertheless, keep all your leather furniture out of the sun.
Faux Leather
Faux leather is available in a variety of colors, textures, and levels of softness and stretch. Often, many people prefer faux leather over natural leather. That's because faux leather office chairs—often made from polyurethane or PVC are less expensive than natural leather ones and are easy to clean. Like vinyl, faux leather isn't as breathable as mesh, and it's costly than mesh furniture.
Mesh
Mesh office chairs are made with a synthetic upholstery material, which is tightly woven into a mesh design. Mesh office chairs are great in the office because they allow ventilation. The back of a mesh chair allows airflow on your back, helping you stay cool. The extra airflow reduces sweating while sitting, which means less cleaning.
Note: If you pick one of these fabric options, remember that they each require different cleaning methods, so you must follow the cleaning instructions to make sure your office furniture isn't damaged and always looks good.
Final Thoughts
When choosing your upholstery, don't forget that office furniture should echo the character and purpose of your business, as well as your employees and clients. Take time to plan your purchase because your office furniture is an investment you will live with for many years and it'll influence the first impression you make with your clients and customers.
Regardless of the upholstery you pick in the end, make sure you clean and care for your office furniture regularly. Clean up spills immediately and vacuum your furniture weekly or wipe it down with a damp cloth.
Video ads for product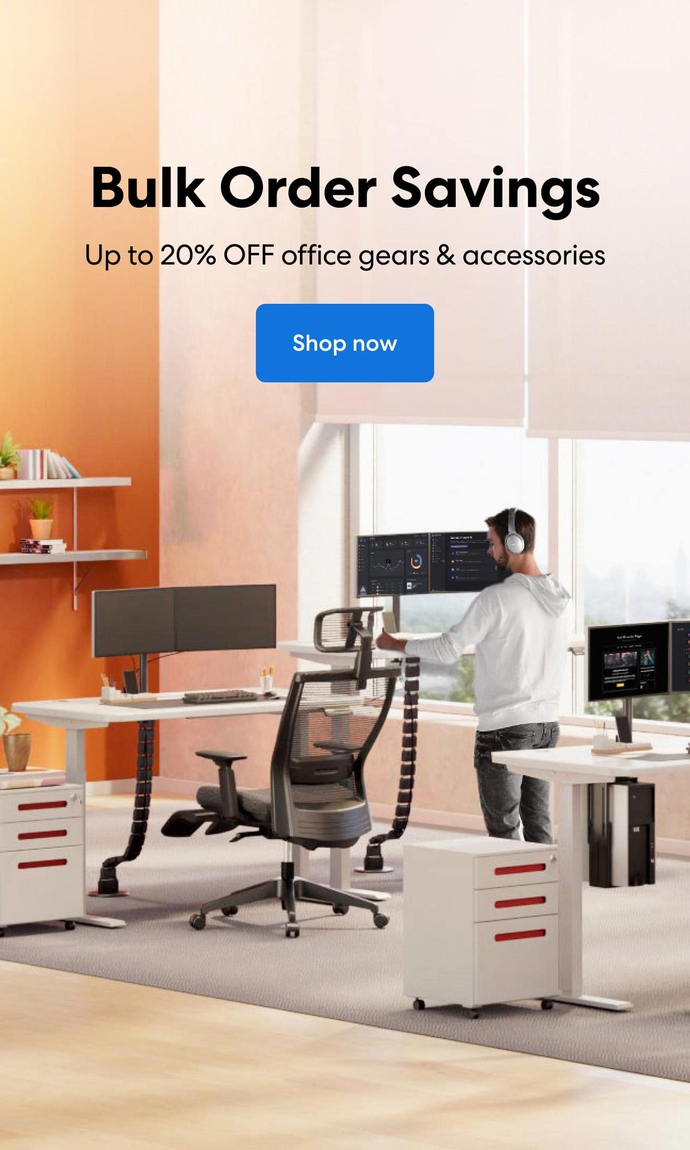 Subcribe newsletter and get $100 OFF.
Receive product updates, special offers, ergo tips, and inspiration form our team.