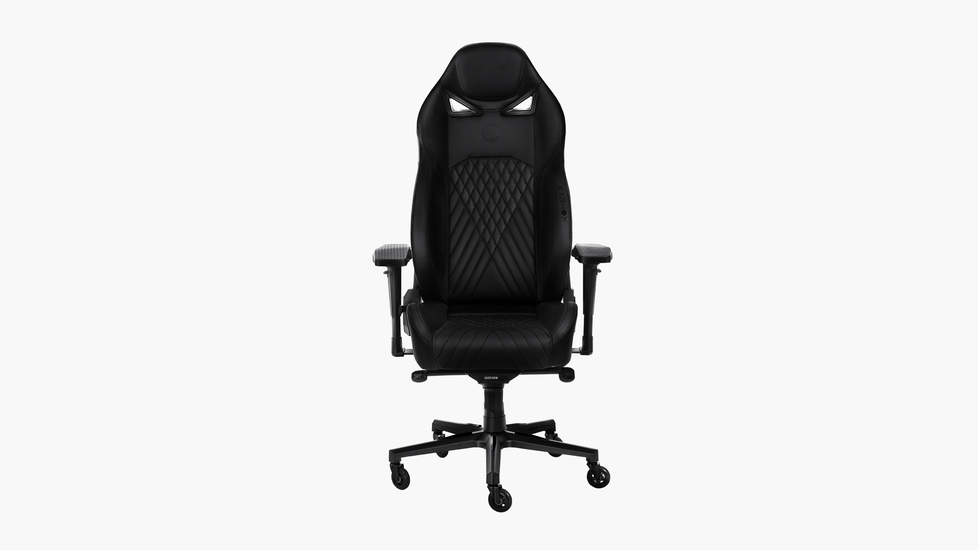 Gladiator - SR Gaming Chair by Karnox
$509
List Price
Unlock business pricing with work email
Ships within 2 business days
|
Free shipping
Charge it to your company
Gladiator - SR Gaming Chair by Karnox at a glance.
The Gladiator SR chair by Karnox features a roomy and comfortable build, premium leather, and durability to last for all your future gaming sessions.
• Big size for adults
• Built-in headrest pillow
• 2.0 PU leather
• 4D Armrests
• Class 4 piston
• Aluminum base
• 3.0' PU Caster
• 90°-155° reclining backrest
• Adjustable height and seat tilt
• 10-year warranty
Deep dive into specs
The market is now swamped with a plethora of high-tech games. And it's a reality that dedicated gamers sit in front of their gaming PC for several hours at a time since they don't want their opponent to have a chance to win the game. Sitting for lengthy periods of time, on the other hand, can cause a variety of health problems. In this case, how can you continue to play your game without jeopardizing your health? One of the most effective methods is to utilize an ergonomic gaming chair with lumbar support that is specifically made for this purpose. Although the best gaming chair is the Gladiator SR Karnox Gaming Chair. Gaming chairs include a high backrest that totally supports your neck and back. The chair's ergonomically built construction allows users to make numerous changes to suit their needs. Adding a Gladiator SR Karnox Gaming Chair to your workstation will keep your body active and help you feel less tired. It not only encourages proper body posture and protects you from a variety of chronic ailments, but it also improves your performance. Here are 5 benefits of a gaming ergonomic chair on Autonomous. A person's choice of chair, on the other hand, might make or break the sale. Choosing the best selection among a plethora of possibilities is a difficult undertaking. To get the greatest chair, read our buying advice.
Things To Consider Before Getting A Gaming Chair
There's a lot of flexibility here. The goal of ergonomic design is to make the user as comfortable as possible. To reach this comfort level, the 4D armrest gaming chair should also allow the user to customize the back position, seat level, armrests, and other features to better fit their body. A lumbar support system, like an ergonomic computer chair that works. A gaming chair with a fully adjustable support structure, like an ergonomic office chair is the greatest ergonomic gaming chair. This flexibility allows the user to vary the support system's curvature to match the curvature of the spine. A curved backrest with a high backrest. A backrest's purpose is to provide neck and upper back support. Tilt lock features and tension mechanisms, these features are utilized to secure the tilt of your backrest, allowing for a variety of user positions. The design incorporates mesh materials. PU leather gaming chair combined with mesh is a fantastic fabric for creating the greatest ergonomic gaming chair. This fabric is permeable, allowing for increased airflow and comfort for the user.
The Gladiator SR Karnox Gaming Chair
Karnox's GLADIATOR series gaming chair is a 2.0 PU leather gaming chair. It has class 4 pistons and is known as a 4D armrest gaming chair. Karnox Gladiator has an aluminum base, 3.0' PU casters, a head cushion, and a lumbar pillow. The GLADIATOR series by Karnox is a gamer chair with the luxury of a sports car. For persons of various sizes, it is large and comfy. It also comes with a built-in headrest pillow.
Backrest with a high back:
It is one of the Gladiator SR Karnox Gaming Chair's most distinctive features, distinguishing it from other types of gaming seats not just in terms of appearance but also in terms of skills. As a result, it provides sufficient support to the user's body, allowing for proper blood flow.
Rocking and reclining:
In general, medical science is skeptical of a sedentary lifestyle since it exposes an individual to the danger of acquiring metabolic illnesses such as diabetes if followed everyday for hours. It's one of the drawbacks of utilizing regular seats.
Cushioned seats:
The fact that the Gladiator SR Karnox gaming chair is an extra plus. Users will feel at ease and enjoy the ultimate comfort when they sit on such chairs as a result of this feature.
FAQs
Don't see the answer to your question?
Are the wheels (castors) suitable for soft or hard floors?
The castors are suitable for both soft and hard floors. Note that any minor damage to hard floors is not primarily caused by the caster themselves but dust grains that adhere to the casters, giving them a "grainy" feeling. To prevent damage to hard floors, we recommend a plastic or fabric protective mat.
What materials are used in Karnox gaming chairs?
Karnox gaming chairs offer PU leather and fabric options:
Karnox 2.0 PU leather has glossy plumpness and is water-resistant.
Karnox Livorno Fabric provides premium breathability and is great for those who tend to perspire while sitting.
Karnox high quality castors and 4D armrests are made of Nylon and Polyurethane.