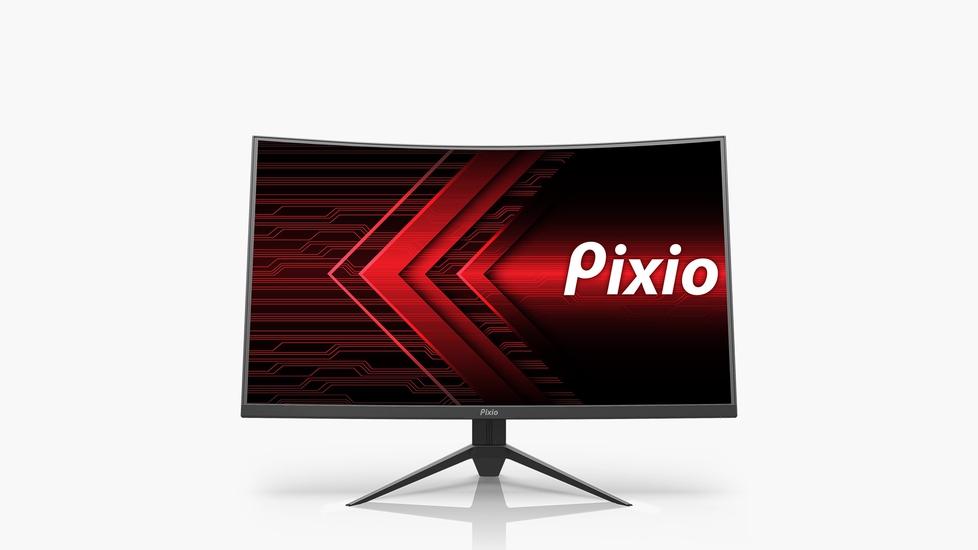 Bought by 100+ PayPal employees
Kostenloser Versand Jun 18 - Jun 20. Kostenlose Rückgabe am 30 Tag.
Sold and shipped by Pixio. Visit our store
Pixio Monitor PXC325 at a glance.
Highly adaptable for getting work done and gaming after hours. This outstanding display is equipped with a 165Hz and 1500R Curved VA Panel for an excellent viewing experience with a slim, bezel-less form factor.
• 31.5" curved glass, thin bezel display
• HDR compatible
• 165Hz refresh rate
• 1ms MPRT (response time)
• AMD FreeSync Premium and G-Sync compatible
• Wide 97.58% DCI-P3 color gamut
• Eye saver mode
• VESA ready
• 3-year warranty
Deep dive into specs
PXC325 Curved Gaming Monitor - Level up your display
The PXC325 Curved Gaming Monitor is everything you ever wanted for a gaming screen. While flat screens have dominated the market for a long time, curved gaming monitors have become more popular in recent years, and for good reasons. Curved gaming monitors 1ms have become widely popular within the gaming community as they provide the user a further immersive gaming experience as both sides of the screen are closer to your vision. Although it is quite common to find large resolution screens, these monitors come in different sizes. Likewise, it's possible to find curved gaming monitors 165 Hz or lower for those looking for budget options. There's a curved gaming monitor for everyone out there. So, if you're looking forward to adding one to your gaming setup, the PXC325 is one of the best Pixio monitor options you can choose. It is both affordable and convenient for all types of gamers out there.
Benefits of using a curved gaming monitor
So, you're looking to replace your old flat screen with a curved gaming monitor. Something that offers you smoother movements and better visual quality, allowing you to be more comfortable during your gaming sessions. A curved gaming monitor 32-inch contains these features and more things to level up your gaming furniture. Immersive gameplay: As mentioned, the greatest feature of curved gaming monitors is the immersive gameplay they offer. Thanks to their arc design, curved gaming monitors 1ms allow you to cover a wider viewing angle. This can help you have more realistic gameplay compared to the two-dimensional display provided by flat monitors. More comfort: We're more vulnerable to eye fatigue while we're using our computers. Unlike curved computer monitors, flat screens don't really help with this issue. Curved gaming monitors match the natural shape of your eyes, allowing you to watch everything the screen contains easily. This type of display can be useful for gaming and regular work. You will be able to enjoy the content on your computer without necessarily exhausting your vision. It's affordable: Many people believe that curved gaming monitors 165 Hz are more expensive than flat screens when it's actually the opposite. More options have been added to the market throughout the years, and now we have access to affordable curved computer monitors, allowing you to choose between different options to fulfill your needs. The PXC325 Curved Gaming Monitor is an excellent example of that.
PXC325 Curved Gaming Monitor – Features
The PXC325 Curved Gaming Monitor by Pixio compiles some of the best features you find in premium curved gaming monitors for an affordable price. Thanks to its arched design and razor-thin bezels frame, the display has a total capacity of 400 nits for brightness at 1080p resolution. Furthermore, it has a contrast ratio of 4000:1. All of these features are compiled in a monitor that only weighs 13lbs. The PXC325 Curved Gaming Monitor has a total resolution of gaming monitor 1920 x 1080. Thus, it has a considerably high pixel density and is capable of delivering excellent performance, regardless of the GPU of your computer. This gaming monitor FHD has AMD FreeSync technology integrated, which allows you to catch every frame and enjoy smoother gameplay regardless of what your favorite video game is. It works equally great in all brightness levels, keeping all the flickering away from the display. This Pixio monitor has an ultrafast response time. At only 1ms, it is the best gaming monitor you will ever add to your gaming setup. All you need to worry about now is completing your gaming setup with the right gaming accessories so you can be more comfortable in each session.
About Pixio
Pixio is a company dedicated to providing high-quality displays at affordable prices. It was founded in 2016 and is based in Torrance, California. Since its foundation, it has been expanding to different territories, allowing people from every corner of the world to have immersive gaming experiences. The brand is particularly popular within the eSports community. "Providing high-standard monitors at accessible costs" is the mission of the brand. Their product catalog continually expands, allowing people access to different and enhanced technologies to improve their computer setups and display experiences.
FAQs
Don't see the answer to your question?