Green Metal Filing Cabinet
Buy now
Add to cart
FREE shipping Jun 05 - Jun 07. FREE 30-day returns.
Bought by 200+ PwC employees
Sold and shipped by Autonomous.
Green Metal Filing Cabinet at a glance.
Fits perfectly under your SmartDesk and into your workflow. Roomy drawers for all your gadgets, files and paperwork, with a lock to keep everything safe.
• 3 drawers
• Customizable dividers
• Made from solid steel
• Anti-rust finish
• Lockable drawers and wheels
• Weight capacity of 275 lbs
• 1-year warranty
Deep dive into specs
Store it how you want it.
3 roomy drawers, each with their own movable dividers. Fits perfectly under your SmartDesk.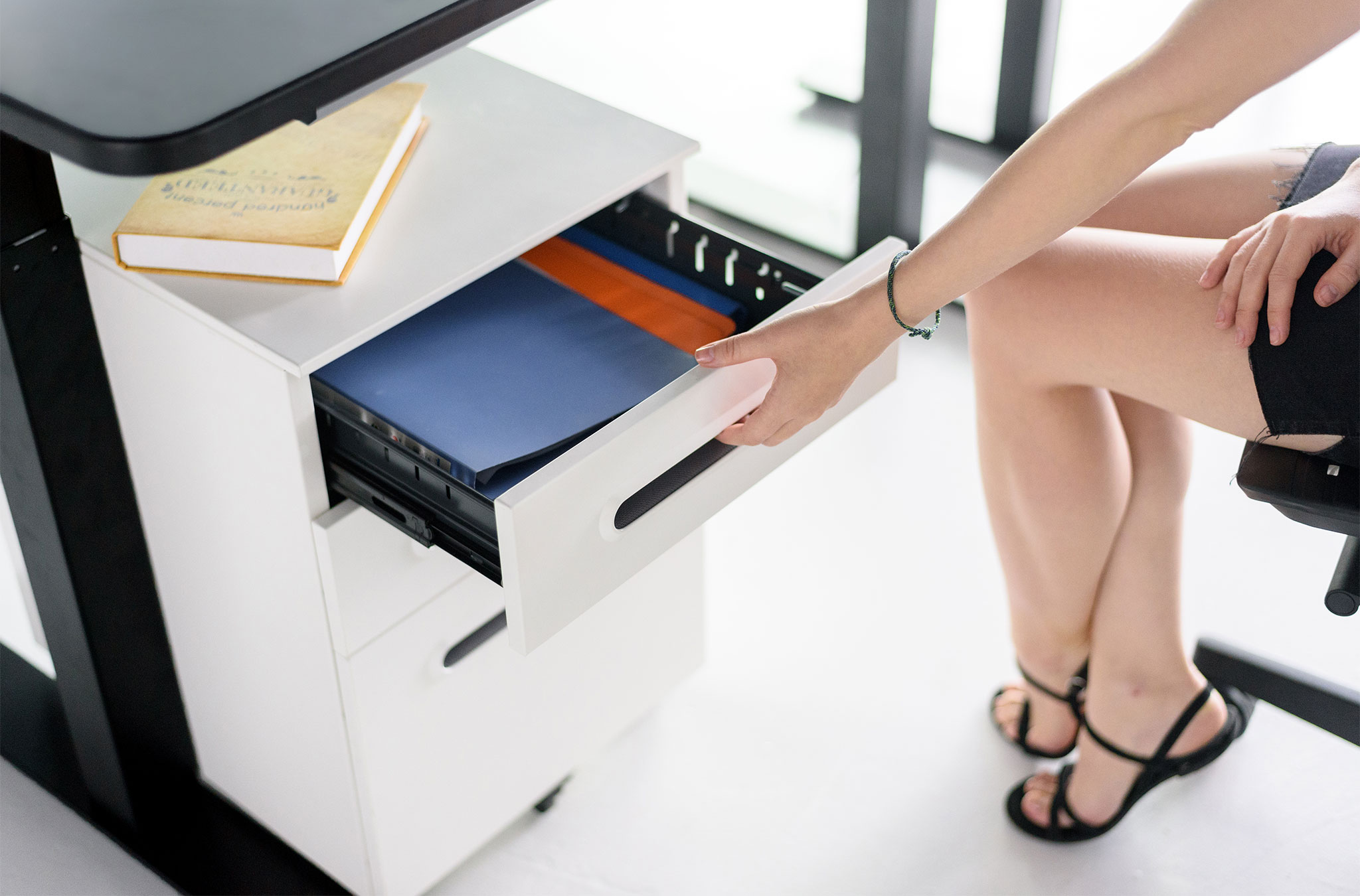 Solid and durable.
Constructed from superfine cold-rolled steel plates, and treated with an anti-rust finish.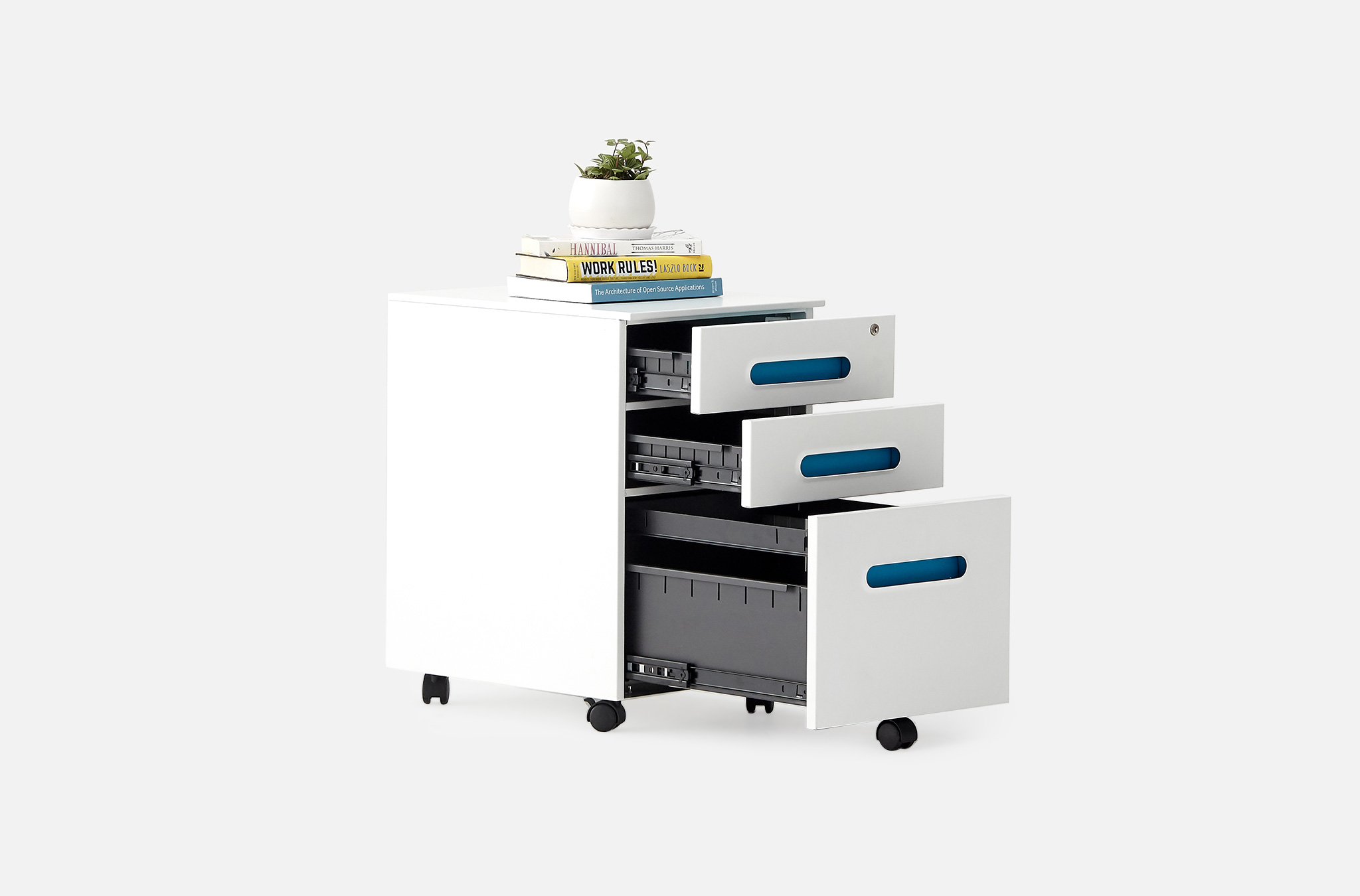 Move it any time you need to.
Sits on super sturdy lockable wheels so you can easily move it out from under your desk. No tipping.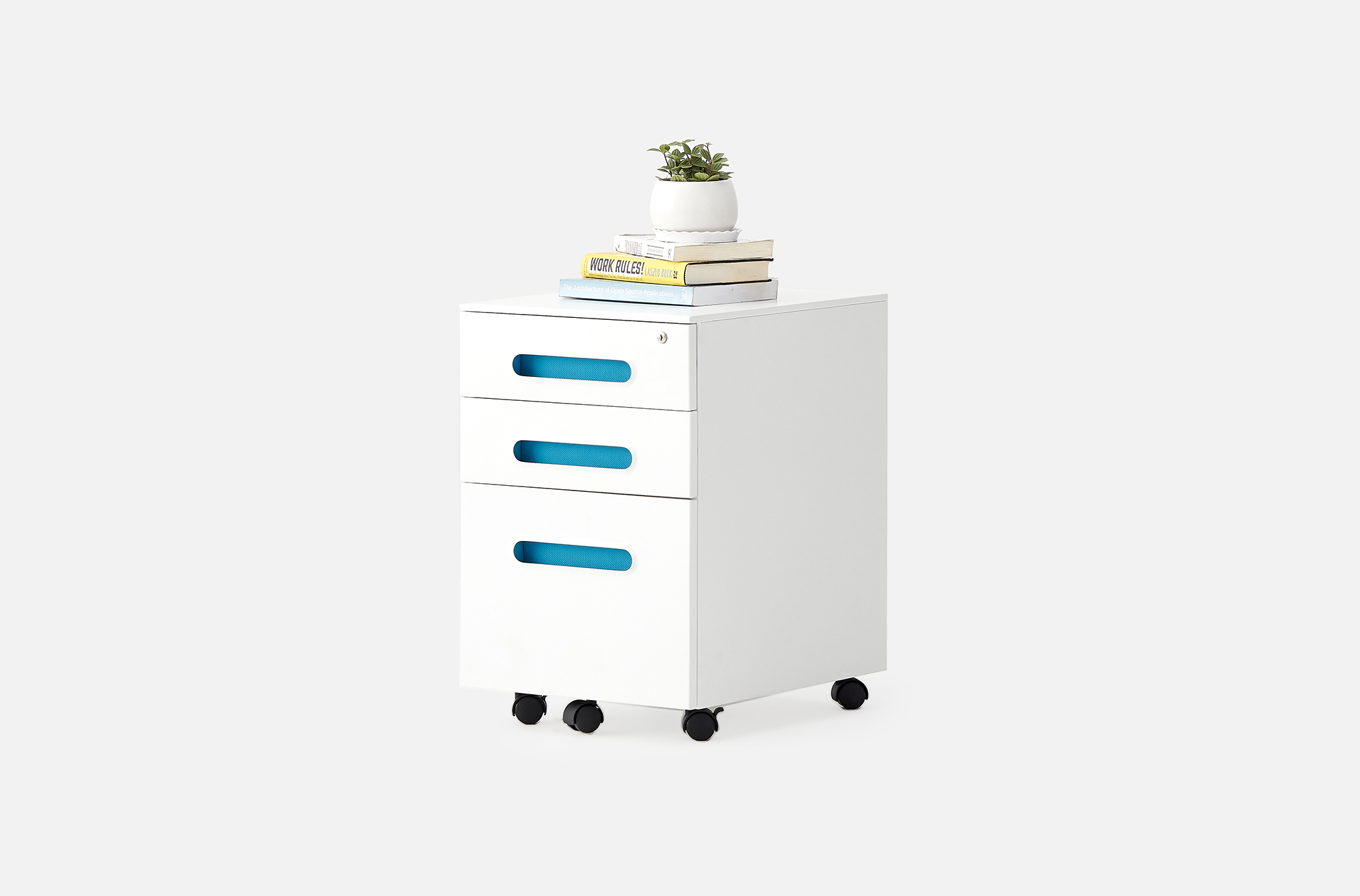 Keep your stuff safe.
Comes with a simple lock and key to ensure your confidential documents stay that way.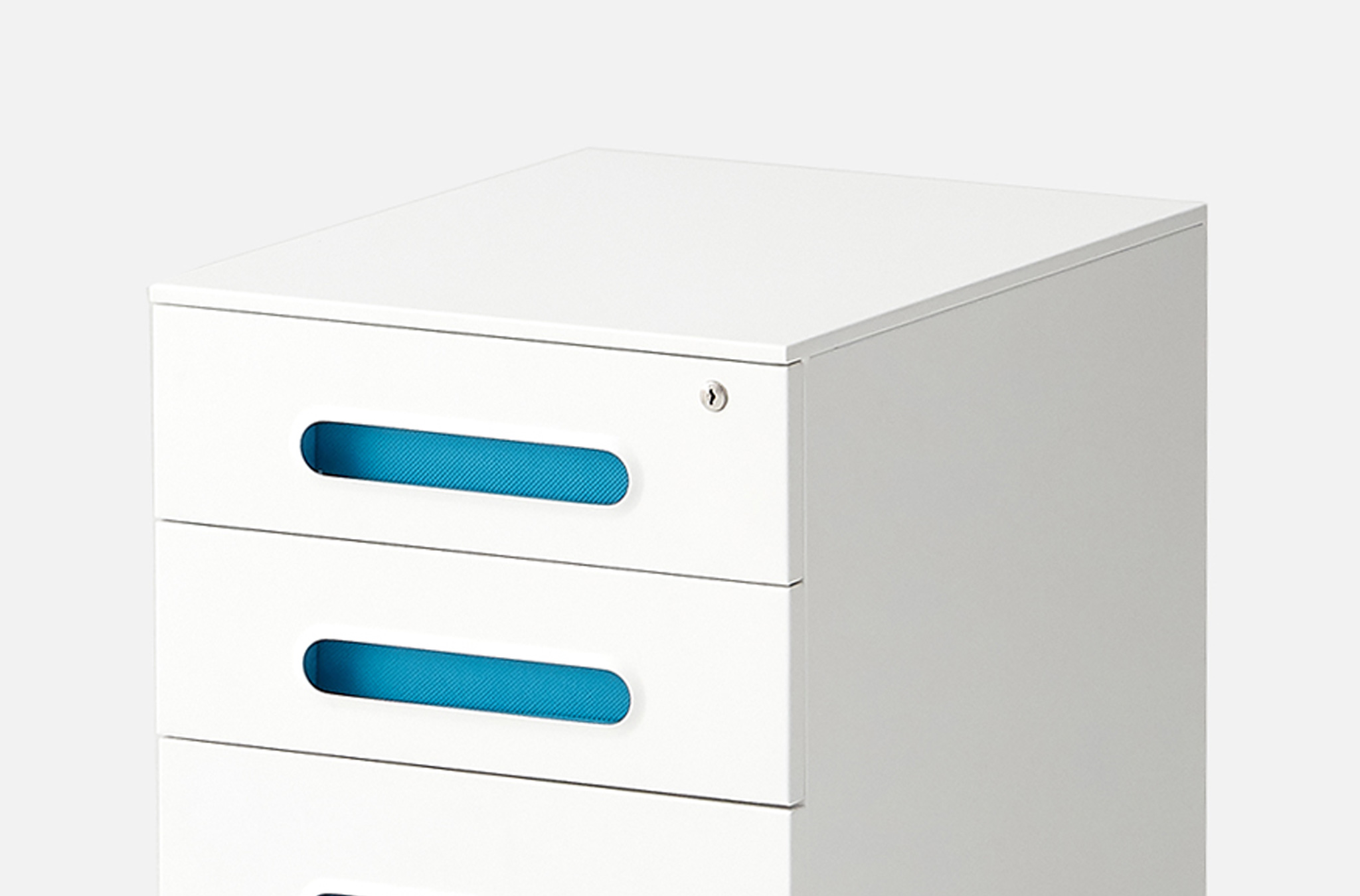 Green Filing Cabinet: A Perfect Organizing Partner
A green filing cabinet is a very useful product for each office and home. Invite these convenient products and enjoy the perks it has for its users. Filing cabinets are helpful partners that ensure an office or workspace is well organized. Without them, an individual can face many difficulties in performing their daily tasks. Filing is necessary even today despite technological advancements. Each firm has to preserve some paperwork to operate smoothly. Thus, organizing this paperwork to get it on time is even more crucial. Using a green filing cabinet will serve all your office needs. Moreover, it will extend other surprising perks and benefits to make your work simpler. Therefore, keep reading to get more knowledge about these cabinets. The article will give you every bit of information you need to make a perfect purchase. Particularly adding a green filing cabinet 3 drawer is highly beneficial for your workspace. Offices are a mess; however, organizing them is not as difficult as it looks like. Using filing cabinets and other office accessories from Autonomous can help your office look better and create a professional setting. Adding these tools and office desk accessories is a crucial aspect of progress.
1. Suitable Décor
Adding green furniture to your office will not disappoint you. Green is an earthy hue that gets along with interiors in no time. Moreover, you can easily blend it into any space without worrying about the concept. Many offices have green furniture as a part of their main décor. However, green cabinets offer much more than a decent interior appearance. Thus, if you want a subtle and elegant look for your office, we suggest picking the green filing cabinet. The product will meet all your requirements and give you a perfect professional set-up.
2. Better Progress
The color green signifies a lot of things. It adds harmony, growth, and freshness to any interior immediately. Moreover, traditionally it is also said to attract money and prosperity. So, if you want to create a friendly and suitable environment for your employees, pick the evergreen filing cabinet. A green home office will instantly freshen moods and encourage your employees to perform well. Further, it will promote growth and ensure better harmony for more efficient work. Thus, add a green cabinet and assure your office with better balance, wealth, and liveliness.
3. Promotes Harmony
When employees work well together in harmony, a firm succeeds. Thus, promoting unity in both physical and psychological ways is very crucial. Installing a green metal filing cabinet into your office or workspace will promise harmony and better work coordination. Further, this unity will promote better work and improve a user's overall performance. Finally, this cabinet will help create a fresh and happy environment at work. Thus, it is an amazing color one can opt for to succeed.
Autonomous Green Filing Cabinet 3 drawer
If you want a reliable filing cabinet for you, then this product is your perfect pick. The green metal filing cabinet has all the features you need for better organizing. Moreover, it also extends other benefits that will help you succeed and meet your needs instantly.
1. Highly Sustainable & High-Quality Material
Storing files is certainly not easy. Also, files may seem lightweight but can take up a lot of space because they are heavy. Thus, purchasing the correct filing cabinet is important. This filing cabinet has everything you need, including sustainability. Durable products are a must to ensure better use for longer periods. Also, this green filing cabinet is built using solid steel, which is one of the toughest materials for cabinets. Thus, consider all the right aspects before buying the product to get your ideal cabinet. Investing in a high-quality product is very crucial. This green metal filing cabinet has an anti-rust coating that ensures the great look for a decent time.
2. Customizable Storing with 3-Drawer Cabinet
Compact offices need storage cabinets to ensure better working and coordination. Failing to organize papers well can lead to a major crisis and even losses. Thus, it is stored as an important factor for filing cabinets. The green filing cabinet 3 drawer systems make it a reliable option with movable sections and parts that help you organize your work material properly. It also has wheels that help in improving mobility. Investing in the filing cabinet will surely not disappoint you in any way and assist you in setting your office in the finest possible way. The green filing cabinet has multiple drawers to keep files accordingly offering ease in file searching and also giving you ample space to store your files. Further, the drawers also have unique green handles that look appealing to match any interior space.
3. Additional Features
Some other prominent features of this evergreen filing cabinet is its unique lock system for each drawer to ensure better security and help you store important paperwork worry-free. Also, it has a great weight capacity and wheels to improve mobility. Overall, this cabinet is a perfect partner for all your filling needs.
The green metal filing cabinet - A perfect pick for your office
It has all the features to ensure safety, durability, and convenience. You will surely not regret adding this cabinet to your work area. So think no more, and add this stunning storage partner today!
FAQs
Don't see the answer to your question?