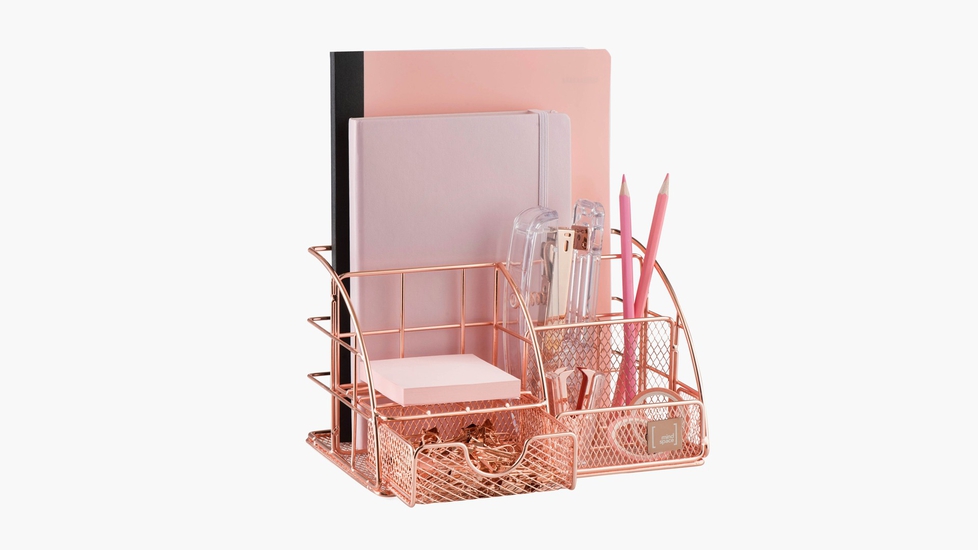 Mindspace Rose Gold Desk Organizer
Notify me when this item is available
Enter your email below. We'll let you know when it's back in stock.
Sold and shipped by mindspace.
• ENOUGH SPACE FOR EVERYTHING • EASY ACCESS THAT MOVES WITH YOU • THE LIGHTWEIGHT HEAVYWEIGHT. Made of sturdy steel mesh with a solid base • Electroplated finish feels great to the touch. • Four soft foam grips protect your desk • Paper & Binder Clips Included • Comes with a nice box and will make a great holiday office gift. • Ready to USE RIGHT OUT OF THE BOX
• 5-year warranty
Finally - pens, pencils, sharpeners, staplers, scissors, rulers, razors, glue sticks and binder clips, sticky notes and sticker dots, tacks and pins and postage stamps, and all the other odds and ends that find their way onto surfaces large and small — will have a space to call their own. Got stuff? Get rid of the clutter and expand your Mindspace.
Deep dive into specs
Rose Gold Desk Accessories, Desk Organizer & Office Decor for Women, Office Supplies Pen Holder | Paper & Binder Clips Included - Features 5 Compartments + Drawer | The Wire Collection
Our desk organizers pull out drawer slides out smoothly and goes right back easily for expandable storage and comes with matching color paper & binder clips.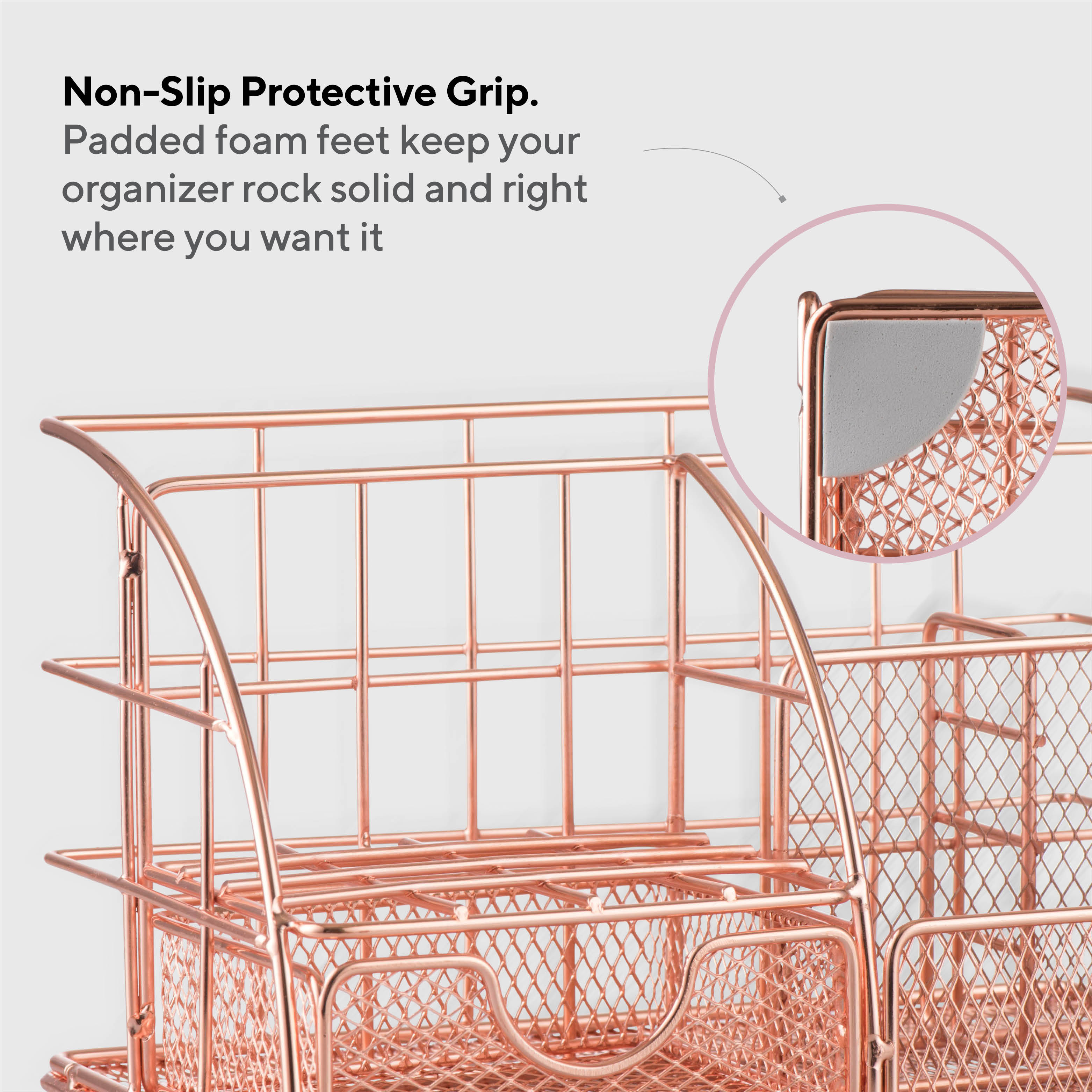 About Mindspace Rose Gold Desk Organizer
You may be searching for items to keep your workplace tidy and visually pleasant if you have a rose gold desk organizer along with many rose gold desk accessories. Rose gold is a great color option, particularly if you want to give your workstation some beauty. Even if it may not be the ideal option to place it on the walls or the floor, you could perhaps include it as one of your accessories in your home office setup. You may be comfortable during your work hours by using the greatest rose gold desk organizer set.
Why You Should Have A Desk Organizer
Everybody works in a different way, and this includes how neat their desk is. Because it looks more professional and saves time hunting for lost invoices, meeting notes, or office equipment like pens and sticky notes, some businesses implement "clean desk" regulations. The setup of your workspace is mostly up to you now that you work remotely, however. We recommend you a great desk organizer, like this rose gold desk organizer. A tidy desk not only provides advantages for the workplace but also has psychological advantages: More inclined to choose nutritious foods - More steady mental state - Increasing output - Increased chance of better seeping - Better Focus - Reduced tension. If you're a stickler for order and organization, a disorganized workstation will only make you anxious with different office accessories lying around. Too much stress may hinder productivity, make it difficult to fall asleep, and raise the likelihood that you'll go for the container of ice cream. Make a difference by getting one of the best desk organizers, the rose gold office organizer. Whether you have a normal desk or a standing desk, a desk organizer is necessary.
Rose Gold Desk Organizer
This gold desk organizer set with great rose gold desk accessories will allow you quick access to your most-used office supplies and will also give your workspace a little more elegance. It has sections for your pens, notes, and other office supplies that you may want to have nearby as you work. The non-slip protecting grip will keep your rose gold organizer in place and firm for the duration.
About Mindspace
As stated in their slogan, "uncluttered space, uncluttered mind". Mind Space has developed solutions to equip you with crucial desk accessories for a more efficient and stylish office environment. They are constantly a step ahead of the competition in supplying the finest office desk equipment. Their rose gold desk organizer is nothing short of traditional and exquisite.
FAQs
Don't see the answer to your question?