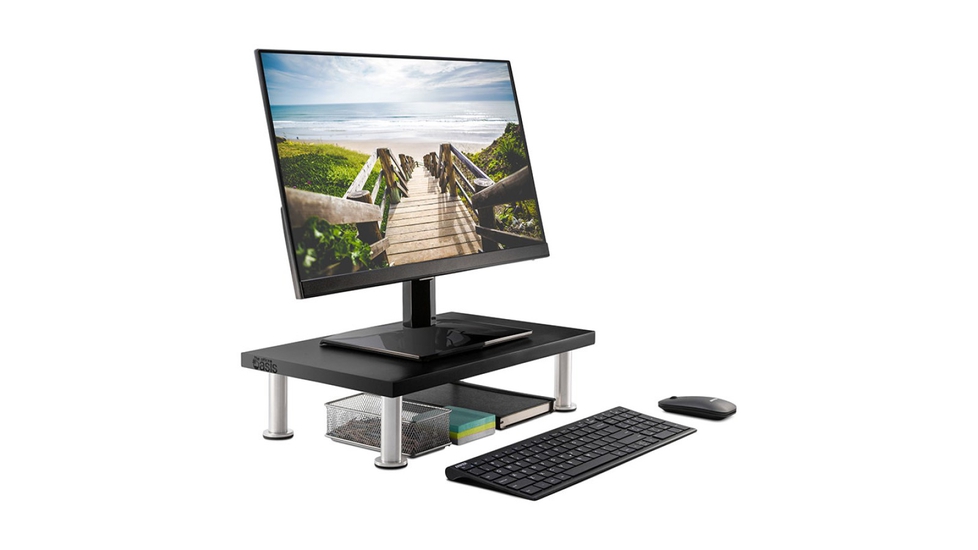 The Office Oasis Bamboo Computer Monitor Stand: Lasts a Lifetime
10 reviews
Visit our store
$44
$69
(-36%)
Free shipping
Color: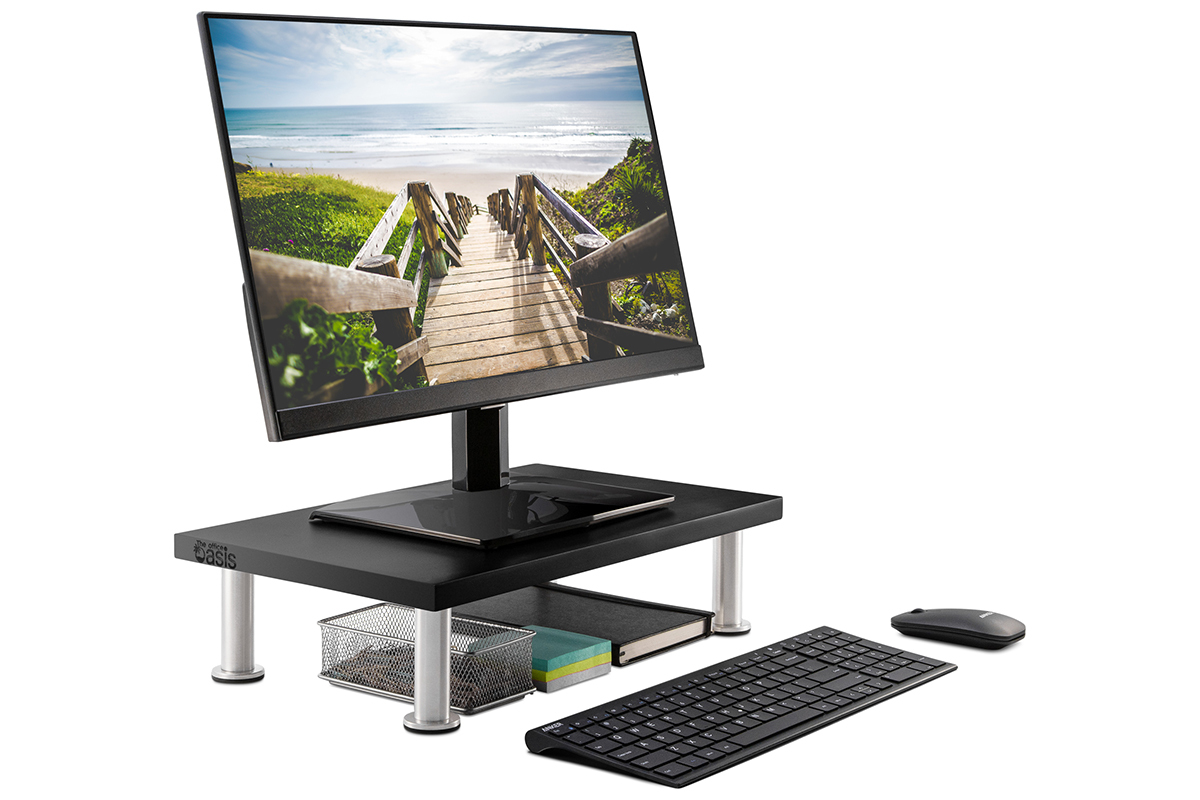 Not available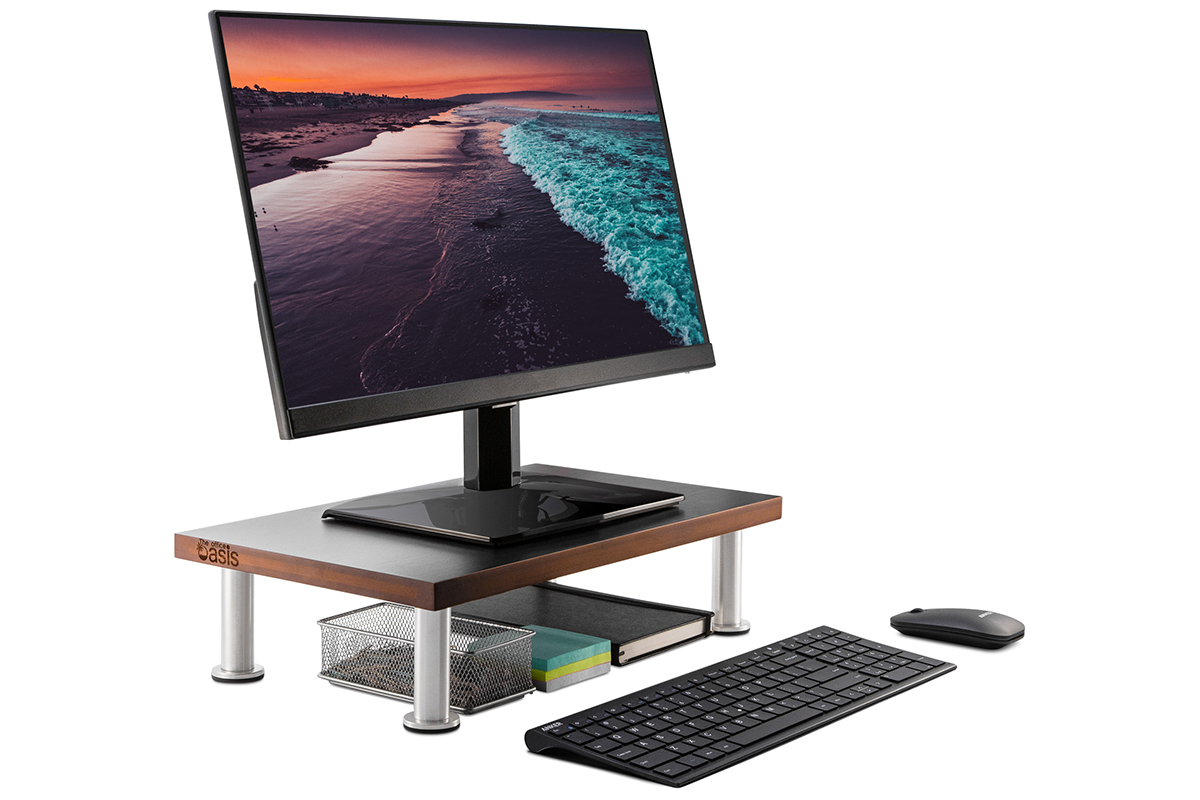 Not available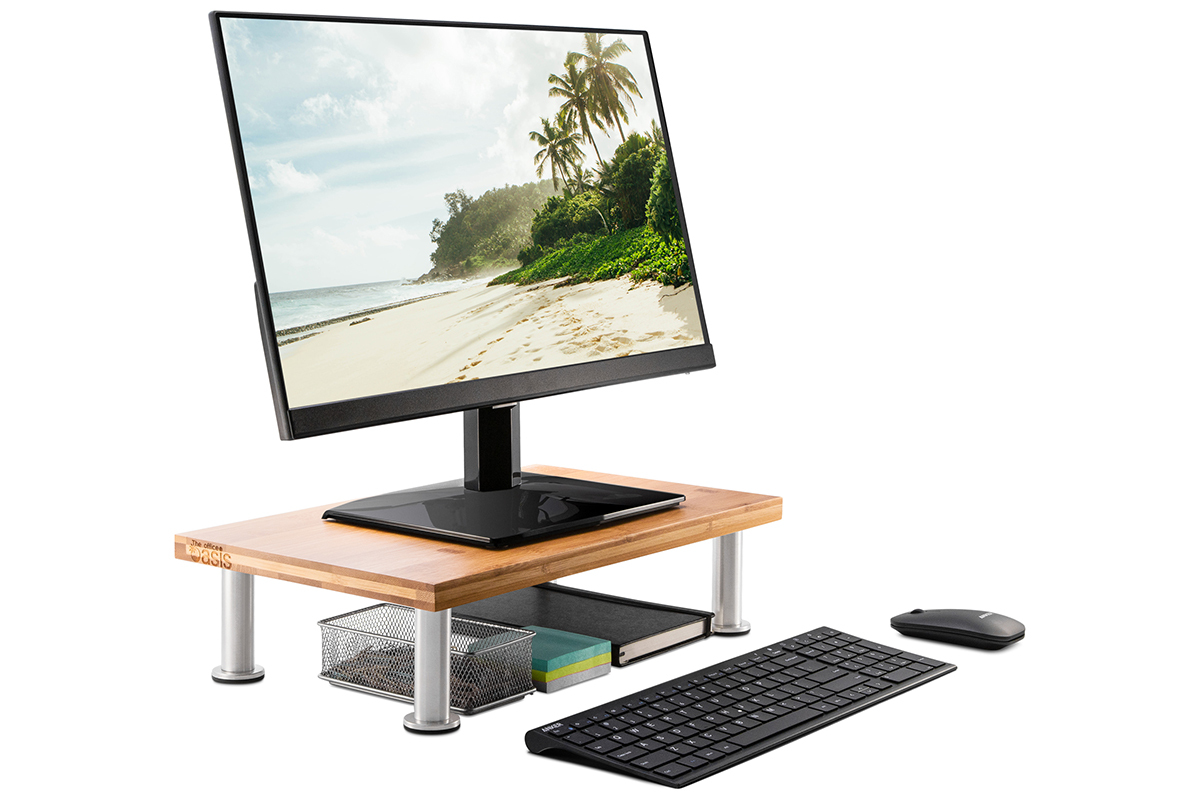 Not available
Buy now
Add to cart
FREE shipping Sep 29 - Oct 02. FREE 30-day returns.
Bought by 1+ TRITONSYS.COM employees.
Sold and shipped by The Office Oasis

Price Match Guarantee
• Made With Premium Quality Materials • Supports up to 100lbs • Reduces Neck Strain • Adds Storage Space
• 5-year warranty
Extremely sturdy, solid bamboo monitor stand with stainless steel legs. Supports up to 100 LBS and provides space underneath for extra storage.
Deep dive into specs
Features
Specs
FAQs
reviews
5.0
Many people wonder why they need a monitor stand riser for the desk when their computer comes with a built-in display stand. This is a legitimate question. Many people believe that when they purchase a computer, it comes pre-loaded with all the features they'll ever need. In a very limited sense, they're right: you get a computer, a monitor, and a display stand that is incorporated into the monitor. However, the built-in monitor stand has a fundamental flaw: it lowers your screen below a healthy working height (see below). However, some essential home office desk accessories as The Office Oasis bamboo computer monitor stand are all that are needed to fix this issue. A monitor riser is well worth the investment out of all the office accessories since it allows you to alter your computer display's viewing angle, width, and height. Because of this, workplace convenience and ergonomics are improved. You may work in an ergonomic posture without having to move your desk around thanks to monitor risers. Using The Office Oasis bamboo computer monitor stand can help you stay more alert and reduce discomfort in your neck, shoulders, spine, and back. Adjusting one's workplace chair is a popular ergonomics practice among computer users. On the other hand, the majority of individuals fail or neglect to make the necessary adjustments to their computer display. As a result, your neck muscles may get overworked and experience persistent discomfort. In this article, we'll go over the benefits of using a bamboo monitor riser, the usual issues people have with them, and what to look for when making a purchase.
Why Go For A Bamboo Monitor Stand
In terms of ergonomics, the stand that comes with your PC is an absolute mess.
For ideal ergonomics, you may elevate the top of your monitor screen to eye level with The Office Oasis bamboo computer monitor stand. Nevertheless, why is this so crucial? If your display is too low, you'll have to stress your neck and adopt a terrible posture to see what's on the screen. If your computer's maker doesn't have an option, they'll have to construct the display stand so that everyone can see your screen at the same height. Visible to everybody except the shortest user is what this implies in reality.
You wish to prevent long-term health problems at work.
In reality, this implies that your monitor screen is set too low for everyone else since you have it set at the correct height for the lowest possible user. In the absence of a wood monitor stand riser, 99 percent of individuals using their monitor stand without a riser spend most of their day bent over their screen, straining their eyes and other portions of their body in an uncomfortable position. More severe problems, including chronic diseases that might threaten your career, are quickly becoming commonplace among many of the millions of people who use these devices on a regular basis, bamboo monitor riser comes to the rescue.
The use of The Office Oasis bamboo computer monitor stand may alleviate
In order to keep your laptop and keyboard out of the way, this monitor riser is well-designed. As a result, a sense of order and space is created. According to many ergonomic specialists, this is a significant benefit of this wood monitor stand riser.
Key Features Of The Oasis Bamboo Computer Monitor Stand
This stand is capable of supporting monitors, printers, and laptops weighing up to 100 pounds. This bamboo monitor stand is built to last a lifetime out of solid bamboo with sturdy duty legs. When your screen is elevated to eye level, you avoid hunching over, which may contribute to neck and back discomfort, as well as bad posture. Use the space beneath this stand to store office supplies on your desk, stash gaming equipment under a console, or set up a printing station for easy access.