Autonomous ErgoChair Pro
- Ergonomic Office Chair
Buy now
Add to cart
Ships by Jun 15. FREE 30-day returns.
Bought by 2,700+ Google employees
Sold and shipped by Autonomous.
Autonomous ErgoChair Pro at a glance.
Vollständig einstellbar, absolut förderlich und super atmungsaktiv. Dieses Modell bietet alles.
• Höhe, Armlehne und Sitzneigung sind einstellbar
• Sanftes Zurücklehnen mit 5 einstellbaren Positionen
• Flexible Lendenwirbelstütze für jede Sitzposition
• Voll unterstützend bis zu 136 kg
• Gewebter Netzrücken für optimale Luftzirkulation
• 100 % umweltfreundliche Materialien
• 2-year warranty
Deep dive into specs

ERGOCHAIR PRO
Für jeden Teil von Ihnen.
Jedes Element, das Sie sehen und fühlen, ist darauf ausgelegt die Mobilität zu erhöhen und Schmerzen zu beseitigen. Denn alles beginnt mit Ihrem Wohlbefinden.
STABILISIERENDE RÜCKENLEHNE
Korrigiert Ihre Körperhaltung.
Mit einstellbarer Vorspannung und 22° Neigung. Einstellbar in 5 verschiedenen Positionen, die Ihre Wirbelsäule stabil halten und Ihren Lendenwirbelbereich stützen. Außerdem ist der Stuhl mit ultra atmungsaktivem Netzgewebe ummantelt, das für sanften Widerstand sorgt und so die Körperhaltung verbessert.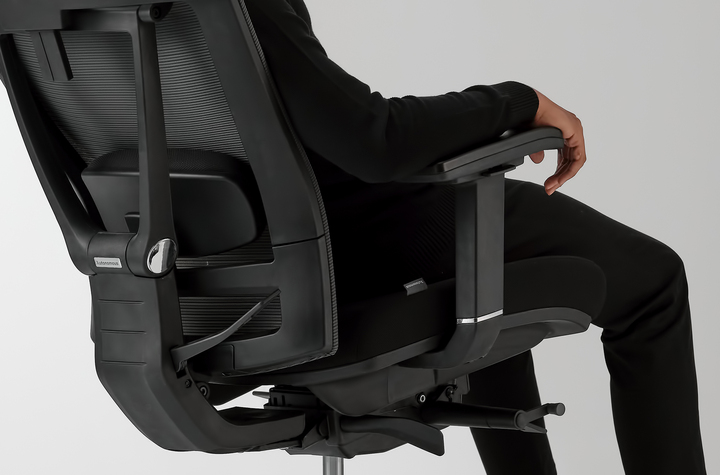 GLEICHMÄßIGES ZURÜCKLEHNEN
Bekämpft Müdigkeit.
Rückenlehne und Sitz bewegen sich in einem ergonomischen Verhältnis von 2:1, sodass Sie sich zurücklehnen und dehnen können, ohne Ihre Beine, Oberschenkel und den unteren Rücken zu belasten. Beenden Sie Ihren Tag mit so viel Energie, wie Sie ihn begonnen haben.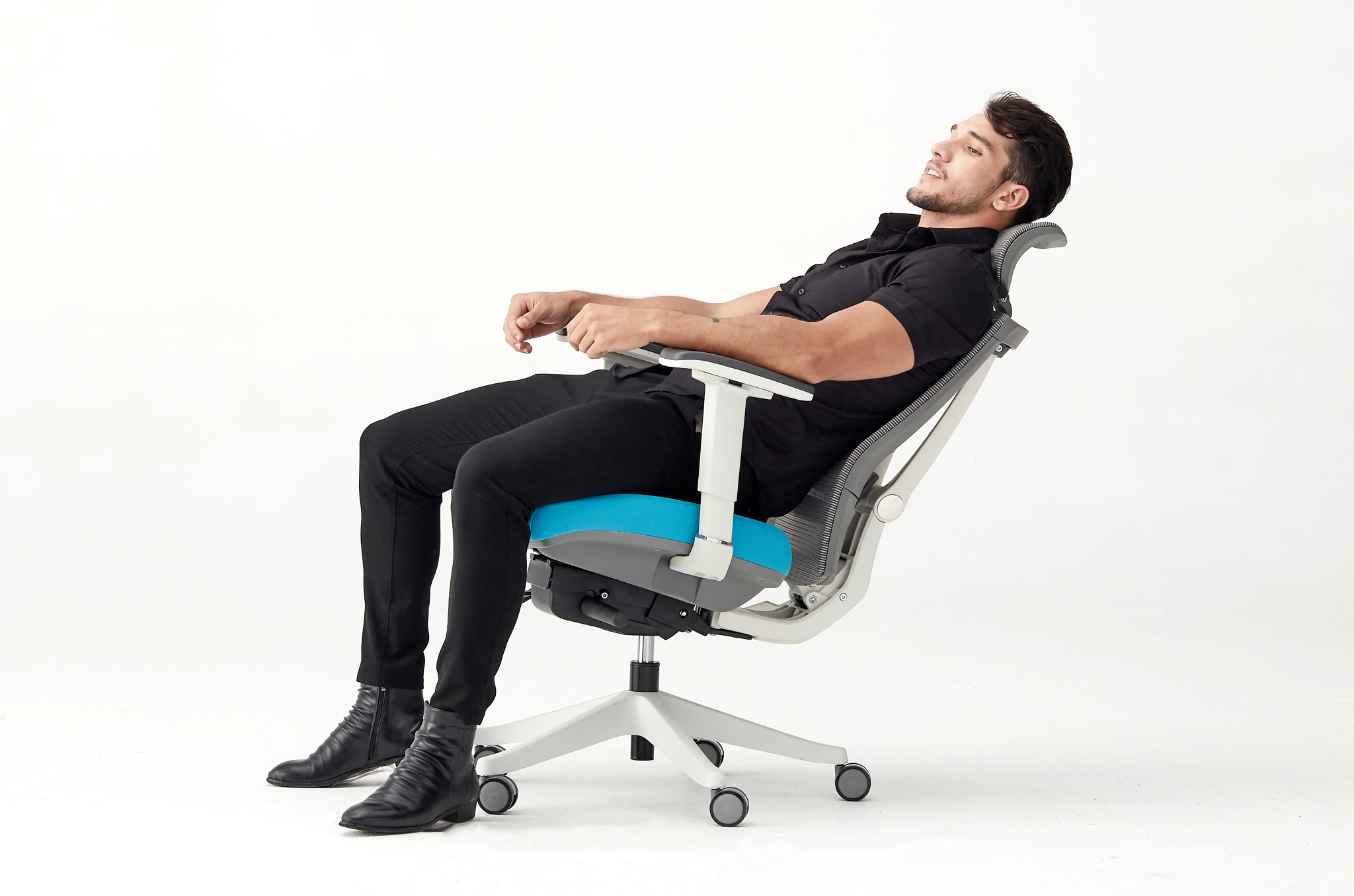 REAKTIVE LENDENSTÜTZE
Befreit von Rückenschmerzen.
Das flexible Lendenkissen schützt die natürliche Krümmung Ihrer Wirbelsäule und lindert sowohl Schmerzen als auch Steifheit. Anstatt die Krümmung nach innen zu bestimmen, passt es sich der einzigartigen Form Ihres Körpers an und bietet maßgeschneiderte Stützung.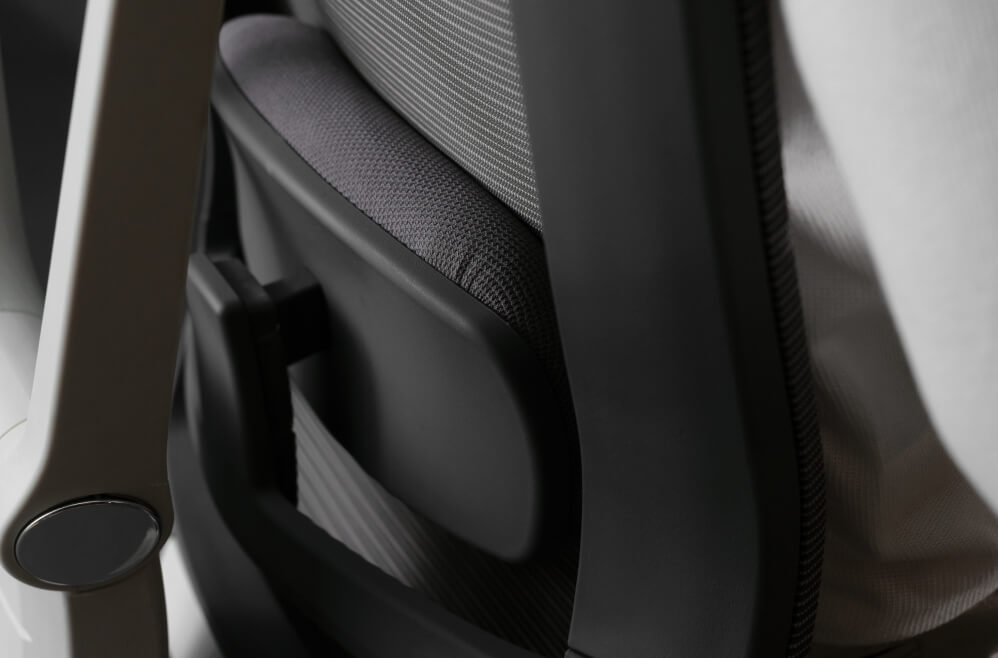 VERSTELLBARE KOPFSTÜTZE
Verhindert das entstehen eines Buckels.
Sowohl die Höhe als auch der Neigungswinkel sind einstellbar, sodass Sie Ihren Nacken nicht mehr belasten müssen. Entdecken Sie die 45° Flexibilität, um die ideale Stütze zu finden - egal ob Sie am Schreibtisch schreiben, auf einen Monitor schauen oder sich zum Entspannen zurücklehnen.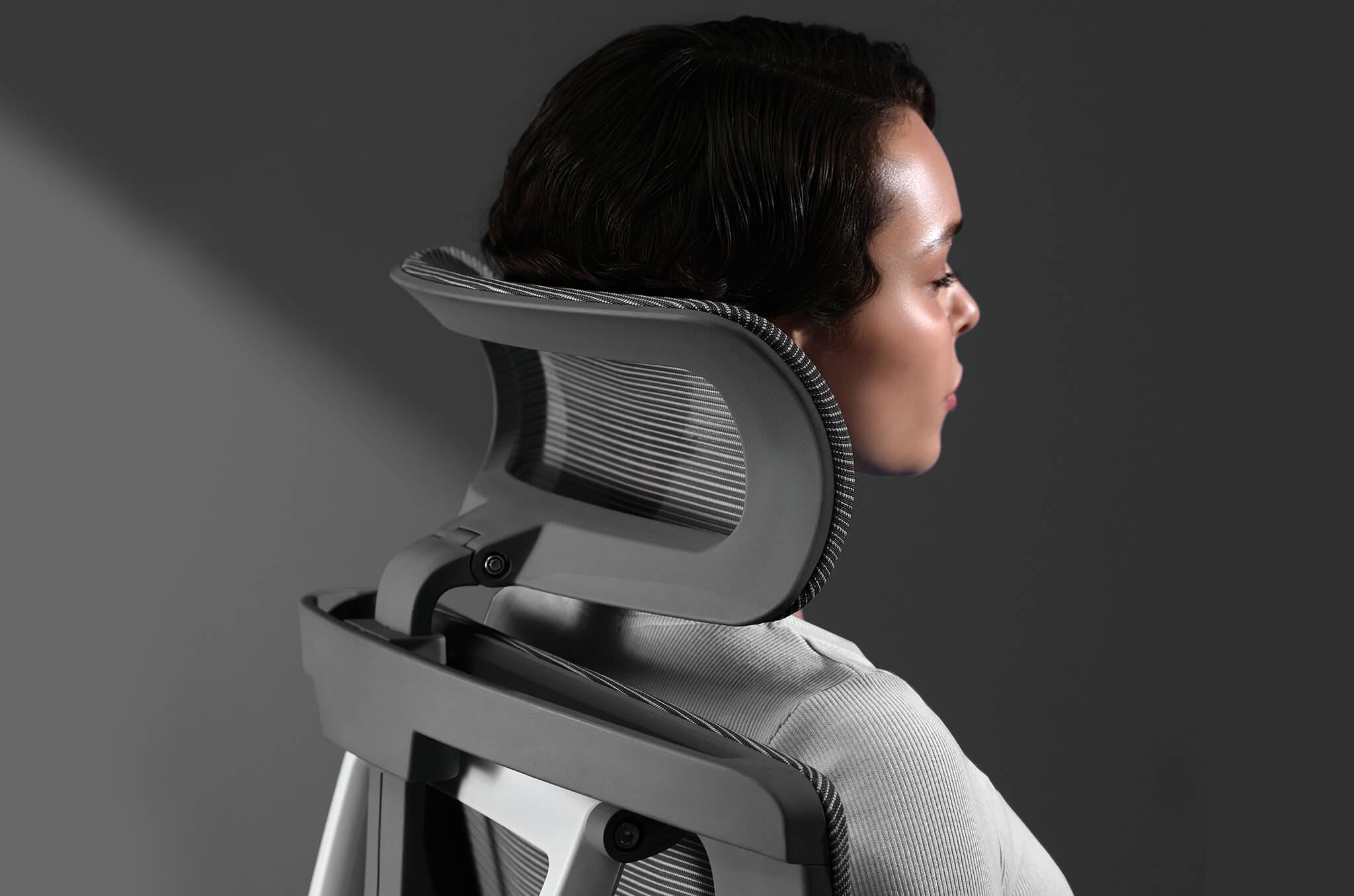 WASSERFALL SITZSCHALE
Verbessert die Durchblutung.
Komfortabel geformt mit abgerundeten Kanten für eine dynamische Druckverteilung von bis zu 136 kg. Unverzichtbar, um eingeengte Blutgefässe freizulegen und die Lendenwirbelbereich zu entlasten.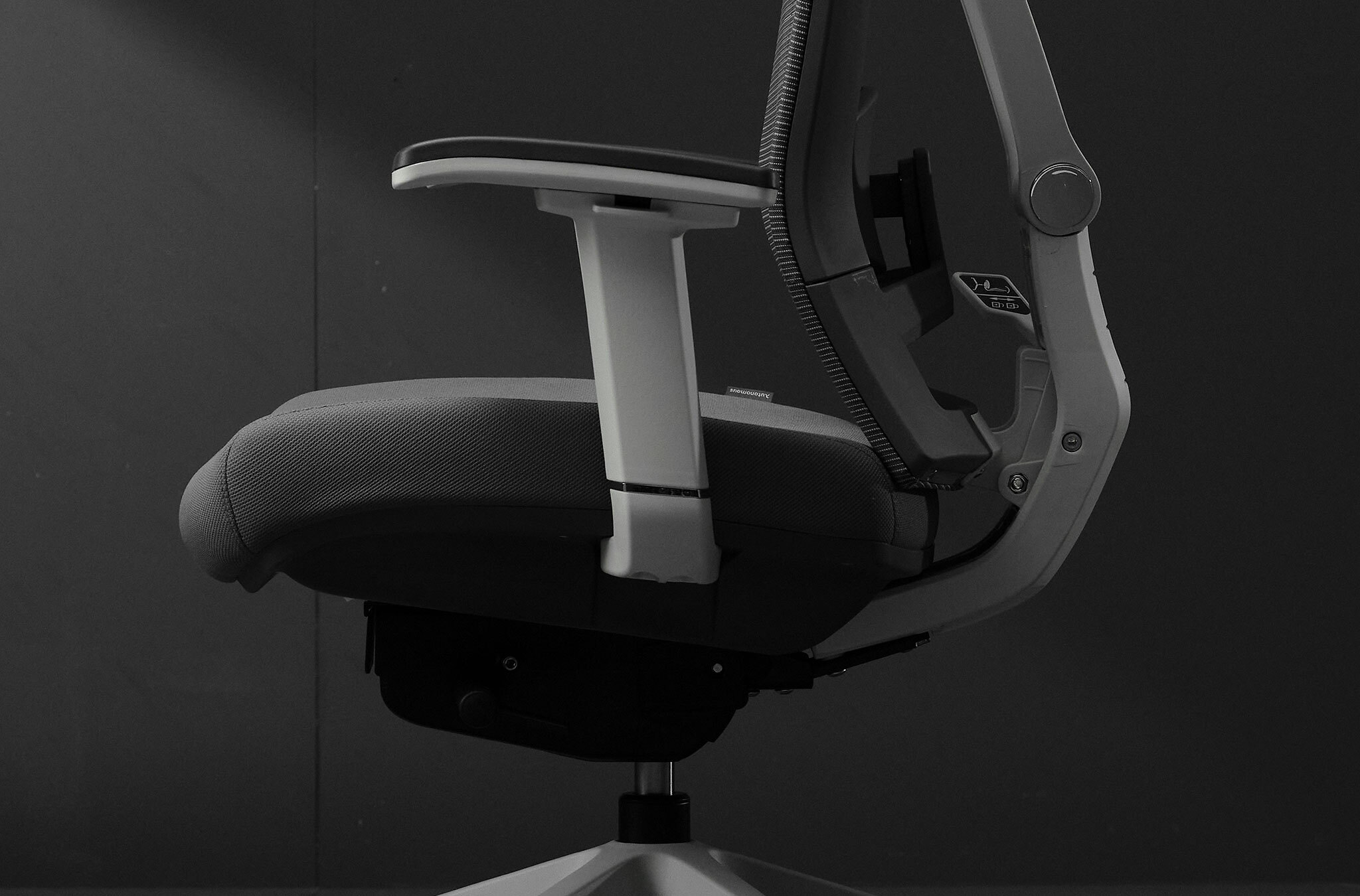 EINSTELLBARE SITZNEIGUNG
Stärkt Ihren Körperkern.
Mit einer einstellbaren Neigung von 10° können Sie Ihr Becken richtig ausrichten und eine gleichmäßige Beanspruchung der Rücken-, Seiten- und Rumpfmuskulatur sicherstellen. Außerdem wird Ihr Becken in einer neutralen Position gehalten, um zukünftigen Haltungsproblemen vorzubeugen.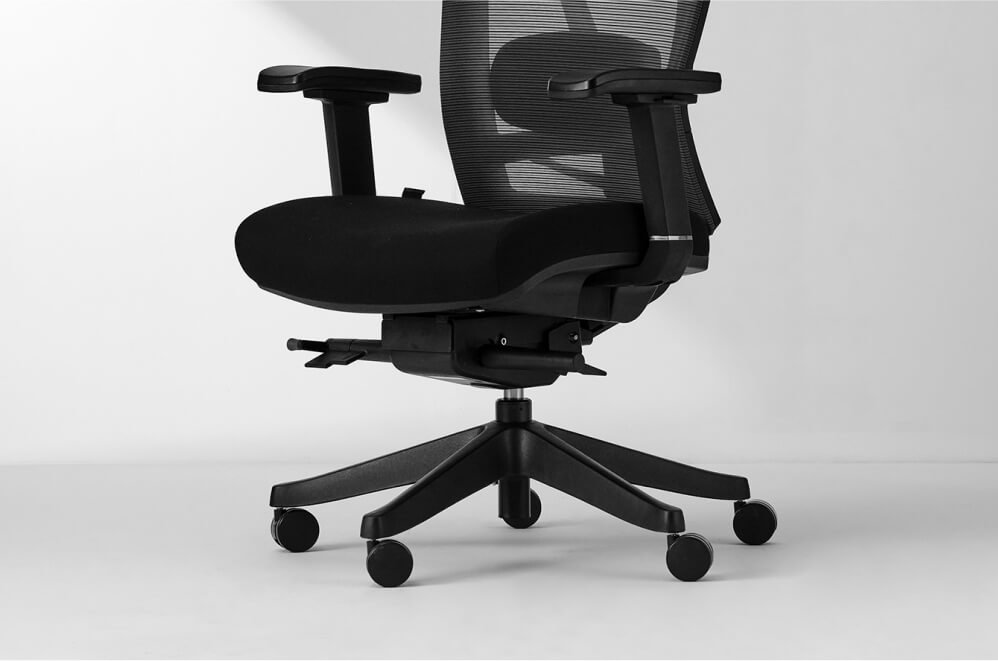 STRUKTURELLE INTEGRITÄT
Für Ihren Seelenfrieden.
Rigoros getestet für eine breite Spanne von Gewichten und Größen. BIFMA-zertifiziert auf Langlebigkeit und Sicherheit, so dass der Stuhl Sie mit Sicherheit eine Weile begleiten wird.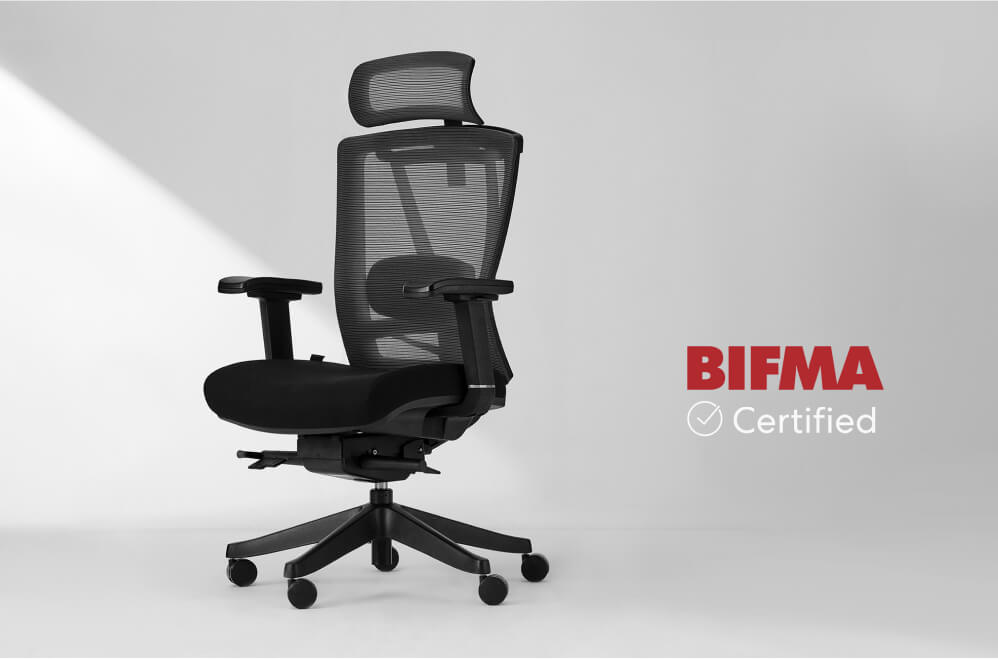 ErgoChair Pro - The Best Black and White Office Chair for Your Office
Do you need comfort with a creative flair? You should consider a black and white office chair for your workspace. The ErgoChair Pro is an industry leader in ergonomic chairs, with several key features to make it stand out. You can personalize your own black and white computer chair, thanks to the customizable settings.
High Quality Material
The ErgoChair Pro uses high-grade materials such as supportive foam. Every time you sit down, the foam conforms to the shape of your body. We also use a layer of breathable mesh to maximize airflow. The black and white mesh office chair is designed with eco-friendliness in mind - all the organic materials are recyclable. The ErgoChair Pro is also built with a solid core, thanks to high-quality construction. It can support 300 lbs in total weight.
Headrest - Back and Lumbar Support - Tilting
We allow a headrest to provide your neck maximum comfort and support. The headrest significantly reduces chronic neck pain, a major problem for remote working during long-hour shifts. We made sure the headrest is height and tilt adjustable, so you can sit back and relax while you work. By doing so, you can increase the overall blood flow within your brain. You can maintain your concentration easier with the adjustable headrest. The black and white mesh office chair supports your back with lumbar technology. It's specifically designed to help all body types, ranging from small to large. There is 6 cm in range for the lumbar system. You can use a handle to adjust the pressure you need for a painless posture. Thanks to the flexible design, the chair naturally curves to your spine. Ergonomic chair with lumbar back support is proven to reduce back problems as you work. The ErgoChair Pro uses a special reclining feature for tilt control. It offers a 20-degree recline through the left handle below the seat. Not only can you sit up straight, but you can also recline as you relax. You can pick the precise position you want, whether it's leaning forward or backward. To lock the backrest, you only have to flip the handle downward. Play around with the customizable settings as you see fit.
Why Choose the Black and White Office Chair Color?
A black and white office chair can boost productivity through color psychology. Black and white are traditionally considered neutral colors, which means they work well in any living environment. A black and white computer chair can provoke certain emotional responses, which can increase your overall concentration.
Black and White Office Chair Makes the Small Place Look Bigger and Encourage You to Work and Have Freely-Flowing Thoughts
Black adds an increased layer of depth to your room; it can make your entire workspace feel much bigger. If your work environment has plenty of space to move around, it can positively affect your productivity. Space is important because you don't want to feel constricted in a tight work area. By using a black office chair, you instead give the impression your workspace is much bigger than it is. Due to a lack of distractions, neutral colors are popular choices for interior design. Think of white as a blank canvas and black as the absence of color. It keeps you focused by eliminating outside thoughts. For example, a black and white computer chair can make you brainstorm ideas in a freestyle manner. Another factor to consider is neutral colors allow you to choose other colors. There are several color combinations you can choose from.
A Clean Work Environment with Balance Between Light and Dark
The clean design of a black and white mesh office chair can make your workspace look completely spotless. You want to work in a clean environment since a dirtier one has a negative effect on your mood. Mesh offers a clean look for any office chair, especially given the professional design. A black and white office chair offers a distinct contrast to your work area. Light and dark aesthetics give a striking appearance, which can improve your mood. The more eye-pleasing a work environment is, the more likely you can enjoy yourself.
FAQs
Don't see the answer to your question?
Kommen diese Stühle zusammengebaut?
Unsere Stühle werden unmontiert geliefert. Sie müssten es zusammenbauen, es sind jedoch nur einfache Schritte erforderlich, und wir fügen dem Paket auch das gesamte benötigte Tool hinzu.
Wie viel wiegt der Stuhl?
Der Ergochair kann bis zu 350 Pfund tragen.
Was sind die Sitzabmessungen?
Die Sitzlänge und Sitzbreite beträgt ca. 20 Zoll.
Können die Armlehnen abnehmbar sein?
Ja, die Armlehnen werden nicht vormontiert geliefert, sodass Sie die Möglichkeit haben, sie zu installieren oder nicht.
Woraus besteht der Stuhl?
Der Stuhl ist aus hochwertigem, atmungsaktivem, aus Korea importiertem Polyestergewebe gefertigt, mit einem geformten Schaumstoff-Innenraum und einem haltbaren Nylon-Kunststoffrahmen.
Was sind die Abmessungen und das Gewicht der Box?
Die Box ist 29 "L x 27" B x 19 "H und wiegt 67 Pfund.
Der Stuhl wiegt 48,5 Pfund.
Was sind die Abmessungen des Stuhls?
Die ErgoChair 2-Abmessungen betragen 29 "L x 29" B x 46-50 "H.
Deckt der Preis Steuern ab?
Nein, der angegebene Preis enthält keine Steuern.
Kann der Stuhl in der Liegeposition arretiert werden?
Was deckt die Garantie ab?
Die Garantie deckt alle Herstellungsfehler ab.
Die Stühle stehen tief am Boden.Wie hoch ist dieser Stuhl für uns große Leute?
Der Sitz des Stuhls befindet sich 18-20 Zoll über dem Boden.
Muss ich bei Rücksendung den Versand für Ihre kostenlose 30-Tage-Testversion bezahlen?Wie funktioniert der Rückversand?
Wir übernehmen gerne die Versandkosten, wenn Sie vor Ablauf Ihrer 30-tägigen Testphase eine Rücksendung beantragen.