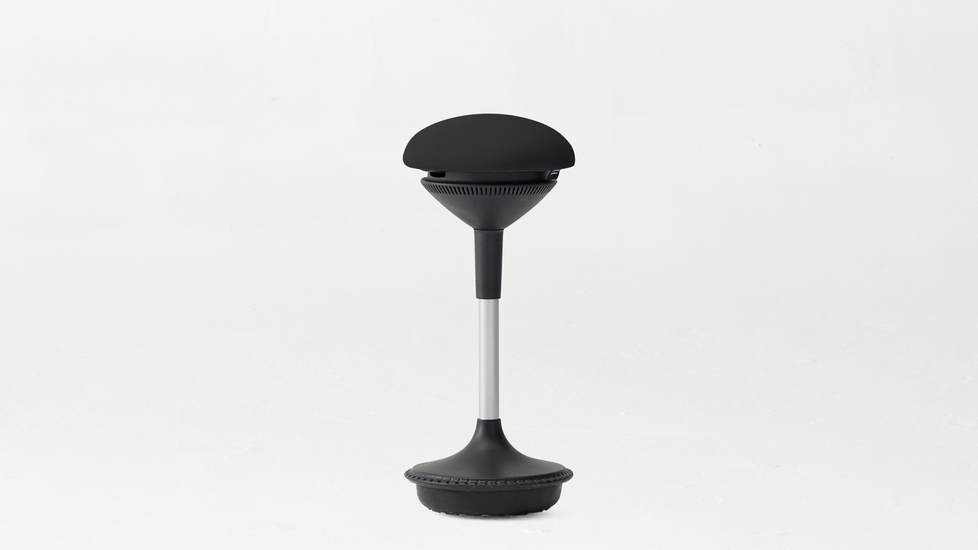 Autonomous ErgoStool
- Ergonomic Office Stool
Sold and shipped by Autonomous
FREE shipping Sep 30 - Oct 03
.
FREE 30-day returns.
Sign in

with your work email to unlock business pricing (

$162.24

)
In stock
Secure payment
Charge it to your company
$157.17
Need help with a more complicated project?
Fill in
this form
or call us at
(+1) 888 384 7374
Autonomous ErgoStool at a glance.
For low impact breaks from standing and a lot more fun while sitting.
• Weighted dynamic base
• Height adjustable range of 10"
• Ergonomic sloped seat
• Great traction on a variety of surfaces
• Supports up to 270 lbs
• 2-year warranty
Deep dive into specs
Many office employees want something more than an office ergonomic chair, and an ergonomic stool might be the best alternative. Typically, an ergonomic stool chair is slightly different than an ergonomic saddle chair. With the saddle version, there are two sections, and each one slopes off. It looks similar to a saddle you might sit on while riding a horse. The ergonomic stool for a desk is a bit different because it has a rounded top and a sturdy base. You should consider the one from Autonomous, as it's an ideal solution!
Making Your Office More Beautifully Minimalistic with Autonomous ErgoStool
With so many standing desk chairs and stools on the market, Autonomous comes out on top. The ErgoStool is an ergonomic adjustable stool that can make your office appear minimalistic, especially if everyone uses it. There are many advantages of choosing an ergonomic stool for the office, such as:
Pneumatic height Adjustable - Made of Durable and High-Quality Materials
Each ergonomic stool offers pneumatic height adjustments. This feature lets you change the seat's height based on how tall or short you are. That way, your feet are grounded, and there aren't gaps between the floor and you. These mechanisms work through pressurized air inside the system. That lifts and lowers the ergonomic adjustable stool for you. With the ErgoStool, you know you're getting something that's high-quality. Each ergonomic stool chair features polyester fabric for the seat top. The interior uses a molded foam, which helps it conform to your body. The frame is made using durable nylon fabric. This is a synthetic thermoplastic polymer that's flexible, versatile, and highly durable. With that, it's more affordable than other materials and only melts at extremely high temperatures.
Elegant Design and Trendy Colors
You want an ergonomic saddle chair that's trendy and looks great in the office. Remember, clients might see where the employees work! However, you want the team to be independent and have their own styles added to the office. That way, they feel more comfortable. Therefore, many companies allow their employees to pick their seat color. This works especially well if each person has their own workstation. Otherwise, you may choose various shades and space them throughout the office to add some color. The ErgoStool comes in navy blue, all black, cool gray, and evergreen. Now, you can have an ergonomic stool chair that matches each person's personality or color-coordinate to have a stylish office.
What Benefits Will You Get While Using ErgoStool?
When you choose the ErgoStool, you get an ergonomic stool for the desk that offers plenty of benefits. Here are just a few of them:
Encourage Your Muscles and Promote Circulation
When you're sitting in a regular chair, you don't get as much movement. Though you can push it out of the way and stand up to work (with a height-adjustable desk), that still doesn't work the muscles. With the ergonomic adjustable stool, you get the benefit of active sitting. Though you're sitting down, balance is required to keep you on the stool. When you sit or lean on an ergonomic stool for the desk, it frees you up to flex your lower leg muscles. You're also working them while you balance. That encourages more circulation into the lower regions of the body. The traditional seated position (a 90-degree bend of the knees) restricts blood flow throughout the organs, as well. Standing can help, but your legs often fatigue if you stand for long periods. Using the ergonomic stool in conjunction with ergonomic office chairs and standing can be highly beneficial.
Improve Posture and Allow Maximum Flexibility
Most people don't realize how important posture is. If you experience back or neck pain, it could be because of poor posture. The ErgoStool helps you improve your posture. Though you must remember to sit up straight while on it, you also get a workout. Since you have to keep the core muscles tight and can move all around, it does strengthen your posture muscles, too. Many doctors recommend people sit on an ergonomic stool chair for a few hours each day. Pair that with standing and sitting in a regular chair, and you've got something amazing. Everyone knows that sitting in a regular office chair can be restricting. However, when you choose an ergonomic adjustable stool like the ErgoChair, you have more flexibility. The base is weighted and anti-slip, so you don't fall over. However, you can stretch to the left or right to grab something, reach behind you, lean forward, or lean backward slightly. There's 360-degree movement!
Why Should You Choose Autonomous?
Now that you know the benefits of them, it's important to choose the best ergonomic stool. Autonomous offers the ErgoStool, which is an excellent choice for office employees everywhere. Here are just some of the reasons to consider Autonomous and its ErgoStool:
Quality/Certificate and Assembly
The ergonomic adjustable stool from Autonomous is a high-quality piece. It's made of durable materials, can be lowered and raised as needed, and supports weights of 264 pounds. However, the best thing is the certificate it holds, called the UL 2818. Sometimes called the UL Greenguard, it means that these products are scientifically proven to meet rigorous third-party emissions standards. In a sense, it means that the materials used don't have toxins that can permeate the indoor air and expose you to chemicals. When you purchase the ergonomic stool chair, you get the assembling instruction booklet, but it's really easy to put together. The four parts include the seat, connector, leg, and base. First, you turn over the seat and put on the connector. Then, you connect the leg of the stool to the base. From there, you add the connector to the leg while the ergonomic stool is in the upright position. No tools are required! There are two buttons under your seat, which lower/raise it for you.
Trial & Warranty
The ergonomic adjustable stool from Autonomous comes with a 30-day trial. If you're not happy with the chair for any reason, you may return it and get your money back. With that, you also have a 2-year warranty on the ergonomic stool chair. This covers the TPB mesh components, the mechanical and metal parts, and the motor/electrical components. Many people enjoy their ergonomic stools from Autonomous. Buy one today to see how beneficial and fun it can be!
FAQs
Don't see the answer to your question?
I have a master's degree in engineering. Can I assemble the stool by myself?
Yes, though you really don't need one to do this! The ErgoStool is extremely easy to assemble and will only take you minutes. We include a detailed instruction manual with every package.
Is the 30-day trial available for the Ergostool? Who will pay the return shipping cost?
Yes, it is! We will cover the cost of shipping if you return it within the 30-day free trial period.
Ok I'm ready to buy one. What is the warranty for the Ergostool? And what does it cover?
The ErgoStool is built to last, but for peace of mind, it is covered by a 2-year warranty that covers all manufacturer defects.
Does the Ergostool self-balance?
Yes, it returns to the upright position after use.
How can I adjust the height of the Ergostool?
The height can easily be adjusted by pressing either of the buttons under the seat.
I'm a petite person. Will the Ergostool fit me?
The height of the stool can be adjusted from 24 inches to 34 inches so it will fit you well -- whether you are Simone Biles or Kobe Bryant!
What materials is the Ergostool made out of?
The seat is upholstered in high quality fabric with a durable polyurethane foam interior. The main body is constructed of black polypropylene. The gas spring is a high-pressure pneumatic 250mm range height-adjustable gas spring, and is covered with a silver epoxy powder coating. The thermoplastic elastomer sole on the ErgoStool base pad provides a secure grip on various floor surfaces. These materials are carefully selected to provide maximum support and give you the confidence to use the stool in different sitting positions and angles.
The Ergostool looks tiny. Will it fit me?
Yes! The seat diameter is a roomy 13.5".
How much weight can the Ergostool handle?
The stool can support up to 298 lbs.
I want to buy the Ergostool as a birthday present for my son in Toronto. What would be the shipping cost?
We offer free shipping on some Autonomous products to Canada!
The packaging for the ErgoChair was super discrete. What about the ErgoStool packaging?
The packaging measures 15" L x 21" W x 13" H and weighs 24.3 lbs.
What's the weight of the ErgoStool? Can I carry it up to my apartment on the 67th floor?
The ErgoStool weighs only 22 lbs so yes, you probably could if you really wanted to!
What are the dimensions of the Ergostool?
The ErgoStool measures 13.5" L x 13.5" W x 24.5 -34" H.