Who doesn't love a good deal? High-quality furniture that caters to your ergonomic needs does come at a high price, and one of the most expensive additions to a workspace is the adjustable desk. 
These desks, often called standing desks, allow the user to alternate between sitting and standing throughout the day to prevent sedentary behaviour. You need not dig too deep into your pocket for a standing desk with these 10 adjustable desk deals. 
What to Consider When Choosing an Adjustable Desk
Before discussing the top 10 adjustable desk deals, it may be helpful to understand what characteristics are important in a standing desk. Here are some of the most important considerations. 
1. The Height Range
The maximum and minimum desk height is an essential factor, as it can affect how your body is positioned while standing. If you are tall, and the desk you choose is not tall enough to allow your arms and forearms to be at right angles while you work, this could cause severe strain to your shoulders and back. 
On the other hand, if you are shorter than the average person, and the adjustable desk is too high, you could put a strain on your wrist and shoulder joints. The BIFMA recommends an average height range of 22.6 to 48.7 inches. 
2. Sound Emission
Adjustable desks may be manually or automatically operated. Manually operated standing desks may have components that make a loud noise when used to raise or lower the desk. 
Likewise, motors on automatic models may be noisy while performing their duty of moving the desk up or down. 
The truth is that this kind of sound emission can quickly snap you out of your train of thought, leaving you wondering what you were thinking about before you decided to stand up or sit down. To prevent this, always opt for an adjustable standing desk that is quiet. 
3. Easy to Use
Having a standing desk that takes 10 minutes to raise or lower is impractical and can decrease your productivity. While some manual standing desks allow you to adjust the height with ease, most manual standing desks require much effort from the user. 
This is where automatic desks shine. They let you raise or lower your desk without having to focus on finicky levers. 
4. Speed
What good is an automatic home office standing desk if it takes ages to get to where you need it to be? Having a desk that goes up and down quickly does not draw your attention to the desk's movement, but instead lets you focus on your work. 
The truth is that if a desk's movement is slow, a user is discouraged from alternating between sitting and regularly standing, which defeats the purpose of an adjustable desk. 
5. Load Capacity
The amount of weight a desk can carry is significant, especially if you intend to store a great deal of tech equipment on it. Be sure to choose a desk that can accommodate everything you need it to. 
6. Visual Appeal
Because adjustable desks form part of your permanent office desk décor, choosing one that looks good in the intended space is a good idea. Most manufacturers offer users the opportunity to customize their desks to suit their preferences, which is always a bonus. 
Adjustable Desk Deals You Don't Want to Miss
Without further ado, here are the top 10 adjustable desk deals. 
1. Autonomous SmartDesk Core
SmartDesk Core workstations are designed to be durable, modern, and long-lasting. All Autonomous modern standing desks are certified by UL, one of the oldest evaluation agencies in the United States, and its products are also BIFMA approved. 
If this wasn't enough, the SmartDesk Core has received Electromagnetic Compatibility (EMC) certification, indicating that it is the ideal choice for your home office. The desk has a quiet motor that emits a mere 50 decibels of sound, so you can continue working while your desk quietly moves to suit your preferences. 
It has four programmable settings and comes in an impressive array of desktop designs and colors. You can choose a minimalistic design for a modern office space, or a desktop bursting with color to get your creative juices flowing while working from home. 
If you prefer an eco-friendly option, you can opt for a bamboo desk at no additional cost. 
You can get this fantastic product at a discounted price of up to five percent off with an Autonomous discount code or take advantage of the Autonomous employee purchase program that gives you a discount on your home office furniture if your employer has bought from Autonomous before. The company also offers excellent deals if you add on some of their accessories. 
2. Autonomous SmartDesk Corner
The SmartDesk Corner from Autonomous is a sleek, modern L-shaped standing desk that meets all ergonomic needs. It lets you quietly switch between sitting and standing at the touch of a button. 
With a whisper-quiet, triple motor and four programmable settings, the SmartDesk Corner is guaranteed to be a great addition to your workspace. This modern standing desk was designed to add extra space for you to work on and stores all the office equipment and tech gadgets you could need, thanks to its 400-pound load capacity. 
A cluttered workspace can cause unwanted stress, and the worst form of clutter on a work desk is cables that get in the way. The SmartDesk Corner comes with a cable tray to help keep your cables out of the way, so you can work without the distraction of a cluttered desktop.
As with the SmartDesk Core, you can get up to five percent off the SmartDesk Corner on Autonomous' sit-stand desk sale. Use the Autonomous discount code to receive this discount or use the employee purchase program for an employee discount.
3. Uplift Curved Corner Standing Desk V2
Uplift's curved standing desk is an excellent option for those looking for more desk space. It has an L shape, with a curved middle work area to give you a comfortable feel while working. However, the curved design may not be for everyone, as it keeps you further away from your devices than a regular L-shaped desk. 
This desk is made from quality material and comes with an impressive 15-year warranty. Customize it for the ideal fit, and use it daily for a quiet, efficient addition to any office setup. 
You can get it at a $100 discount on Uplift's fall sale if you purchase this desk. 
4. Flexispot Seiffen Laminated Adjustable Desk
The Seiffen Standing Desk from Flexispot is another good option for a standing desk. However, its desktop is made from chipboard, so it may not last as long as other desks on this list. The desk is available in two versions, namely Eco and Pro. 
The Eco mode has a single motor, making it slower than the Pro model, which has a dual motor. It comes in a good range of textures and finishes, so you can select one that fits your space. 
Another great thing about this desk is choosing the curved version that gives you a more comfortable fit when working at your desk. However, this does come at an additional price. 
You can get this desk at Flexispot's height adjustable desk sale for a $100 discount. 
5. Iwamoto Adjustable Standing Desk
This is one of the attractive adjustable desk deals for your consideration. Iwamoto's adjustable height standing desk promotes a healthy working environment by allowing you to stretch while working. Blood circulation is improved when you alternate between sitting and standing throughout the day. 
A healthier environment promotes effective learning and productivity. This height adjustable standing desk was designed to adapt to any environment and gives you the freedom of flexibility. 
Users can change from sitting to standing in seconds with two programmable presets and a good height range. It is a pleasant and cost-effective solution for those hoping to remain active while working a desk job. 
While it isn't designed to house a great adjustable desk sale of heavy equipment, this standing desk is a good, cost-effective option. Get this standing desk deal from Wayfair at 38 percent off. 
6. Fezibo Electric Standing Desk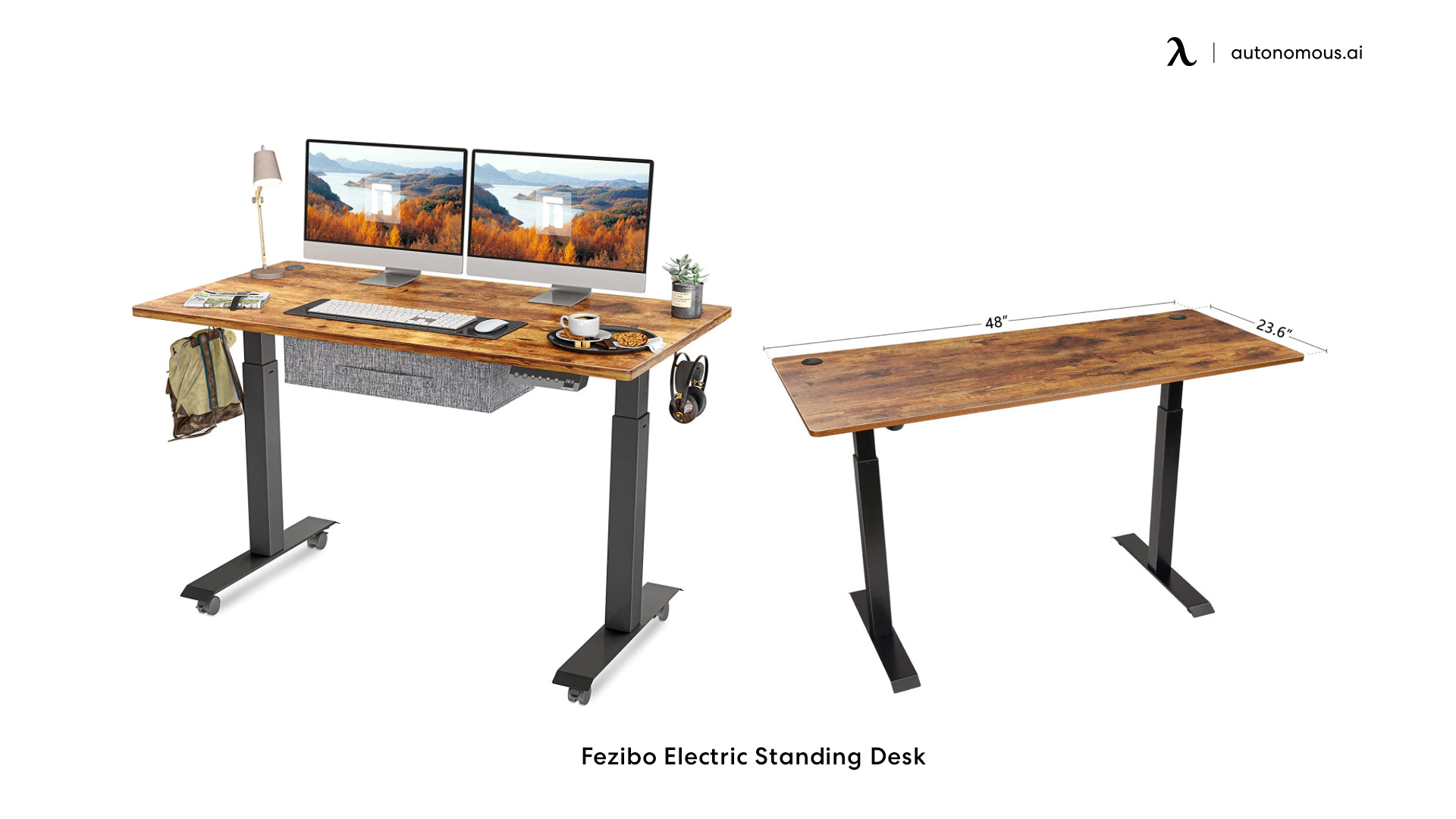 If you prefer to have your computer keyboard sit on a keyboard tray, you may love the electric standing desk from Fezibo. There are four different variations to choose from, and the desk has wheels, so that you can move it around your office. 
When you need to, you can lock the swivel casters in place to prevent it from moving unnecessarily. The desk is also available in three different sizes. 
One of the only downsides to this choice is its low weight capacity, so it may not be ideal for storing lots of office equipment, but it could make a nice little addition to a home office. Amazon currently offers a height adjustable desk sale for $15 off this desk. 
7. Space Atlantic Manual Standing Desk
This standing desk from space is manually operated with a hand crank on either side of the desk that lets you raise and lower the desktop quickly. It also has a handy document storage feature that enables you to keep important documents within reach. 
The standing desk is only available in black, and it has a sturdy steel base, with a laminated top that is easy to clean. Like the Fezibo standing desk, the Atlantic also has lockable caster wheels that rotate 360 degrees, so you can move the desk around as you please. 
It is available on Amazon for $220, but you can get it on sale for just $161, which saves $59! 
8. Adjustable Electric Standing Desk by the Twillery Co.
Here is one of the interesting adjustable desk deals for you. If you need a larger-than-average worktop, then you may like the standing desk from the Twillery Co. To adjust the desk's height with minimal noise and constant speed, push the adjustment button. The LED screen shows the real-time height and allows four different types of custom heights. 
With a single press, you can change your setting to switch effortlessly between sitting and standing. It also includes a cable management feature and comes in a choice of three finishes. While it can house two monitors comfortably, the low weight capacity does not allow you to store heavy equipment. 
Wayfair currently has an adjustable desk sale on this desk, so you can get it at 15 percent off. 
9. Akway Computer Standing Desk
If you are searching for a smaller desk for home use, you may like the Akway Standing Desk. It is manually operated, and does not offer much workspace, but it could be a good choice if you need a cost-effective standing desk for a small work area. 
The adjustable desk is available in black and teak, and the desktop is square, as opposed to others on this list that have a rectangular shape. It could be an excellent tool for presentations, as it is small enough to move around, is lightweight, and has swivel caster wheels. 
You can get $30 off this standing desk from Amazon. 
10. Inbox Zero Rolling Standing Desk
Here is the last adjustable desk deal in the list. This desk is different from other standing desks because of its upper shelf for additional storage. It is a manually operated standing desk that can be purchased in either black or white. The desk has a cup holder for added convenience and caster wheels to let you move it around. 
However, the upper shelf area does not appear to serve much of a purpose, as it has a low weight capacity of just 22 pounds. It may be more of a decorative feature than a functional one, so this is a good choice if you need to store a plant out of the way. 
Get 18 percent off this standing desk at Wayfair at its adjustable desk sale. 
Final Thoughts
Standing desks are valuable additions to any workspace as it allows you to alternate between standing and sitting, without causing injury to your body. Improve your mood, productivity, and health by adopting sit-stand sessions of work. 
If your budget calls for a standing desk deal, then you may find a suitable standing desk for you on our list of adjustable desk deals.
Video ads for product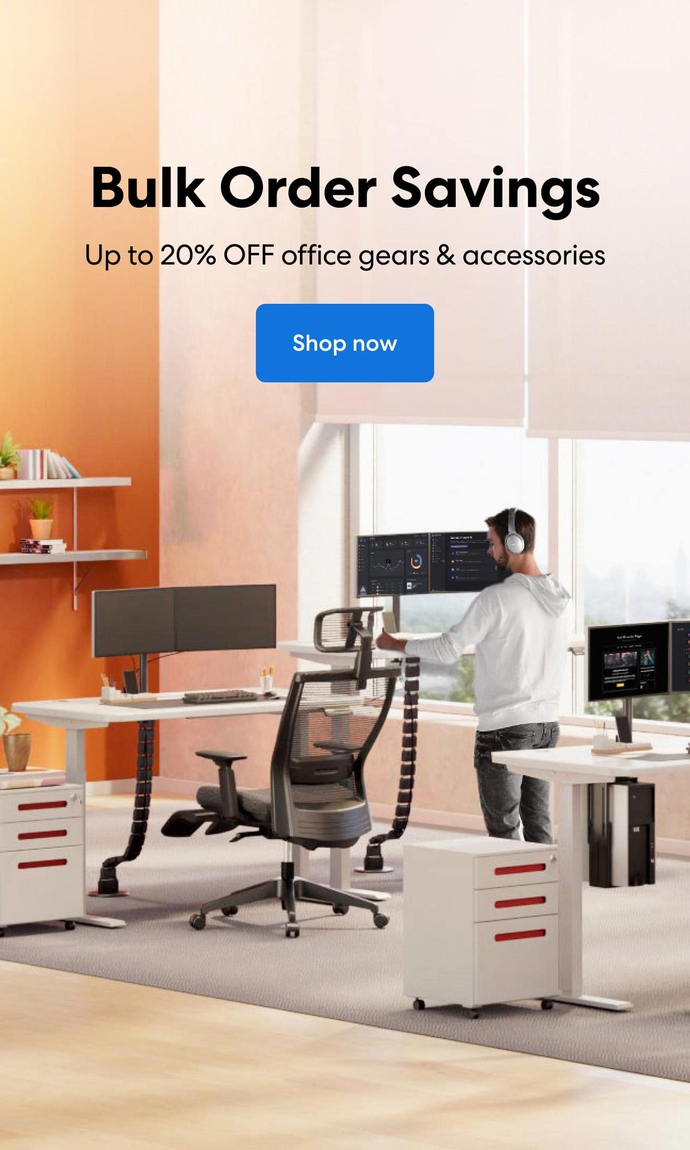 Subcribe newsletter and get $100 OFF.
Receive product updates, special offers, ergo tips, and inspiration form our team.