Cramped from sitting for too long? Back, neck, or spinal concerns with your health? Probably it is the chair that is not the best and needs a change. Have you checked the guidelines on how to best sit for your good health? Are you exploring DIY office chairs?
Taking things isn't easy when you are a responsible person. Are you aware of what to consider when you buy an ergonomic office chair?
The benefits of an ergonomic chair are well known. Your body needs the best comfort when you are in a chair clicking away at your computers or attending meetings. So why should your back and spine take the work strain or stress? Get yourself an ergonomic chair that offers strong support for your back and lumbar to remove the stress.
But as you explore, how do you find the best value for money in this segment?  Are you concerned with the high ergonomic chair price?
Here we have options for all budgets. You will find chairs under and around $100. Although these are some of the best cheap ergonomic chairs, again, we'd like to emphasize their lack of features. Due to that, here we'll be giving you some tips you can use to make them "more comfortable" so that you don't feel discomfort after sitting on them for a long while. Here are our reviews of the best budget office chair, including the best office chair brands, for your convenience.
How to Make Your Cheap Ergonomic Chair More Comfortable
Finding a good cheap ergonomic chair can be a challenge, especially because of all the exigencies that a chair must have to provide ergonomic properties to the user. Obtaining the most comfortable ergonomic chair takes a long while. A comfortable computer chair must reunite a few elements in order to maintain your body well-supported, fresh, and comfortable throughout the whole workday.
One thing you must have in mind is that if you're trying to find the best inexpensive ergonomic chair, you may not be able to find the best deals. After all, budget office chairs don't contain as many adjustability features or essential elements that more expensive ergonomic chairs have. Hence, keep in mind that you may not be able to find the most comfortable office chairs if you're on a budget.
If you're here, you're probably trying to build a home office on a budget. As you're going to spend most of the day seated, it is important to pay special attention to the chair you'll be using throughout the day. However, if you can't afford a good office chair, it can be quite challenging to ensure your comfort.
Here we have a few tricks you can use to make your office chair more comfortable.
1. First, adjust the height and make it match your proportions
One of the biggest mistakes that people commit when it comes to office chairs is thinking that the default size will work for everyone. However, we all have different body proportions and various heights, and that's why ergonomic chairs have so many adjustability options.
For starters, you need to make sure that the chair's height is adjusted, so your arms are parallel to the desk and keyboard, forming a 90-degree angle regarding the floor. Plus, you should be able to see everything on the monitor clearly without craning your neck.
It's also worth noting that your legs should also be at a 90-degree angle regarding the floor. This way, it will be easier for you to maintain a straight back while you're sitting on the chair.
2. Now, let's make some extra adjustments
Height is one of the primary problems that people have when it comes to adjusting an ergonomic chair. However, since we're currently trying to make a comfortable chair comfortable, so the issue goes beyond the height. If something goes wrong, you can always learn to repair an office chair.
If you don't seem to reach the floor even after you've adjusted the height to the lowest, it's advisable to invest in an affordable footrest. If you don't want to spend more money, maybe a cardboard fox or something similar may work.

You can also improve the height problem by using a seat cushion.

If the problem is the back of your chair, perhaps investing in a lumbar support pillow can solve the issue.  It will help you lean back while also keeping your back supported at all hours.
20 Best Budget Ergonomic Chair of 2021
As we explored, we considered the best office chair under $500
1. ErgoChair Pro
This ergonomic chair, ErgoChair Pro, has one of the best fine-mesh backrests for your comfort. You can recline up to twenty-two degrees for resting your back. Then, lock the seat's recline to any one of the five positions for future use. The ErgoChair Pro is equipped for the best comfort as you adjust the armrest, seat pan tilt, height, and backrest.  It is available in six great colors. The chair can easily take a payload of three hundred pounds. Awesome, isn't it?
2. ErgoChair Recline
Manage your health and get rid of any back aches or pains with the ErgoChair Recline. This is a cheap ergonomic chair, built keeping in mind the aesthetics and function; it has an adjustable armrest, height, headrest, leg rest, and seat tilt.  The seat itself is made from strong foam material to provide rest to your buttocks and spine. Don't miss the adjustable and reclining lumbar support, which is also one of the finest.
3. AvoChair
This budget office chair by Autonomous, the AvoChair, is a sleek, modern, and cheap ergonomic chair. This chair is available in four great colors with adjustable height, armrest, back tilt, and tension. The elastomeric mesh seat and backrest are strong and flexible to adapt to your body for great comfort. It gets its sturdy nature from a diecast aluminum alloy base and can take a payload of 250 lbs. The best part is, this chair is manufactured using recycled materials. You just cannot miss this chair in your workspace.
4. Autonomous ErgoStool
This is one of the best budget office chairs for your consideration. The ErgoStool is the best ergonomic stool you will find in today's market. Despite being the low-budget option of this brand, it has many features that a traditional chair would have: height adjustability and a weighted dynamic base, for instance.
5. Modway Articulate Ergonomic Office Chair
It is specially designed to provide comfort to your spine and back; it has one of the best lumbar supports. Additionally, you can adjust the seat tilt and the backrest. The adjustable armrests add great comfort to your forearms. The cheap ergonomic chair offers a three hundred sixty-degree swivel and great stability as you move the chair across the room or your work table. Go for it!
6. Furmax Office Mid Back Swivel Lumbar Support Desk
This Furmax mid-back chair is 18.9 inches tall and offers strong lumbar support. With a 19.7" by 19.7" seat pitch, this square seat is made just for you. The fine mesh back offers you ample fresh air as you work. In addition, this Furmax chair has high reliability and sturdiness as certified by Business + Institutional Furniture Manufacturer's Association, Michigan, USA. It can take a payload of 265 pounds and has a choice of four colors.
7. Hbada Ergonomic Chair
This ergonomically designed high-back ergonomic chair has a matching headrest. Offering you an advanced airflow system, the back mesh keeps you fresh. Don't miss the tilt lock for a tilt between ninety to one hundred fifty-five degrees. Relieve your tension as you sit in this best office chair for budget.
8. Berlman Ergonomic High Back Chair
This best office chair budget has a high backrest, a headrest, adjustable armrests, and built-in lumbar support. The back of the cheap ergonomic chair has a fine breathable mesh that makes you feel welcome to sit for long hours. The tilt tension knob offers easy adjustments for a seat back recline of your choice. The chair has a pneumatic height adjustment, which is easy to operate. The gently curved and breathable backrest offers you the best comfort.
9. Smugdesk High Back Office Chair
This Smugdesk high back chair is a budget ergonomic office chair. It is offering a year's worth of free replacement. This chair has a removable headrest piece that can manage to turn both ways – horizontally and vertically. Made from a fine breathable mesh, the seat back can tilt up to 120 degrees. As an add-on, a coat hanger is available for your convenience. The lumbar support is in-built and non-adjustable, though. Quick to assemble, this chair is also a good choice.
10. Gabrylly Ergonomic Chair
This cheap ergonomic chair gives you a wide range to move around. As you lean backward reclining, you can adjust the back or lock it in for your convenience. It includes the basic adjustments for seat height, armrest, headrest, and lumbar support, as with most chairs. The flip arms are helpful in storage as you can tuck the chair under the desk when not in use. The mesh seat and back keep you fresh with fresh air for extra comfort.
11. Wayfair Basics Ergonomic Executive Chair
This Wayfair high back chair offers strong back support with a high adjustable backrest. Sleek and elegant in looks, the upholstered composite material of leather and polyurethane provides you ease while working. You can adjust the chair's height between 18.3 to 22.3 inches. For your convenience, this best inexpensive office chair uses a tilt-lock mechanism. So now you can recline as you will!
12. Furmax Mid-Back Lumbar Office Chair
If your current workstation is prone to getting hot during certain hours, perhaps a mesh office chair may help you stay fresh. This option by Furmax has a backrest made of mesh, which means. Along with the comfortable seat, you'll get an ergonomic chair good enough to keep you comfortable during the whole workday for less than $50.
13. Elliana Velvet Task Chair
Those who care more about aesthetics will love this budget office chair. Even if it lacks certain adjustability options, it has the essentials: a comfortable padding and a customizable seat height. Plus, you can also modify certain aesthetic aspects of it before purchasing, making it a great deal!
14. Hbada Office Task Desk Chair
This chair has a peculiar appearance but contains many adjustments that you would normally find in more expensive chairs. It allows you to adjust the armrests and seat height. Plus, the backrest is made of mesh, assuring you'll be comfortable while sitting on it throughout the day. It also puts emphasis on the lower back.
15. Chattooga Task Chair
This option is another good choice for those that enjoy something with aesthetics out of the regular. It is a stylish office chair with a weight capacity of 250 pounds. It has certain drawbacks, such as the lack of back tilt and the high price compared to most of the options listed here. However, it's comfortable enough to keep you working for continuous hours.
16. Flash Furniture – Mid-Back Swivel Chair
If you're trying to find a cheap ergonomic chair, then you'll fall in love with this option from Flash Furniture. It cost about $150, and even if it can be a bit complicated to make it a bit more comfortable, it's a great deal. Plus, despite the name, you can choose between high-back (for relieving lower back tension) and mid-back (for the upper back area) options, based on where you think you need more support throughout the day.
17. Ticova Ergonomic Office Chair
Unlike many of the cheap ergonomic chairs listed here, this chair has a mesh backrest and a headrest. It's a powerful combo that you will get for less than $200. Thus, you can be sure that it will keep your whole body supported as you continue working on your responsibilities.
18. BestOffice Ergonomic Leather Chair
If you want something that looks a bit more luxurious, perhaps this option is for you. Despite its prominent appearance, it costs less than $120 and also provides you with a 360-degree swivel. You can also choose between the traditional colors, black and white, or something a bit different, brown.
19. Office Star Deluxe Breathable Folding Chair
This cheap ergonomic chair is recommendable for those dealing with reduced spaces. It is foldable, which means you can keep it anywhere without problems. Despite having good lumbar support, it lacks many other features that you'll need to sacrifice for a bit of space.
20. Neo Chair Essential Office Chair
The last option is excellent for bigger people. It is capable of supporting up to 300 pounds. Besides that, it has excellent lumbar support and a backrest made of mesh, making it more suitable for hotter environments.
Wrap-up
With so many options, our recommendation goes out to the ErgoChair Pro, ErgoChair Recline, and Avo Chair for the best quality and durability that these ergonomic chairs provide.
Video ads for product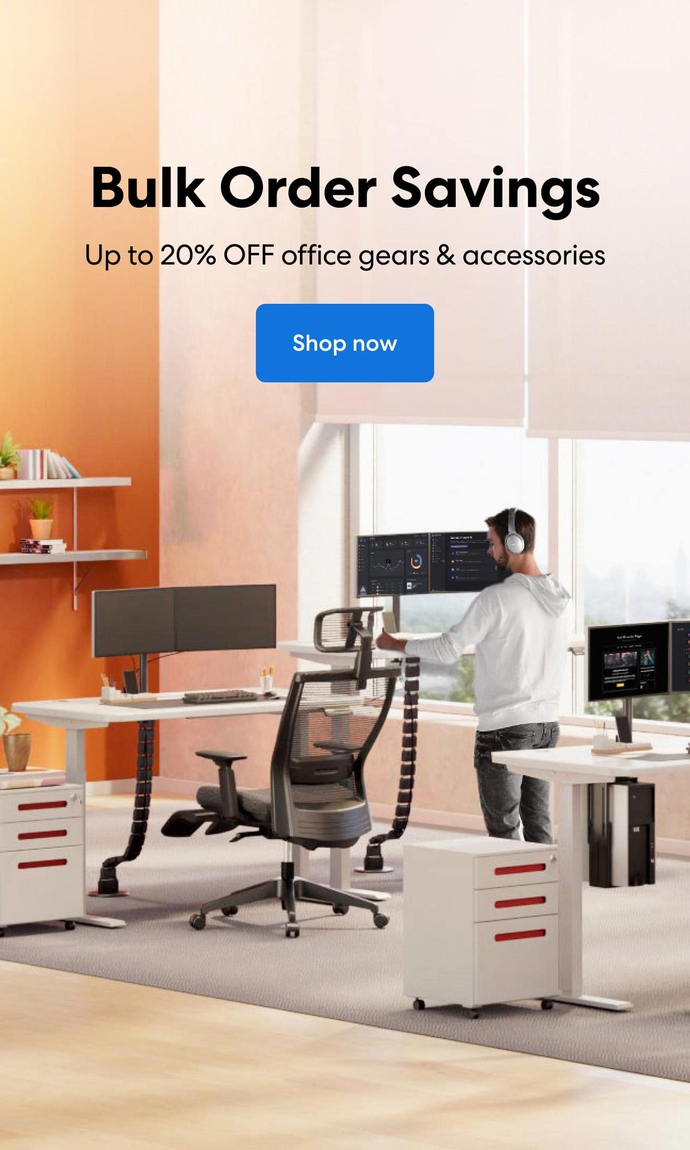 Subcribe newsletter and get $100 OFF.
Receive product updates, special offers, ergo tips, and inspiration form our team.