Smart Products
10 Suggestions for the Best Chair for Back Pain in 2023
1,147 Views
The right office chair does more than just provide you with a seat to sit on. The best chair for back pain, as the name suggests, can help you fight back pain and conquer other posture issues as well. It isn't without much research that workplaces are now focusing on bringing ergonomics into practice.
The best desk chair for back pain is smartly engineered to give the user a comfortable seat against their back. The best office chair for back pain can do the required job for people who need to rest their back but cannot because of work duties.
This also means that some computer desk office sets might not come with this ability to conquer back pain. Hence you need to be smart when making a purchase. This article is your all-in-one best chair for back pain relief guide, especially when you are looking to buy an ergonomic chair with the ability to keep your back muscles relaxed.
10 Best Chairs for Back Pain in 2022
1. ErgoChair Recline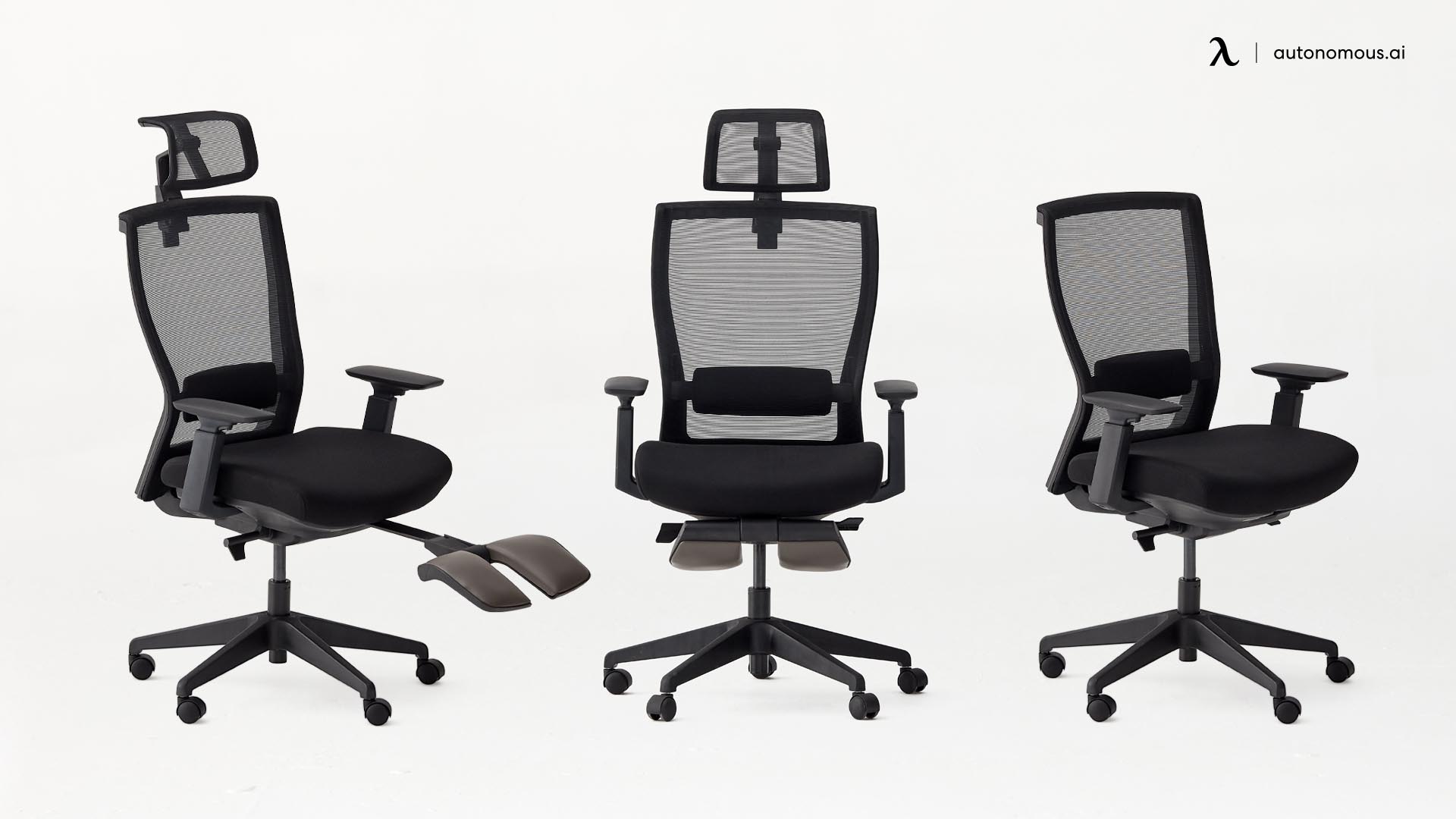 ErgoChair Recline is a modern chair with a comfortable seat and supportive foam. The chair has a weight capacity of 250 pounds, which means it is ideal for diverse people. ErgoChair Recline is also known for its backrest ability thanks to the lumbar support, which curves into your spine. 
Pros and Cons of ErgoChair Recline
Affordable
Basic Design
Offers Complete Adjustability
Naked Mesh is not ideal for sensitive backs
No headrest
2. ErgoChair Pro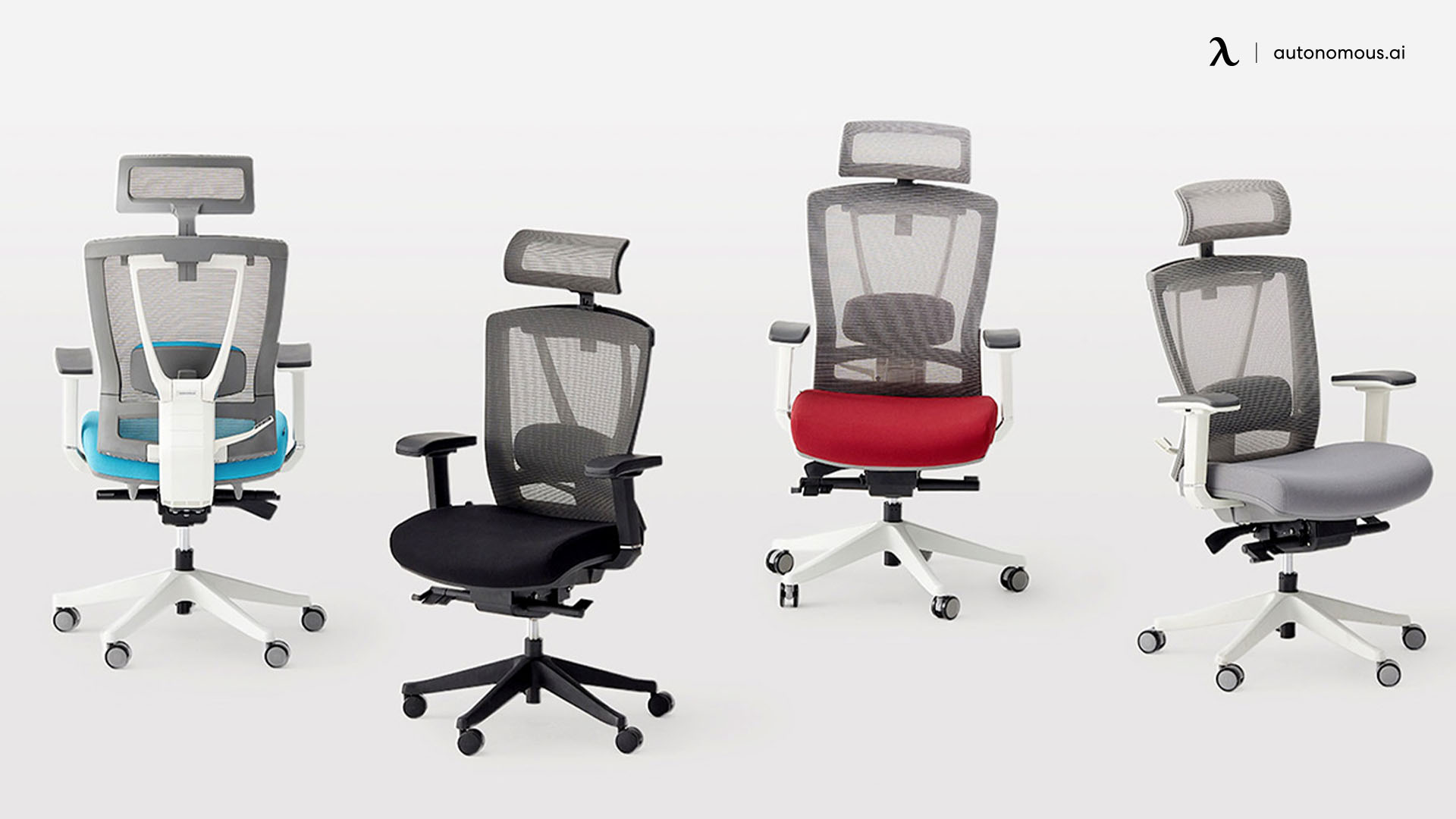 ErgoChair Pro is a modern product made for the modern world. This best chair for back pain is fully ergonomic with adjustable height, headrest, armrest, backrest, and seat tilt. The chair also offers a smooth recline with a lock ability option. You can lock the seat tilt in five different positions.
ErgoChair Pro has another noteworthy feature which is its flexible lumbar support. The product is also known as the best lumbar support task chair as it allows you to work for hours without feeling a hint of tiredness.
Pros and Cons of ErgoChair Pro
Modern Design
Comfortable
Extra Cushioned
Expensive
Naked Mesh back
3. ErgoChair Plus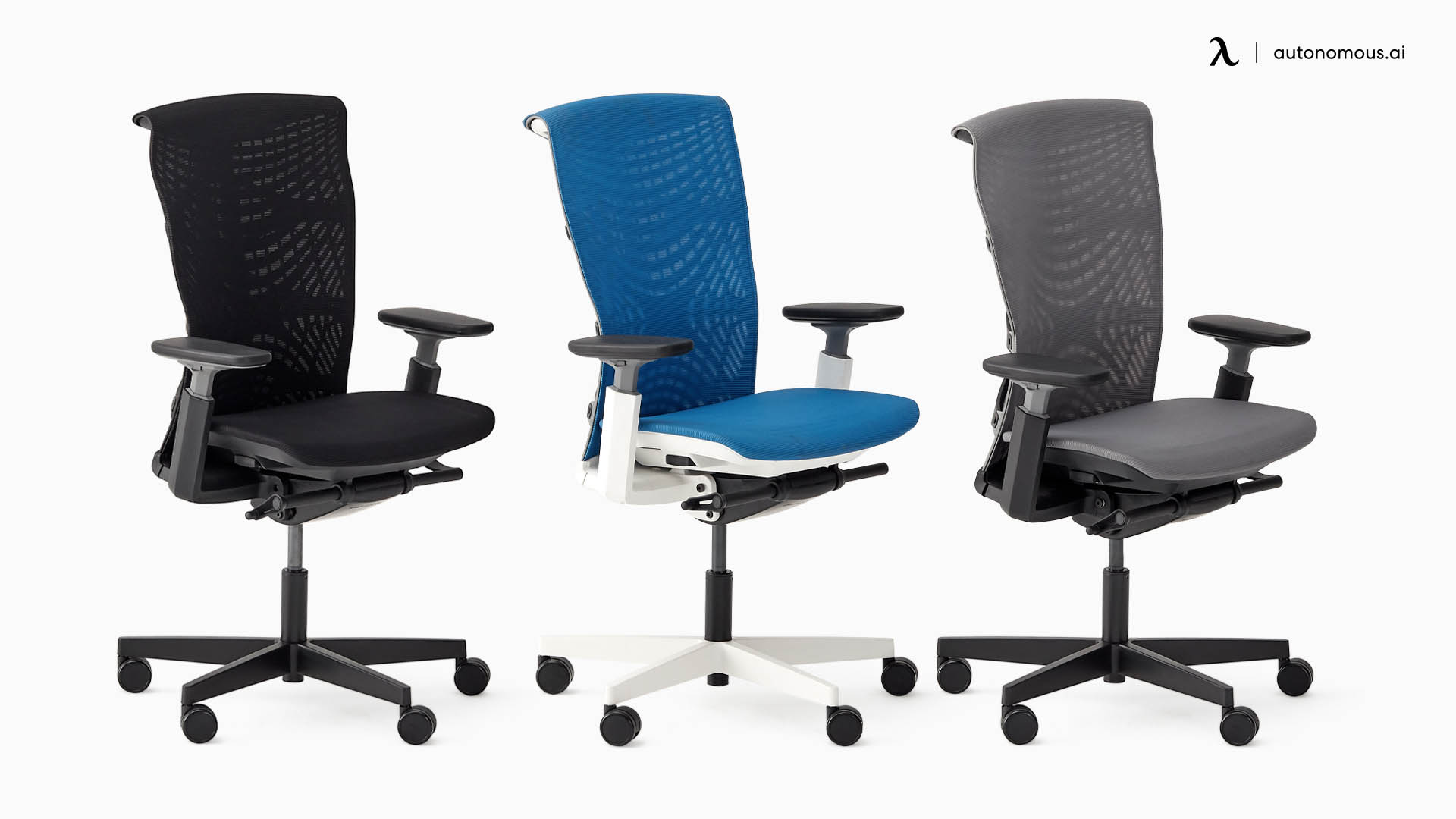 This is another best chair for back pain from the Autonomous store. ErgoChair Plus is a modern chair with a design that will elevate the look of your workplace. This chair has a frameless construction, so you move easily. The TPE naked meshed back is ideal for maximum airflow and soft support against the back. The chair also offers adaptive spinal support and ensures natural mobility. ErgoChair Plus can be paired with any computer desk office set thanks to its timeless and all-rounder look.
Pros and Cons of ErgoChair Plus
Modern Design
Seat Curve for maximum comfort
Naked Mesh
Expensive
4. Serta Executive Chair
Boasting a tall and proud design, this chair is rated as the best ergonomic chair for the executive office. The extra padding and cushioning are ideal for lower back pain. The office chair also offers a lot of flexibility for people who suffer from back issues.
Pros and Cons of Serta Executive Chair
Ideal for lower back pain
Adjustable armrests
Great flexibility
A leather seat can cause slip
No warranty
5. Duramont Ergonomic Chair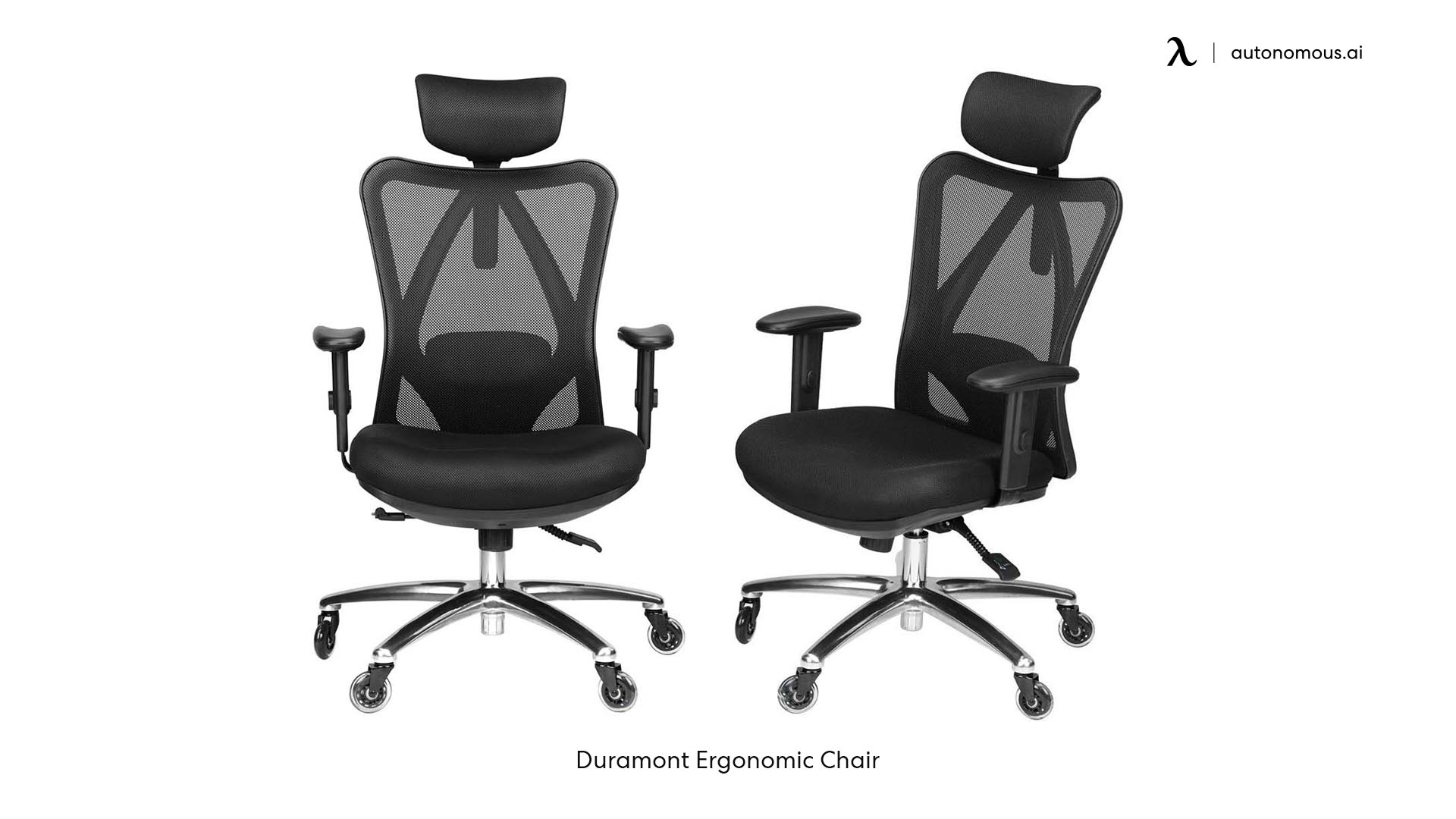 The Duramont ergonomic chair is simple yet very effective for a workplace. This chair supports a strong posture for the user and is ideal for lower back pain. The seat adjustability option keeps the user straight and allows you to work in the most comfortable position.
Pros and Cons of Duramont Ergonomic Chair
Offers great adjustability
Roller wheels for easy movement
Mesh for maximum airflow
Available in one color
Wobble in incline
6. Nouhaus Ergonomic Chair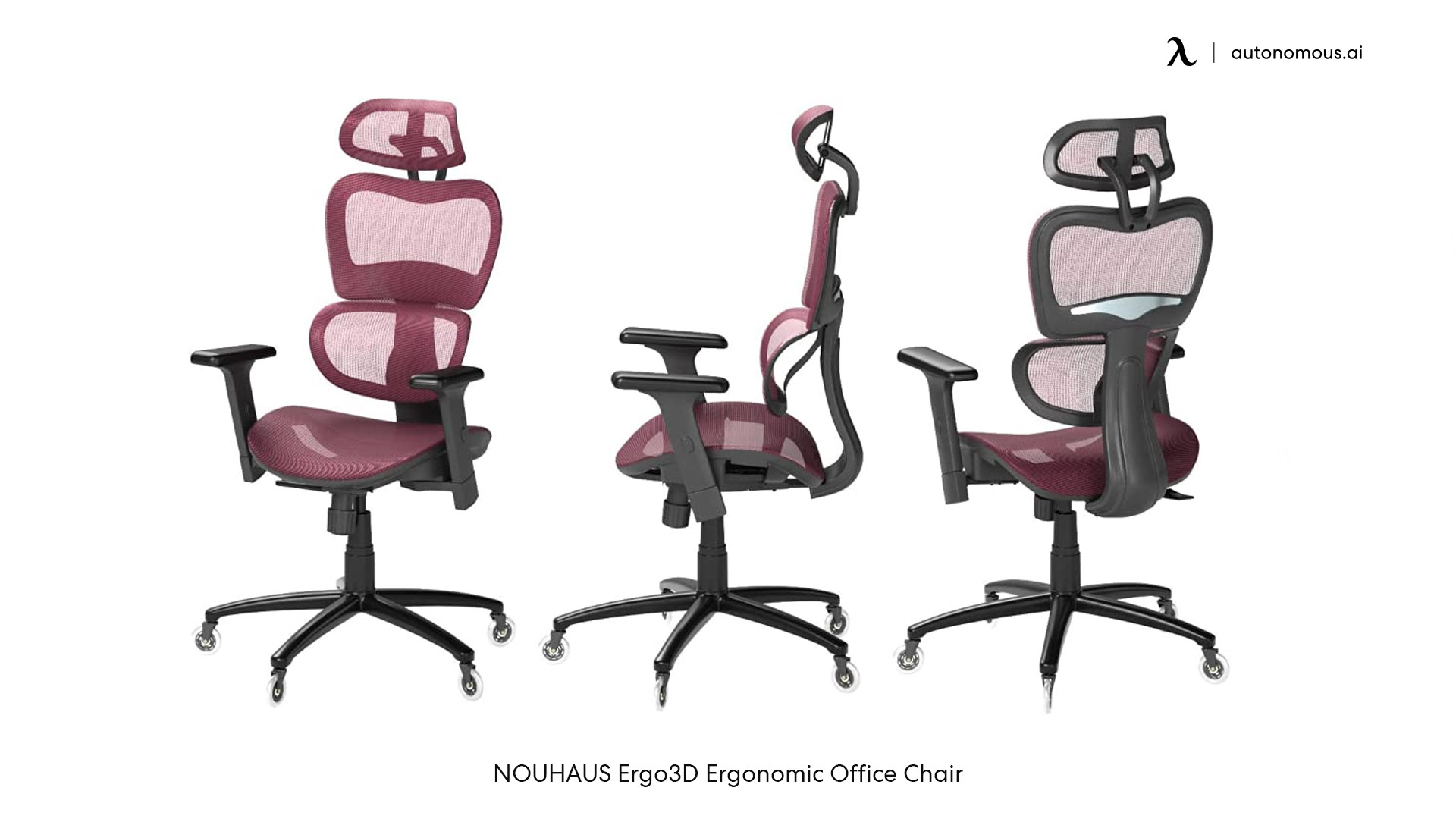 A chair that looks too basic to modern people, but don't you forget that it is much more than it looks. This best chair for back pain is fully ergonomic for a modern workplace with an adjustable armrest, seat tilt, and seat height. The chair also offers an advantage to lift the armrests vertically, so they don't cause any hindrance to you.
Pros and Cons of Nouhaus Ergonomic Chair
Supportive Design
Strong base
Easy to assemble
A little stiff
It needs to be assembled
7. Best Office Modern Chair
As the name suggests, we would love to classify this chair as modern yet minimalistic. This comfortable office chair has a seat that is flat enough but also comfortable at most. The naked mesh allows maximum airflow to work during hot seasons. The strong base also ensures hassle-free quick movements.
Pros and Cons of Best Office Modern Chair
Locks can be controlled
Available in seven colors
Meshed back
Fixed armrests
3 months warranty
8. Herman Miller Mirra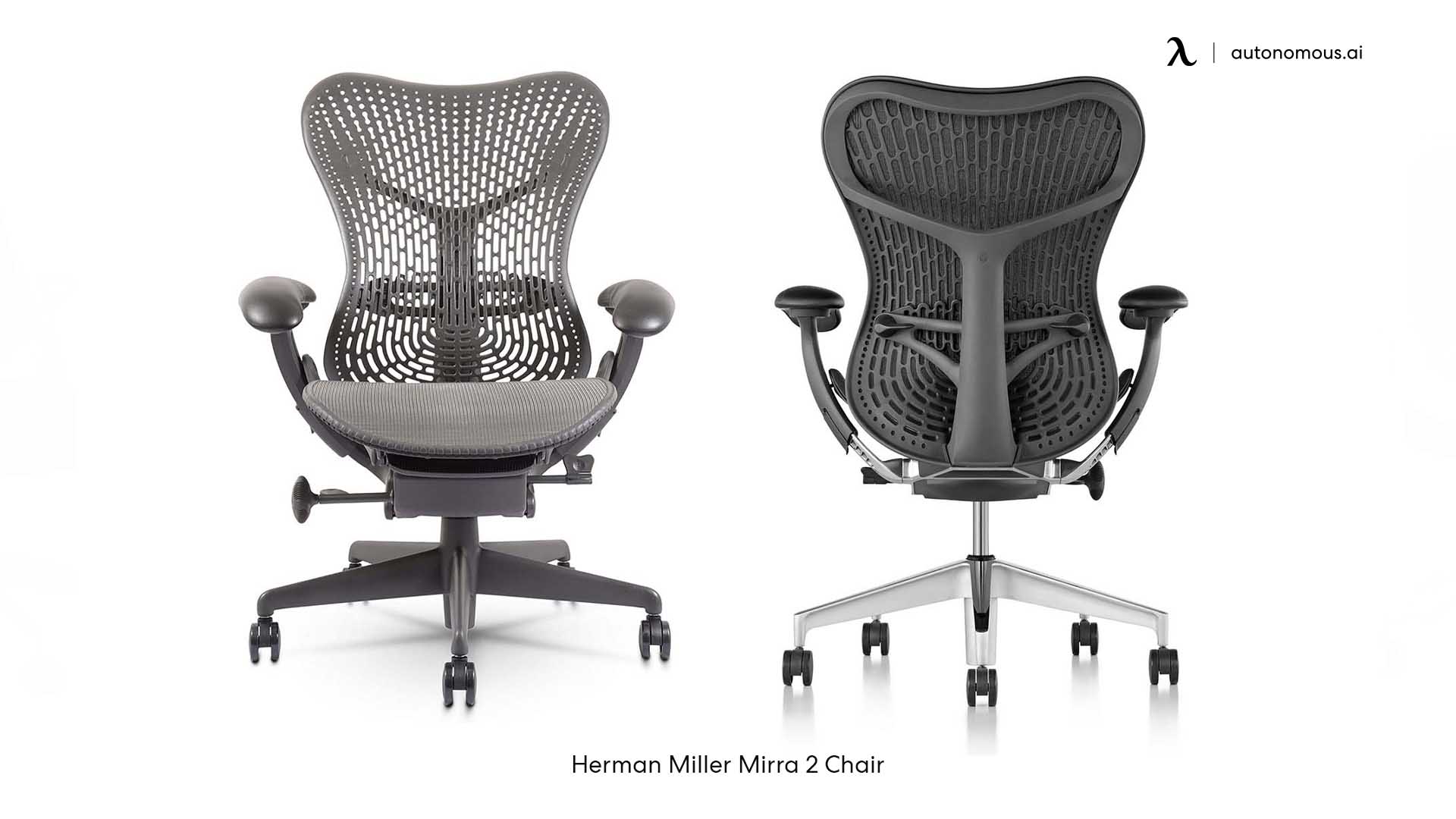 If you spend a lot of time at a desk for back discomfort, such as this one, it's worth investing in an ergonomic chair that will support your body appropriately.
Yes, it is costly. However, you can count on this finely designed chair, made with high-quality materials, to be in excellent condition a decade from now and beyond. As a result, it's likely to be a good deal in the long run.
It's quite comfortable, as you'd expect from a Herman Miller chair. It also has the best back support we've seen for office chair users. The butterfly-shaped backrest adapts to your motions with ease, cradling and supporting your spine and preventing you from sagging or slumping.
Pros and Cons of Herman Miller Mirra
High quality
Flexible and durable
Offers full adjustability
Expensive
9. Humanscale Freedom Office Chair
Humanscale and its chairs are known for durability and adjusting to your body fully. This chair is modern yet comfortable for the user in many ways. The smart thing about this design is that the flexible backrest bends as you move, so it works with your spine rather than against it when you lean back. As a result, the chair will organically support your spine without you having to make any manual modifications.
Known for its design, this chair could be the next solution for your back pain, and you will find a sudden improvement in your posture with this product.
Pros and Cons of Humanscale Freedom Office Chair
Conforms to the body shape
Offers high quality
It has a very attractive design
Expensive
It might be hard to use
10. Herman Miller Sayl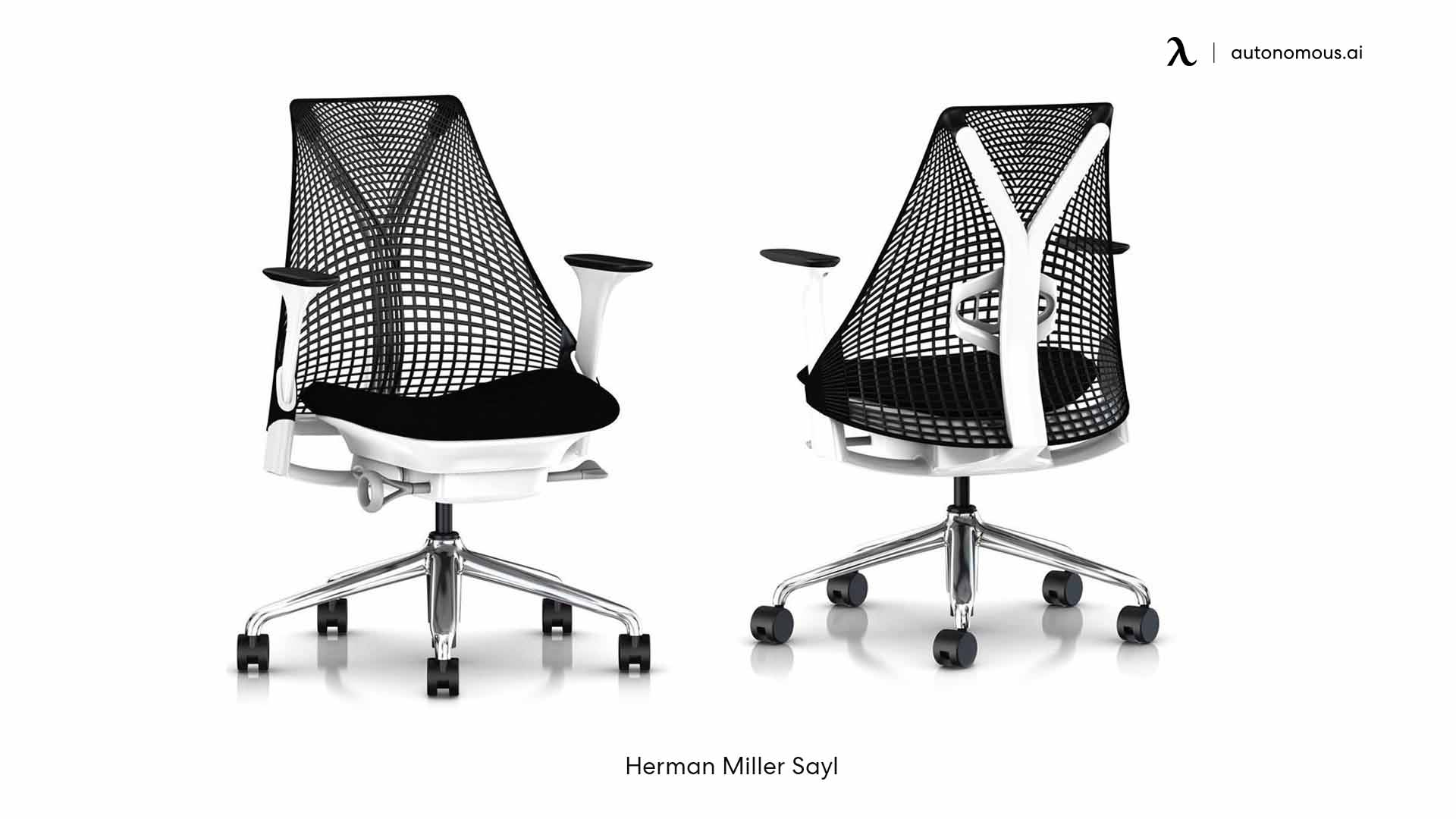 Herman Miller chairs are extremely tough to beat in terms of style, craftsmanship, and utility. Even though this alternative is substantially less expensive, it is still an excellent ergonomic office chair.
We adore this sleek and unusual spin on the traditional Herman Miller chair, which is made up of a distinctive design. It also doesn't fall short when it comes to spinal support.
The seat pof this best chair for back pain rovides a wonderful mix of support and comfort, as well as good air circulation. The armrests, seat height, and seat depth may all be adjusted.
Pros and Cons of Herman Miller Sayl
Stylish design
Offers full adjustability
Not a popular design
Subcribe newsletter and get $100 OFF.
Receive product updates, special offers, ergo tips, and inspiration form our team.
WRITTEN BYAutonomous
We build office products to help you work smarter.