So, you've decided to buy a standing desk online and are looking for ways to keep your legs supported while you're standing. Well, that's where standing desk mats come into play, as they can keep your back fully supported while you're working on your responsibilities. Some people prefer using balance boards, but are they really the best option?
If you've already equipped your office with a good standing desk and a standing desk chair, the next step is to find the best anti-fatigue standing desk mat that adjusts to your needs and preferences.
This post will guide you through everything you need to know regarding anti-fatigue standing desk mats, as well as the difference between these items and balance boards. Then, we'll describe some of the best options you can find in the market as of 2022.
Standing Desk Mat vs. Balance Board
Balance boards
Firstly, balance boards can help you vary your position as you continue working while standing. Since being in the same position for too long can be quite uncomfortable and painful, a balance board can be a good option to change positions now and then.
Balance boards often come with weight limits, depending on their types. Some of the benefits include that they can be excellent exercising tools, as they can help you perform some exercise while you're working at your desk. However, it can be quite distracting because you have to focus on your movements, which may not be the best thing if you're working.
Standing desk mats
Next up, we have standing desk mats. Although they are similar to balance boards, they are more of a comfort item as they don't promote movement.
Padded floor mats for standing desks tend to be built from soft and spongy material, which can keep your feet comfortable through long work sessions as you won't be forced to stand on a hard surface.
Standing desk mats are uncomplicated to use and may be more "suitable" for most people than balance boards, as the movement may not distract you while you're working. Plus, it's impossible to find a standing desk mat with a weight limit because they're all suitable for all users.
So, which one is better?
Both options provide similar benefits but are appropriate for other users. Here's how you can decide which option is better for you:
Choose an anti-fatigue mat if you prefer standing still while using your standing desk. Furthermore, they can be used by any person and can help you feel less tired while you're standing. The lack of movement also makes it easier for you to concentrate on your obligations.

Choose a balance board if you prefer to include an exercise tool in your office. However, make sure you buy one that has an appropriate weight limit for you, and keep in mind that it may distract you from working if you intend to use it to work out.
Best Standing Desk Mats for Your Consideration
Now, we will list some of the best anti-fatigue mats you can find in the market.
1.  Autonomous Anti-Fatigue Mat
The first option is one of the best anti-fatigue standing desk mats you can find in the market. It is available at an affordable price and encourages natural movements to prevent stiffness. It has a slight 2º inclination, allowing you to place your feet comfortably for prolonged periods. This standing desk mat has a total weight capacity of 330 pounds and is equipped with anti-slip and abrasion-resistant SBR that will keep it in the same place at all times.
2.  Anti-Fatigue Floor Mat by ComfiLife
The second option is quite affordable and can be an excellent starting standing desk mat if you've never used it once before. It may not have premium quality, but it is still durable and provides you with everything you need during your standing sessions.
3.  Sky Solutions Anti-Fatigue Standing Mat
The next option is affordable, too. It is one of the most popular ergonomic standing desk mats in the market due to its soft and comfortable feeling. You will be able to stand comfortably while you take care of your usual obligations at work. At the moment, it costs less than $50.
4.  Ergodriven Topo
This standing desk mat has been decided to promote movement, although not as much as balance boards. It will help you remain standing without feeling stiffness or ache. Plus, it's quite easy to move it once you're done with your standing session.
5. Anti-Fatigue Floor Mat by NewLife
Here we have an anti-fatigue floor made of gel material. Although gel standing desk mats are infamous, this one has an overall good reputation on the web. It will certainly be your best ally whenever you have to stand for prolonged periods.
6. iMovR EcoLast Premium Standing Desk Mat
Here we have a standing desk mat made from polyurethane. It is available in multiple colors, and it has a lifetime warranty (applies for manufacturing defects). It has an excellent design and is quite durable compared to other options. Plus, it is recyclable!
7. Anti-Fatigue Foam Mat by Featol Store
This mat is made from two layers of foam, which provides it with a similar feeling to memory foam mats. Hence, this one can be a good option for those who prefer some "additional" cushioning to be more comfortable.
8. Imprint CumulusPRO Commercial Grade Anti-Fatigue Mat
The next option is available in two colors, black and brown. It can be a good alternative due to its robust construction. Plus, the company offers a lifetime satisfaction guarantee!
9.  Anti-Fatigue Comfort Mat by Royal
This mat will truly help you feel more comfortable and at ease while you're standing. It doesn't matter how many hours you remain standing; you can be sure that this standing desk mat will keep your legs comfy at all times.
10.  Anti-Fatigue Mat by Kensington
The last option on the list is on the expensive side, but it can be a good option for those that prefer something that provides them with a "premium" feeling. It complies with its main purpose perfectly.
Autonomous Employee Purchase Program

Do you want to add a standing desk mat to your office setup? The Autonomous Employee Purchase Program has it covered.
Our employee purchase program allows you to acquire office equipment, including chairs, desks, and accessories like desk mats, at special pricing. Hence, if you're looking forward to improving your current office setup, now is your chance to do so!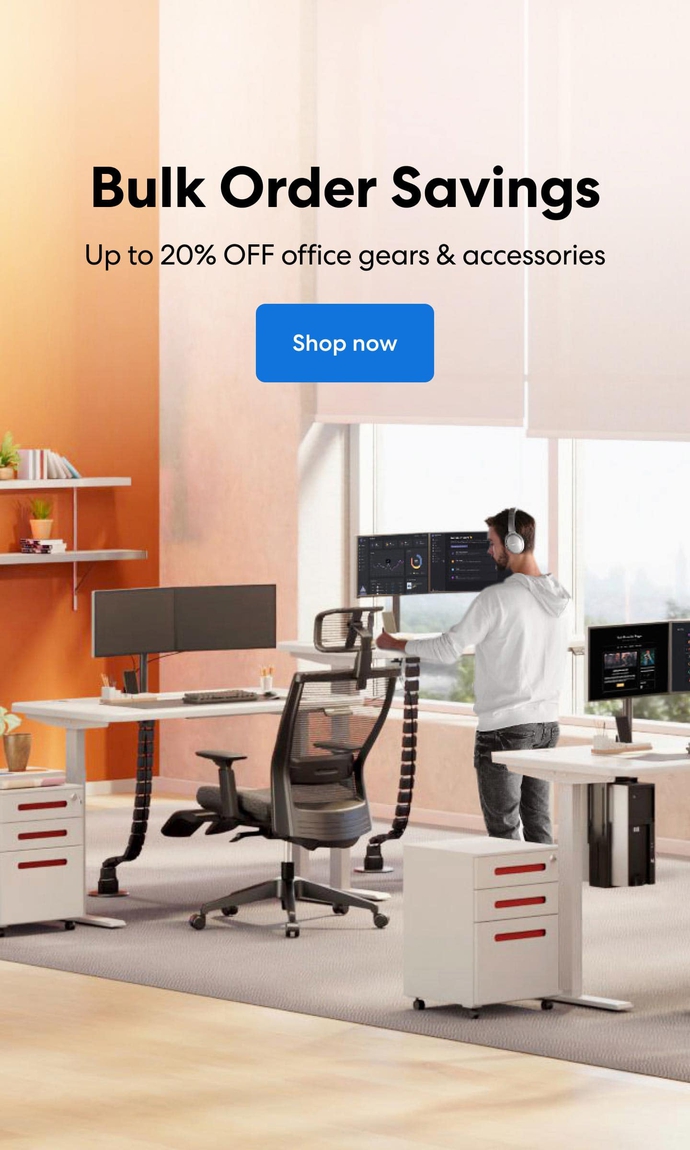 Subcribe newsletter and get $100 OFF.
Receive product updates, special offers, ergo tips, and inspiration form our team.