Nowadays, working remotely is commonplace. Therefore working from home is being replaced with working from bed. Even though your employer is aware of it, you have undoubtedly spent some time in bed since lockdown caused practically everyone in the workplace to leave. Having the greatest laptop stand for bed, along with a proper arrangement for working on the mattress, is crucial for various reasons.
Whether you use the bed working space often, someday, on the weekends, or as more of a regular thing. For instance, using the incorrect laptop stand might result in cervical and backache, drink spills, and spelled errors. You may believe that the advantages of a wooden laptop stand for the bedroom is exclusive to you. Such stands are much more crucial for your pc.
Putting your Laptop down on your pillows might cause overheating as well as a variety of other technical issues. You most certainly do not want to inform the IT professional that you damaged your company laptop while trying to work in bed. Additionally, you wouldn't want your mattress to catch fire, which can infrequently occur when a laptop excessively gets too hot. Therefore we will be sharing a few Laptop stands for bed lying down options for you to explore.
List of the 10 Best Laptop Stands for Remote Working Arrangement on Beds
These ergonomic laptops stand for beds and are also small in size, and some include advanced features like storage areas, individual mouse portions, or CPU coolers. So, look through the choices below to select one that meets your demands.
1. AOTHIA Aothia Laptop Stand
The Aothia laptop stand by the Aothia store is made by hand from 12 sheets of premium raw wood; assembly is unnecessary; unfold the packed stand to enjoy the fantastic time. The stand lifts the displays in an appropriate position so that we don't have to stoop or crane our necks to look at the computer monitor. This structure's ergonomic elevating mechanism will address any ergonomic issues, and long-term testing has shown that it may effectively lessen neck strain.
2. Mount-It! Bamboo Laptop Tray Bed Stand
Anyone may work comfortably and efficiently with this mattress laptop stand by the Mount-It! Store. With this bamboo laptop tray bed stand, users may modify the Laptop's elevation and tilt to reduce visual fatigue and neck ache. Airflow is provided by the sunken shape to maintain a cool temperature for your Laptop. It also eliminates wobble with strong fold-out legs, which means your computer accessories will remain intact.
3. TeqHome Bedside Laptop Desk
This bedside table, unlike many others, has two integrated switchable, silent conditioning fans to help keep your Laptop operating nicely for extended periods. It is designed for laptops that measure up to 17 inches. And it has two elevation settings and is incredibly portable, so you can sit wherever and adapt it to your needs.
4. Best Customizable Laptop Cooling Stand by WorkEZ
A cooling pad is incorporated into this adjustable Laptop stand for beds to prevent overheating. It is appropriate for usage whether you are seated at a desk, lying in bed, or even resting on your mattress while functioning. You can adjust the tilt of the laptop tray to almost any relaxed place thanks to its clever adjustability. It is made of aluminum, is powerful and light, and has cooling pads to keep your pc from getting overheated.
5. Bed Laptop Stand by C-Color
This foldable Laptop stand for bed is the perfect workspace for your home office projects. Its customizable legs make changing the elevation simple, and a foldable frame may be positioned at any desired angle. The MacBook table comes with two-panel clips and a reading holder, making it perfect for computers of all sizes.
6. Home-Office Lap Desk from LapGear
This mac table is perfect for those who prefer to use their computers while reclined in bed or curled up on the sofa. Its lightweight construction, side handle, and cushioned bottom enable it to carry around and sit on your lap all day. Any 13 to 15 laptops can easily fit on this desktop stand, which is 21 inches broad by 12 inches thick.
7. Army Laptop Table with a Stand
The pre-built laptop desk for couch or bed offers the highest level of comfort while using your Laptop anywhere. Thanks to its foldable construction and customizable height, you may arrange it conveniently without endangering your eyes. The 19-inch table tray can accommodate computers up to 17 inches broad. To change the appropriate angle, you can also turn this 360 degrees. To prevent your Laptop from warming, there is a large built-in ventilation fan and a detachable mouse pad.
8. Leather Laptop Table by Saiji
The PVC leatherette surface of this laptop table provides a solid, coarse texture that promotes grip and prevents the Laptop from slipping. It features a little compartment on the side where you can keep your laptop input devices. The stand's collapsible legs make it transportable and simple to store. On either edge of the table, there seem to be 2 auto-lock knobs that you may use to change the height among 5 pre-set settings.
9. Adjustable and Transportable Laptop Tables from AmazonBasics
This big laptop stand is a strong desk with a clever design that you can utilize in the workplace or at home. You may change the tray's elevation from 9.4 inches to 12.6 inches, and you can alter its inclination from 0 degrees to 35 °. The table has a one-year extended guarantee and weighs just 2.61 lbs. Its measurements are 23.62x13x0.4 inches, and its top can hold a 17-inch laptop.
10. Customizable 8-Position Laptop Stand by Mind Reader
This adjustable laptop desk for bed with a fan is a comfy bed laptop setup, even if you're studying or watching films. It has dual-bolster cushion support. It includes eight locking angle settings for excellent vision and hands-free operation. Another simple pop-up lip is available.
Summary
If you frequently use a laptop lying in bed, check out our selection of the greatest laptop holders for beds. Long-term laptop use can result in back pain, poor posture, and decreased productivity. A laptop stand might assist in resolving these problems. These stands can also be termed as must-have laptop accessories with an ergonomic design that lets you set the elevation to your preference without sacrificing your posture or convenience.
Video ads for product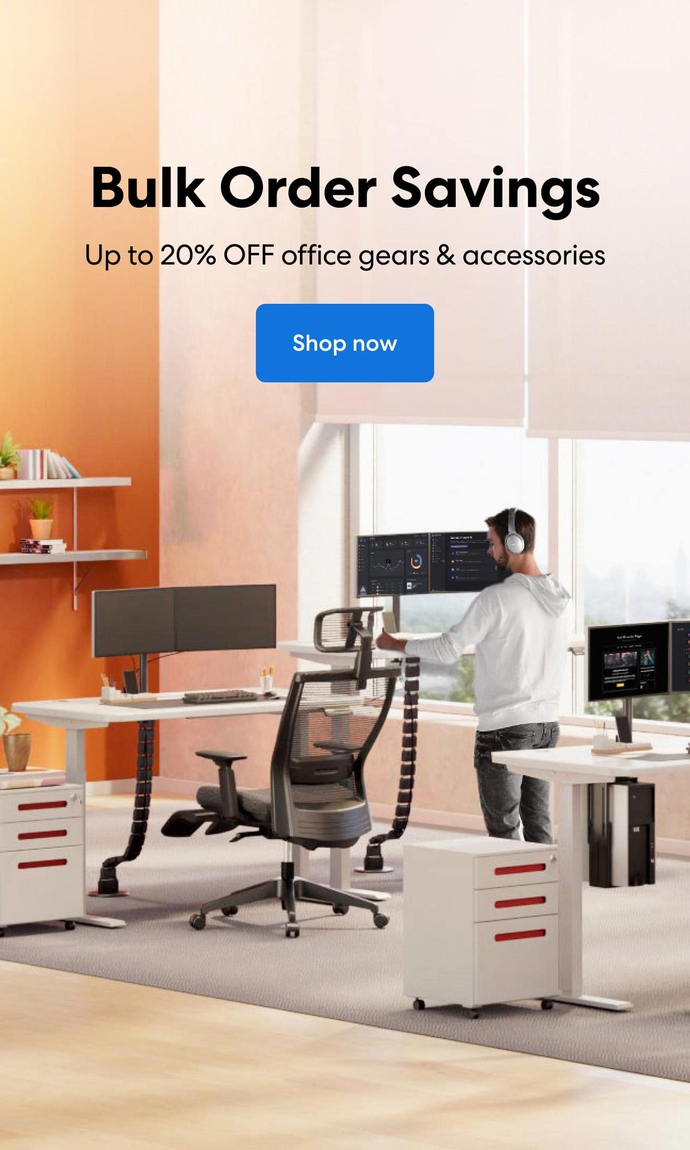 Subcribe newsletter and get $100 OFF.
Receive product updates, special offers, ergo tips, and inspiration form our team.