Mechanical standing desks are among the most popular desk choices, especially because standing desks are becoming trendy in recent years. Unlike traditional desks, these options have tons of health benefits that make them a safer alternative for office workers, especially if you suffer from back pain often.
For today's article, we're going to talk about mechanical standing desks while also giving you a few options you can choose to add to your home office.
What is a Mechanical Standing Desk?
A mechanical height-adjustable desk allows you to set the desk to the optimal height based on your body proportions, similar to how you adjust your ergonomic chair. They don't have an engine or use electricity to function. It can take some effort to re-adjust. Think of them as manual standing desks.
These standing desks are often affordable and come in different styles. Thus, they can be the next great addition to your home office.
Here are the three types of mechanical desks you can find:
In addition, you can find a

crank-adjustable desk, which is quite affordable and easy to adjust.

You can also opt for a

one-time adjustable mechanical standing desk, which is cheaper but is a terrible solution as they are not as durable as other options and may crawl out of the woodwork.

You can also find

alternative bases that use other mechanisms, such as counterbalance or spring-loaded options for those that would like to use something out of the regular.
The main difference between each mechanical standing desk is the standing desk legs, as each one operates differently.
Mechanical sit-stand desk vs. Electric standing desk
A mechanical adjustable standing desk is similar to an electric standing desk, but there are major differences between option options:
Although both desks allow you to modify their height, 

manual height adjustable standing desks require you to adjust them by hand. On the other hand, an electric standing desk does the same thing, but you only need to press a button. It makes the whole process a lot easier.

Mechanical standing desks are more affordable, while electric standing desks often come at higher prices. However, the latter option is often more durable and suitable for any kind of office work.

Although electric standing desks are a good investment, mechanical standing desks don't rely on electricity to function and require less maintenance.
As you can see, each option has advantages and are more suitable for selected users. We'll talk about electric standing desks in another opportunity – for now, let's continue exploring what mechanical standing desks have to offer to you.
Top 10 Mechanical Standing Desks to Replace your Old Desk
Although some people prefer to build a DIY mechanical standing desk due to how easy it is, there are plenty of pre-built options in the market that will save you some time. The total expense is quite similar, so you won't be spending more money than you would on a DIY standing desk.
Here we list the best fifteen mechanical standing desks you can choose for your home office.
1.  Focal Locus Workstation
The Focal Locus Workstation can be quite expensive (it's over $1000!), but it is the best option if you're an architect or a graphic designer, for instance. Besides adjusting its height, you can also turn it into a drafting easel. It's more appropriate for the previously mentioned professions but may not be the best option for everyone.
2.  Mr. Ironstone Height-Adjustable Desk
The next mechanical sit-stand desk is extremely affordable and easy to adjust. All these features come for an affordable price, as you can find them for less than $200.
3.  Mount It! Mobile Height-Adjustable Desk
If you have limited space, perhaps this is the best mechanical standing desk for you. The knobs allow you to change the height between 37.25" and 53.75". The locking casters make it easy to move it from one place to another.
4.  Ergotron Workfit D Sit-Stand Desk
If you like how traditional desks look, Ergotron has this option available for you. It's possible to adjust it from 30.5" to 50.50" inches. It is quite spacious, so don't let the stock images fool you!
5.  Luxor Crank Adjustable Desk
The next option is brought by Luxor, and it's one of the best options on the list. It's extremely easy to assemble, as most of it comes already built! Furthermore, it possesses a lifetime warranty, so in case any problem comes up, you can get it replaced quickly.
6.  MultiTable ModTable
If you'd like to get an easy-to-adjust desk, this one's for you. It can lift up to 180 lbs, but it can be hard to assemble it by yourself. The crank may be a bit hard to use, but it compensates for this drawback with a two-tpi transition speed, much higher than other options listed here.
7.  Mind Reader Rectangular Brown Height-Adjustable Standing Desk
This is another good choice if you're constantly moving your workstation from one place to another. It's a portable option, meaning that you can take it anywhere easily due to its extremely easy assembly. You can adjust it between 24.5" and 36.5". It's more suitable for laptop or tablet users.
8.  Devaise Adjustable Height Standing Desk
This option is excellent for people with heights above the average. You can adjust it from 29.5" to 45.5". You can easily adjust it using the knobs you'll find at the bottom – plus, it is extremely stable, even on unbalanced floors! Also, it's quite spacious so that you can use it without problems with a desktop computer or a laptop.
9.  Change Desk Mini-Height-Adjustable Standing Desk Converter
If you can't replace your current desk yet, perhaps a standing desk converter can be suitable for you. Instead of a traditional standing desk, you can choose a standing desk converter. It's a portable option that will allow you to work anywhere comfortably. Plus, you don't have to assemble it.
10. Crank Standing Desk H1
This option by Flexispot is affordable and very convenient. You can adjust it from 29" to 48.6". Plus, you can easily adjust it with the integrated crank. It costs less than $230, making it excellent for those with adjusted budgets.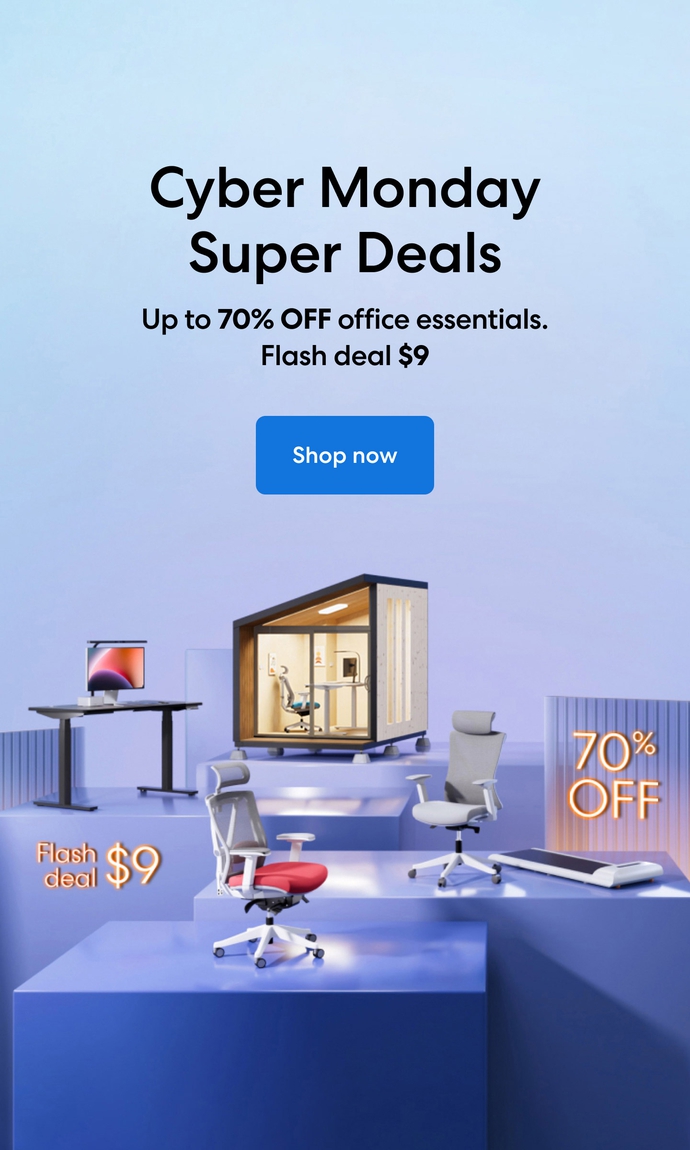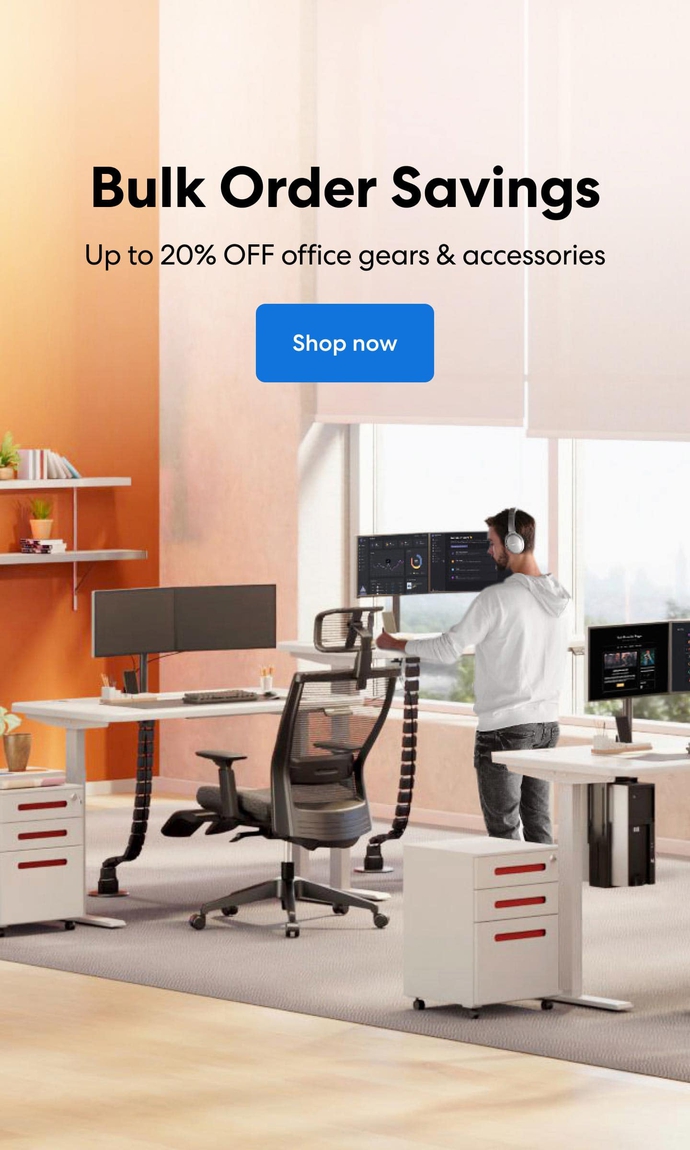 Subcribe newsletter and get $100 OFF.
Receive product updates, special offers, ergo tips, and inspiration form our team.