Smart Products
10 Best Mesh Executive Office Chairs with Reviews and Rating
4,820 Views
Mesh executive office chairs have quickly overtaken other types of ergonomic office chairs to become the most popular type. The mesh does not only offer a comfortable seat, but also a unique design that cannot be replicated by any other texture. There are thousands of mesh executive desk chairs on the market for your office and figuring out which one will work the best for you is a real challenge.
All of the chairs on offer are different, despite looking the same and providing similar functions. It is those little differences that you need to look out for, and the differences that can help determine what chair you end up purchasing.
This article has several options for you to examine, but the most important thing to keep in mind is that mesh executive office chairs have specific uses. You need to figure out the type of chair that works best for your needs.
Why Use Mesh?
Since the majority of executive office chairs are made from leather, most people wonder why you cannot just stick with that. Between mesh and leather chairs, leather does have several benefits, including durability, easy maintenance, and comfort. It also excels at projecting a professional image to your firm, mesh does things that they do not.
For one, mesh surfaces have ventilation with their open structure. You may be sitting in the chair all day, and eventually, the air circulation in a leather chair is going to stop. In a mesh chair, you do not need to worry about the heat accumulation because your chair is always going to be able to help you breathe.
Additionally, mesh is very flexible, more so than leather. While a leather chair's padding conforms to your body, the ergonomic mesh executive chair's structure is what moves with your body whenever you lean back and shift around. The contouring of the mesh back of the chair is what helps keep your back straight. Moreover, cleaning the mesh chair is easier. 
Mesh chairs are also more common than leather chairs, and you can find them at nearly any furniture store for a great price. They also have a lower level of maintenance, and a much higher resistance to stains and damage, unlike leather.
If you need to buy the best mesh ergonomic chair, then it is one of the best.
Do I Need An Executive Chair?
An executive desk chair might sound like something only the boss or the higher-ups in the company should use, but that should not stop you from using one. They are fancier and bring a certain elegance to an office space design. They also have good back support and are designed to be used comfortably for long periods of time.
Those benefits can support any office worker, regardless of where you are on the office totem pole. Do not be afraid to get a mesh executive office chair, and soon you can see all the benefits for yourself. It might even help you get nice and prepared for whenever you become the boss one day, you should not have to adjust to a new seat!
The Best Mesh Office Chairs
1. ErgoChair Pro
For the best ergonomic mesh chair, we have to recommend the ErgoChair Pro. This chair is very customizable and easy to use to make it work for you. There are nine settings that you can customize, including the back tilt, seat height, arm length height and width, and the amount of lumbar support you receive.
The chair has been built from the ground up to remove your back pain and improve the way you sit at your desk. You can customize all nine settings to get a perfect, custom fit with our chair. Instead of spending precious minutes shifting around and trying to find the perfect position, we made it easy to turn the chair into the ideal working environment for you.
2. AvoChair
This chair's design is different from any other chair on this list, with the design goal being to remove any hard edges. Instead, whenever you sit down you should almost feel like you are coming home. AvoChair can be customized for the amount of recline, the position of the arms, and the seat height.
If you want to have another great reason to purchase this mesh executive desk chair, know that it is entirely eco-friendly. The chair is made from recycled materials and can be separated and broken down into component parts, all of which are 100% recyclable.
It is also a very inexpensive chair for all the benefits it gives you, making it one of the best mesh office chair options on a budget.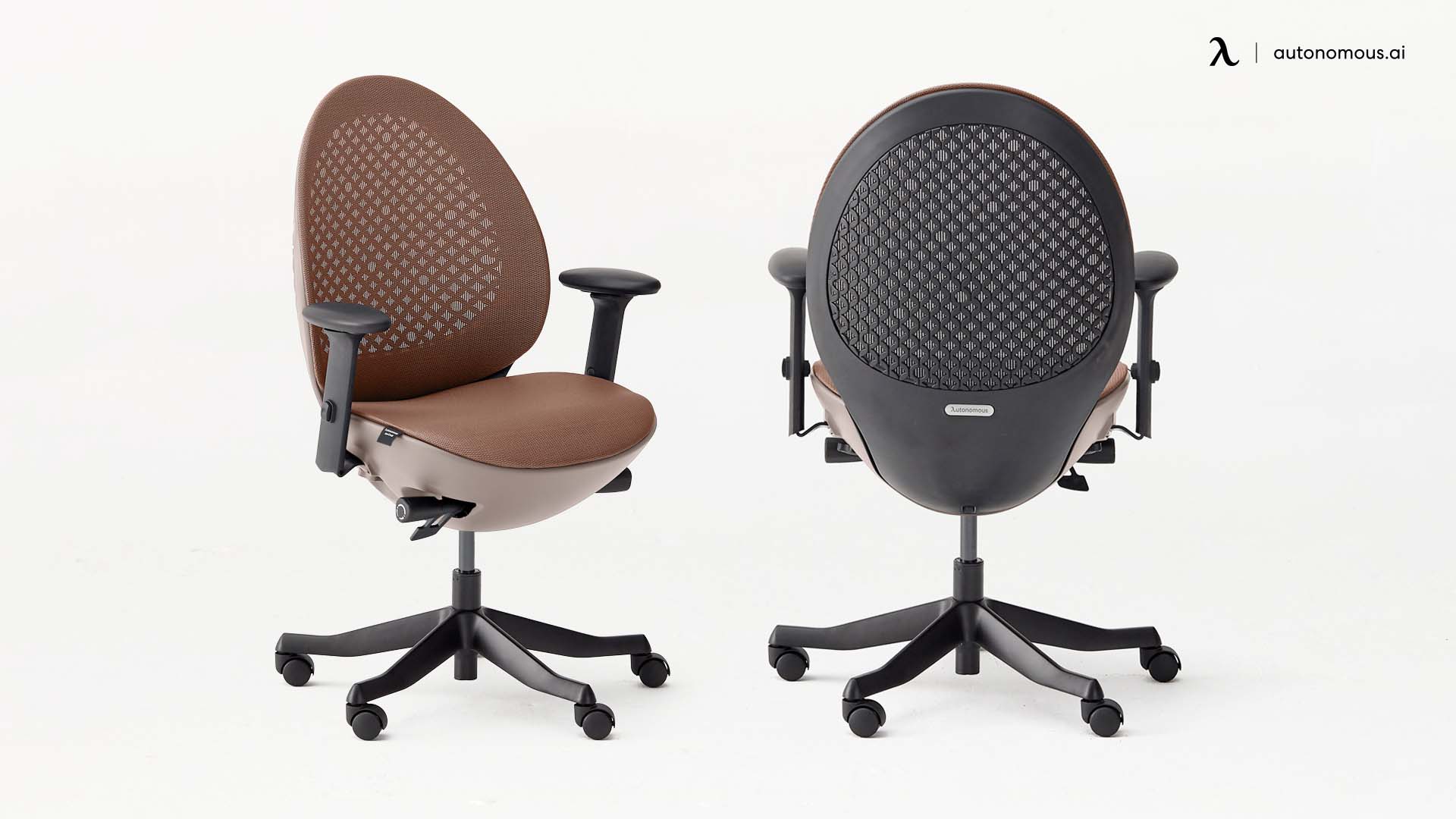 3. ErgoChair Plus
This executive office chair with lumbar support, using a bit of science and a bit of nature. The back support of the ErgoChair Plus is modeled after magnetic fields, and as you sit in it the structure activates your core and gets you feeling pretty good. The frameless design also works to move with the contours of your body, keeping you comfortable no matter what.
Plus, the chair is also made from a thermoplastic elastomer, which helps to keep the chair both very durable and also friendly to the environment. This ergonomic mesh executive chair is designed to work with your body and provide you with the best sitting experience possible, and it does that job very well.
4. ErgoChair Recline
The ErgoChair Recline is one of the best ergonomic mesh chairs, it combines a sleek and slender design with a functional and ergonomic chair. It looks great and also comes with a footrest. Just place your feet atop the footrest and take some time off. Unlike other chairs, the ErgoChair Recline is made both from mesh, but also with a foam seat that helps to align your lower half. It gives you total head to toe comfort and is also very 'ergomatic.'
The mesh back is flexible enough to allow your body to breathe, and it also adjusts to the contours of your body without any trouble. The foam seat has enough resistance to cradle your lower half, while also being comfortable.
It is a little more expensive than some of the other office chairs on this list. Still, the elegance of the chair and its functionally more than make up for the price. It's good if you need to buy an ergonomic chair.
5. The Nightingale CXO
The Nightingale CXO is a very heavy ergonomic mesh executive chair, able to hold around 350 lbs with its high-quality build. Unlike some other mesh chairs, this chair comes with a headrest stuffed with memory foam, guaranteed to keep your head padded and supported as you work. The headrest is also very adjustable, allowing you to tilt it and move it as required.
The rest of the chair is the same, padded with Nightingale's patented memory foam, and you can easily sink into the seat. The CXO also comes with an ergonomic focus and has 4-way arms that can be adjusted to any height as needed.
If you are looking for a great mesh ergonomic office chair that can last for many years and keep you comfortable, then this is it. However, you do have to be comfortable with the memory foam, as the extra padding is not for everyone.
6. Humanscale Different World
What is better than a nice mesh executive office chair? A nice mesh chair in white, rather than black! Not only does the Humanscale Different World chair provide a unique look to your office, but it is a high-end chair, as well. The mesh is durable enough to last you, without being super rigid. In fact, it changes based on your body shape to become the most comfortable to you.
It is also very adjustable with the seat depth, arm height, and seat height all being customizable. Plus, you do not need to fiddle with adjustment levers. The chair automatically reclines as you put more weight on the backrest. This can be a problem for people who want more control over their chair, or for people who lean back unconsciously and find that their chair has changed!
This chair is a high-end looking chair that still provides the best support for your back and posture. Who doesn't like that?
7. Gabrylly Ergonomic Mesh Office Chair
One thing that is important in every single mesh executive office chair, ergonomic or not, is freedom of movement. You want to be able to have a wide range of motion that the chair can support, and not a stiff chair that reacts very little to your movements. The Gabrylly Ergonomic Mesh Office Chair is a chair that is designed to work with your movements, rather than limit your range of motion.
For example, if you are hunched over your office chair, then it can be beneficial to straighten your back and lean backward. This chair supports that range of motion, and it has enough space for you to lean back and stretch. It also comes with adjustment capabilities for the seat-height, armrest, and headrest.
While it does not replace the need for you to walk and move during breaks, it can still give you a sense of extra comfort and movement.
8. The Nouhaus Ergo3D
If you love to lean back while you work or have to lean back because of back related problems, then you need a full back mesh chair to support you. A full back mesh executive office chair can provide your back with full support while also keeping your body temperature cool. The Nouhaus chair has a three-tiered design that helps to cater to all parts of your body, including the lower back, upper back, and your neck/head.
The backrest can be tilted back, all the way to a 135-degree angle, which is certainly more than your average chair! This chair has helped many of its users eliminate back and neck pain, while also coming with a sloping seat and pivoting armrests.
9. Hbada Ergonomic Office Recliner Chair
Offices are supposed to be places of work and relaxation, but what happens whenever you feel the need to slack off a little? The Hbabda Ergonomic Office Recliner Chair is a reclinable office chair that goes back 155 degrees on a backrest tilt. The headrest, seat, and armrests are all very soft and comfortable, providing the perfect fit for both work and nap.
It also comes with all of the other features of a perfectly ergonomic mesh executive chair, and the only con this chair has is its height. If you are over 5'10" or weigh more than 250 pounds in weight, then the chair may not be a comfortable fit and you possibly might need to find another one. Still, if you want to work and snooze without ever getting up, then this is the best chair for you.
10. ALL33 BackStrong C1 Office Chair
Lastly, this ergonomic chair is one of a kind, not only focusing on providing features for comfort, but it is designed for the way that humans move. The chair focuses on the various pressure points inside of your back and neck, stimulating them and lifting your thoracic spine for nearly instant relief from pain. Moreover, this great feature continuously works no matter how long you end up sitting!
It also comes with what the designers call 'sit in motion' technology. The bowl-shaped seat portion of the chair is designed to cradle your pelvis, and also to rock with you. As you naturally shift and move in the chair, the chair is designed to work with your movements to decrease your discomfort.
The ALL33 BackStrong C1 Office Chair is a chair that will stick with you, helping to reduce pain, eye strain, and all the other problems that keep you from getting your work done.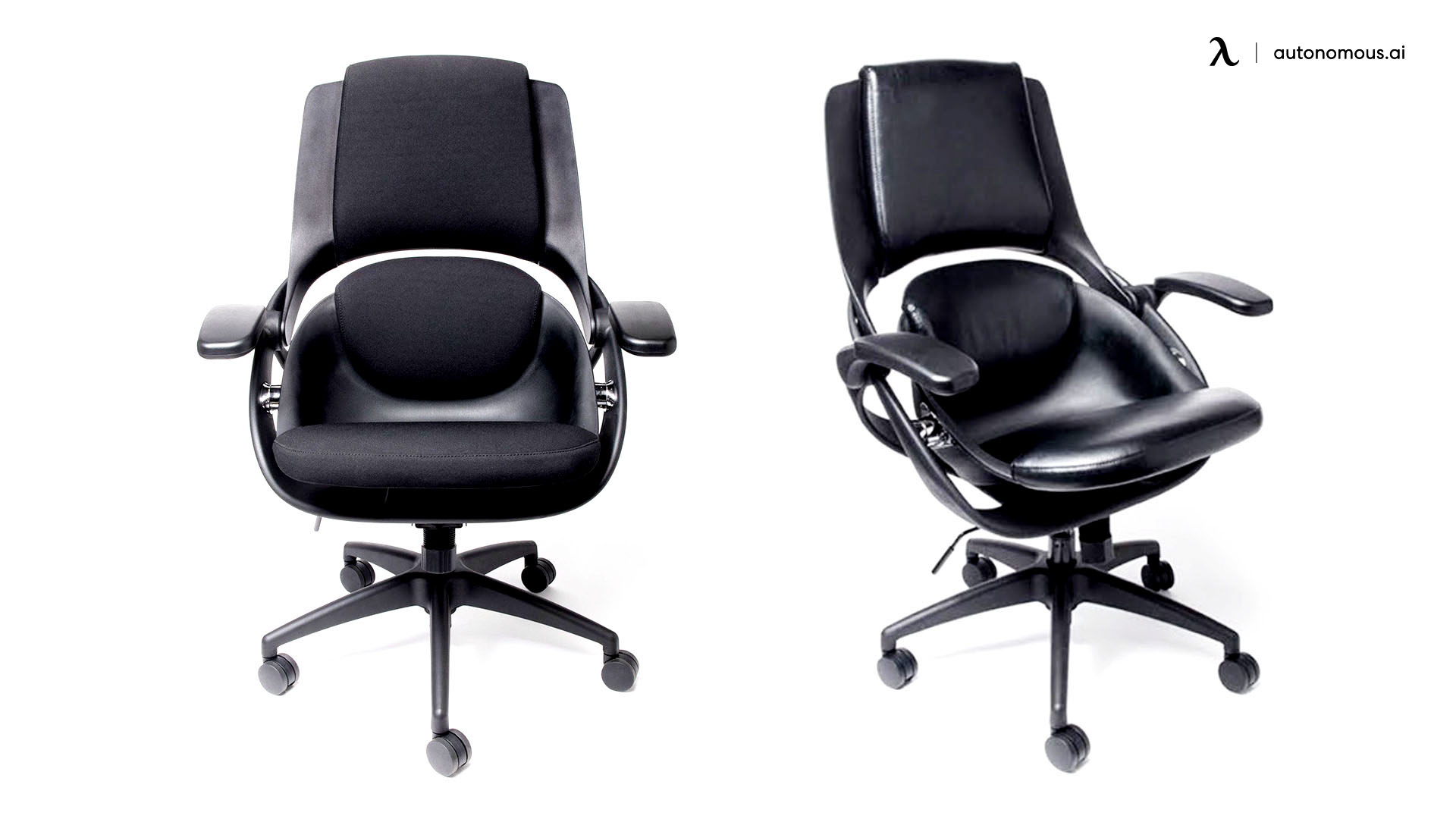 Picking The Perfect Office Chair
Before you waste money and time on a new office chair, make sure to make a list of what you need from a good chair. Do you want something ergonomic and supportive for your back? Would you like something that is comfortable to sit in? Do you need a reclining chair with a footrest and a high level of incline? What color goes best with your office?
Even coming up with a few of these requirements can help you narrow down the large numbers of office chairs. The more you narrow down, the closer you come to finding an office chair that meets your specific needs. You can purchase it, and then start to see the various benefits for yourself.
Subcribe newsletter and get $100 OFF.
Receive product updates, special offers, ergo tips, and inspiration form our team.
WRITTEN BYAutonomous
We build office products to help you work smarter.