Smart Products
10 Best NFT Frames in 2022 to Display Your Unique NFT Art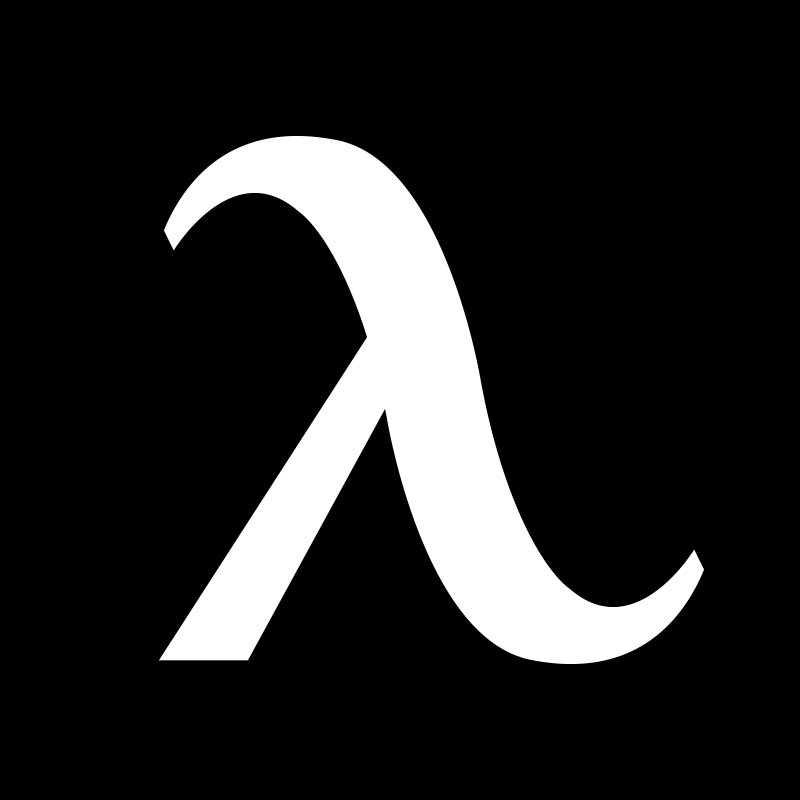 Autonomous
 | 
Sep 5, 2022
Many hacks and projects about non-fungible tokens (NFTs) have emerged since they burst onto the scene. Innovations based on this derivative of blockchain have also grown at an exponential rate to complement the technology.
An NFT frame is an example of a product that has become necessary due to this boom in the digital art industry.
It is common to view NFTs in virtual galleries like Rove. Owners also like showcasing these artworks in their living rooms or a modern home office.
In this article, we will explore what NFT frames are and share tips on how you can find the best ones to display your unique art.
What Is NFT?
NFTs are digital art pieces that use blockchain to establish their originality. This is why creators and collectors are gradually accepting this technology.
What Is an NFT Frame/Display?
In 2021, NFTs were worth about $41 billion, almost the total value of the worldwide market for physical art. The industry is well on its way to surpassing the worth of traditional art.
Some problems in the domain still require solutions to make this possible. One of them is how to display NFTs efficiently.
Showcasing physical art is simple. A creator only has to frame these and prop them up wherever they want.
The situation is different for digital art pieces, especially NFTs. They have several components to capture in an exhibition.
NFT frames make it possible to display your unique digital media physically.
Advantages and Disadvantages of Using NFT Display Frames
Unique artifacts have always fascinated people. This nature drives the industry for precious metals, collectibles, and fine art.
Cryptography and blockchain have given artists the ability to create rare digital items. NFTs are leading the art revolution as online collectibles.
A rare item has to be stored appropriately. This is why NFT digital art displays are necessary.
Pros
Dedicated frames are beneficial for the following reasons:
You can store more than one photo on the NFT picture frame and create playlists for different periods and occasions.

NFT frames can store different digital media types. So you can display pictures, animations, videos, GIFs, songs, etc.

The frames can be updated from anywhere via a smartphone app. Owners, therefore, have total control over the art on display.

They are great for decorating your home and are valuable additions to

modern office design.

If the NFT digital frame is stolen, it is possible to block or wipe it to prevent intruders from accessing your unique art or images.
Cons
Most users consider it a bit expensive even though it is cost-effective in the long run.

They are more fragile than traditional frames.
Features of an NFT Art Display
The following features are reasons why a digital display is a perfect way to frame NFTs:
Media Diversity
As already mentioned, NFTs are not only images. They can take the form of videos, audio, and GIFs. Sometimes they are created as a combination of more than one of these.
The NFT digital frame can display all these different media forms, making it excellent for presentations.
Cost-Effectiveness
Unlike traditional frames, you can demo more than one artwork using a digital display. This is easiest when it's an image.
An NFT art picture frame allows you to show multiple unique pieces any way you want. They can be shown as a slide, a collage, etc. You can also use them more than once and update the art pieces whenever.
This makes NFT art displays cost-effective compared to physical art frames. These allow just one picture frame per artwork.
Although frames may not be expensive, costs might escalate when you have to display a large number of art pieces.
Crypto Wallet Connection
It is easier to sell an NFT when the display frame allows connection to crypto wallets. Art pieces can quickly be verified and exchanged for cryptocurrencies.
MetaMask, Math Wallet, AlphaWallet, and Trust Wallet are some of the best crypto wallets that connect to NFT frames.
Smartphone Control
To easily control your NFT displays with a smartphone is necessary when hosting an exhibition. During such moments you might want to play audio that gives extra information about the art. You may even want to skip an artwork in a slide.
It is inappropriate for collectors and visitors to see you touching the main screen whenever you want to control the display.
List of Popular NFT Frames
1. Autonomous OG Spectrum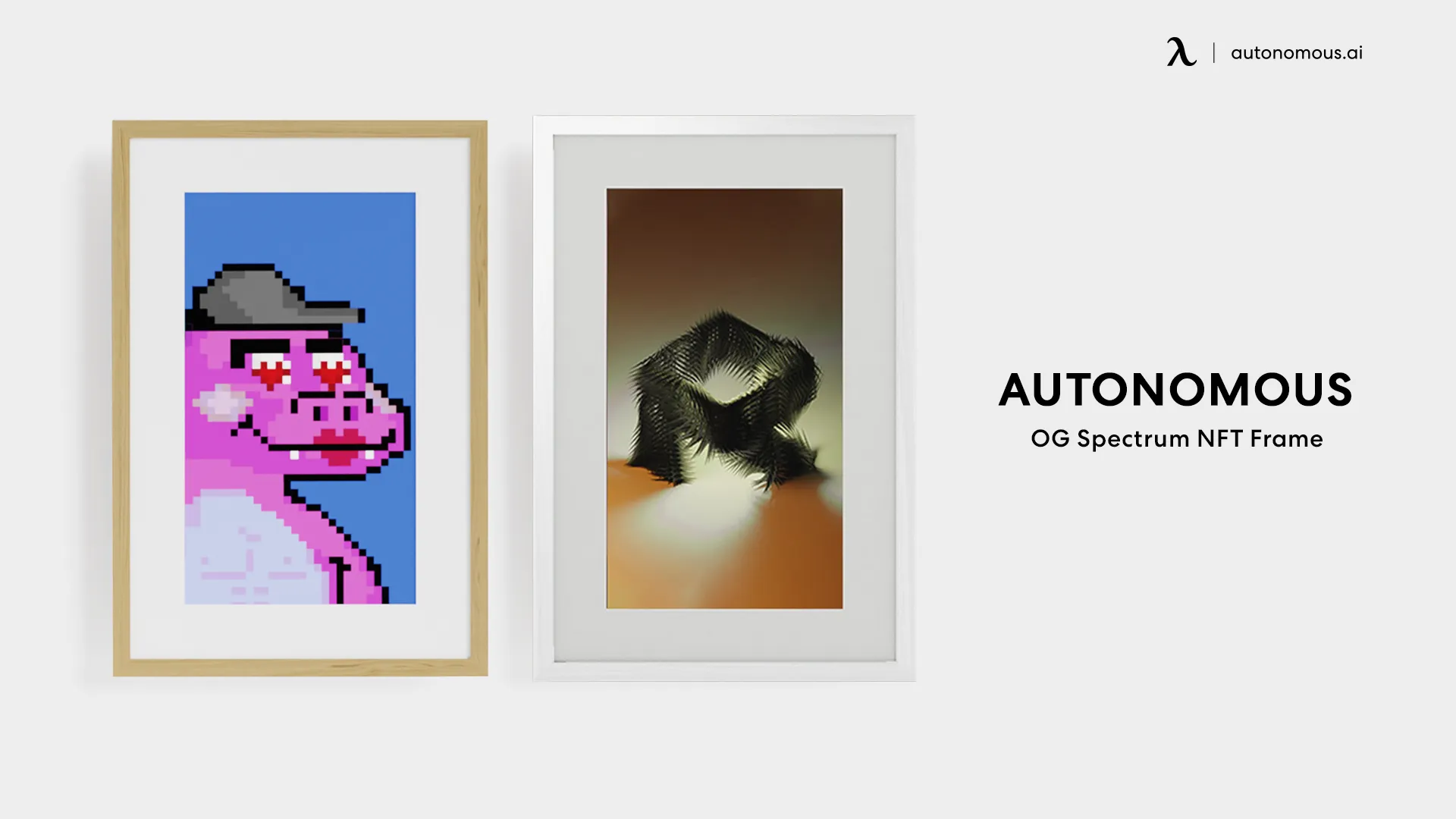 Autonomous OG Spectrum is an NFT digital display device that brings your artwork to life in vivid colors.
The device frames your unique NFT artwork making it exclusive too. This makes it a collectible you can proudly hang in your room or office.
Your screen displays NFTs in 4K and comes with an accelerometer. This switches it between portrait and landscape depending on its orientation.
It is possible to securely cast NFTs from your MetaMask wallet to your phone. This enables you to control display conditions and customize them to your preference.
2. Meural Canvas II
The Meural Canvas II is a popular NFT display for people who still want to add a touch of classic framing to their digital art. It allows owners to link their NFT MetaMask cryptocurrency wallets.
Netgear has achieved much success in the digital art frame industry with excellent products in the past. It has taken this achievement to another level with the Meural Canvas II.
This product has an elegant wooden finish and a canvas inner where the screen is to make it feel like a traditional frame. It is also possible to adjust image clarity.
Meural Canvas II displays any digital media type uploaded from the app that comes with it. The screen orients to landscape and vertical forms.
You can also adjust the image size directly to fit the dimensions of the NFT digital frame.
3. BlockFrameNFT Crypto Frame
Collectors who are particular about displaying only NFTs prefer this device. It is designed purely for these unique art types.
The device has a high-definition screen which lags when the media has much graphical detail. The BlockFrameNFT Crypto Frame is not a touch screen and has no audio output. This makes it very light.
You can only connect it to a few crypto wallets. Compared to other frames, its connection to these wallets is commendable. The manufacturer looks to expand this in the future.
BlockFrameNFT Crypto Frame has a colorful 21-inch screen.
4. The Frame by Samsung
Samsung is famous for making high-end digital display devices. 'The Frame' is primarily a 4K OLED Smart TV designed like a traditional picture frame. It is one of the perfect office accessories for men.
You get a quantum dot technology screen that enhances everything you observe as almost true-to-life. It functions as a television that switches to Art Mode when idle. This displays your uploaded images in high definition.
The company created the product as a TV first. It, therefore, lacks some capacities required of an NFT digital display frame.
NFTs are uploaded through a third-party app, and the device does not allow a crypto wallet connection.
5. Canvia Smart Art Canvas
The Canvia Smart Art Canvas display is adaptable to any room. It uses ArtSense to automatically control the screen to suit the ambiance of its location. Plus, it is designed to connect to Alexa with the option of voice control.
The digital display allows you to connect your NFT wallet directly to it. It then verifies your collection during upload.
Canvia adds an app to the device to help you manage the size of your digital art according to the dimensions of your screen. You can even choose to display a zoomed-in version of artwork instead. There's even a beautiful finish that offers a traditional feel.
A subscription model helps you access several artworks and NFTs from the Met, Louvre, and many famous galleries.
6. Blackdove Digital Canvas
This manufacturer produces some of the best digital displays on the market. Its products are considered expensive for a reason.
Blackdove Digital Canvas frames are chosen by galleries and museums that often want to display digital media because of their quality.
The product features an ultra-high-definition display that ranges from 49 inches to 98 inches. It also comes with an app and software that enable the NFT features.
You can transform any display device into an NFT frame using an app. This is how the manufacturer justifies its pricing. Customers pay for the software and not the display frame.
It allows connection to a MetaMask wallet so you can purchase artworks directly from NFT markets.
7. TBLTP Tokenframe NFT Display
TBLTP Tokenframe enables viewers to immerse in the NFTs it displays. It has a 1080p screen resolution with built-in audio for an improved experience.
The display frame connects to your crypto wallet and allows you to cast your NFT to any other device with the Tokenframe app. You can link multiple devices to create a personal NFT gallery in a home office setup.
It uses wood-like frames to give it the traditional effect. An energy-saving schedule helps users decide when the device should power off or sleep.
8. Mono X7 Digital Canvas
Mono X7 Digital Canvas is created for the internet age. It features a 17.3-inch ultra-thin screen with an antiglare display. The design and custom frames make it stylish and elegant.
You can create a custom background to complement your artwork on a single canvas. This background can be a video, picture, or a combination of both.
There is an app (FRAMED) that you can use on smartphones to control the smart device and also browse NFT art collections across the web.
9. Lago - The Frame
This NFT frame is customized to fit your requirements. As such, you need to pre-order before you can get one.
The demo for this product showed a 4k display that resizes art pieces and allows gesture control. There is a built-in soundbar to give viewers an interactive feel of the NFT art on display.
It allows connectivity to all NFT wallets. This enables you to browse NFT markets, verify art, follow creators, and even track collections.
Overall, the Lago frame already has a buzzing community around it.
10. Looking Glass Portrait
With the Looking Glass Portrait, you get a device that can transform any three-dimensional artwork into a hologram. This technology was initially not possible without virtual reality headsets.
It allows connection to just a selection of crypto wallets but looks to expand this in subsequent updates.
Resizing Your NFT for Display
Your digital art goes through some work so that they fit every display frame regardless of the size and resolution.
Here is a guide on resizing an NFT image or video for your digital picture frame.
Download the NFT
Every NFT purchase comes with details to help you access the original image or video associated with the token. Download this file from your NFT and open it in a media editor of your choice.
Resize in Editor
In your media editor, you should resize your image or photo to the resolution of the NFT digital frame that will host it. This information is available in the settings of the display. Sometimes it is written on the packaging.
Export to Frame
Export your NFT when you are satisfied with the new size. The process downloads it and transfers it to wherever you want it to be.
Usually, you export it to your device before transferring it to your NFT display. Your artwork should now show in your digital picture frame without any inconsistencies.
Recent digital art displays come with apps to enable owners to resize images directly on the device.
Conclusion
The best NFT frame is the one that allows you to display your digital art in all its elegance. Viewers should also be able to experience every detail of these works.
As the industry continues to evolve, expect manufacturers to develop NFT frames with better capabilities. These will look to offer better interactivity to viewers and blockchain protection for the art they hold.
Seamless connection between NFTs and crypto wallets is another feature that should improve. Digital frames have to increase the number of wallets they support. This facilitates exchange between art buyers and sellers.
Get an NFT digital display frame and decorate your space with your rare digital art.
Hey, you have special pricing through your company.
Get exclusive rewards
for your first Autonomous blog subscription.
WRITTEN BYAutonomous
We build office products to help you work smarter.
Coming at You Live from Autonomous' Social Media!