Smart Products
16 Best Standing Light for Living Room
1,560 Views
The best floor light for living room can change your perception of a place. For instance, a place that has good lighting will look welcoming, and the one with bad lighting will look the opposite. Floor lamps can work well with your overhead lighting, and they create a cozy vibe for your living room. Benzara floor lamp is one of the best in this regard.
However, choosing one becomes difficult as we wonder whether to focus on its appearance or its function. You can find some of the best standing lights from our list below. They can upgrade the look of your living room. In addition, they will also make it look more inviting.
Best Standing Light for Living Room
Let's talk about lighting for a moment. Light can make or break a room since bad lighting can make a space feel uninviting at best and completely unworkable at worst. Most overhead floor lights for living room are designed to light a space with the least amount of light possible, such as a single ceiling sconce designed to light an entire room. While overhead lighting is sometimes practical, it isn't always the most effective solution.
You can transform a mediocre room into a gorgeously designed one with strategically placed lamps. Living spaces are incomplete without standing lamps for living room. Use a classically designed or contemporary lamp as an accent to your existing decor and add beauty to your room.
They can replace or complement most overhead light stands for living room, and they can create a cozier, more versatile atmosphere. You have many choices out there, from modern torchieres (which are much more appealing than the best living room standing light you used in your college dorm room) to arc lamps that may become the main source of illumination for your living room or bedroom. Find the right lamp to light up your space, no matter what style you prefer.
Here are a few of the best floor lights for living room that you choose for your living room to make it look more elegant and classy. Check them out now.
1. Brightech Floor Carter Lamp
The Brightech Floor Carter Lamp is the best floor light for living room. It is affordable, sleek, and versatile. It combines both retro and modern design with its metal base, fabric shade, chain pull switch, and walnut finish. You can further assemble it easily.
In order to fit the parts in a small box, the manufacturers fold them. Later, you can unravel it and attach it to its base. The entire process will not take much of your time. And you will have a stylish and well-made lamp.
2. Benzara Industrial LED Floor Lamp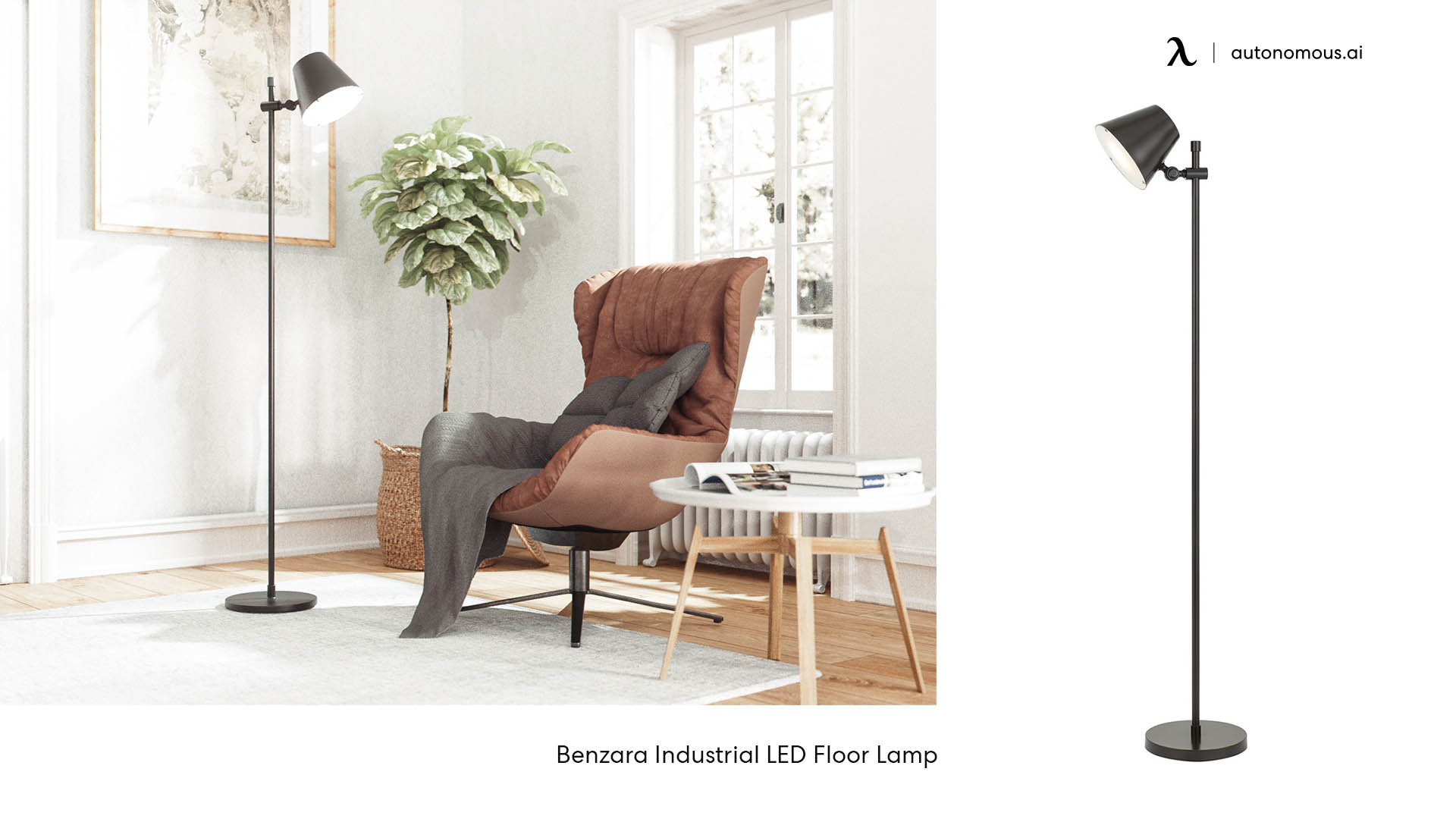 This industrial-style floor light for the living room will enhance your existing interior design. Equipped with LED lighting that saves you money and is easy to adjust. The exact amount of illumination you need. Using the hinged neck of the lampshade, you can tilt the lighting vertically to the desired angle.
LED bulbs with 12W energy savings have a crazy lifespan of 50,000+ hours. Featuring warm white light without flickering, glare, or ghosting, it is easy on the eyes.
This matte black metal floor lamp's slender shape and matte black metal finish easily match any existing space. This 62.5" tall floor lamp has a sturdy metal base that keeps it upright. 2-minute assembly and only weighs 10 lbs. Easily move the floor lamp around as needed.
3. Lamp Depot RGB Corner Floor Lamp
Soft-white LEDs in this minimalist floor lights for the living room provide a customized illumination for hours on end. A beautiful and practical lamp designed with a modern aesthetic, the Lamp Depot Corner Lamp fits easily into any corner of your house or office.
Featuring 1+ million colors and 300+ multi-color effects, the speed is adjustable. You can adjust brightness and colors in a static or dynamic mode. Customizing your favorite lighting is easy with the remote control. By touching the color ring, you can choose your favorite color.
4. Brightech Luna LED Floor Lamp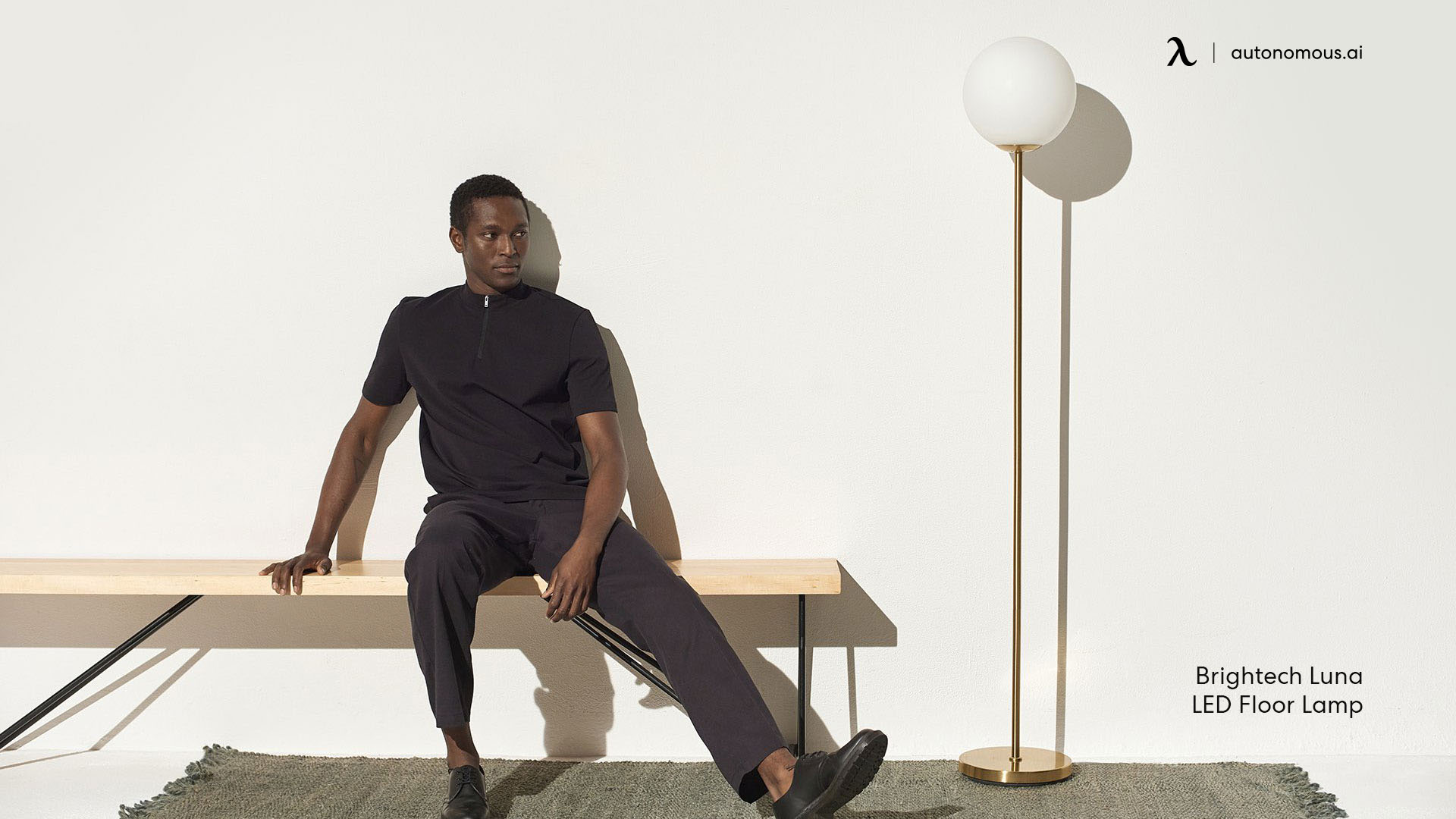 Any modern home can benefit from the Luna. Light up any room or communal living area with this powerful LED bulb that delivers 800 lumens of brightness. Thanks to its elegant brass finish and glazed glass globe, this stylish brass light will brighten up any space like a full moon.
A minimalist, elegant interpretation of the moon, this clean interpretation of the moon seamlessly fits into any modern home. Luna's metal base and heat-free LED bulb make it extremely stable and completely safe around pets and children.
This office floor lamp comes with an LED bulb which will last approximately 20 years with normal use (*3 hours per day). Compared with incandescent bulbs and halogen bulbs, you can save 90% on electricity. You can control your Luna Floor Lamp anywhere using Alexa, Google Home, or Apple Home.
5. Brightech Sphere Floor Lamp
This beautiful globe lights up your home with two LED bulbs, a brass finish, and frosted white glass. This lamp gives off a warm, beautiful light in any room and creates a feeling of comfort, coziness, and well-behaved lighting. With the sphere, you will be able to create a more inviting space without unpleasant overhead lights.
Simple stems and frosted globes create a diffused glow suitable for mid-century, modern, Asian, and contemporary décor. It is stable around children and pets because of its weighted base.
LED globes generate no extra heat, and the bulbs are packed to prevent breakage. This product is safe for children and pets since its base is weighted. LED lights don't emit extra heat, and LED globes are packed to prevent breakage.
Using LED bulbs properly, they last approximately 20 years if used for 20,000 hours. You will save up to 90% by not replacing a bulb. A simple tap of your foot turns on and off the lamp with the convenient pedal switch.
6. Brightech Logan LED Floor Lamp
A gorgeous natural linen shade, a sleek black marble base, and a sleek metal arc make the Logan a stunning addition to any interior. These Logan Floor vintage floor lamps will instantly upscale any room. This black marble table lamp, with its weighty marble base and sturdy arched metal base, exudes simple elegance.
With its 3,000K warm white light, this 9.5 Watt, 800 lumens, energy-saving LED bulb lasts for years with hardly any maintenance. Lasts longer than halogens, CFLs, and incandescent bulbs.
It measures 19" in diameter and 22" tall and is made out of natural linen. It can be projected upwards or downwards. A solid marble base with a thickness of 1.5", 14" by 11", slides easily under the couch. Even the most active kids and pets will enjoy the sturdy, wobble-free overhead lighting.
7. Dessau Turbo Double Floor Lamp
With Arnsberg Lighting, you can make your home more beautiful with meticulous German engineering, and now you can take the beauty of Arnsberg Lighting with you wherever you go with the new and innovative portable floor lights for the living room.
You can brighten up your rooms with Arnsberg's adjustable swing arm floor lamp. They provide helpful, adjustable task lighting. You can match the design with just about any decor. It comes in satin brass, satin nickel, bronze, and smooth black finishes. With a 3000K color temperature, it uses 13-Watt dimmable LED light. If you're not impressed with this double floor lamp, you can try the Dessau Arch Floor Lamp.
The OSRAM SMD LED Opto Semiconductor manufactures lights. These LED lights produce two x 1000 Lumens! Arnsberg is committed to providing you with exquisite German engineering.
8. Adesso Arc Bowery Floor Lamp
If you need a standing lamp for living room, go for this lamp. It will not take too much of your floor space. However, you have to be careful as it can fall down easily. To prevent this from happening, you have to give it a strong base like the Swoop LED Floor lamp by Brightech.
It has a marble base that is a major selling point for this lamp. This also makes it quite sturdy. If you decide to keep it in an open bedroom or living room, it will look great. It has an affordable price and is available in two different finishes.
9. Teen Harrison PB Floor Shelf Lamp
In case you are a teenager looking for a floor light for living room with some storage, look no further. Teen Harrison offers the perfect lamp that comes with some shelf space. You can keep your essential items on these shelves when you are not using them.
It has three shelves in white color along with a gold frame. There are two USB ports for you to charge your office accessories and your phone. Thus, you can also use it as a nightstand.
10. Wood Tripod LEPOWER Floor Lamp
A wood floor lamp can offer warmth to any living room office even when it is switched off. It is a budget-friendly option that is suitable for people who are looking for something that is efficient and cost-effective. Besides, it is functional and adds visual texture due to its tripod construction and linen shade.
This tall light stand for living room can go with rustic decor and an industrial design. There is a long cord that makes it easy for you to place it anywhere you want without much inconvenience. It also comes with a footswitch that enables you to turn it on hands-free.
11. Majorna LED Bulb Floor Lamp
Majorna is the best living room standing light. It is a unique and affordable lamp. This paper lantern brings a texture of airiness. Since it is perforated, it is capable of emitting diffused light.
12. Delavan Project 62 Tripod Floor Lamp
The Delavan Tripod Floor Lamp is another best floor light for living room. It is easy to style, classic, and sleek. The floor lamp has a big footprint in comparison to a one-legged lamp, but you can use it in different spaces. This tripod lamp is also quite versatile for you to use as one of your desk lighting ideas.
You can get the classic Lucite and black lamp with minute gold details. It will go with any interior style and decor. So, don't miss out on this exquisite lamp.
13. Matte White CB2 Task Floor Lamp
This CB2 Task Floor Lamp is as good as the Logan LED Floor Lamp by Brightech. Its iron frame is slightly angled with a white matte powder coating. You can tilt the shade to brighten up any space. The base diameter of this standing light for living room is over a foot, making the lamp ideal for small spaces and nooks.
14. Gen 3 Lumens' Z-Bar Floor Lamp
Gen 3 Lumen's Floor Lamp is one of the most adaptable and flexible floor lights for living room. It has an understated minimalist design that makes it unobtrusive. You can put it into different positions for certain kinds of uses. For instance, you can lower or raise it for a light reading or directional lighting.
The lamp comes with cool and warm lighting conditions. So, you can adjust it accordingly during the winter and summer months.
15. Nelson Floor Lamp
This is a minimalist floor light for living room from Nelson. It has a slim rod, but its cylindrical shape makes it stand out. Hence, it enables it to look like a part of your living room decor even when the lights are switched off.
There are small hitches in the construction, like the wobbly base. However, most of the customer feedback is quite positive. People like how bright it shines and looks like a piece of art.
16. 3-Arc Hampton Bay Floor Lamp
It is different from the other floor lamps on our list because of its three hanging lights. The lamp produces sufficient light, and the simple shades make it comfortable to work with. It helps in accentuating the living area.
Conclusion
We have listed the ten best floor lamps that can upgrade any living space and your home office setup. They not only have premium quality features but also a unique design. You can use them to make your living space look more comfortable. Therefore, you can easily transform your living space as per your requirements.
Hey, you have special pricing through your company.
Get exclusive rewards
for your first Autonomous blog subscription.
WRITTEN BYAutonomous
We build office products to help you work smarter.