Smart Products
10 Best Under Desk Footrests of 2023 (Full Review)
1,088 Views
Considering the amount of time you are likely going to be spending at your office desk, it helps to have an under desk footrest. It's not necessarily one of the most sought-after or talked-about office accessories, but it certainly enhances your ergonomic experience. 
If you've never used one before, it's the kind of thing you need to feel to experience the benefits for yourself. Office and gaming footrest options are often interchangeable, especially since the best ones tend to apply across the board. 
Today, it's all about getting you acquainted with some pretty solid alternatives to a foot stool for desk use and why you even need one. 
Why You Need an Under Desk Footrest

The need is synonymous with a footrest's benefits. Remember that this is the core principle of ergonomics. It's the synergy between an individual, the equipment, and the work environment, to create the best possible experience.
This feeds into the first benefit of a foot rest, which is productivity improvement. What you may not realize is proper support and posture translates to greater comfort and getting more done. 
With your feet aligned the way they are, you end up with a neutral posture, providing the required support for your hips, back, shoulders, etc. 
Blood circulation can be one of the other challenges that sitting in an office can create. You may feel the discomfort in your legs from time to time, but there can be more intense and potentially long-lasting effects, which would be in your best interest to avoid. 
The angle at which your feet are positioned when you are using an adjustable foot rest mitigates the challenge of blood flow issues and even potential swelling. Note that this applies whether you keep your feet in a static position or choose to move them around from time to time. 
Working at a desk comes with a natural level of fatigue, and there is usually not much of a solution to that problem. However, your under desk footrest, especially if it has adjustable functionality, allows you to shift around healthily, which is a great way to eliminate fatigue. 
Best Under Desk Footrests For Your Consideration
Now, it's time to jump into the options you have, which should allow you to effectively choose whatever you think may be the best footrest for desk use.
1. Capra Leather Foot Rest Cover
The Capra Leather foot rest cover comes in with dimensions of 16.9 inches by 9.8 inches in its medium size and 23.3 inches by 9.8 inches in its large size. The material used is full-grain leather. 
This is an interesting design featuring a leather cover, as well as a top bag and bottom bag to fill it. It's recommended that you use wool, buckwheat, or paper in the top bag while using sand or rice in the sturdier and heavier bottom bag. Of course, the leather exterior encapsulates them both. 
Your posture, circulation, and tired feet are all tackled independently by this strong design.
The pros include the feel of the leather, focus on different fatigue challenges, and the incredibly long lifetime/five-year warranty for the cover and internal bags. 
On the other hand, some may find it a bit expensive, and the idea of filling two bags may not sound too appealing. 
2. ErgoFoam Foot Rest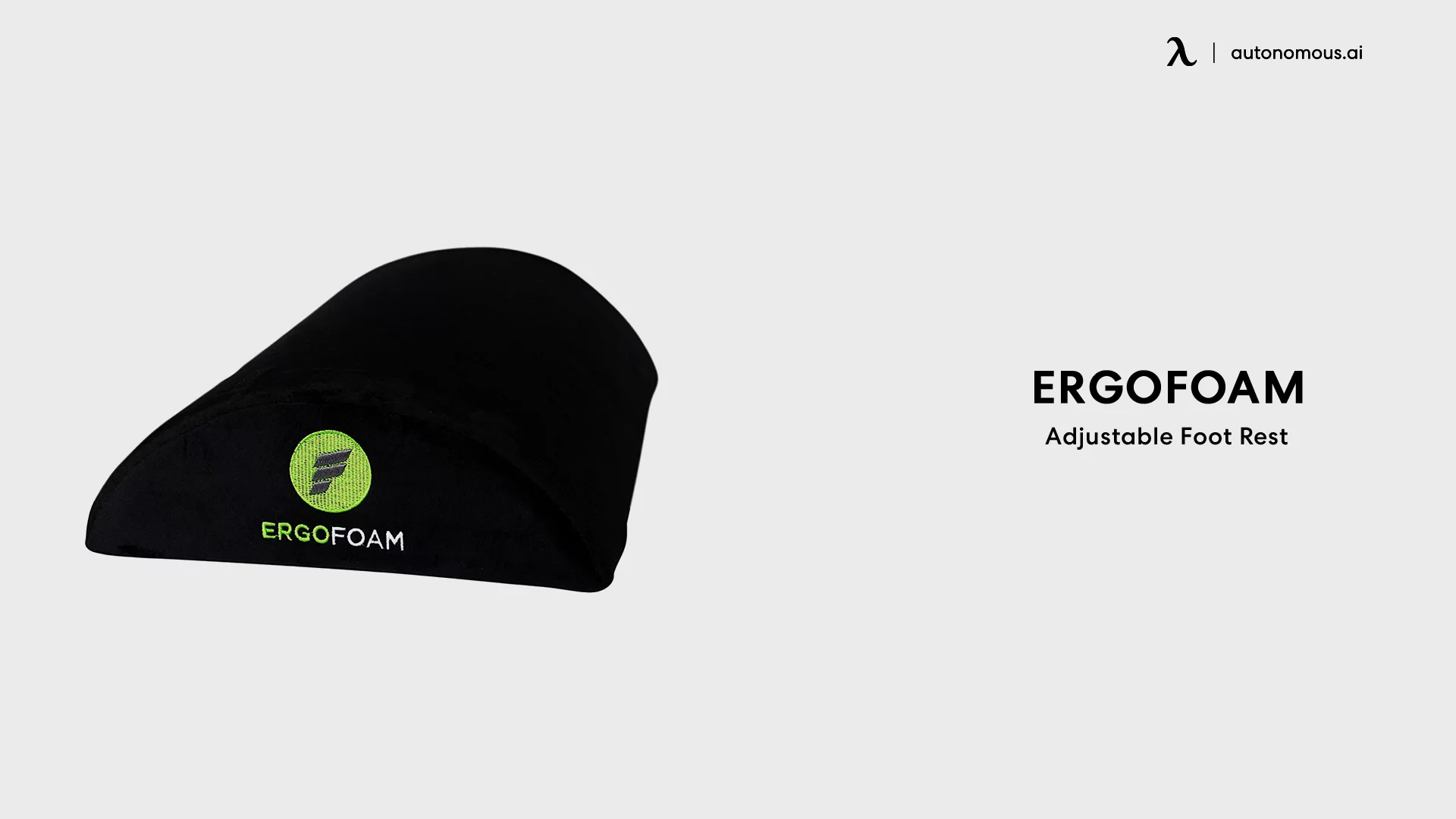 ErgoFoam makes its second appearance on this list with its adjustable footrest. This one measures 17.3 inches by 11.8 inches, and features high-density foam, adjustable height, and a pet-friendly breathable mesh cover. 
The design is recommended by a US chiropractor, and it's not too hard to see why that is the case. It wicks moisture away thanks to the mesh cover keeping your feet cool and dry all day. Like its counterpart, you can flip it and use it as a rocker to ensure better circulation.
On the side of the pros, there is adjustable height, a lifetime warranty, healthcare assurance from professionals, and it's well-balanced price. 
The only real con of this ErgoFoam foot rest is that you do need to take your shoes off to truly enjoy the benefits. 
3. Mount-It! Adjustable Foot Rest
Finally, there is the Mount-It! adjustable foot rest. Its specs include height settings at six levels and a weight capacity of 55 pounds. You are getting 15.7 inches by 9.85 inches here, and it's secured by a 10-year warranty. 
Unlike some of the other designs, this one has a metallic frame with a padded surface, which means you get the benefits of durability and slip prevention. 
On the side of the pros, it's very strongly built, the warranty is long, and the height adjustments provide support to many leg lengths.
On the side of the cons, it can be a little aesthetically awkward.
4. StrongTek Foot Rest
The StrongTek footrest features a 4.5-inch height, weight of 3.6 pounds, and surface dimensions of 17.7 inches by 10.8 inches. Its composition is Lauan hardwood plywood and it can support a maximum weight of 350 pounds. 
While not adjustable, the material composition makes it an incredibly sturdy option. Additionally, it's a lot wider than you would probably imagine. Therefore, it makes up for the lack of adjustability by allowing you to comfortably sit in a host of positions. A textured non-slip surface helps with stability too. 
As far as the pros go, there is an undeniably large resting area. Additionally, it's very durable, thanks to its composition. Finally, not only is it a foot rest, but you can also use it as a rocker if you so desire. 
If there are any cons in the design, it would be the unfortunately fixed height that is a product of the lack of adjustability. 
5. Eureka Ergonomic Adjustable Footrest
The specs on this Eureka under desk footrest include a 3.4-inch height, weight of 4.7 pounds, and surface dimensions of 15.3 inches by 11.8 inches. As the name implies, it provides adjustability with a floating tilt angle of between 20 and -20 degrees. 
Textured grooves are present that help to massage the feet, and there is a tremendous level of stability present. Though it's not lockable, a lot of resistance is built into the design, meaning it's not going to be doing any unwanted movement. If you want the position to shift, you certainly need to apply the necessary force with your feet. 
As far as composition goes, a bronze metal frame with a rubber lining is exactly what the doctor ordered. 
The pros include the well-optimized and accommodative tilt angle, the texture and surface that provide a foot massage capability, and the high-quality construction. 
As far as cons go, there can be some sliding on wooden floors, and while the tilt angle can be adjusted, no height adjustability is present. 
6. Balance 1 Ergonomic Footrest
The Balance 1 ergonomic footrest comes in with a weight of 3.91 pounds and dimensions of 15.83 inches by 12.17 inches. 
Keeping your feet in an optimal and elevated position is the intention of the design choice here, which is aimed at reducing the amount of leg fatigue you deal with. Between the pedals, you will find three massage rollers, which contribute to the stimulation of foot movement. 
Interestingly, you can set different angles for each foot and rock each in different directions at any time. This is not typically the case with under desk footrest designs. 
It's all assembled out of the box, meaning that you have no work to do in that regard. Note that it is best suited to protected flooring such as that which features a carpet or mat. 
The pros of this adjustable footrest include the lack of installation, affordable pricing, firm tilt angle setting, and the ability to rock different feet in different directions. 
As far as the cons go, it can ruin uncovered floors, and moving the pedals can be a bit noisy. 
7. Fellowes Footrest
This is another best footrest for a desk you can pick. The Fellows footrest is known as being one of the best rocking options available. Its surface dimensions are 16.5 inches by 9.5 inches. A height adjustability setting is present that runs between 2.75 inches and 4 inches. There is a weight of 2.4 pounds, and a one-year manufacturer's warranty is provided. 
Apart from propping your feet up, this Fellows ergonomic footrest design also encourages you to keep your feet moving for proper circulation. Laying your feet on the footrest or rocking are both easy enough to do, thanks to the center curving and flat-ended legs that support the design.  
It supports people from short to tall effectively, and no complicated knobs are present where the adjustable design is concerned. Note that it's very lightweight, thanks to its plastic and rubber composition. 
The pros include the easy switch between flat-footed and rocking positions, the sturdy build quality and anti-slip surface, straightforward adjustability, and the presence of a one-year warranty. 
On the side of the cons, plastic and rubber mean that there are durability concerns. Additionally, it does not support standing as well as some of its competitors do, which is not good for those who have standing desks. 
8. HUANUO Adjustable Foot Rest
The dimensions of this under desk footrest here are 17.5 inches by 12.3 inches. Additionally, two height levels are present, as well as a textured surface. 
Arguably, the biggest appeal here is the affordable price without too much of a compromise on quality. Apart from the dual-height level feature, there is also a 45-degree adjustable angle range, which you can lock in whatever position you desire. 
Gentle geometric round bumps are present to help improve your blood flow with foot massaging capability. Surprisingly, it stands up to the task given its price. 
On the plus side of pros, it's incredibly cheap, allows angle locking, is stable and durable, and the massaging works well once your shoes are off. 
The biggest con of this ergonomic footrest is the assembly process, which is not typical of some other competitors, and not everyone will find it straightforward. 
9. ErgoFoam AboveTek Footrest
This is one of the best footrests for desk in the market. The ErgoFoam AboveTek is next on the list, and its under desk footrest comes in at 17.3 inches by 11.5 inches. Some of the key features include the high-density form, rocker functionality, and adjustable height. 
The surface is incredibly plush, and you can choose to adjust the height or manipulate the base to make yourself as comfortable as possible. You can choose different sizes, which increases the level of appeal to a broader audience. 
Feel free to choose either a velvet or mesh exterior, either of which encapsulates the high-density foam well, providing exactly the amount of ergonomic support that you need. You can flip the under desk footrest over and use it as a rocker if you so desire. 
As far as pros go, the plushy surface is comfortable, being able to choose between two external materials is a welcome design choice, all-day support is offered, and it certainly improves blood flow. 
Their only con of this adjustable footrest is that some may find the price to be a little intimidating. 
10. Everlasting Comfort Office Footrest
Another well-regarded option is this design from Everlasting Comfort. Its dimensions are 17 inches by 9.5 inches, and it's incredibly lightweight at 1.1 pounds. A couple of its key features include its ergonomic teardrop design, non-slip bottom, and memory foam. 
It's very good at reducing the amount of foot pressure you experience as you sit, meaning hip pain, leg pain, and blood flow challenges are all tackled at the same time. The ergonomic teardrop design leads to natural leg elevation, allowing you to take advantage of optimal positioning for your feet. 
Using your body heat, it contours to the feet while softening and providing greater support over longer periods. The breathable cover prevents it from trapping too much heat and making things uncomfortable. 
The pros here include the lessened foot pressure, the ability to adjust to your foot shape, the machine washable cover, and the balanced price. 
On this side of carbs, if your shoes are not flat, then this under desk footrest option is not going to work too well with you. 
Final Remarks
How do you feel after reviewing all the information about the ergonomic footrest options above? Certainly, you can now appreciate the benefits of having one, especially having seen 10 of the best options on the market. 
Additionally, you may want to take advantage of the Autonomous employee purchase program where possible. As an employee, you can use it to order office furniture and have it delivered to your remote location. Conversely, as an employer, you can save on the office fixtures and office accessories that you were probably going to buy anyways. 
How it works is simple. Businesses register with the Autonomous EPP, and employees can then use the dedicated web page to make their orders. Management users get the final say on approval, and Autonomous handles the delivery.
Keep up with Autonomous news
Stay informed, stay inspired with our new blogs.
WRITTEN BYAutonomous
We build office products to help you work smarter.