Smart Products
Top 10 Black Desk Mats & Protector Pads for Minimalist Setup

Autonomous
|
Jan 17, 2022
1,663 Views
Desk pads, also known as desk blotters, aren't as ubiquitous in offices or workstations as they once were, but they're still a good alternative to think about what you're searching for something functional or stylish. A black desk mat gives a significant writing area than your desk's firm surface, whether used alone or in combination with regular blotter paper, and they can safeguard your desk or conceal any damage it has already sustained.
Desk pads are a quick and easy method to improve your productivity by safeguarding and organizing your desk. Desk pads, which come in various materials and patterns such as transparent plastic, felt, and authentic leather, instantly transforms your desk into a more pleasant and elegant workspace. We invested more than a week studying top-rated items from the leading accessories manufacturers to locate a perfect desktop pad for any style and budget.
Even when you're not writing on them, they can function as a fantastic non-slip platform for your computer or keypad, and that they can come in proportions large enough even to act as a reasonable replacement for a mouse trackpad.
List of 10 Amazing Black Desk Mats for Minimalist Setup
There has never been a better moment to outfit your home office setup to guarantee your quality and performance, especially as many organizations are turning to work remotely. A nice desk mat or mouse pad, customized to meet your preferred program's unique needs, is an often-overlooked key component of a healthy workstation setup. Here are ten desk mats to consider:
1. Topographic Desk Pad by Deskr
Deskr Topograph Deskpad's mission is to provide high-quality items. Even with that in mind, we introduce to you the Canyon. This collection includes the Grand-Canyon-inspired pattern on the desk pad, which looks pretty. The black desk pad represents the Colorado River by the wide vein flowing from beginning to end of the desk-pad, whereas the other lines reflect the Grand Canyon's varying heights.
2. Satechi Eco-Friendly Leather Deskmate
It's great to know that even when you buy sustainable materials, you're going green, and this black and white desk pad is a wonderful large desk mat made with legally and morally sourced leather that hits the mark. It is a natural solution for a contemporary workplace setting, as it is simple to clean and has a non-slip bottom.
3. Desk-Pad by KINGDOM
From various desk pad sizes, this desk pad is a mid-sized display mat with a textured upper portion for aligning people's writing. It's made of genuine imitation leather to make a great impact. That is a reasonable quality desk mat at a decent price that may be used as a mousepad or writing mat, and the sturdiness it provides is comparable to genuine-leather equivalents.
4. Dacasso Classic Desk-Pad
The Dacasso Classic is a polished leather workstation mat trying to cut professional style and a simple yet sophisticated design that may add a touch of elegance to any office desk. It is the ideal desk mat for writing or scribbling notes on letters and paperwork, thanks to a velvet backing that prevents slipping and sloped side borders.
5. Leather Desk Pad from Grovemade
The Grovemade suede large black desk pad is a handmade desk pad made out of high-quality materials with a layered composition of cork desk pad and leather for a sensuous surface and a robust base. The comprehensive vegan leather desk mat will age better, and the pad can also be used as a trackball mouse pad and a writing surface.
6. Ktrio Gaming Pads
Ktrio's gaming pad is a super-sized workstation mat that would fit a massive home gaming setup, and it comes with a spill-proof desk cover to protect your gear in the case of an accident. The extra-wide layout is ideal for use with low-DPI mice. It is an excellent choice for large tables and is ideal for FPS enthusiasts or people who have many USB devices connected at any given time.
7. PLENTY Desk Pad
This PLENTY suede black office desk mat has a mosaic leather surface, which, when paired with its silicone base and large surface area, results in a useful and sophisticated product. The cushioned leather doubles as a trackball mouse pad for your desktop or laptop and gives wrist support while typing.
8. Grovemade Wool Desk Pad
Adding a change to their normal desk pad, this black desk mat has used a wool texture rather than just a traditional leather coating here, offering something cozier and more comfortable than strictly elegant. This excellent wool wrap will pamper your wrists, and the real leather tag adds a great finishing touch.
9. Desk Protector by BUBM
This desk mat protector is a multi-purpose black desk mat with a big dimension that may protect your glass or hardwood desk from a variety of damages and scratches. You'll discover a protector that suits your desk precisely characterized by three sizing possibilities, and the gorgeous array of moveable hues make for a fun bespoke desk mat strategy.
10. Dacasso Classic Black
This black leather desk pad is a version of the manufacturers' traditional brown leather classic, removing the ridged sides for an intuitive design with a wool back and a suede surface. This huge desk mat is cross-functional and multi-faceted, with hand-pulled edges that ensure the leather area is as crisp and tidy as possible.
How to Choose a Proper Black Desk Mat
When choosing a desk mat, the first thing to consider is the bottom texture and its capacity to endure spills. Synthetic leather and vinyl are easier to keep clean, but they're still not as cool or comfortable as PU leather or felt. If you choose one of the final two, use placemats for your drinks and snacks because they are quickly damaged and difficult to clean.
Several black desk mats can also serve as a reliable mouse pad; nevertheless, some wired and wireless mice may be affected by felt desktop pads. Consider a large high-performance mouse mat from a top-tier brand if you're an obsessive gamer who's fascinated with speed and precision. It's not always easy enough to find the proper desk items to complement your home office's taste.
There are several black desk covers to pick from, especially if you're seeking a fashionable (but useful) mat to safeguard your desk surface. When deciding on the ideal desktop pad for your arrangement, think about how you work daily. Some desk covers are more appropriate for gaming, while others are ideal for writers.
Video ads for product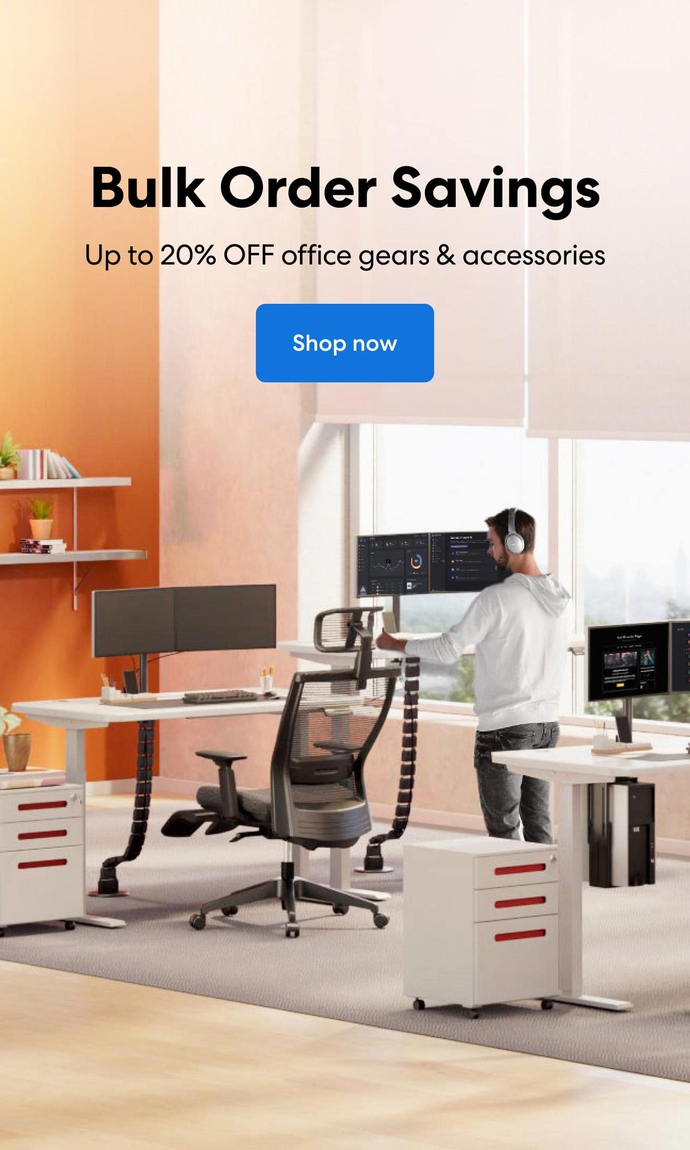 Subcribe newsletter and get $100 OFF.
Receive product updates, special offers, ergo tips, and inspiration form our team.