Smart Products
Top 10 Black Office Desks for Elegant and Sophisticated Office

Autonomous
|
Sep 8, 2023
1,123 Views
One of the things every office needs to be considered elegant and sophisticated is a high-quality black office desk. This piece of furniture will be the centerpiece of your entire office, and all other furniture will be chosen to match it. 
Whether you choose a stand-up desk or a regular computer table, as long as it is black, it is sure to catch the eye. This is why reputable office furniture suppliers, such as Autonomous, always have a wide range of black computer desk options to choose from. 
Why are black desks so different from other types of computer desks? What makes this color so unique and suited to a modern sophisticated office? These are the questions this article will answer. 
By the time you finish reading, you will know why choosing a black computer desk may be the best option for your home office. You will also get a chance to explore 10 great desk options, including four top-of-the-line black desks from Autonomous. 
Why Choose Black?
Over the years, as office décor has continued to evolve, black office furniture has developed into a sign of sophistication and elegance. By simply adding a black home office desk and similar bits of furniture, an office will immediately look more intimate and formal, which is a great look for a modern office.
Easy Mix and Match
When black desks are matched well with other dark-colored furniture and walls, the room can achieve a lot more depth than when bright colors are used. This timeless look will continue to look fresh and exciting many years from now. 
A great contrast can be achieved when, for example, a black wood standing desk and matching chairs and cabinets, are placed in a room with white walls. The stark difference between these opposing colors will make your black work desk pop out, immediately drawing the eyes of any visitors.
Brand Recognition
Many companies are also beginning to realize the importance of using black tones to highlight their logos and boost brand recognition. If you want your clients to notice your company logo, placing it on a black desk is one of the best ways to do it. 
In modern pop culture, black is one of the colors that is considered, cool, sexy, and edgy. If you are trying to attract the attention of younger clients, using black furniture and dark-colored walls will create the perfect timeless appeal that this generation appreciates.
Versatility
Lastly, black is a neutral color, making it perfect if you want a bit of versatility in your office décor. If you have a black computer desk, you are free to choose a wide range of colors for the rest of your furniture because black goes well with just about anything. 
It is for this reason that, if you are in the market for a sophisticated and elegant office design, start by buying a black work desk and everything else will fall into place. Luckily for you, you do not have to search very far because Autonomous has some of the best black desks you will find on the market. 
10 Best Black Office Desks
Have you decided that a black office desk is a must-have item for your office in 2023? Well, you have come to the right place. Whether you are looking for a huge black computer desk with hutch features, or you just want a regular black standing desk, one of the following options will be perfect for your needs. 
1. Autonomous SmartDesk Core
If you are looking for the ultimate black office table or home standing desk that will be the envy of all your colleagues, the SmartDesk Core is a great option to consider. The desk is made of solid steel and can lift 270 pounds with ease. It comes with a dual electric motor that will allow you to easily sit or stand whenever you need to.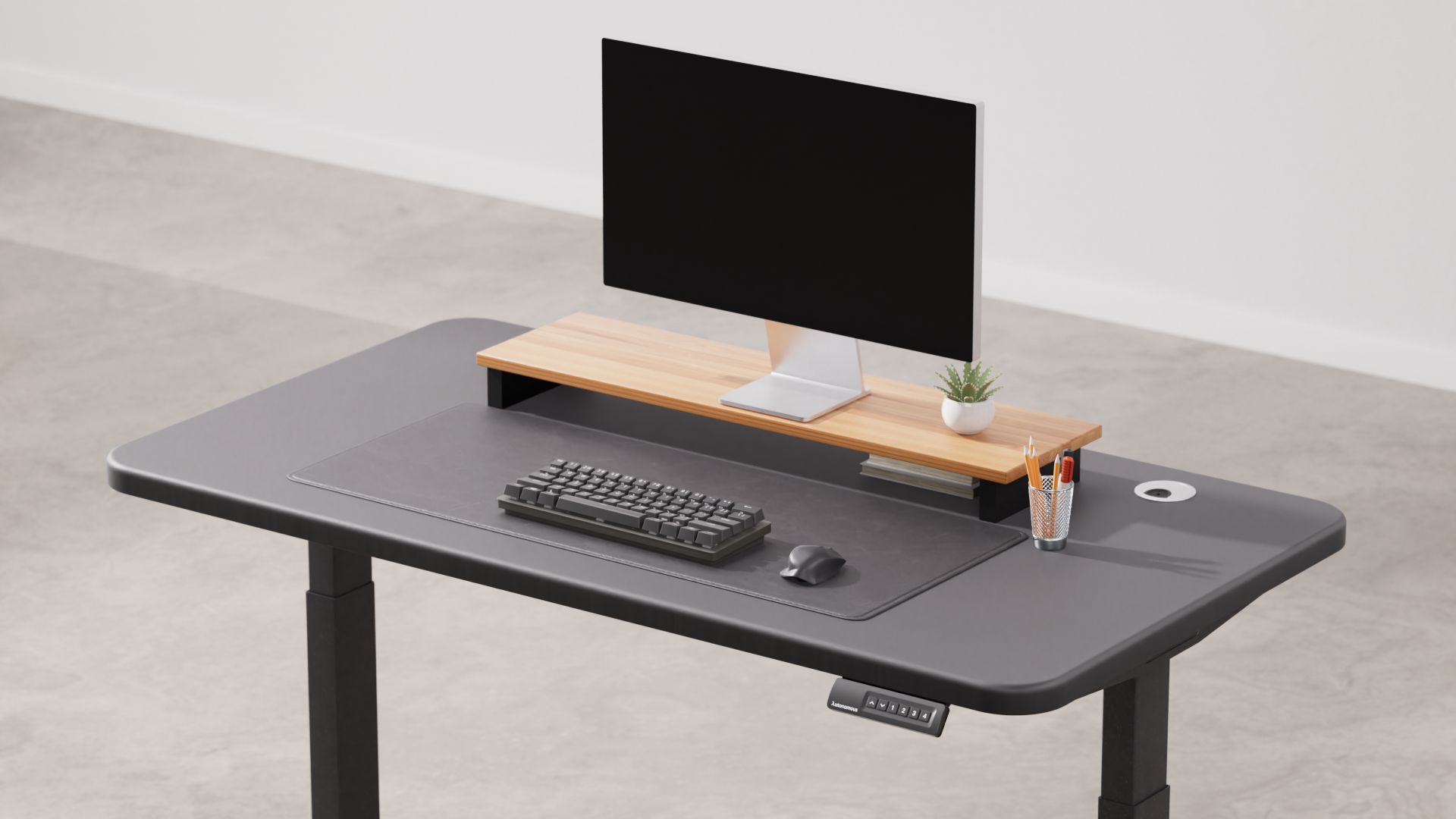 Autonomous SmartDesk Core
Pros

Cons

Powerful dual electric motor
Only available in two colors
Wide range of height between 29.4" and 48"
Five-year warranty
2. Autonomous SmartDesk Pro
The Autonomous SmartDesk Pro is the type of black home office desk that you buy when you are looking for a smart desk that will look good in just about any office. It has an upgraded dual electric motor that is ultra-quiet to ensure you do not disturb your colleagues while making height adjustments.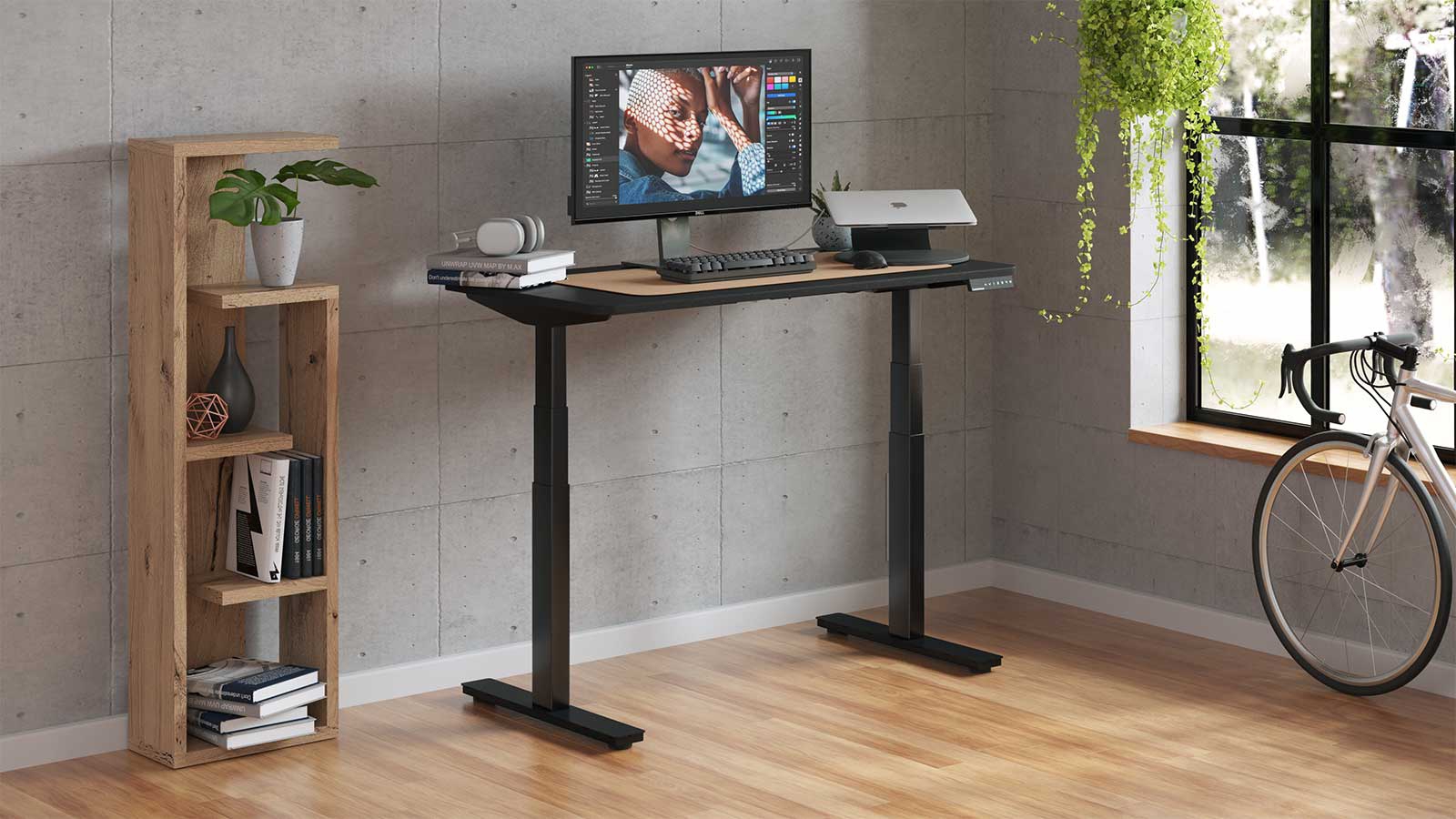 Pros

Cons

Very quiet 40 dB motor
Does not have drawers for additional storage
A load capacity of 310 pounds
Natural wood tops for a classic look
3. Autonomous SmartDesk Connect
The ultimate combination of a black office desk and modern technology is the Autonomous SmartDesk Connect. You can easily connect your phone or other device to the desk for better control. The desk has a very useful anti-collision feature to avoid costly accidents when you adjust the height.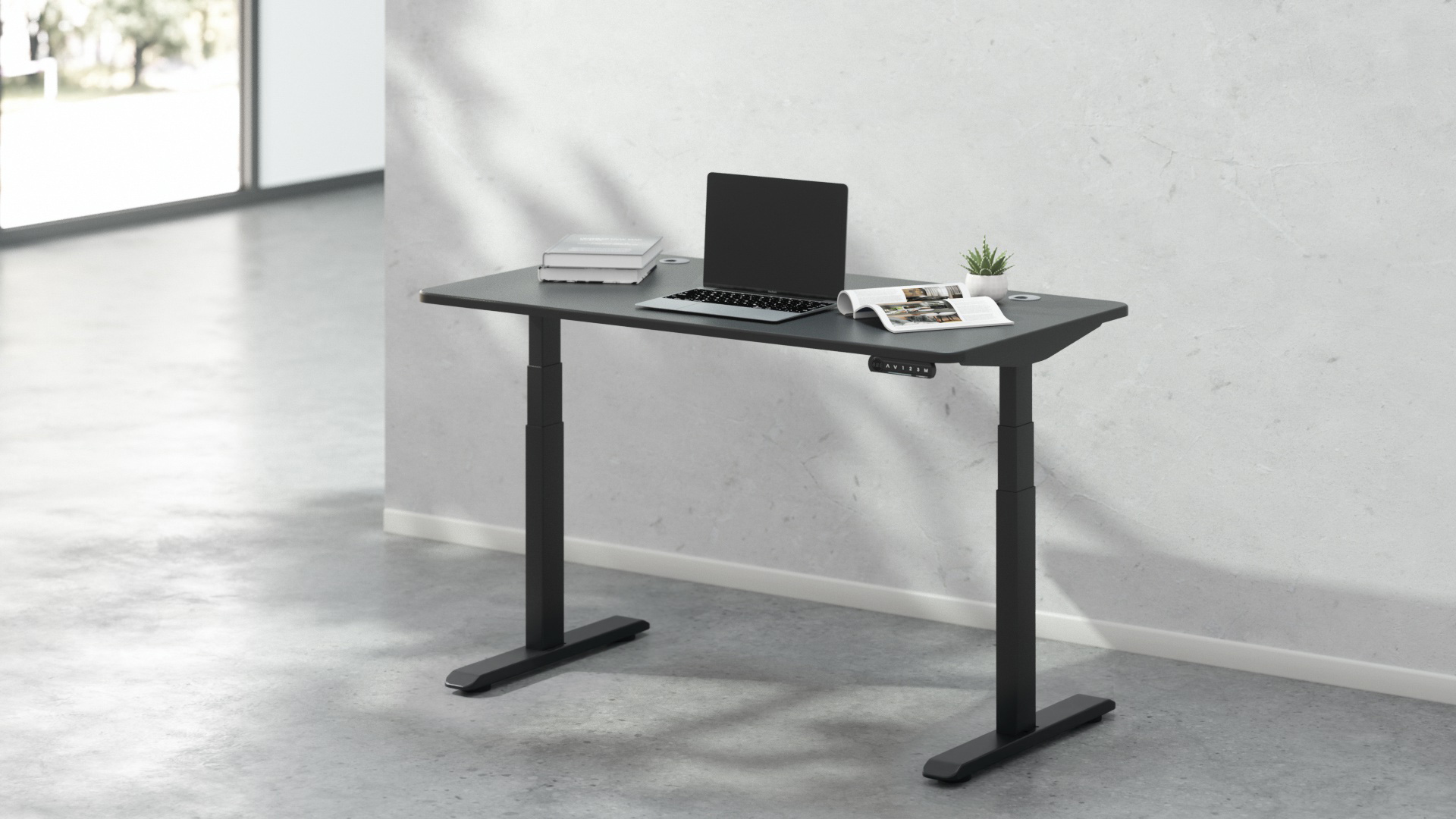 Autonomous SmartDesk Connect
Pros

Cons

Can connect to your phone through an app
Limited range of colors
Anti-collision feature
Scheduled sit-stand sessions
4. Autonomous SmartDesk Corner
Do you need a black computer desk that you can easily tuck away in one of the corners of your office? Try the Autonomous SmartDesk Corner. This L-shaped standing desk is perfect for small offices, and can easily accommodate two people at the same time. It also has an improved load capacity of up to 400 pounds.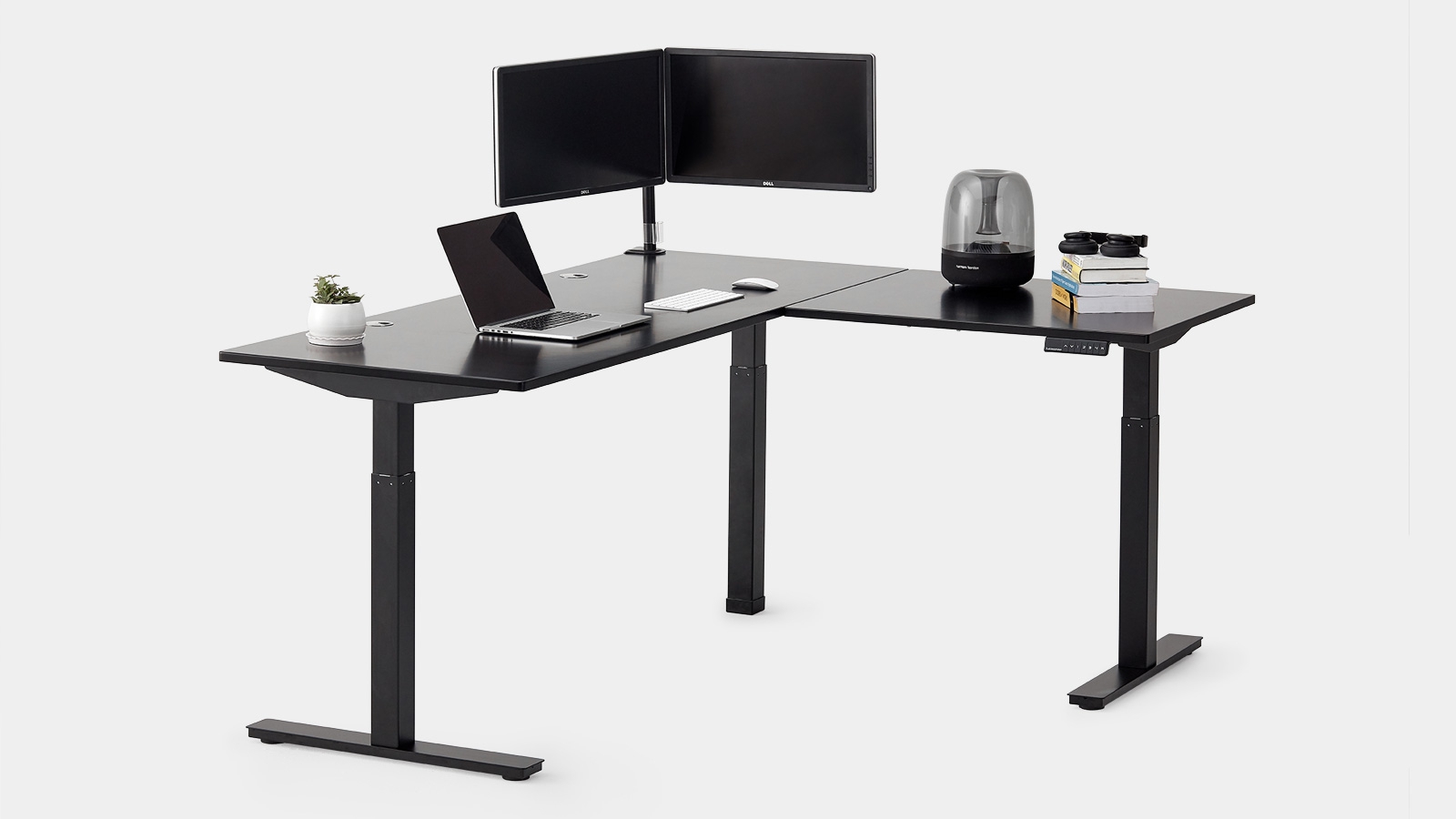 Autonomous SmartDesk Corner
Pros

Cons

Accommodates two people
Not ideal for the center of the room
Brings all accessories with reach
Double the work-space
5. Walker Edison Ellis Modern Glass Top L-shaped Corner Gaming Desk
When you combine a black home office desk with a glass desk top, you will know you have something very special on your hands. The Walker Edison Ellis Modern L-shaped desk is the perfect desk to make your office stand out from the rest. This gaming desk is highly versatile and can easily double as an office desk when needed.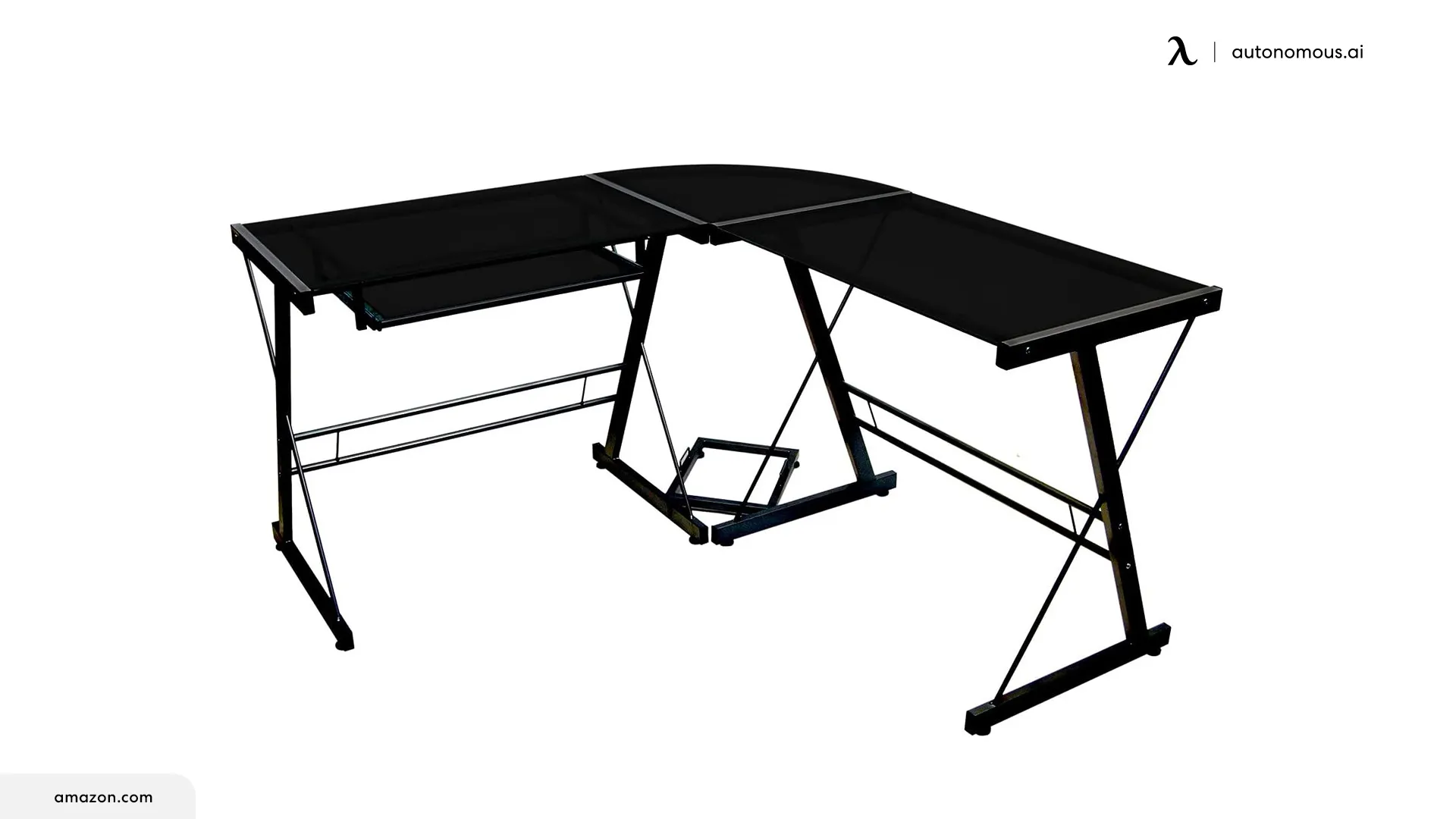 Walker Edison Ellis Modern L Shape Desk
Pros

Cons

Beautiful glass top
Its glass top can be difficult to keep clean and smudge-free
Suitable for tight spaces
Provides plenty of surface area to work
6. SecretLab Magnus Metal Desk
The Magnus metal desk from SecretLab is a simple back office desk in terms of design but has a lot to offer users. It is large enough to accommodate two monitors, making it a good choice for gamers and programmers. The steel frame is also strong enough to hold up to 220 pounds.
Secretlab MAGNUS Metal Desk
Pros

Cons

Can come with magnetically attached accessories
Assembly requires at least two people
Robust construction
Wide surface area
7. SHW 55-inch Height Adjustable Standing Desk
The SHW 55-inch standing desk is a black office table that offers great value for money. It comes with a wide range of useful features, such as height adjustability and a programmable keypad. The 55 inches of surface area is also more than enough for any regular computer desk.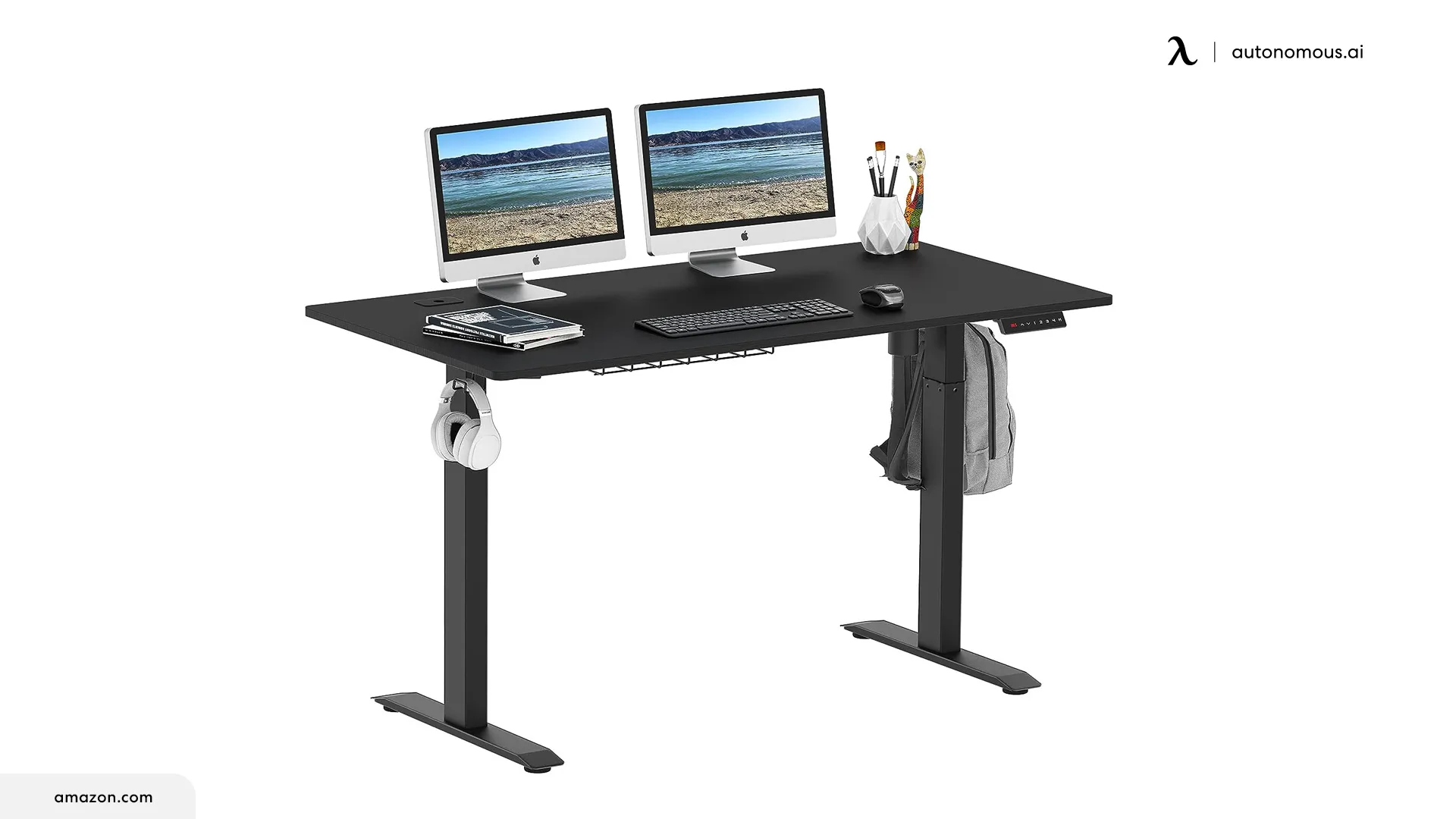 SHW 55-Inch Large Standing Desk
Pros

Cons

Plenty of space for your monitor and other accessories
The actual desk may be slightly different from the picture
Comes with a cord organizer
Programmable keypad
8. Cubiker Computer Desk 32"
If you are looking for a black computer desk that will fit in a very small home office, try the Cubiker Computer Desk 32". This small computer desk is an affordable alternative for those working on a tight budget but still want a black desk that looks good in a modern office.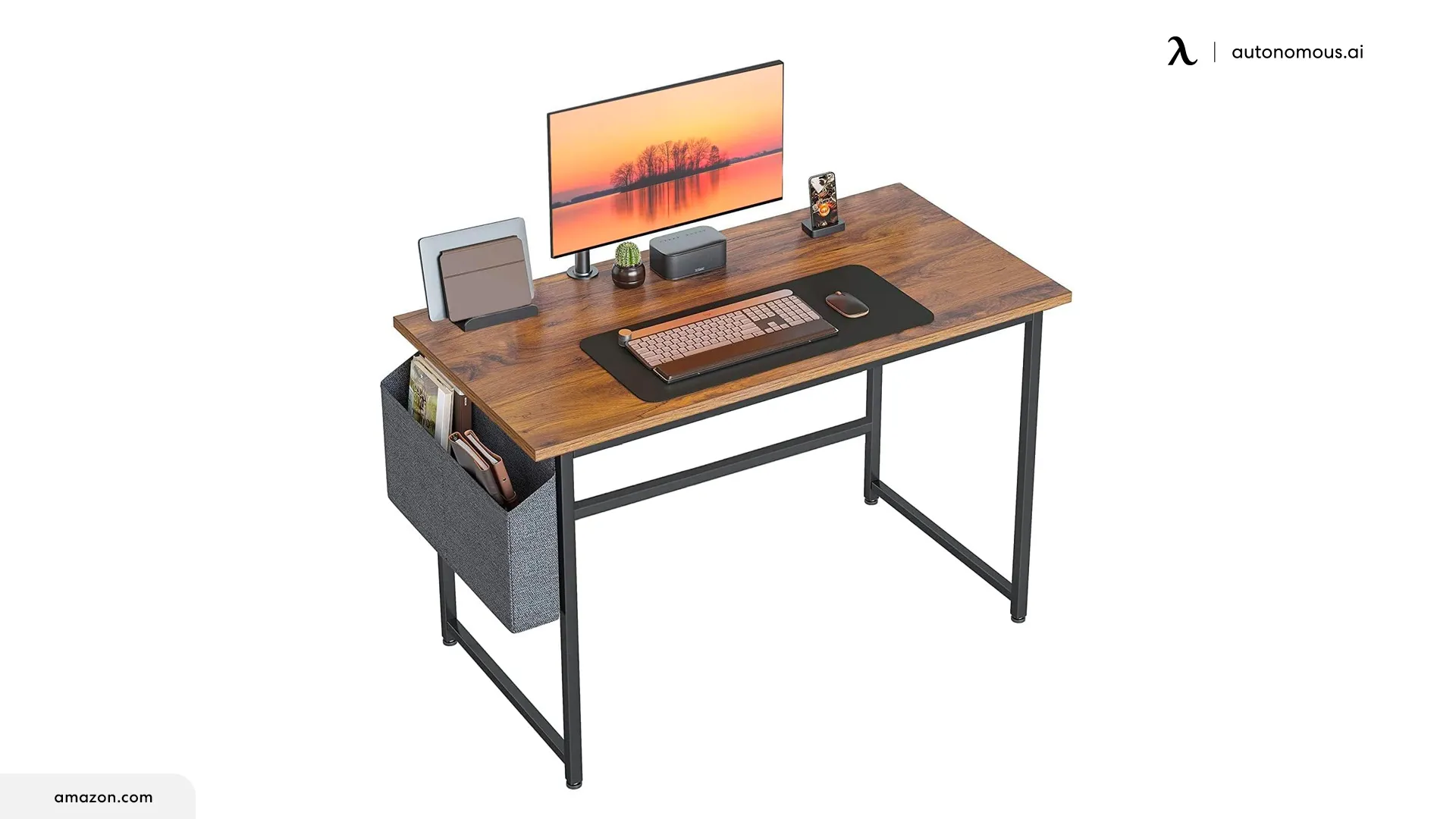 Pros

Cons

Small enough for a tiny office
Only has space for a single monitor
Enough legroom for comfortable sitting
9. Vivo 43" x 24" Manual Height Adjustable Desk
Are you looking for a black office desk with more than enough space for your monitor, keyboard, mouse, and other accessories? Try the Vivo 43" X 24" manual height adjustable desk. This desk is made of good quality material that is backed up by a three-year warranty to give you peace of mind.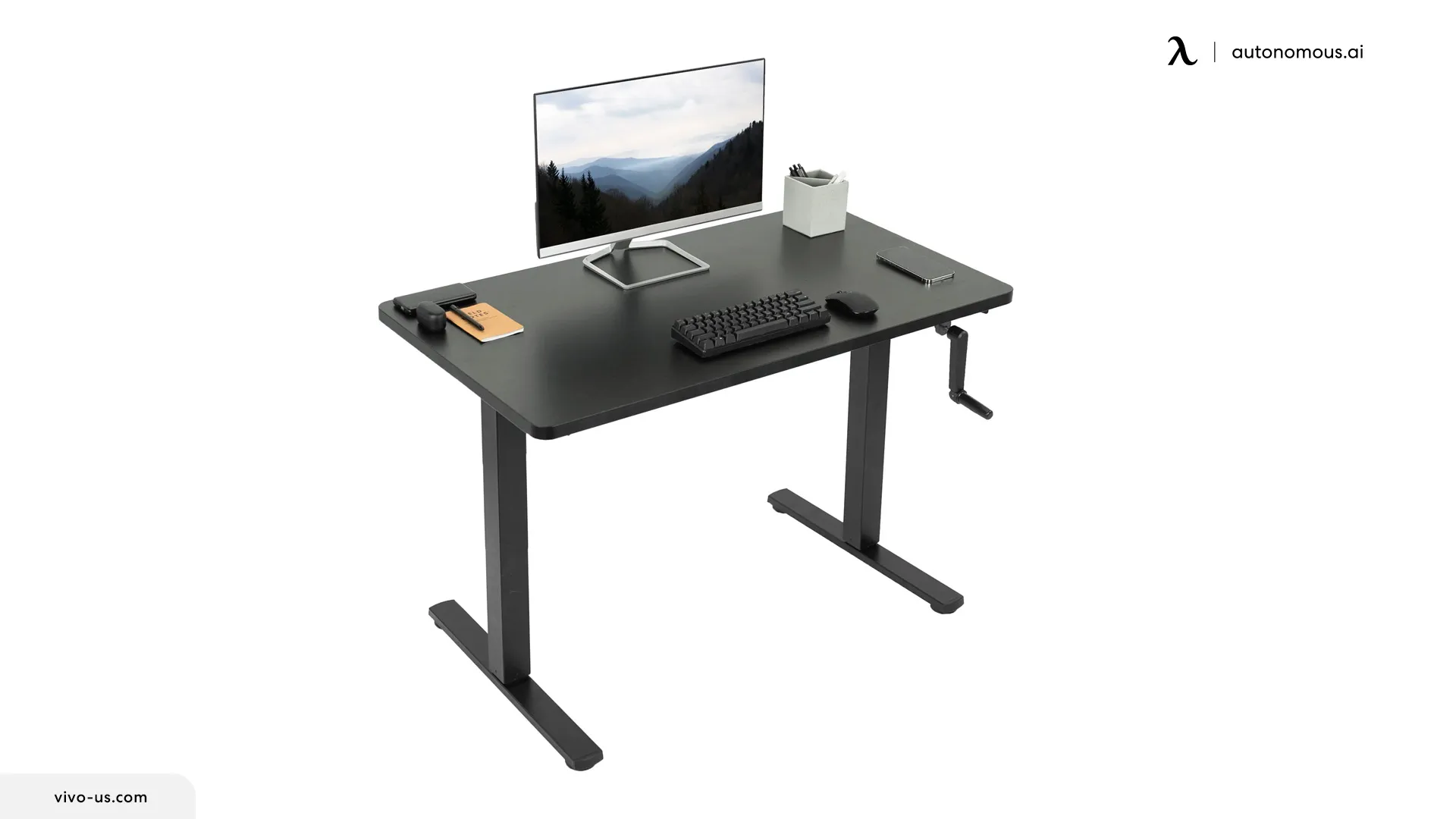 Vivo Manual Height Adjustable Desk
Pros

Cons

Affordable
Manual height adjustment
Large surface area
Great warranty
10. Casaottima L-shaped Desk
If you are a fan of L-shaped desks, Casaottima has the perfect black office table for your needs. This desk has a movable monitor shelf which means you can choose to set up your computer anywhere you want. The desk is also very easy to install.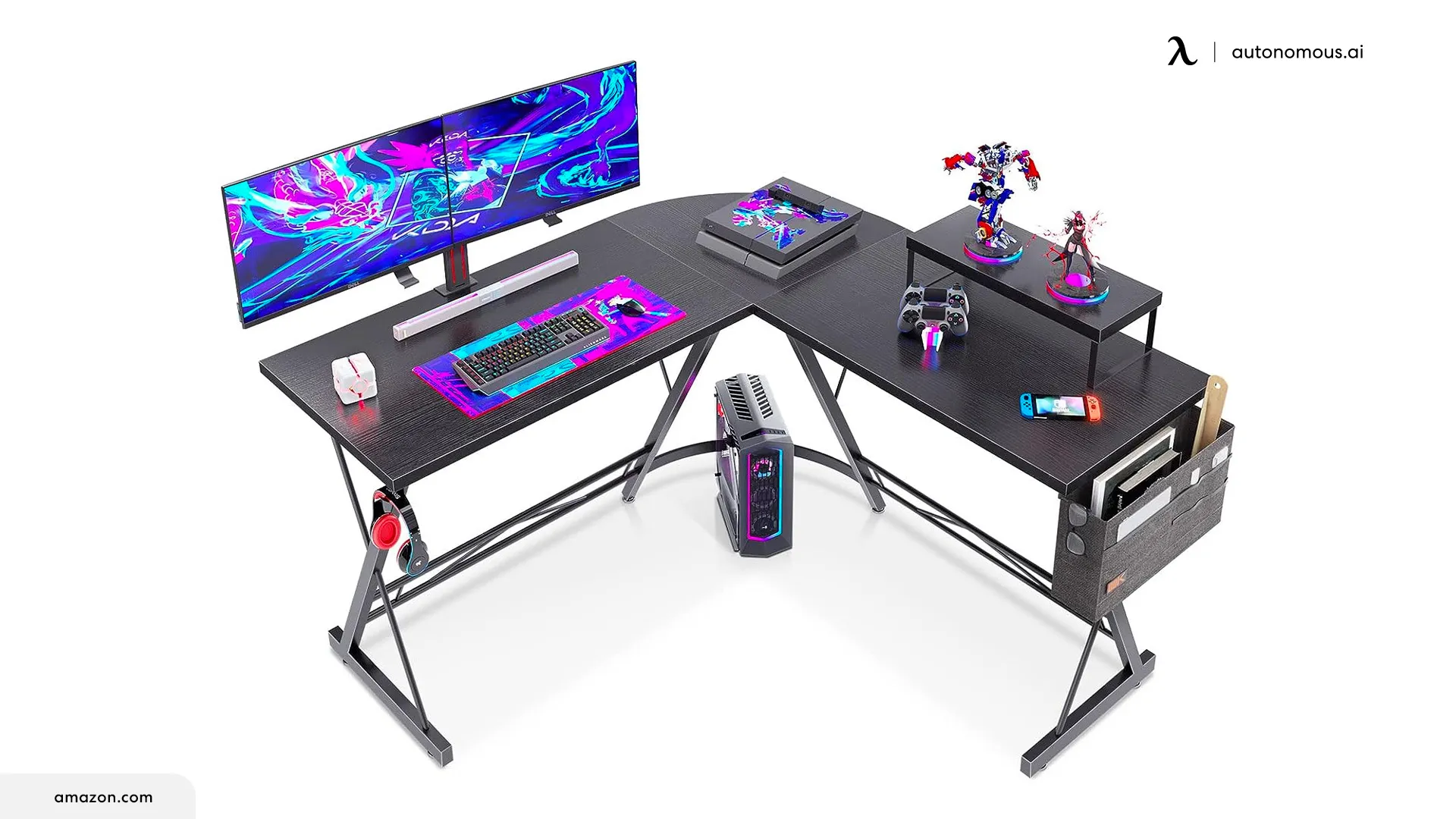 Casaottima L Shaped Gaming Desk
Pros

Cons

Awesome three-year warranty
Flimsy rails make the desk prone to wobbling
Beautiful design
Movable monitor for maximum flexibility
Coordinate Black Office Desks With Other Furniture Pieces in the Offic
A black home office desk is very easy to pair with other types of furniture because of the versatility of this color. With the right desk setup, you can coordinate your black computer desk with just about anything else. 
If you already have a black work desk or are thinking of buying one, and you are not sure how you will coordinate it with the rest of your furniture, try any of the following: 
Go All Black
An office full of nothing but black furniture may seem a little intimidating at first, especially if you include dark-colored walls too. However, once you see how it will look when it is all put together, you are likely to fall in love with it. 
One thing you have to remember and take advantage of is that not all black colors look the same. You can have a shiny, glossy black or a dull, matte black. Playing around with different textures will allow you to have an office full of black furniture that still highlights the differences in each item. 
Try a Deep Contrast
One of the most popular ways of coordinating a black desk with other types of furniture is to go for a sharp contrast with white-colored furniture and walls. This creates a modern, dichromatic look that relies on the differences between the two colors. 
If you feel that black and white is too boring, you can try various combinations that have the same contrasting effect, such as black and red or black and yellow. Such styles are great for offices that also double as game rooms.
Black Goes Well With Natural Wood
Have you ever considered combining black with natural wood? This is a timeless color coordination trick that many furniture manufacturers use. You can find many desks that are made of a combination of both black metal and natural wood, and the result is often amazing. 
Add Some RGB Lights
Too much black in the office tends to get a bit boring if the décor is not done properly. If you feel you need to inject a bit of life into your office to help with the coordination, you could try going for an RGB-inspired black desk setup. A few lights here and there is enough to brighten up and black desk design. 
Combine With Transparent Features
Black desks go exceptionally well with glass. Just look at some of the beautiful black computer desks from Autonomous that have glass tops. The way the natural light plays off the glass and is absorbed by the black surfaces creates a beautiful combination.
Choose Your Accessories Well
The type of standing desk accessories you choose for your black desk is very important when it comes to the overall look of the entire office. This is because any accessories you place on a black desk will immediately stand out. 
You have to choose the colors of your accessories very well because you can be sure that whoever walks into your office will notice them. You can take this opportunity to highlight the colors of your brand using your accessories. 
Final Thought
If sophistication and elegance are what you are looking for, a black office desk should be the first item on your list. You can then coordinate the rest of your office using the tips and tricks highlighted in this article. Visit Autonomous right now and take a look at the modern black office desks on offer.
Video ads for product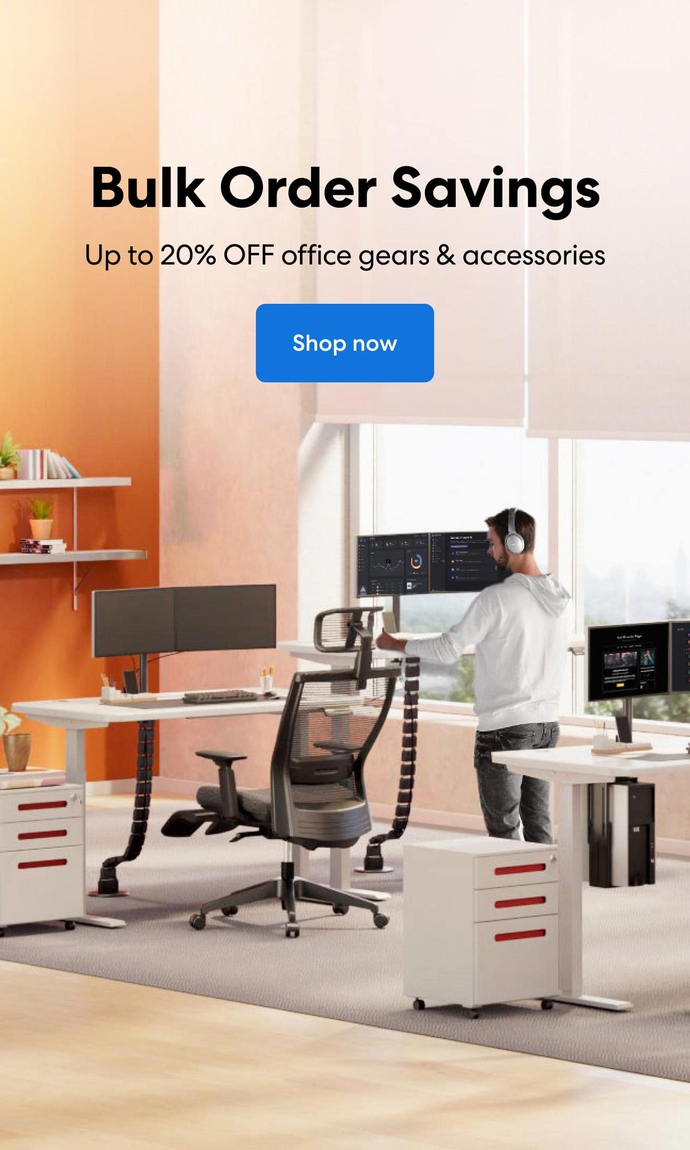 Subcribe newsletter and get $100 OFF.
Receive product updates, special offers, ergo tips, and inspiration form our team.