Regardless of your setting, the furniture you use is vital to your comfort and interior decoration. Your desk is a centerpiece that dictates mood and productivity in a workstation. Standing desks help prevent many health problems associated with sitting for long hours at work. 
Standing desks are becoming increasingly popular as people realize the many health benefits associated with using them. But when it comes to standing desks, not all models are created equal, so choosing the right one is challenging.
There are so many benefits to choosing wooden desks. Wood standing desks, in particular, offer plenty of advantages that make them a great choice for anyone looking to upgrade their workspace. The kind of wood used for this desk influences how effective they are to the user. Other factors guide this selection that we assess later. 
In this blog post, we'll look at 5 of the best wood-standing desks available so you can find one that fits your needs perfectly.
Top 5 Wood Standing Desks 2023
1. Autonomous SmartDesk Core
The Autonomous SmartDesk Core is the perfect solution for those looking to boost their productivity and increase their well-being with a standing desk. Equipped with a strong steel frame, dual electric motor, and 275 lb lift capacity, this desk will easily support all your needs.
Plus, it comes with programmable keypads to adjust the height up to 48" as well four different pre-drilled desktop sizes from 43"x23" to 70.5"x30" (XL size only available in US/CA). Constructed from solid wood materials that are sure to last for years of use - the Autonomous SmartDesk Core is an ideal way to upgrade any office space or home workspace.
Lastly, the desk can be easily assembled without hassle as it comes with complete instructions. The desk frame has a warranty of 5 years and a 30-day free returns policy.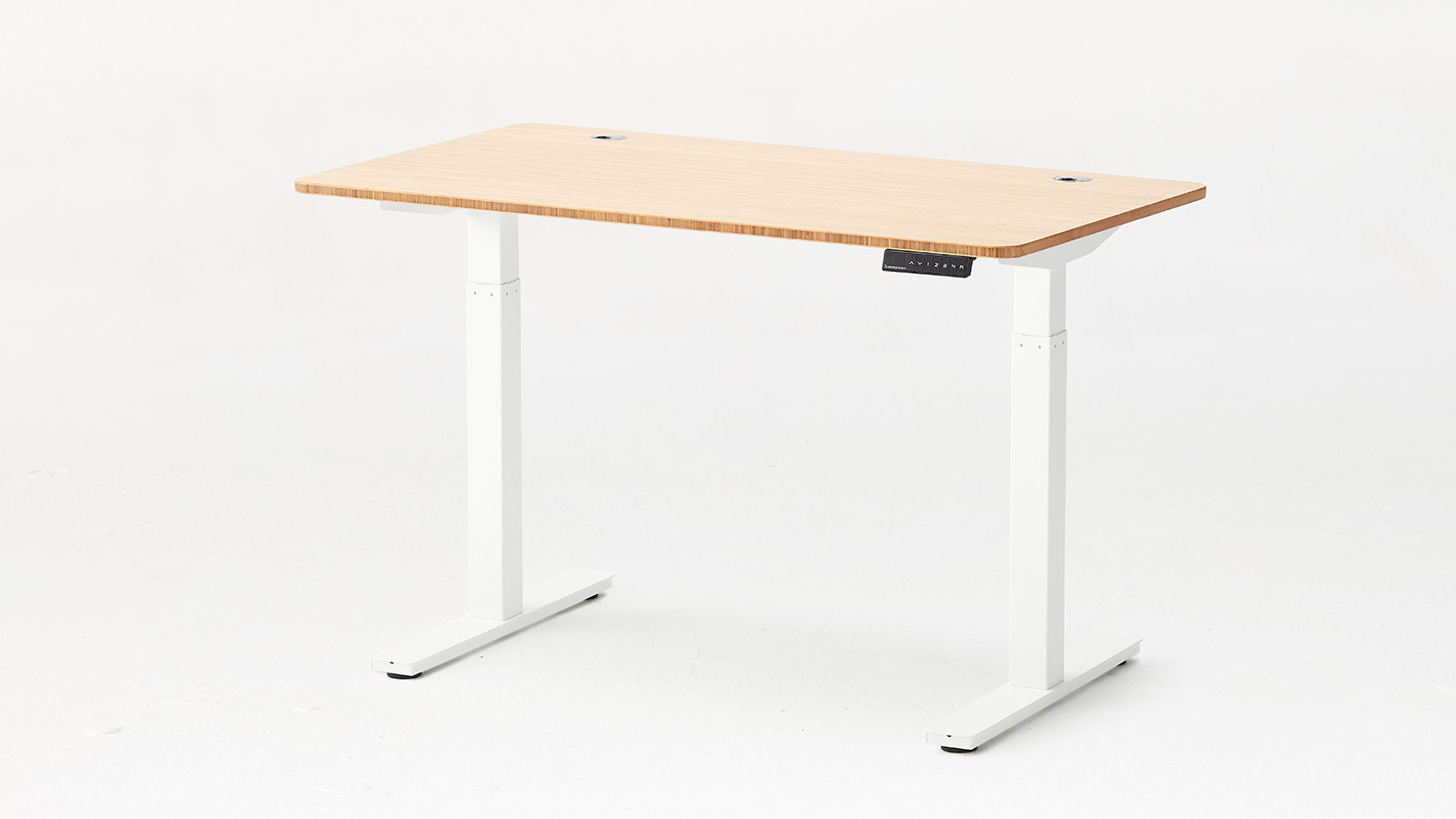 Top dimension
Small Top: 43"L x 24"W x 1"H
Classic Top: 53"L x 29"W x 1"H
XL Top: 70.5"L x 30"W x 1"H
Frame dimension
27.5"W x 40" - 73"L
Height range
With top: 29.4" - 48"
Without top: 28.4" - 47"
Materials
Top: Warp-proof, MDF wood, natural Bamboo
Frame: SPCC steel
Colors
Top: White, Black, Walnut, White Oak, Bamboo
Frame: White, Black, Grey
Weight capacity
265 lbs
Warranty
5 years for frame
1 year for top
Pros

Cons

Solid steel frame
Assembly required
It can hold a weight of 275 pounds
It comes with a programmable keypad
Made with solid wood materials
2. Autonomous SmartDesk Pro
The Autonomous SmartDesk Pro is a top-tier standing desk that accommodates those who need to do more than just stand and work. This product stands out with its wide range, from 26.2" up to 52", allowing users of any height to find their perfect working posture. It also has an upgraded electric dual motor, making it one of the quietest desks on the market at only 40 dB.
Moreover, with improvements in load capacity and desktop size options - including a 53"L x 29"W version or 70.5"L x 30" W (XL size desktop available in US + CA) - there's no job too big for this solid steel frame desk topped off with natural wood tops and classic finishes.
Lastly, it comes backed by an Autonomous 7-year warranty, so you will surely be satisfied long-term! If you want dependability and power in your wood-standing desk, look no further than the Autonomous SmartDesk Pro!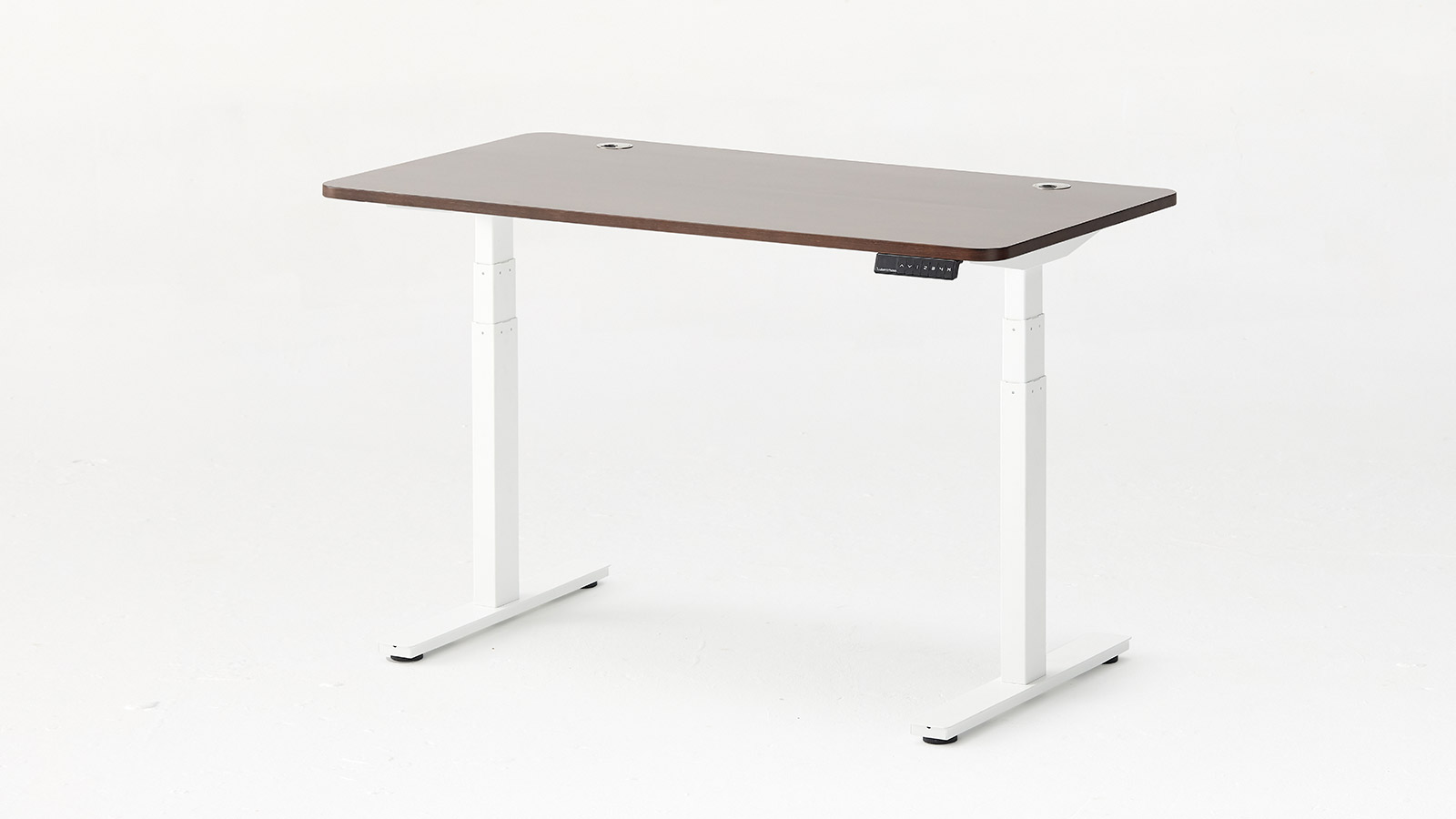 Top dimension
Small Top: 43"L x 24"W x 1"H
Classic Top: 53"L x 29"W x 1"H
XL Top: 70.5"L x 30"W x 1"H
Frame dimension
27.5"W x 40" - 73"L
Height range
With top: 29.4" - 48"
Without top: 28.4" - 47"
Materials
Top: Warp-proof, MDF wood, natural Bamboo
Frame: SPCC steel
Colors
Top: White, Black, Walnut, White Oak, Bamboo
Frame: White, Black, Grey
Weight capacity
265 lbs
Warranty
5 years for frame
1 year for top
Pros

Cons

Height adjustable
Assembly required
Electric dual motor equipped
Quietest desks in the market
Solid steel frame
3. Autonomous SmartDesk Corner
The Autonomous SmartDesk Corner is the perfect solution for those who need more space and power to get work done. This solid steel frame-constructed standing desk offers twice the space of a standard desk, with a weight capacity of up to 400 lbs. and a whisper-quiet triple motor to adjust heights from 29.4" to 48" with the touch of a button.
In addition, you can customize your workstation with modular segments for the perfect fit and four programmable settings, along with a free cable tray so you can stay connected!
Whether you're spending long hours at home or in an office, the Autonomous SmartDesk Corner can take it all and come with a 5-year warranty.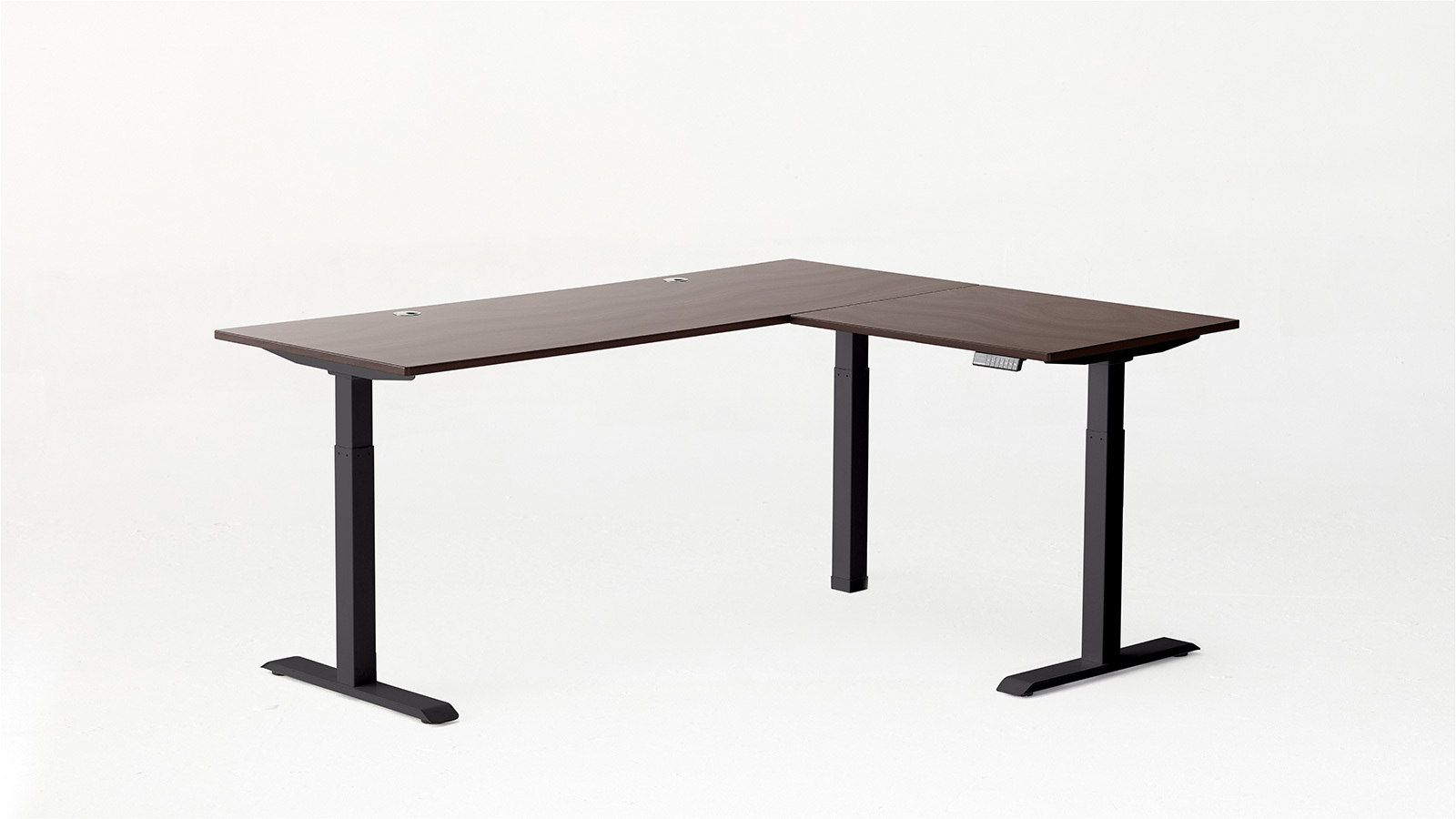 Top dimension
Full: 77"L x 64"W x 1"H
Large Top: 77"L x 29"W x 1"H
Small Top: 29"L x 35"W x 1"H
Frame dimension
27.5"W x 42" - 71"L
Height range
With top: 29.4" - 48"
Without top: 28.4" - 47"
Materials
Top: Warp-proof MDF wood
Frame: SPCC steel
Colors
Top: White, Black
Frame: White, Black
Weight capacity
400 lbs
Warranty
5 years for frame
1 year for top
Pros

Cons

Offers abundant space
Assembly required
Whisper-quiet motor
Solid steel frame
Can hold a weight of 400 pounds
4 programmable settings
4. Autonomous SmartDesk Connect
The next product on our list is the Autonomous SmartDesk Connect, considered the most advanced standing desk yet. It offers users a convenient app to control and customize their preferences.
Its anti-collision feature allows you to safely adjust the desk's height from 23.6" to 49.2" with its upgraded electric dual motor, which runs quietly at just 40 dB.
Moreover, the desk has an impressive load capacity of 350 lbs. and a solid steel frame with a 7-year warranty. This is the perfect desk for those who want complete control over their workstation.
If you're looking for the ultimate in adjustable standing desks that are powerful and precise, Autonomous SmartDesk Connect is the perfect choice. Its sleek design combines convenience and quality to provide a desk that suits all your needs.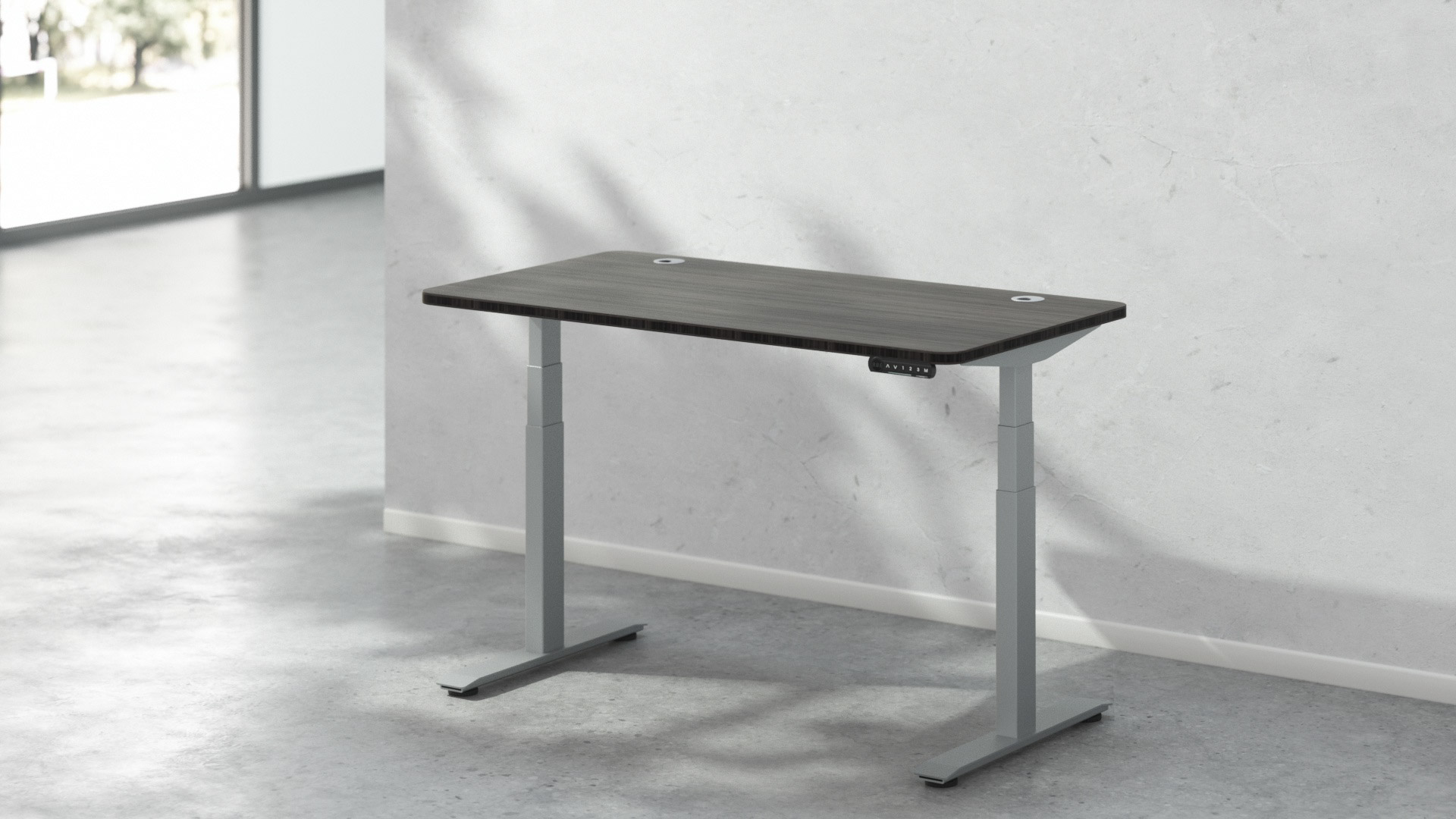 Top dimension
Classic top: 53"L x 29"W x 1"H
XL top: 70.5"L x 30"W x 1"H
Frame dimension
40" - 73"L x 27"W x 23.6" - 49.2"H
Materials
Classic top: High-quality MDF wood (White/Black); Natural Bamboo
XL top: High-quality MDF wood (White/Black)
Frame: SPCC steel
Colors
Top: White, Black, Dark Bamboo, Pink, Teal, Blue
Frame: White, Black, Grey
Weight capacity
350 lbs
Warranty
7 years for square leg frame
5 years for round leg frame 
1 year for top
Pros

Cons

Classic and sleek design
Assembly required
Can hold a weight of 350 pounds
Relatively more expensive
It has an anti-collision feature
Upgraded dual electric motor
Solid steel frame build
5. Autonomous SmartDesk Chunky Oak
Autonomous SmartDesk Chunky Oak is a solid wood standing desk with a beautiful blonde oak finish. It has a warp-proof MDF wood construction and premium oak veneer making it very durable and long-lasting.
The desktop is 1.6" thick, featuring 45° tapered edges for added stability and aesthetics. It's also compatible with the Core/Pro frame, allowing you to customize your workspace according to your needs.
Additionally, it comes with an impressive 5-year warranty giving you peace of mind in case anything goes wrong! With its beautiful finish and solid construction, this desk will be a great addition to any workspace. This real wood-standing desk is available in two sizes, so you can pick the one that best fits your space.
Top dimension
Classic Top: 50"L x 28"W x 1.6"H
XL Top: 70"L x 30"W x 1.6"H
Frame dimension
Pro: 40" - 73"L x 27.5"W
Core: 40" - 73"L x 27.5"W
Height range
Pro Frame: 25.2" - 51"
Core Frame: 28.4" - 47"
Materials
Top: Warp-proof MDF wood, Oak veneer
Frame: SPCC steel
Colors
Top: Oak
Frame: Black, White, Grey
Weight capacity
Pro Frame: 310 lbs
Core Frame: 265 lbs
Warranty
5 years for Core frame
7 years for Pro frame
Pros

Cons

High-quality MDF wood
Assembly required
Available in 2 sizes
Relatively more expensive
Modern and sleek design
45° tapered edge for safety
Autonomous New Product - The Desk
A sleek and powerful quad-motor system, combined with its sophisticated smooth-edge tapered design, elevates this ergonomic sit-stand desk to an elite category. With double the power and double the stability, The Desk seamlessly merges ergonomic innovation with a quietly elegant appearance, offering unwavering performance you can depend on.
Timeless design never goes out of fashion, and we've refreshed the SmartDesk with a clean and classic look. The simple tabletop, supported by four sturdy legs, is a tried-and-true design that complements any lifestyle.
The Desk conceals four robust motors capable of effortlessly lifting up to 440 lbs of equipment. The integrated sensor controls work like magic – simply place your hand on the sensor, and with a gentle motion, adjust the desk's height to your preference.
We understand that a top-notch standing desk goes beyond surface aesthetics. We've streamlined multiple wires into one, achieving a clean and minimalistic look. The Desk's rock-solid construction and enhanced stability ensure it can tackle any task with ease.
Small changes in our daily lives can lead to significant improvements. Committed to sustainability, The Desk is crafted from eco-friendly materials, making it a smarter, more environmentally conscious choice.
Top Wood Options to Consider for Your Standing Desk
1. Oak
The strength and durability of oak make it perfect for quality office furniture. This type of wood lasts for a long time if you maintain it well. 
Desk makers use oak when going for style and elegance in their designs. It has excellent finishing qualities and can be stained to fit several home and office setups. 
Oak has a wide price range depending on the type you want. An example of this is the cost of white oak compared to that of red oak. The former is more expensive than the latter. 
Standing desks made from oak offer users high quality at affordable rates. A classic example is the Autonomous SmartDesk Chunky Oak. This wood standing desk is one of the best pieces of furniture on the market.
Pros
Oak is durable and can last for years with proper maintenance.
Desk makers find it easy to finish and stain this material for every setting.
It is high-density and has excellent natural grains. 
Cons
The weight of oak makes it a wrong choice for furniture that will move around. 
2. Walnut
People often choose walnuts because of the beauty and aesthetics of the material. This feature makes it excellent wood for desktop projects that focus on style and modernity. 
You can get it in different shades of brown with a natural grain that makes it look classic. Over time, the color of walnut wood lightens but still fits into your decor. 
Walnut wood standing desks are not only visually appealing but also durable. They can withstand roughness from most environments. This ability is no excuse for you not to take good care of your walnut furniture. 
Woodworkers claim they can easily shape them, making walnut excellent for curvy desks. They also add identity and class to any setting.
Pros
Walnut wood has a beautiful color tone.
It is durable and resistant to mold, water, and shock.
The material can easily convert into elaborate designs. 
Cons
Desks made from Walnut wood are expensive.
It develops dents when used heavily. 
3. Cherry
The size of the trees it is cut from makes it popular. Cherry trees grow to heights beyond 100 feet over a long period. 
It has high demand because of its visual appeal and natural luster. Real wood standing desk manufacturers also claim that it cuts and shapes easily, making it suitable for designing.
Cherry wood has a straight grain and smooth texture that gives it an excellent finish. The material is strong and highly resistant to rot and decay. These qualities make it long-lasting. 
Pros
It is strong and durable, perfect for making a solid wood standing desk.
Cherry wood is highly resistant to environmental conditions such as mold and decay.
Furniture makers find it easy to transform this wood into beautiful designs. 
Cons
Cherry wood can easily get scratched.
It is expensive when you compare it with similar wood types.  
4. Maple
Maple is perfect for making office furniture, especially standing desks.  
Even though it is lightweight, the wood is very durable. It is beautiful, comes in several species and colors, and stains easily.  
The material has a high rating on the Janka test with a 1,450 score. This rating is impressive considering that woods such as cherry, oak, and walnut scored 950, 1360, and 1010, respectively.
Pros
Maple is sturdy and great for a wood standing desk.  
It has a straight grain with some swirls.
The wood has a beautiful color with high moisture resistance. 
Cons
Maple is not resistant to insect attacks. 
5. Birch
This hardwood is found all over North America. White, yellow, and black birch wood are examples of the different types available. 
Birch is sterilized and kiln-dried to remove moisture from the wood. This process enables it to withstand outdoor conditions well. Therefore, it is commonly used for exterior wood columns instead of furniture. 
Yet, standing desks made from birch are strong. When properly maintained, they can last for years without evident damage. 
The golden color of the yellow birch is beautiful. It's fine grain and closed pores give the wood an attractive look that stains and finishes excellently. 
Birch is affordable when compared to other furniture wood types. 
Pros
The wood is tough but easy to shape.
It is not very expensive when compared to others on the market.
Birch has straight grains that make it easy to finish.
Cons
It cracks easily in dry conditions.
This material is prone to wear and warp. 
6. Rosewood
Rosewood is another famous solid wood used for making furniture, especially desks. 
The wood is naturally beautiful and exists in different shades of red. Its exterior is greasy, enabling it to withstand rough weather conditions. 
Direct sunlight increases the rate of its warping, making it perfect for indoor use. 
This type of wood standing desks are heavy.
Pros
It is very durable and strong.
Rosewood has an attractive color that makes its products beautiful when finished.
Some consider it the best wood for desk projects. 
Cons
Rosewood is heavy and bulky for desks that move around often.
It easily deforms and is quite expensive.  
7. Teak
There are several high-quality outdoor pieces of furniture made from Teak. Manufacturers choose it because it is one of the strongest hardwoods available. 
This hardwood standing desk can keep its natural qualities in some of the roughest weather conditions. It withstands damage even when directly exposed to sunlight and moisture. 
Pros
The material is pest and insect-resistant. You do not have to bother about mites eating into your desktop.
It is beautiful and has a natural color that ages to become even more elegant.
Teak stains well to retain its natural color. This feature makes it easy to maintain.
The wood does not rust even when it comes into contact with metallic surfaces.
It is durable and can last a lifetime. 
Cons
It is expensive and increases the price of furniture.
Teak is scarce on the market. 
8. Pine
Pine may be softwood, but it is strong and highly resistant to shock. This attribute makes it a good choice for most desk makers. 
It is easy to work with and has a beautiful creamy appearance. You can also stain and finish it to any color you want. 
This wood standing desk is affordable and easy to maintain.
Pros
Desks manufactured from pine are light but durable, making them very mobile.
Its natural color blends into most setups.
Pine is highly resistant to shock and damage.
This wood is the cheapest for making high-end office furniture. 
Cons
It is not easy to transform into various shapes. 
9. Elmwood
Elmwood is excellent for making hardwood standing desks. It is strong and has a rough grain. This feature enables it to withstand splitting under pressure. 
Furniture makers use it for desks, chairs, and other office pieces. This type of wood is easy to style and has excellent finishing qualities.  
It is tough to cut but easy to shape, polish, and sand. The wood reacts negatively by tearing when planed.  
With good maintenance, elmwood can last for a very long time. 
Pros
It is strong and durable, so it's great for making office furniture.
Elmwood has a smooth texture that makes it easy to finish. 
Cons
The wood is prone to insect attacks and is not fit for outdoors.
It is not easy to dry when treating it. 
10. Bamboo
A bamboo desk is a classic example of eco-friendly office furniture. It naturally has a smooth surface and has excellent finishing abilities. 
The wood comes from grass. It grows fast, making it an environmentally sustainable material for making desks.
Bamboo is resistant to water, humidity, and intense temperature. It is also sturdy and crafty enough for elegant designs. 
Outdoor or mobile workstations are perfect settings for the use of bamboo desks. 
Pros
Obtaining bamboo causes very little damage to the environment.
It is highly durable and can withstand most climate conditions.
You can easily maintain bamboo desks since they are highly resistant to damage.
The weight of bamboo desks makes them very mobile.
Common Types of Wooden Desks
Hardwood
Hardwood comes from dicotyledonous trees, meaning the branches feature a broadleaf and seeds with a coating around them. Examples of these are oak, ash, and beech. 
Softwood
This is another best wood for desk. Wood from conifers is called softwood. Unlike hardwood, the seeds from these types of trees are bare. Pine, fir, and spruce are excellent examples. 
Medium-Density Fiberboard (MDF)
MDF is from pieces of wood that exist as byproducts of mills. Most are in the form of sawdust and shavings.  
These are mixed with resin and compressed to produce hardwood for woodwork. 
The Autonomous SmartDesk Surface is an example of MDF furniture. It is scratch and UV-resistant and showcases the different benefits of this type of product. Overall, this attribute makes it perfect as a wood gaming desk. 
Plywood
Plywood joins wooden fiber sheets and resin to create a thicker sheet material.  
When Should You Choose Hardwood or MDF Wood?
There are different reasons to choose any type for your wood desk setup. 
Hardwood is tough and durable. It is the best choice when desk makers want highly resistant material to withstand damage and shock. This type is expensive and common for high-end furniture.  
MDF is cheap and used for budget-friendly furniture like bookcases and cabinets. They finish with paint for visual appeal. 
What to Look out for When Choosing the Best Wood for a Desktop
There are several varieties of wood that manufacturers use for making desktops. The one you choose should make you comfortable and enable you to achieve maximum productivity. 
Below are some factors to guide your selection of wood for your desktop: 
Purpose
Your goals influence the type of wood you want for your desktop. Working in damp or humid conditions might require variants such as teak. If the workstation is mobile, lightweight hardwood such as corkwood is perfect. 
Solidity
Solid wood is cut whole from trees and transformed compared to the other kinds engineered by combining layers of wood. 
This type of wood is called solid because of how compact it is. It is durable and highly resistant to damage.
Color
Aesthetics are necessary when choosing office furniture. The color of the wood you choose determines the beauty and elegance of your ergonomic standing desk. Some require finishing to have visual appeal, but others naturally fit into interior decorations. 
Budget
How much you are willing to spend is a vital factor. This characteristic also involves finding a balance between purpose and cost. 
Depending on what you are looking for, you can compare prices to see which product fits into your budget. Sometimes, you compromise on purpose and quality or must wait to get a bigger budget.
Why Use Wood for Your Standing Desk?
Manufacturers use several materials when making wood standing desks. What then makes wood unique compared to all the others?
Wood has a natural beauty over all the other materials. It has visual appeal, feels comfortable, and has many ergonomic qualities. 
The material can fit into many rigs, be it mechanical or digital. Woodworkers find it very easy to shape and transform. 
You can finish wood in many ways to fit any decor so that it never goes out of style. Using wood for your modern office furniture makes them timeless. 
Conclusion
There are several other types of wood you can learn about for more information. Knowing why you select a particular kind enables you to get the one that best fits your preference. 
It also saves you time and money during the whole process. You can best avoid buyers' guilt with this knowledge. 
The wooden standing desk provides comfort, increases productivity, and reduces health risks. Make sure you choose the best one on the market.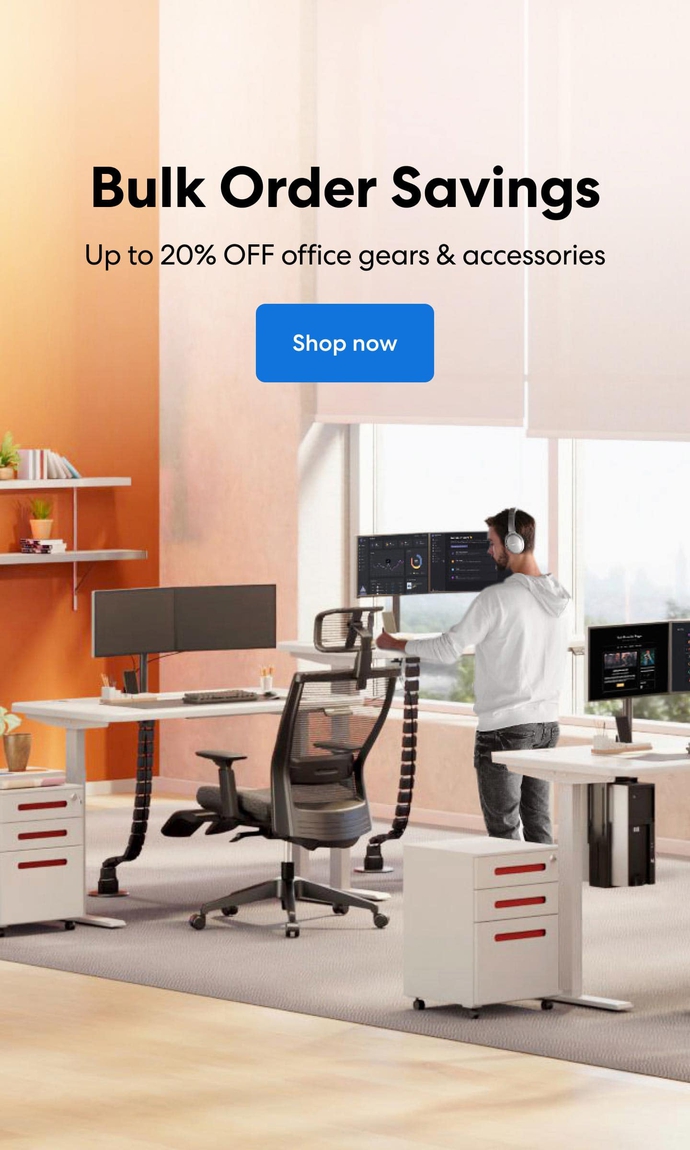 Subcribe newsletter and get $100 OFF.
Receive product updates, special offers, ergo tips, and inspiration form our team.