Smart Products
Important Features to Look for in Ergonomic Computer Desk
1,392 Views
What comes to your mind when you hear the words computer desk? A boring piece of furniture that is only good for nerdy work. Computer desks or even office desks are not associated with aesthetics, let alone fun. We only purchase them to have a station where we can work and keep our stationery items. But modern ergonomic computer desks and computer ergonomic chairs are far beyond boring.
Yes, as much as the world of office ergonomics has provided the right comfort, it has also opened up the avenues to many fun opportunities you wouldn't have imagined in a workplace. This means that the best ergonomic computer desk or even an office standing desk doesn't have to make you yawn, but it can be both comfortable and fun at the same time.
In this article, we will list some of the features to look for in the best ergonomic office computer desk, which, amazingly enough, you can use for gaming too. Keep reading to pick the right ergonomic computer desk for home, which you have been looking for for a while now.
How to Choose the Right Ergonomic Adjustable Computer Desk
Like any piece of furniture, there are various options and features you can play with before you land on a final choice. As amazing as it sounds, this also makes it pretty hard for one to pick the right product for them. Hence it would help if you had certain factors to simplify your pick by ruling out what you don't need. Below are some factors in deciding the right product for you.
Type
When it comes to ergonomic desks, they are likely to be height adjustable. Because that is the most definite feature that makes them ergonomic. The ability to switch between sitting and standing allows you to opt for a product that can fit a diverse group of people and is healthy. With an ergonomic desk, you can opt for types of desks. Common home standing desk types include adjustable sit-stand desks, L-shaped standing desks, standing desk converters, swing arm adapters, or monitor arms.
Even though the final aim is to provide you with adjustability, these desks offer a different price, weight capacity, range and size.
Budget
No matter how much you like a product, its tag will play the ultimate role in your decision. Make sure the product you choose doesn't strain your budget or body. When it comes to ergonomic desks, several factors can affect the choice, and the price is one of them. For instance, electric standing desks cost more and have better functionality. Standing desk converters are cheaper than overall standing desks.
Size
Take precise measurements, especially if you have a tiny space to work with, to ensure that your choice desk will fit. When it comes to your desktop, keep in mind that the width and depth are important. The optimum depth will help you maintain proper wrist and elbow ergonomics and keep your monitor at the proper distance from your face.
Height Range
The height range is a crucial factor because it makes the desk single or multi-purpose. Ask yourself how many people will use it, or will you alone be using this desk. If more than one person uses the desk, then the height range should suffice all. Secondly, the type of height adjustment also plays a vital role.
Ergonomic desks like SmartDesk Core offer you pre-programmed height adjustability, which makes it a hassle-free experience. They also support memory settings so different people can save the ideal height and achieve it with just a button push.
Weight Capacity
What do you keep on your work surface? Do you have any books or file boxes on hand? You'll want to pay special attention to the lift capacity of any desk you're considering if you frequently fill it up. The lower end of the lift capacity scale is roughly 50 pounds, while the upper end can carry up to 700 pounds.
The Best Ergonomic Desks for You
When done with the things you must look for at a standing desk, there will be lots of products that match your requirements. Below are some top-of-the-line ergonomic Desks that could be a great choice.
1. SmartDesk Pro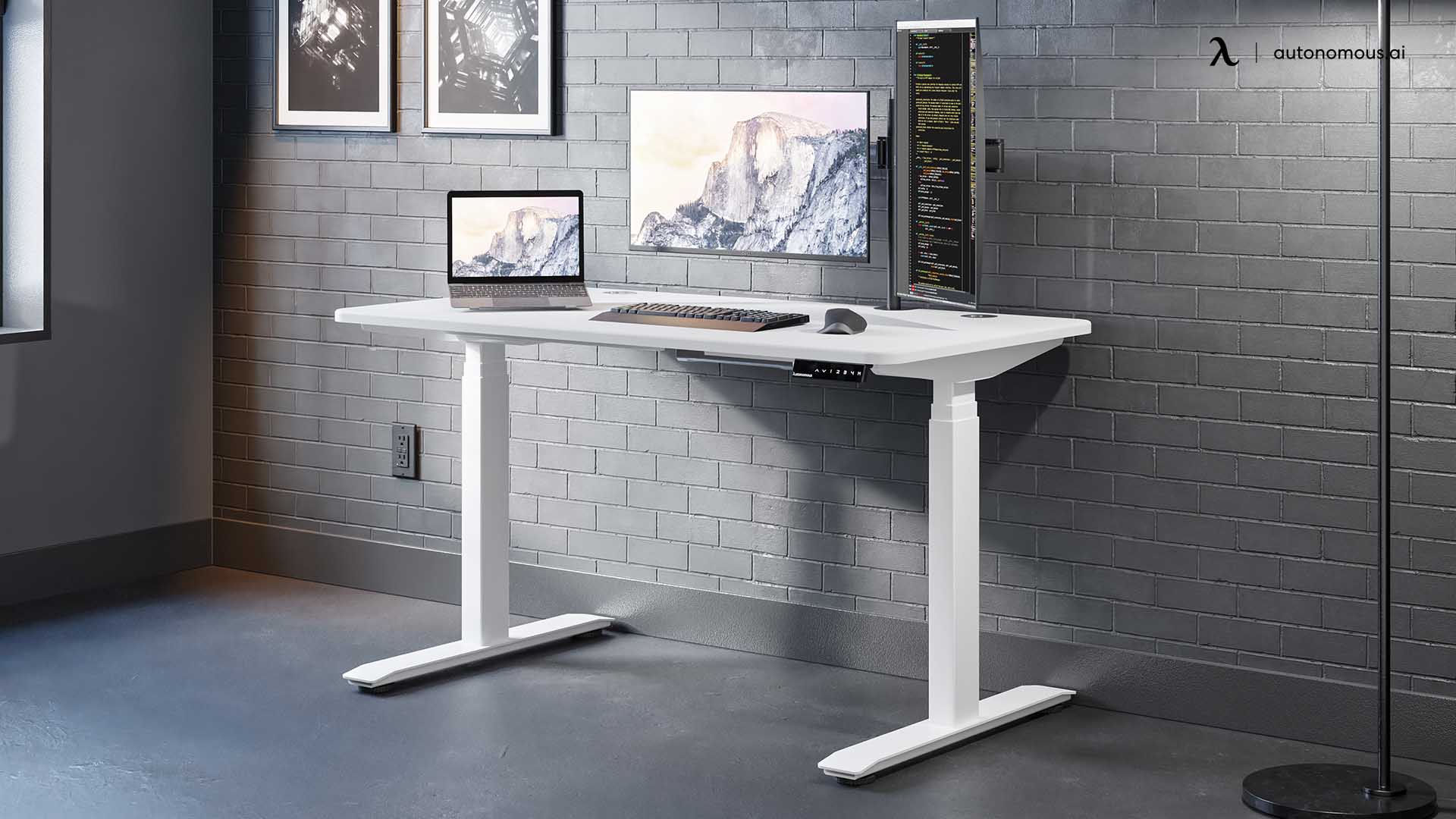 A classic desk that offers you multiple pretty options, SmartDesk Pro is a modern height adjustable desk supported by dual motors. The quiet operation makes it ideal for late-night working, and the natural wood top is a graceful feature of this product. The four programmable settings make height adjustment nothing more than a breeze.
2. SmartDesk Corner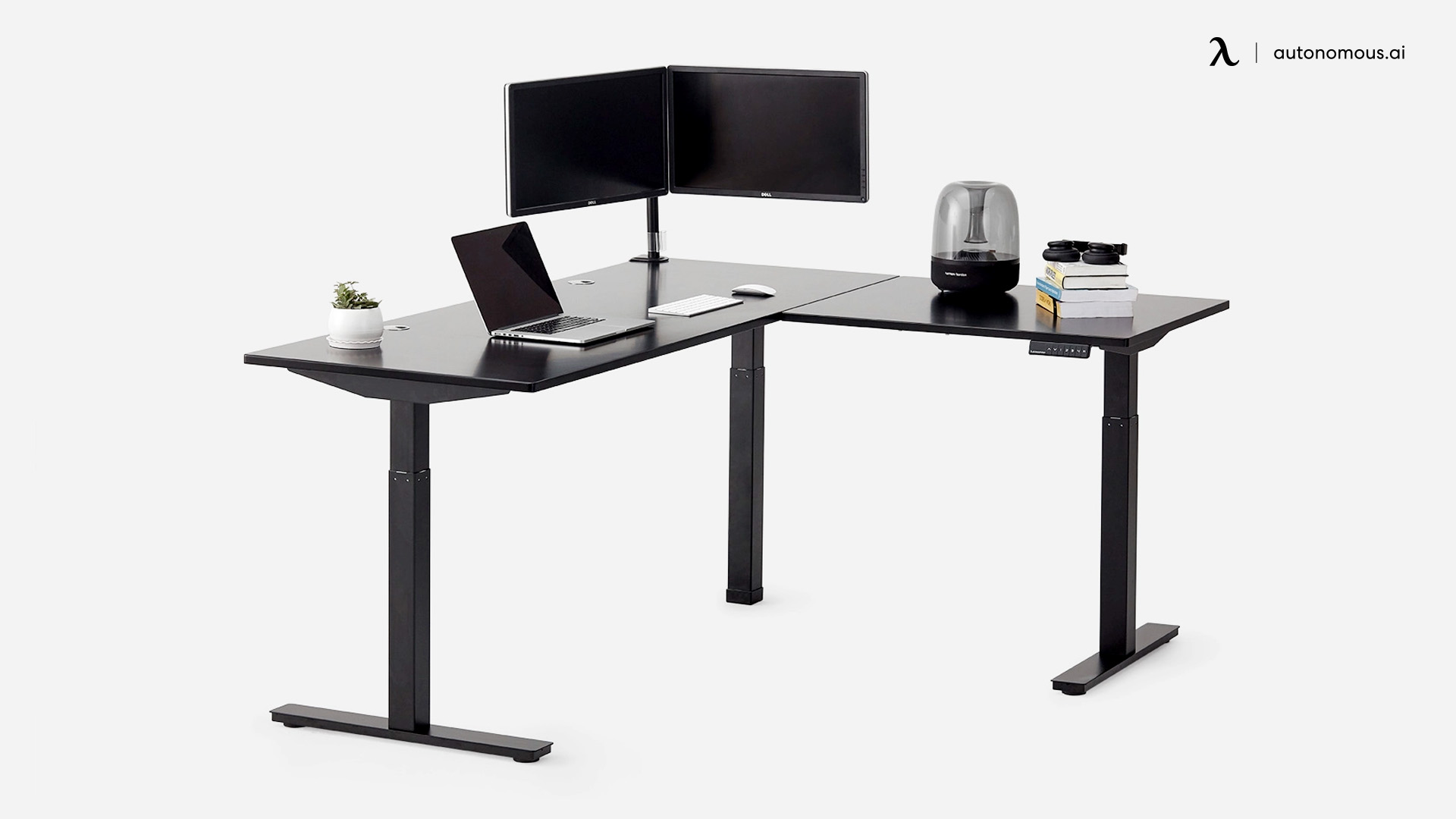 If you need extra space to work without using too much footprint, the smart desk corner offers you just the right space. With a solid steel frame and dual powered motor, you can be sure that this corner computer desk will lift as much as three XL screens and other desk accessories too.
SmartDesk Corner also comes with a natural wooden finish for a graceful final look, and you get a chance to choose between three pretty decent desktops.
3. Eureka Ergonomic Desk
With a Z-shaped frame, this desk not only steals the show but is also very unique. Because of its specially engineered design, the desk has a great frame and an overall smart approach. The surface of this ergonomic computer desk is enough to support even a triple monitor setup of XL screens, and you can also keep other accessories intact. And the best part is that this ergonomic computer desk comes ready to use; hence, here is the pick for people who hate assembling.
4. Flexispot Standing Desk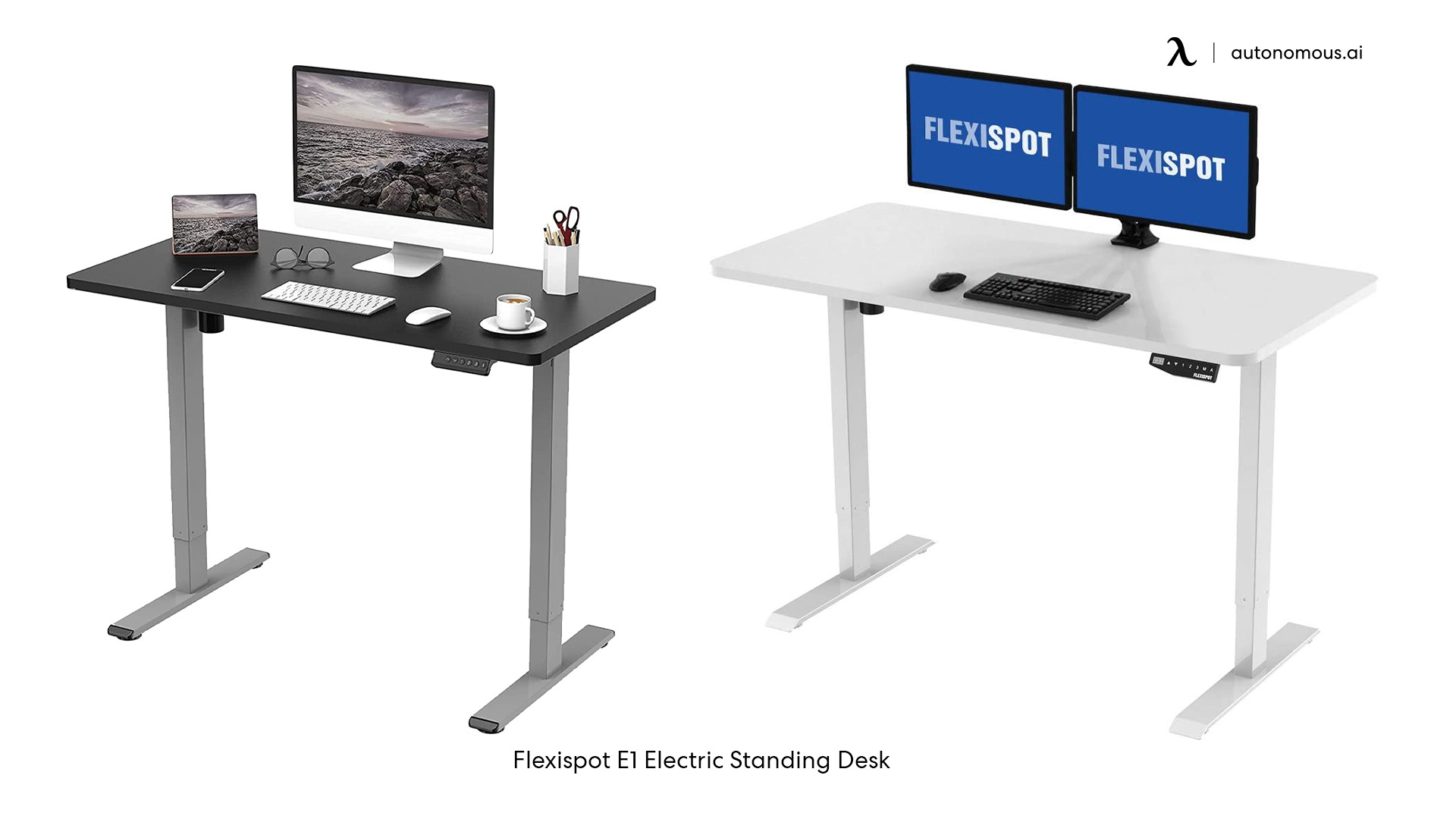 One of the most appealing features of this ergonomic computer desk is its tiny footprint. Unlike most versions, this one does not require any particular clearance.
It's also simple to adjust. You may move it up and down by pulling on a handle on the right side of the desk. It also does not necessitate a lot of force, making it a perfect ergonomic computer desk for anyone, especially those with muscle or back disorders.
5. Monitor Riser by Mount-It!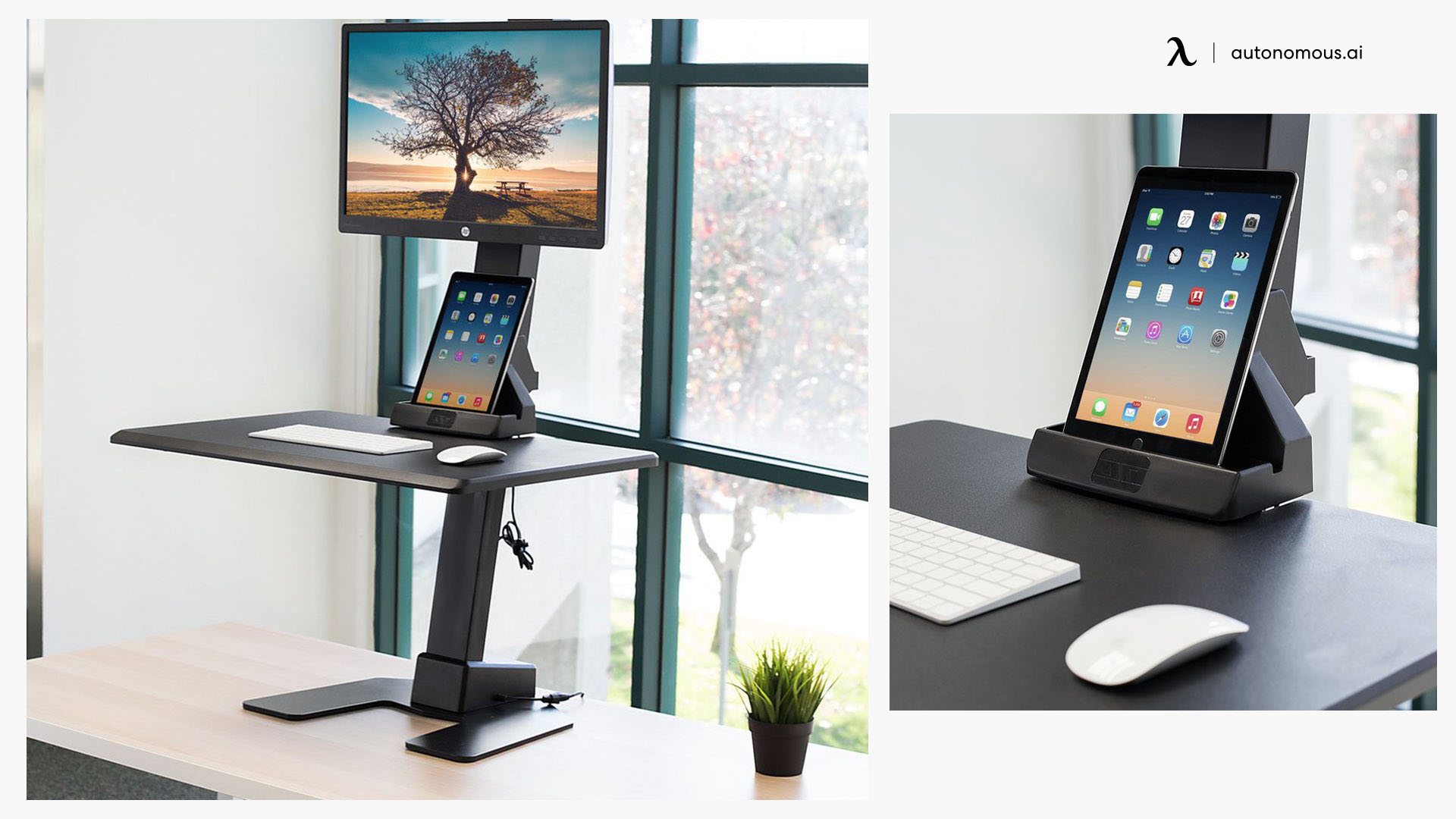 The Mount-It! riser is a cheap and awesome alternative for someone who doesn't want to spend too much on making their work setup ergonomic. You can mount it on any table, and it will convert it into an ergonomic workstation.
Keep up with Autonomous news
Stay informed, stay inspired with our new blogs.
WRITTEN BYAutonomous
We build office products to help you work smarter.