Smart Products
Ultimate Ergonomic Desks: Top 20 Picks & Key Features

Autonomous
|
May 17, 2023
4,050 Views
What comes to your mind when you hear the words computer desk? A boring piece of furniture that is only good for nerdy work. Computer desks or even office desks are not associated with aesthetics, let alone fun. We only purchase them to have a station where we can work and keep our stationery items. But modern ergonomic computer desks and computer ergonomic chairs are far beyond boring.
Yes, as much as the world of office ergonomics has provided the right comfort, it has also opened up the avenues to many fun opportunities you wouldn't have imagined in a workplace. This means that the best ergonomic computer desk or even an office standing desk doesn't have to make you yawn, but it can be both comfortable and fun at the same time.
In this article, we will list some of the features to look for in the best ergonomic office desk, which, amazingly enough, you can use for gaming too. Keep reading to pick the right ergonomic computer desk for home, which you have been looking for for a while now.
What is An Ergonomic Desk?
An ergonomic desk is a specially designed workspace that prioritizes the comfort and well-being of individuals during extended periods of desk work. It takes into account the natural posture and movements of the human body, aiming to reduce strain, discomfort, and the risk of repetitive stress injuries.
One of the key features of an ergonomic desk is its adjustable height mechanism. This allows users to customize the desk's height to their preference, promoting proper alignment and preventing strain on the neck, back, and shoulders. The ability to switch between sitting and standing positions also helps combat the negative effects of prolonged sitting.
Another important aspect is the presence of an ergonomic keyboard tray. This tray can be adjusted and tilted to maintain the wrists and arms in a neutral position, minimizing the risk of conditions like carpal tunnel syndrome. Additionally, ergonomic desks often consider the placement of computer monitors, providing adjustable monitor stands or arms to ensure screens are at eye level, reducing strain on the neck and eyes.
Cable management systems are common in office ergonomic desks, helping keep the workspace organized and free from tangled wires. These desks also offer spacious work surfaces to accommodate essential equipment, and some may include built-in storage compartments or drawers for better organization.
By combining these features, an ergonomic computer desk creates an optimal working environment, promoting better posture, reducing physical strain, and enhancing productivity. It allows individuals to work comfortably and efficiently, minimizing the negative effects of prolonged desk work on their health and well-being.
The 11 Best Ergonomic Desks for You
When done with the things you must look for at a standing desk, there will be lots of products that match your requirements. Below are some top-of-the-line ergonomic Desks that could be a great choice.
1. Autonomous SmartDesk Pro
A classic desk that offers you multiple pretty options, SmartDesk Pro is a modern height adjustable desk supported by dual motors. The quiet operation makes it ideal for late-night working, and the natural wood top is a graceful feature of this product. The four programmable settings make height adjustment nothing more than a breeze.
2. Autonomous SmartDesk Corner
If you need extra space to work without using too much footprint, the smart desk corner offers you just the right space. With a solid steel frame and dual powered motor, you can be sure that this corner computer desk will lift as much as three XL screens and other desk accessories too.
SmartDesk Corner also comes with a natural wooden finish for a graceful final look, and you get a chance to choose between three pretty decent desktops.
3. EUREKA ERGONOMIC EUREKA Ultra Long Standing Desk: Manual Height Settings
With a Z-shaped frame, this best ergonomic desk not only steals the show but is also very unique. Because of its specially engineered design, the desk has a great frame and an overall smart approach. The surface of this ergonomic computer desk is enough to support even a triple monitor setup of XL screens, and you can also keep other accessories intact. And the best part is that this ergonomic computer desk comes ready to use; hence, here is the pick for people who hate assembling.
4. Flexispot Standing Desk
One of the most appealing features of this ergonomic computer desk is its tiny footprint. Unlike most versions, this one does not require any particular clearance.
It's also simple to adjust. You may move it up and down by pulling on a handle on the right side of the desk. It also does not necessitate a lot of force, making it a perfect ergonomic computer desk for anyone, especially those with muscle or back disorders.
5. Monitor Riser by Mount-It!
The Mount-It! riser is a cheap and awesome alternative for someone who doesn't want to spend too much on making their work setup ergonomic. You can mount it on any table, and it will convert it into an ergonomic workstation.
6. Autonomous SmartDesk Core
The Autonomous SmartDesk Core is sold and shipped exclusively by Autonomous, a trusted name in office furniture. This ergonomic desk boasts a robust construction, featuring a solid steel frame that ensures durability and stability. With its electric dual motor system and 2-stage frame, this desk effortlessly lifts a remarkable weight capacity of 265-270 lbs (120-130 kgs) which allows it to accommodate your work essentials and accessories easily.
One of the standout features of the SmartDesk Core ergonomic table is its programmable keypad desk. This innovative feature enables you to adjust the desk's height between 29.4" to 48" with a simple press of a button, providing a customizable ergonomic experience tailored to your preferences. Additionally, the desk offers four programmable keypad settings, allowing you to switch between your preferred desk heights easily.
The SmartDesk Core offers three desktop options, each equipped with pre-drilled holes for convenient cable management. The Autonomous SmartDesk Core comes with a generous 5-year warranty(and that makes it a very safe buy).
7. Wistopht SmartDesk Advanced
This ergonomic desk has gained popularity among professionals, including 14+ Google employees, and is sold and shipped by Aoke. The AOKE Wistopht SmartDesk Advanced is ideal whether you prefer a minimalist workspace or have a fully loaded setup with the latest technology. This desk is designed to handle the heavy lifting for you, allowing you to enjoy the benefits of a standing desk in a more ergonomic work-from-home environment.
This desk provides ample adjustability(due to a 25" to 51" height range) to suit your preferred sitting and standing positions. The dual motors ensure smooth and effortless height adjustments, easily accommodating users of varying heights. The ergonomic table has a maximum lift capacity of 265 lbs, providing ample support for all your equipment and accessories.
Unlike some other desks, the AOKE Wistopht SmartDesk Advanced does not have pre-drilled holes on the desktop. This allows you to arrange your workstation and cords in the manner that works best for you, resulting in a neat and tidy work environment.
8. FinerCrafts Standing Desk: Curved Top
This premium electric standing desk from FinerCrafts is a top choice for professionals seeking optimal functionality and style. With over 25 Genentech employees already satisfied with this desk, you can trust its quality. This ergonomic desk provides exceptional customization with a lifting capacity of 350 lbs, a height range of 28" to 49", and four programmable keypad settings.
9. Uncaged Ergonomics Glass SmartDesk: Drawer & USB ports
Experience the perfect blend of luxury and value with this electric standing desk. Its sleek and stylish design features a 45.3x23.7" glass desktop that adds a touch of elegance to any office space. Equipped with built-in USB, USB-C, and AC ports, you can conveniently charge your devices while working. This ergonomic office desk boasts super fast assembly, shipping 90% pre-assembled, allowing you to start enjoying the benefits of standing within just 10-15 minutes.
10. ApexDesk Standing Desk: Pneumatic Lift Mechanism
ApexDesk is offering free delivery from July 15–17, as well as a 30-day return policy at no cost to you. ApexDesk is in charge of the sale and distribution of this desk, so you know you'll get exactly what you ordered quickly and easily.
With its core features, including a one-piece solid top measuring 55" x 27", made of MDF with 3D laminate and pre-installed metal anchors for easy installation, this ergonomic desk has both durability and versatility. The easy height adjustment mechanism allows for quick and quiet adjustments between 29" and 48" with a simple hand lever.
The desk's top and base are delivered pre-assembled, and the whole process typically takes no more than 30 minutes to put together due to the few screws required. This desk can hold up to 180 pounds, so you can keep all your office supplies here without worrying about them falling over.
11. Aiterminal Ergonomic Electric Desk: USB ports /4 memory height
This desk has a 27.5"x46.7" maple-colored wood top with rounded corners for safety and style. One of the most notable characteristics of this desk is the external drawer (20.7"x11"x1.52") concealed in the tabletop, which may be used to conceal and organize a variety of office supplies.
This multipurpose desk has a surge protector with three plugs, situated underneath the work surface for quick plugging in of additional electrical devices. There are two Type-A USB ports and one Type-C USB port, plus up and down buttons, four user-defined height settings stored in memory, a security mechanism to prevent inadvertent use, and a sleek, modern design.
This desk's height may be easily adjusted within a wide range (27.5" to 46.7"), making it suitable for a wide variety of users. The robust motor provides swift and silent adjustments at less than 50 dB. This desk can hold up to 132 pounds, giving you plenty of room to arrange your perfect workspace.
The Best Ergonomic Desks with Keyboard Tray
1. EUREKA ERGONOMIC AED Standing Desk
The Eureka Ergonomic standing desk is a versatile and multifunctional desk perfect for gaming, streaming, and creative endeavors. Its impressive 72 x 30 inches large desktop is accompanied by a full surface mouse pad, providing abundant space for all your gaming or work essentials. The electric height adjustment feature with 4 Memory Presets lets you easily find your preferred ergonomic position.
Equipped with dual motors, this desk effortlessly lifts and lowers smoothly and quietly. It prides itself on a remarkable weight capacity of 220 lbs, ensuring stability even for the heaviest of setups.
2. EUREKA ERGONOMIC AED Desk
Designed to support even the heaviest setups, this ergonomic computer workstation boasts a weight capacity of 220 lbs. It comes complete with an ergonomic keyboard tray, two monitor risers, mobile device slots, a headphone hook and a convenient cup holder, providing optimal organization and accessibility.
The anti-collision feature adds an additional layer of safety, protecting your desk and equipment from accidental collisions. You can create a personalized atmosphere that matches your style and mood with its controllable RGB lighting.
3. EUREKA ERGONOMIC L60 L-shaped Desk
This ergonomic office desk features a large 60" wide desktop, allowing you to make the most of your available workspace. The electric height adjustment, with 2 intelligent memory presets, enables you to effortlessly find your ideal working height, ranging from 29.5" to 48".
This ergonomic workstation can elevate up to 220 pounds with ease and does it quietly and smoothly thanks to its twin motor design. You can work in comfort and efficiency thanks to the desk's ergonomic keyboard tray, monitor stand, and USB power outlets.
4. L60 L-shaped Standing Desk
The L-shaped, 60" broad desk makes the most of the space in the corner. You can quickly and easily select the most comfortable working posture with the electric height adjustment and two smart memory presets that cover a range of 29.5" to 48".
This desk can elevate up to 220 pounds with ease and silent operation thanks to its intelligent twin motors. The desk's ergonomic keyboard tray, flexible monitor arm, and several USB plugs will help you get more done and stay better connected.
5. EUREKA ERGONOMIC Gaming Desk
This ergonomic computer desk is perfect for gaming, streaming, working from home, or any other creative endeavor thanks to its spacious 72"x30" surface. Everything you might possibly need is conveniently located around the center sitting area of the distinctive wing-shaped design.
With a weight capability of 400 lbs, the steel frame can easily support even the largest of installations because of its strong design. The desk setup boasted a headphone hanger, a beverage caddy, an adjustable wrist rest, an expansive mouse mat, and vibrant multicolor illumination. These are just some of the built-in features of this fully functioning ergonomic computer workstation.
Achieving Optimal Posture with a Standing Ergonomic Desk
When using a standing ergonomic desk, maintaining an ergonomic posture is crucial for maximizing the benefits and minimizing the risk of strain or discomfort. Here are some key guidelines to follow to achieve optimal posture while using a standing ergonomic desk:
Stand Tall: Begin by standing upright with your feet shoulder-width apart. Distribute your weight evenly between both feet and engage your core muscles to support your spine.
Adjust Desk Height: Set the desk height so that your elbows are at a 90-degree angle when your forearms are resting on the desk surface. This helps maintain proper alignment and reduces strain on the shoulders and wrists.
Position Monitor at Eye Level: Adjust the monitor height so that the top of the screen is at or slightly below eye level. This promotes a neutral neck position and reduces strain on the cervical spine.
Maintain a Neutral Spine: Keep your spine in a natural, neutral position with a slight inward curve in the lower back. Avoid slouching or arching your back excessively.
Relax Shoulders: Allow your shoulders to relax and avoid hunching or shrugging them. Keep them in a natural, downward position.
Bend Your Elbows: Keep your elbows bent at approximately 90 degrees, allowing your forearms to rest comfortably on the desk. Avoid reaching or stretching excessively.
Take Breaks and Change Positions: Even with a standing desk, it's important to take regular breaks and vary your posture. Alternate between standing and sitting throughout the day to avoid prolonged static positions.
Use a Footrest: Consider using a supportive footrest if needed, as it can help alleviate pressure on the feet and promote better leg and lower body alignment.
Listen to Your Body: Pay attention to any signs of discomfort or strain. Adjust your posture or take short breaks if you start to feel fatigue or tension in any particular area.
Remember that everyone's body is unique, and it may take some trial and error to find the optimal ergonomic posture that works best for you. Regularly assess your posture and make necessary adjustments to ensure comfort and reduce the risk of musculoskeletal issues.
How to Choose the Right Ergonomic OfficeDesk
Like any piece of furniture, there are various options and features you can play with before you land on a final choice. As amazing as it sounds, this also makes it pretty hard for one to pick the right product for them. Hence it would help if you had certain factors to simplify your pick by ruling out what you don't need. Below are some factors in deciding the right product for you.
Type
When it comes to ergonomic desks, they are likely to be height adjustable. Because that is the most definite feature that makes them ergonomic. The ability to switch between sitting and standing allows you to opt for a product that can fit a diverse group of people and is healthy. With an ergonomic desk, you can opt for types of desks. Common home standing desk types include adjustable sit-stand desks, L-shaped standing desks, standing desk converters, swing arm adapters, or monitor arms.
Even though the final aim is to provide you with adjustability, these desks offer a different price, weight capacity, range and size.
Budget
No matter how much you like a product, its tag will play the ultimate role in your decision. Make sure the product you choose doesn't strain your budget or body. When it comes to ergonomic desks, several factors can affect the choice, and the price is one of them. For instance, electric standing desks cost more and have better functionality. Standing desk converters are cheaper than overall standing desks.
Height Range
The height range is a crucial factor because it makes the desk single or multi-purpose. Ask yourself how many people will use it, or will you alone be using this desk. If more than one person uses the desk, then the height range should suffice all. Secondly, the type of height adjustment also plays a vital role.
Ergonomic desks like SmartDesk Core offer you pre-programmed height adjustability, which makes it a hassle-free experience. They also support memory settings so different people can save the ideal height and achieve it with just a button push.
Size
Take precise measurements, especially if you have a tiny space to work with, to ensure that your best ergonomic desk will fit. When it comes to your desktop, keep in mind that the width and depth are important. The optimum depth will help you maintain proper wrist and elbow ergonomics and keep your monitor at the proper distance from your face.
Weight Capacity
What do you keep on your work surface? Do you have any books or file boxes on hand? You'll want to pay special attention to the lift capacity of any desk you're considering if you frequently fill it up. The lower end of the lift capacity scale is roughly 50 pounds, while the upper end can carry up to 700 pounds.
Video ads for product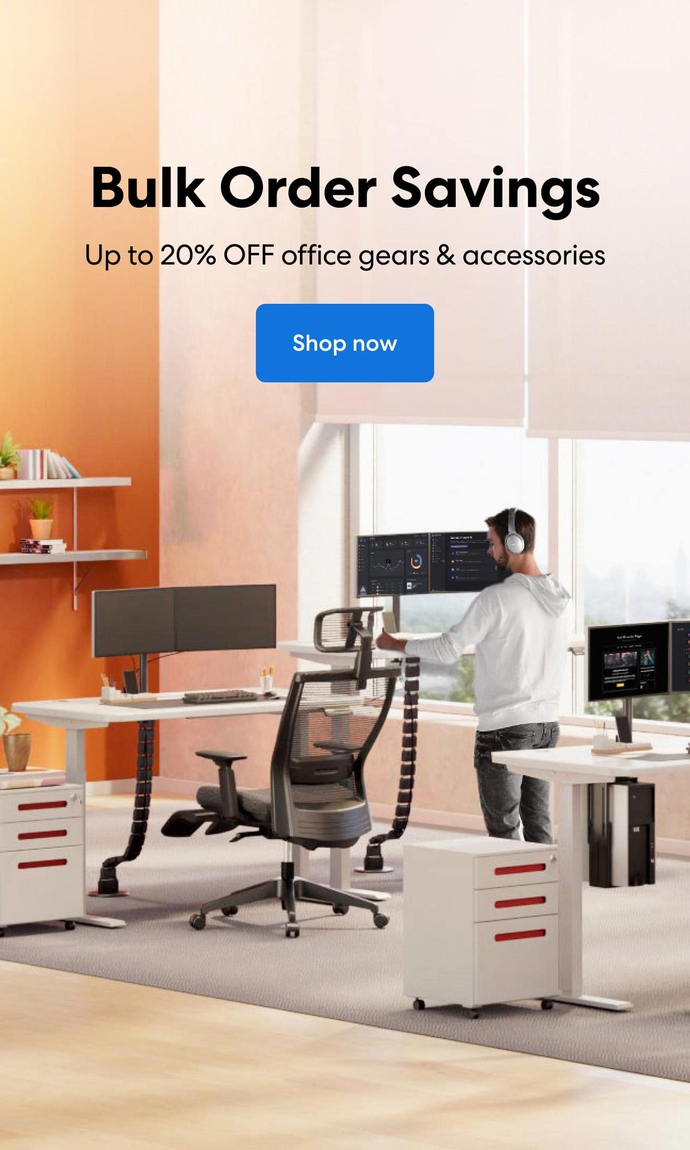 Subcribe newsletter and get $100 OFF.
Receive product updates, special offers, ergo tips, and inspiration form our team.