Frequent MacBook users are likely aware that a laptop holder and a computer alone may not be sufficient. The appropriate iMac accessories can make it power more quickly at home or while away from a power socket, contain more information, remain intact while in use, and even look neat while not in use, whether you are using it for business, entertainment, or both.
Apple's laptops have the finest assortment of official and aftermarket attachments in the industry, comparable to the iPhone and iPod touch. We regularly search over new items to identify the finest ones that are worthwhile purchases since the platform is always growing. There are several iMacs must-have accessories in this article which will immediately boost your productivity at home and while you're on the go.
In this article, we have selected a total of ten best iMac accessories to assist you in maximizing the use of your computer. These accessories range from practical impulse purchases to high-end products that eventually last a lifetime. Explore our top MacBook peripherals below to customize your iMac Experience.
List of the Top 10 iMac Accessories to Transform Your iMac Experience
Although the Apple iMac is currently one of the most well-liked all-in-one devices for businesses and content creators, it also doesn't imply that it can't be improved. The greatest Apple iMac accessories may let your computer have more connections, better audio, more storage capacity, or perhaps even take up less room on your desktop. The top iMac accessories available right now are listed below;
1. Rain Design iGo Desk for iMac 24-27"
Another half of your Mac would be a gadget from the Rain Design Store. The desk's gorgeous aesthetic draws attention to the iMac's sophisticated aesthetics, as well as its portability and turntable make it easier to employ its multimedia functions. The Rain Design iGo Desk for iMac 24-27 inches makes transferring your work and presentations simpler, irrespective of whether you're home or in a meeting hall.
2. Rain Design Inc mBase for iMac 24" White
The iMac matching stand: This is the stand that goes with the iMac. The stand has an aesthetic appeal due to its simple design. It lifts the display so you can operate it more conveniently and hides behind your iMac. The iMac's white border, keyboard, and mouse are a great match for the Rain Design Inc mBase for iMac 24's white metal body.
3. USB-C Clamp Hub from Satechi
With this superb hub, you may have all the convenient connections you require without occupying any more worktop space. It is meant to attach to the bottom of your iMac. It features SD, microSD card slots, Type - c port, and 3 USB 3.0 ports, and it also is designed particularly to function with thunderbolt 3. Additionally, the design includes an aluminum finish to complement the aesthetic of your iMac.
4. Microsoft Magic Keyboard
Although there are many excellent keyboards available, Apple's Magic Keyboard continues to be one of the finest choices for Macs. The Magic Keyboard not only seamlessly blends into the appearance of a Mac system but also offers many of the greatest Bluetooth keypad typing opportunities. Additionally, the Magic Keyboard contains macro controls customized specifically for a Mac mini desk setup, and also the forthcoming versions even integrate TouchID or a Spotlight button.
5. Mophie 3-in-1
A Qi-compatible inductive charging pad like this can quickly recharge your iPhone, AirPods, and Apple Watch from a unified system while protecting your pricey Apple items from damage. The pad, designed to supply your iPhone with as much as 7.5 watts of electricity, can recharge through thin phone covers as wide as 3mm.
6. SanDisk 128 GB Ultra Dual Drive
This stylish USB drive is a relatively affordable item with a metallic design that goes great with the MacBook. The device, which has USB-C and USB-A ports, makes file transfers from your MacBook and other computers simple. SanDisk offers remarkable 5-year insurance on its product, and you can get the Usb drive with approximately 1TB of capacity. You can place this drive anywhere near your computer accessories.
7. Woolnut Wool & Leather MacBook Cover (13-Inch)
This lovely MacBook sleeve was created in Sweden and is made from real full-grain cowhide, making it as exquisite as it is sturdy. Over age, it will additionally acquire a special patina. In addition to the strong magnetic closing, the peripheral offers plush wool felt inside lining to shield the notebooks from scuffs.
8. USB-C to USB adaptor from Anker
The USB-C to USB converter from Anker is a straightforward yet crucial MacBook accessory. You can use the ridiculously cheap device to attach your previous USB-A devices to just about any MacBook, and the MacBook perfectly complements the gadget's metal shell. You'll also receive a pair of converters for their impulse purchase price!
9. ScreenDr Professional Screen Cleaning Kit from Digital Innovations
The monitor of your MacBook and any device you possess will remain immaculate thanks to this professional-grade screen cleanup kit. All displays may safely use the liquid, and a supplied antibacterial microfiber wipe ensures you consistently get the most out of each spray. There are many bottle versions available.
10. Portable SSD from WD My Passport (1TB)
The My Passport is a portable SSD device which is exceptionally stylish and small and can provide your MacBook with a fast read and write transmission rate through the use of a USB-C 3.2 connector. The device offers 256-bit encryption and comes in various colors with memory capacities up to 2TB. As a result, it will protect your data. We appreciate that this item is shock-resistant; as claimed by its manufacturer, it can withstand falls of further than 6.5 feet.
Bottom Up
We believe that you have now been aware of all the different types of iMac 24-inch and iMac 27 accessories available in the market. We mentioned everything from USB docks to Multiport systems to improve your MacBook experience. Yet, the marketplace is saturated with several iMac accessories that seem worthless and fail to perform as promised by the manufacturer.
Only the greatest, most cost-effective, and practical desk accessories for your 24-inch iMac have been suggested here; they will undoubtedly increase their value and benefit you regardless of how you utilize them. Therefore, don't think twice and choose from our top iMac 24-inch accessories list.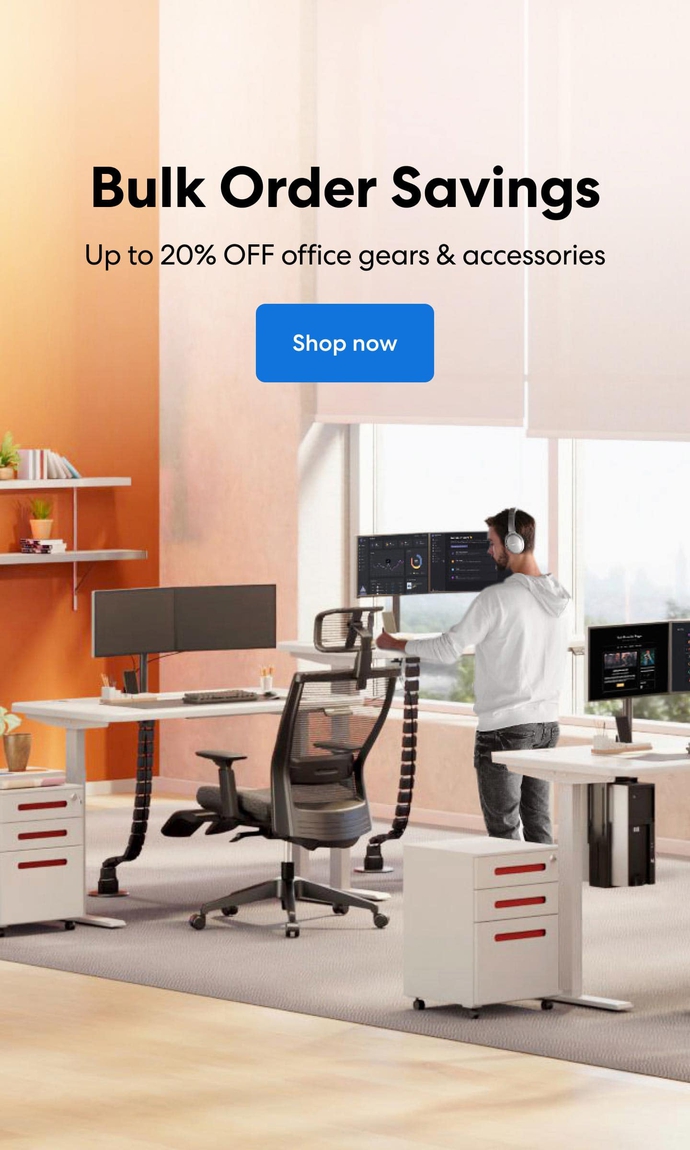 Subcribe newsletter and get $100 OFF.
Receive product updates, special offers, ergo tips, and inspiration form our team.