Big and tall executive chairs or high back ergonomic office chairs don't just depict power and show some authority. Besides just portraying dominance, an executive office chair is made tall and high for many other reasons. Specifically, big & tall executive office chairs come in many shapes and sizes to reap the benefits of a high back ergonomic chair. They provide added comfort due to extra padding and keep the user feeling well postured for hours.
If you are also searching for the best ergonomic chair and the big and tall high back executive chair, then below, we have created a carefully selected list of the best high back office chairs in 2022. Keep reading to find the most suited product for you.
1. ErgoChair Recline
Reclining ergonomic chairs is popular for workplaces and leisure time spent on gaming. An ergonomic chair with a high back and offers recline can be considered your safest place to work and a quick way to sneak in a nap. ErgoChair Recline is a famous high back recline chair that offers you complete adjustability while working.
With adjustable height, armrests, lumbar support and recline, ergo chair recline has a supportive mesh back with a foam seat for maximum support against the bottom. The chair has a weight capacity of 250 pounds and offers a 1-year warranty.
2. ErgoChair Plus
Fabric big & tall executive chairs are common, but not everyone likes to work against a dense fabric that makes them sweat during the hot hours. ErgoChair Plus is an effective high back office chair with lumbar support and a modern mesh design. This chair has a frameless construction that provides seamless movement, and the natural mobility keeps the user at ease at all times. The best thing about this chair is the Cooling naked mesh to keep you active and cool during hot days.
3. Space Seating AirGrid Chair
Since not everyone desires a thick leather or fabric back that makes noise each time you move, tall mesh chairs are also common. This is yet another product from our list's tall mesh chair category.
Flaunting a rather simple design, this chair can deceive most of us because of its simple looks. But as you start using it, you will find many hidden surprises waiting to be discovered. The chair is specifically made for tall people, and the seat pan ensures no one feels discomfort of any kind. The lumbar support pillow keeps your spine in shape and avoids the birth of any back pain, a common issue in workplaces.
4. OFM Essentials Leather Office Chairs
Amongst the many big and tall office chairs, the OFM essential leather big and tall executive chair takes the lead due to its regal and dominating design. This ergonomic office chair is a whole comfort show thanks to its sleek design and extensive leather cushioning. The chair has a black color which many workplaces consider the best for executive offices. Another great thing about this chair is that it keeps all the ergonomic points in the body well supported and relaxed against any external pressure.
5. Vinsetto Fabric Chair
Even the eyes are sore with the sight of plain black leather chairs in workplaces. Therefore, we are happy to find diversity with this Vinsetto fabric high back chair. With a whopping capacity of 500 pounds, this chair ensures that even the heaviest crowd can sit and relax while working.
Just like a massage chair, this big and tall executive chair hugs your pressure points and feels you safe and covered while you address the troubles of work. You can also enjoy the rocking action with back and forth movements, but the only limitation is that this chair doesn't allow you to recline, which is a deal-breaker for some.
6. Boss Office Chair
As the product name suggests, this chair is specifically made for bosses. The upright back will keep your spine active for the entire day. The extra cushioning behind the neck keeps the user comfortable. The armrests are also a great way to relax your elbows during those intense meetings, but a drawback is that these armrests are not adjustable at all.
Although you can adjust the seat recline and overall height of the chair, the five-wheel casters also ensure you have a sturdy base to rest on and can also move around freely.
7. Serta Big Office Chair
If you want to buy an ergonomic office chair but don't want to spend much money, the Serta big and tall executive office chair is a great choice. The Serta big and tall executive office chair can support up to 350 pounds. This ergonomic office chair is well-made and reasonably priced.
The Serta big and tall executive chair has a good sleek design with a very common high-back executive style that has grown more widespread in office chairs.
8. HonWave Tall Executive Chair
Not a fan of mesh or entirely fabric? If you need a blend of the aforementioned types, then here you are. The combination of big and tall properties plus adjustment options found only on high-end ergonomic chairs makes this chair stand out.
The Hon Wave chair also outclasses the other products because of its ability to support up to 450 pounds of weight. This means the chair is friendly amongst a wider crowd. Moreover, the tilt lock and tilt tension allow you to adjust and then fix into a comfortable standing position without the worry of falling off or losing your ergonomic position.
9. Flash Furniture Office Chair
The Flash Hercules is one of the industry's most popular big and tall chairs, with a weight capacity of 500 pounds. All due to the special deep front edge of the seat as well as the extra layer of smart and soft padding at the behind the head and back, it's also fairly priced for what you receive.
The construction of this big and tall executive chair is high quality PU leather with a touch of Meshed trim. While this synthetic leather is long-lasting, comfortable, and easy to maintain, it is not for everyone hence could be a deal breaker to some.
10. Sadie Big Office Chair
This chair is as simple as it looks. It doesn't have a loud design for people who love minimalism, but it lacks the comfort and durability of an ergonomic chair. The chair also provides active support for the spine, and with the seat adjustment, you can enjoy sitting in it for hours.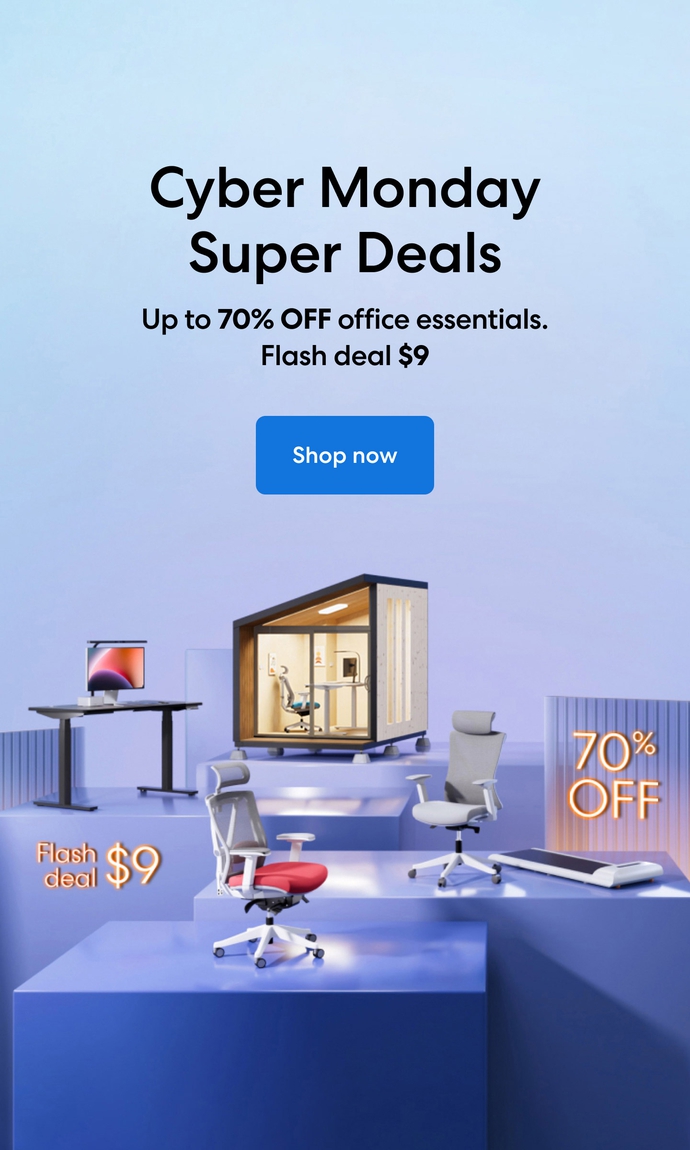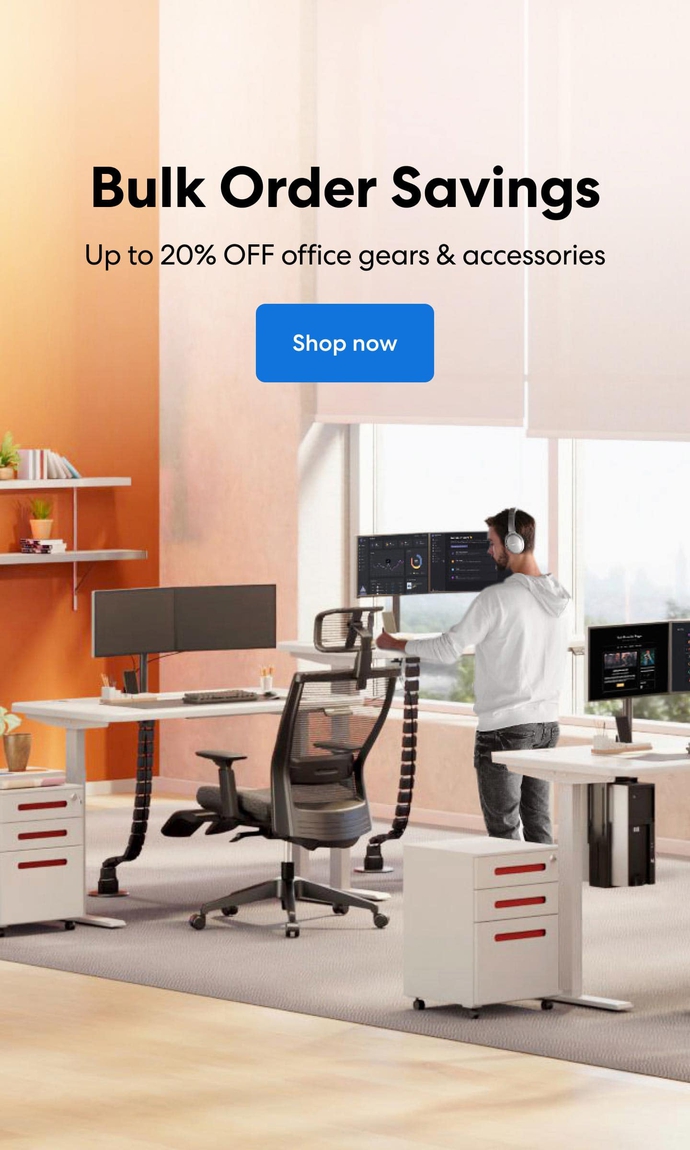 Subcribe newsletter and get $100 OFF.
Receive product updates, special offers, ergo tips, and inspiration form our team.