Smart Products
10 Fully Adjustable Computer Chairs for Ergonomic Sitting

Autonomous
|
Feb 2, 2022
1,270 Views
Practicing ergonomics in the workplace is extremely crucial if an organization wants its employees to be productive and inspired at all times. Workplace ergonomics solve several underlying issues that give rise to fatigue and mental tiredness in the employees. By implementing the principles of office ergonomics, you can improve the energy level of your employees by various degrees.
This means bringing small-scale concepts to extend them to bigger-scale factors. Multiple factors adjoin to deliver the final results, from choosing the right ergonomic chair to pairing it with an ergonomic computer desk and making a person feel flexible in the workplace.
Besides many things working at once, this article will cover the most basic aspect of an ergonomic workplace, which is the need for an adjustable computer chair. Yes, with an adjustable ergonomic chair, an organization can improve employees' productivity by 17%.
Best Adjustable Computer Desk Chairs in 2022
Whether you have a home office or a vast office space, a computer ergonomic chair should be on your checklist always. There is no other way to solve that poor posture and similar health issues, and with a fully adjustable work chair, you can reap the maximum benefits of healthy sitting. Below are some of the best ergonomic office chairs with full office adjustability.
1. ErgoChair Recline
ErgoChair Recline works on the basic principle of a smooth recline in the workplace. A reclining ergonomic chair offers many benefits, and most importantly, it keeps your body well settled and maintains your posture. ErgoChair Recline is also a fully adjustable computer chair with adjustable height level, seat tilt, seat locking mechanism, active lumbar support and a recline that goes back.
2. ErgoChair Pro
ErgoChair Pro is a common pick amongst users if you need a smooth desk chair with adjustable arms. This adjustable computer chair has a smooth recline option which can be tilted and locked in up to five different positions. The chair has flexible lumbar support to keep the spine active, and one of the best features is the woven mesh. The elastomeric mesh provides maximum airflow, keeping the user free from any strain or hints of sweat, even in hot weather.
3. ErgoChair Core
Our workplaces and workload subject us to a lot of undue stress. Hence you need a chair that is comfier than your couch. ErgoChair Core, at a glance, is one of the finest chairs in the market. It has all the features you desire in an ergonomic office chair.
This adjustable height computer chair offers you a contoured seat for the back, and breathable mesh is specially made for people who don't like their back against the rough or hot fabric. This computer ergonomic chair has a lumbar support pad to help you fight back pain and subsequent lower body aches.
4. ErgoChair Plus
ErgoChair Plus is a modern chair for modern workplaces. It is a lumbar support chair specially made for people who constantly complain about back pain. The chair has a weight capacity of 300 pounds, so it covers a diverse range of crowds. Another great feature of this adjustable computer chair is the adaptive spinal support that conforms to the spine's natural curvature; hence, you can sit on it for hours without getting tired.
5. Herman Miller Aeron Chair
Herman Miller ergonomic chair series results from smartly engineered office chairs that offer full adjustability to the user. These chairs from Herman miller help you contain a natural posture and align your body to the best possible sitting posture there is for you. One of the best things about the Herman Miller Aeron adjustable computer chair is you automatically obtain the right angle as you sit on it.
This chair also offers an adjustable height, adjustable lumbar support, a smooth seat tilt, seat recline and also adjustable armrests. The chair is definitely on a higher price side, but one is likely to use it for years to come, so it is a wise investment.
6. Modway Ergonomic Chair
If you want an ergonomic chair that does it all but doesn't cost you an arm or leg, this modway has a solution for you. This ergonomic chair offers you the ability to adjust all the features. You can maintain the seat height, play with the seat tilt, adjust the armrest, and lower the seat depth. The chair has a very simple design with a supportive mesh, so it goes well for people who love a touch of minimalism in their home offices or professional workspaces.
7. Steelcase Leap Fabric Chair
Steelcase has been manufacturing office chairs for a while now, and their products take the lead for various reasons. Like the other products with one or two distinctive features, this chair comes with a special characteristic known as the live back. The life back in an office chair is especially important for sensitive backs.
The concept behind the liveback in this chair is that whatever position you have maintained on the chair, the back cushion will adjust to provide you with the right comfort level. This means that the chair supports your back in more than one way. Moreover, it is also made from recyclable materials.
8. Serta Mid-Back Office Chair
Serta understands the importance of a comfortable job chair. They specialize in mattresses, so you can be sure they know their stuff when it comes to chairs. The Serta Back in Motion Health and Wellness office chair combines the benefits of a Serta mattress with an ergonomic chair design. It even comes with an ergo pillow to maximize your comfort. The adjustable computer chair is constructed of environmentally friendly bonded leather and features Active lumbar support.
9. Humanscale World Chair
This adjustable computer chair is all mesh, so it's all ventilated. With an upright ergonomic position, it keeps your body straight and healthy. The chair also allows you to reposition the armrest, seat height and seat tile. One of the best features of this chair is the user-friendliness you get with this product.
10. Herman Miller Butterfly Office Chair
With a butterfly-shaped backrest, this chair is both attractive and well-engineered. The backrest monitors even the tiniest movements. This indicates that the spine is constantly well supported.
The chair is exceptionally pleasant to sit in, even for long periods, thanks to its smooth reclining mechanism and a full range of motion in the armrests. It also has a great lumbar support system that can be adjusted to fit your height.
Video ads for product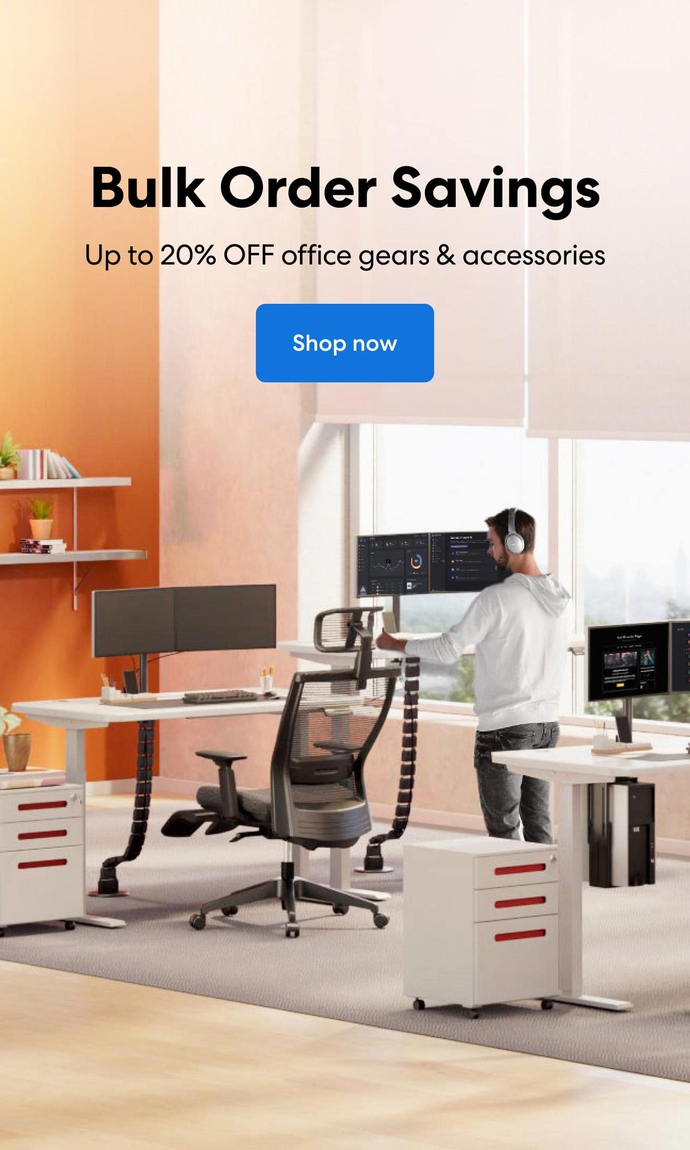 Subcribe newsletter and get $100 OFF.
Receive product updates, special offers, ergo tips, and inspiration form our team.