Workplace Inspiration
10 Inspirational Home Office Ceiling Lighting Ideas

Autonomous
|
May 30, 2022
1,649 Views
According to research, 85% of brain activity and perception of surroundings is dependent on the lighting. Sufficient lighting with proper illumination levels mounted at the right angle is highly responsible for reducing eye strain, minimizing fatigue, and keeping the mind fresh. All these things are integral to keeping an employee active and alert while working, so they don't lose efficiency because of poor or dim lighting.
While most office spaces realize the need for proper lighting for the mind to act and work to its best capacity, the lack of built-in lighting is common for home offices. Since our homes were not made to be our workplaces, one wouldn't have given much thought to the need for adequate office lighting ideas being followed at home. But with the increase of remote workers and constant work from home routine, it is important to implement the various Home office ceiling lighting ideas.
Thankfully there are many ways to improve home office lighting and build affordable work from office setup. In this article, we will cover some top modern home office ideas with work from home office setup so you can build one at your home.
Best Home Office Overhead Lighting Ideas
Here are some best home office ceiling lighting ideas. 
Fan with Light Kit
If you are building a home office setup from scratch, you must need many home office essentials that are important to keep the workflow going. While the long list adds to the cost of your home office setup, there are some smart ways to save money too. And we recommend this two-in-one Dagny LK with Light Kit option for your home office overhead lighting.
This two-in-one product will illuminate your home office and keep the heat in control because of the two tiny fans, which are equipped with sharp blades to prevent the best flow of air. The fan kit is available in more than eight attractive colors, and it has a 3000K Led light power.
Pendant Light for Ceiling
One of the best, modern and affordable home office ceiling lighting, the Alessandro Volta battery light is the solution to all of your dark home office problems. It fits the perfect definition of work from lighting because it is wireless, so you don't have to worry about not having a switch nearby. The lighting has a battery life of 12 to 36 hours, which can last you for a workday or two.
Another wonder of this pendant lamp is that it comes with a 5-year warranty, and you can also adjust the brightness level from fully bright to fully dimmable. The durable material withstands dirt and dust, and the polish remains intact for years to come.
LED strip lights
LED light strips may give a splash of color to your workspace. To generate a faint light, place them around the perimeter of your desk or along with the office ceiling. They are vibrant, easy on the eyes, and energy-efficient.
Flush Mount Light
If your home is considerably low heighted and pendant lights don't seem like the right option, flush mount lights are always a good choice. They hang centrally from the ceiling and can provide ample light right above your work desk.
Modern Shop Lights
Have you seen how big stores and shops present their products under bright lights, so they look one of a kind? Modern home offices live on the same idea. Office lights are a great way to brighten up a space. They are specially designed to give a high brightness level compared to other home lighting sources. 
Multi-Layered Lighting
When is it proven that productivity is enhanced through illumination in the home office, so why not let there be light? Use multiple ways to illuminate your home office in the best possible way. This means investing in lighting as well as considering another source of lights. The layering can freshen up your office space smartly from ceiling lights to allow the maximum amount of natural light.
This is also an efficient way to reduce cost because natural light can lower the time run of artificial lighting or even reduce the number of lights you need to turn on at the same time to minimize dimness.
Colorful Lights
No, we are not up for the idea of disco lights as they don't create the right environment for office workers. But using a pop of color on your lampshade or the color of your light frame is a good way to add a touch of fun and funkiness to your home office. Opt for smart colors that add freshness, like a pop of orange or red. If you love to live up to a theme, match the central light with a furniture item in your home offices, such as the color of the chair or desk.
Recessed Lighting
A common home office ceiling lighting idea for most workplace settings, both residential and commercial, is the recessed light. They might look tiny, but many of them can brighten up the space in a very smart manner. A recessed light may spread light and is ideal for a home office with limited natural light. It can disperse light evenly with the correct lighting scheme.

Adjustable Light
One thing with ceiling lights is that they are not adjustable, but with modern lights, they can be adjusted in height and the angle of glare. This feature is quite beneficial. If you do a range of jobs at your desk rather than working on a computer all day, search for a desk light with an adjustable arm so you can change the light source according to your needs. You can search for such lights in the office lighting section because they might cost slightly higher. However, you can always opt for the employee purchase program to get a big discount on home office items.
Track Lights
For office spaces that do need a lot of light than usual and have a large space to cover, there is no better answer than track lights. In recent years, track lighting has come a long way, with outstanding fixture designs. These home office ceiling lighting fixtures are mounted on a linear track with numerous headlights that can be adjusted anywhere along the track and at any angle.
Summary
You want your home office ceiling lighting ideas to work for you, no matter what task you're doing. The majority of your ambient light will come from your office ceiling lighting. Hence investing in the right source is a good decision if you want productive work from home. Let's start now!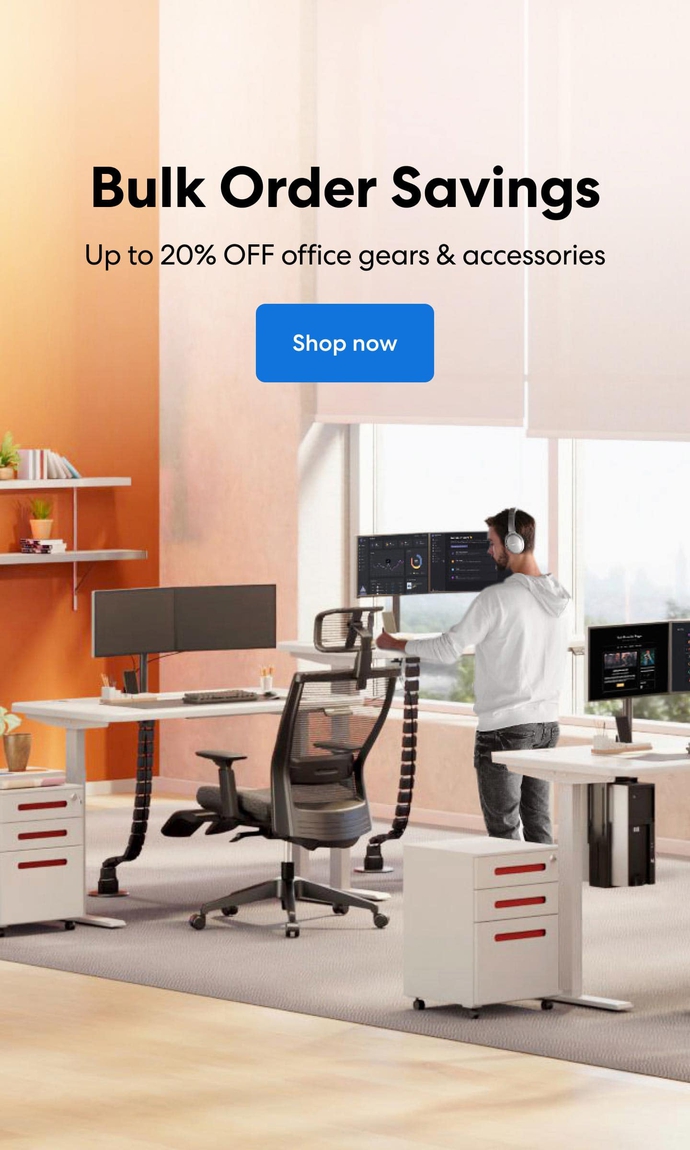 Subcribe newsletter and get $100 OFF.
Receive product updates, special offers, ergo tips, and inspiration form our team.