Unlike your station at an office, your home office can get extremely cluttered. As much as you vow to never mix business and pleasure, you might find several items, papers, stationery, and wires lying in a tangled mess on your desk. This is when home office organization comes in handy.
Home office organization is about more than just shelving units and pen stands, but also about office interior design. An organized and neat space makes it look nicer, and you'll be more motivated to get your work done. So, how to organize a home office efficiently? Here are ten home office organization ideas for you!
Wires? What Wires?
We cannot stress the importance of hiding your wires. With the number of cords that we have dangling from our laptops, phones, keyboards, and every other device, they can cause an immense amount of clutter. Even though they're important wires, keeping them out of sight can reduce the amount of clutter on your desk.
If there isn't a built-in slot, then you can use binder clips to keep everything together. There are even gadgets to keep them separated and out of sight. If there are cables that you're not immediately using, it is best to label them and store them away.
Labels, Labels, and More Labels
The easiest way to get organized is to label. Label your cabinets, files, desk drawers, boxes, whatever you find. By labeling everything you can get your hands on, you have a system that you need to follow.
Go one step further and organize your email inbox as well! Sure visible clutter on your work desk can be distracting and infuriating, but an overflowing email can sometimes be worse. Use as many folders to organize your inbox so that you never have to look for an important email again!
Constant Transparency
Do you ever find yourself surrounded by a mess because you were looking for one item? Maybe you opened up tons of boxes in the hopes that one of them would have the prized item only to find it in a completely different place? Well, the solution to this is transparent bins!
One of the best home office organization ideas is to use transparent bins to store things. It'll save you time and energy when looking for things and look great! It fits right into a modern office concept.
Hide The Baskets
If you're out of space in your desk drawers, then we have the ultimate solution for you. If you need a little additional space, then an under-shelf basket is perfect for you. Whether it is a standing desk or a regular wooden desk, you can attach a small under-shelf basket for items you want close by and out of sight.
An under-shelf basket can store important wires, pen drives, files, stationery, and more in this basket. If you want, you could even store snacks! It's the perfect solution for when you need that little extra storage space.
Receipt Receiver
If you have a problem storing receipts, then you'll love this idea. Even if you can't systematically organize your receipts, having them all in one place is useful, which is why having a mason jar for receipts is so convenient.
There are several ways to decorate this mason jar, and it isn't necessary to keep it on your desk. For your ease, you can even cut a slit in the middle of the lid so that you can simply 'cash in' your receipt. Not only will you have a cute mason jar, but you'll know where to look for the receipt you thought you lost.
Drawer Dividers
If you have multiple drawers filled to the brim with things, then drawer dividers are going to be your best friend. A cluttered drawer isn't a nice sight, and it makes finding things even harder. Simply labeling them isn't enough.
Drawer dividers are necessary for home office organization systems. They are available everywhere in multiple colors and customizable options. Keeping in mind the drawer's items, you can make the required sections and place your items in their section. This way, when you open a drawer, it is easy to find the item you need.
X Marks The Spot
The habit of throwing everything we have onto our desks is abominable. It helps pile up clutter until there's no space left for your actual work. Preventing such a disaster takes compromise. The chances of you not keeping things on your desk are few to none. So, you section off an area to place items. Consider it a landing pad of sorts.
You can mark this area with a tray or a bright bold 'X' to make your home office organization systems to help you keep the clutter contained. Whether it is files, notebooks, or snacks, they'll be contained in one space. At the end of the day, you'll only have one spot to organize!
Shelving Units
Home office organization starts and ends with shelving units. Nothing is better than a good, sturdy shelf. When you're thinking about how to organize your home office, then shelves will be your best friend. Whether they are floating shelves using the office's vertical space or double-sided bookshelf, they offer a large amount of storage space and a direct view.
When you have shelves, you aren't left floundering in boxes to find your missing items; they're all on display!
Put A Cork In It
Another great way of using up vertical space is installing a pegboard. These boards allow you to organize anything from papers to your stationery, all while being aesthetically pleasing. If you're not interested in a pegboard, then you can put up a functional wall calendar.
When it comes down to it, the vertical space in your home office ergonomic is your biggest resource. Even if you don't have the space for three cabinets, your wall has plenty of space for shelves, pegboards, wall calendars, and more.
Printing Station
If you have a printer, you understand the level of chaos it can create in your home office organization. The wires, the papers, the supplies take up space and tend to be all over the place. A solution is to create a printing station!
We cannot stress the usefulness of a printing station. Not only does it ensure that you have everything you need to get your printing work done in one spot, but it is very aesthetic. You can use shelving units to keep the printer, printer paper, and other supplies for the gadget. It is almost like your very own docking station!
Endnotes
Home office organization is a fun way to get your productivity levels up. Not only do you create a neater space for you to work in, but it is a way to make your home office ergonomic. Simply using a standing desk isn't enough to keep your office ergonomic.
Organization tools are a big part of the home office design trend, with new cabinets, bookshelves, desks, and more coming into the market. So, it is time for you to go wild!
Video ads for product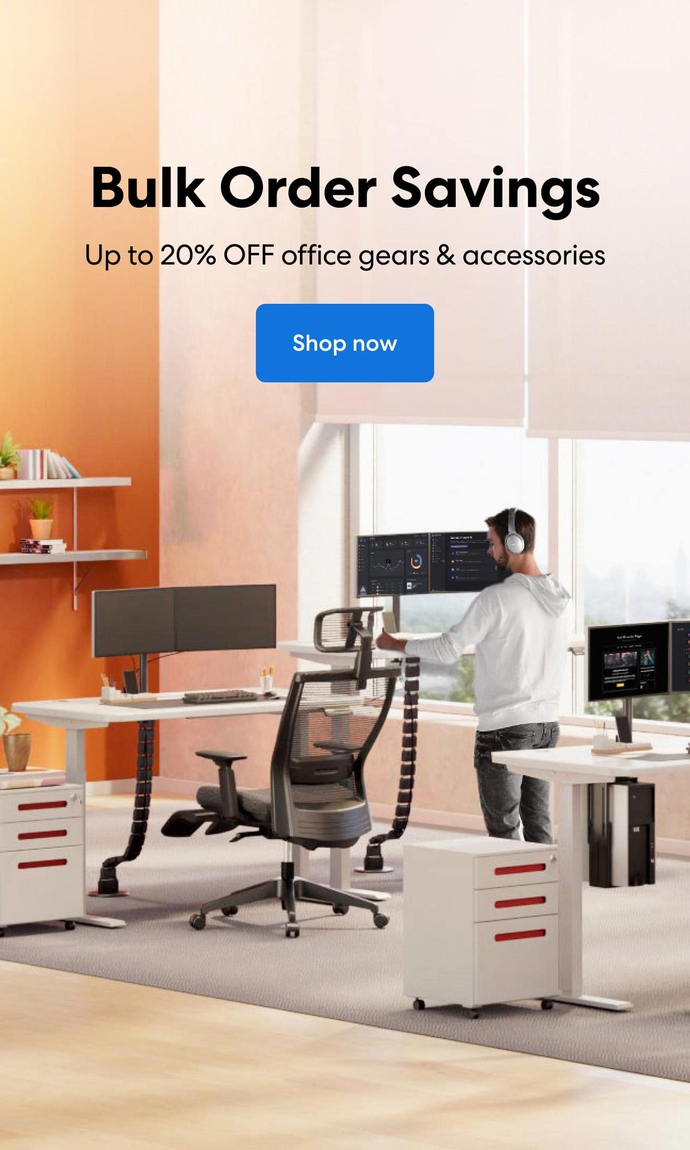 Subcribe newsletter and get $100 OFF.
Receive product updates, special offers, ergo tips, and inspiration form our team.