Is this the first time you have heard of a stability ball chair for the office? If yes, then you should know when it comes to office ergonomics, there are a variety of concepts that will downright astonish you at first. But since ergonomics is all about personal comfort, various things fit the final equation.
An ergonomic stability ball chair for office has proven to be a significant change in modern office spaces where diverse needs are catered. They are also used to add fun while working, so hybrid workplaces contain a few of these seating options. But are stability balls instead of office chairs a good choice for all day long, and should you discard your desk chair for the benefits of a stability ball chair?
There are various things you need to know when choosing between a computer chair and a stability ball. In this article, we will cover all the benefits of a stability ball and the demerits of choosing them over your reclining chair.
Pros and Cons of a Stability Ball Office Chair
Sitting on a stability ball vs. chair is a decision that can be ruled on based on the pros and cons of a stability ball chair and its role in promoting a proper desk posture.
Better Core Strength
Since you won't find a backrest and armrest in an office ball chair, your body is likely going to support your posture itself. This engages your back and abdomen muscles making you more vigilant while working and strengthening your core.
Improves Posture
While you can slouch no matter what you're sitting on, reclining on a chair is far more likely than slouching on an exercise ball. This is because maintaining your balance on an exercise ball necessitates good posture. On the other hand, slouching pulls your body weight forward, causing you to lose your footing and increasing the likelihood of the ball slipping out from beneath you.
Active Calorie Burning
Do you know how ergonomics is about staying fit and burning harmful calories? An office ball chair does that. In the same way that an ergonomic stool encourages micro-movements, an office ball chair also helps your body undergo constant tiny movements that are comfortable and burn extra calories.
Might be Exhausting
Do you also slouch back and tilt the reclining chair each time you complete a challenging task at work? Well, you cannot do that with an ergonomic ball chair. Since you can actively sit and make an effort to be on the ball at all times, it might get exhausting after a few hours of use.
Not Very Safe
Exercise balls should not be used at work because they may cause accidents. After all, it only takes a few seconds for a ball to roll away and cause a tripping hazard. Or sometimes, you might even forget there is no back support for you.
Best Stability Balance Balls for Office Chairs
However, if one needs to add the benefits of a balance ball in their daily routine, here are our best picks for an office ball.
1. Gaiam Ball Stool
This is the perfect combination of a balance ball and an ergonomic chair. The stool and its metal base hold the body weight and provide the proper support, while the top dome-shaped seat ensures your core is engaged in reaping the maximum benefits.
2. Classic Gaiam Balance Ball Chair
If you want to take core strength to another level than our previous choice, this stability ball chair for offices is a complete ball office chair minus the hazard of ball rolling off. The chair frame ensures the ball remains in its place, and the tiny back support is also there to keep your shoulders and back well supported.
3. Backless Balance Chair Gaiam
This backless balance chair by Gaiam is a balance ball mounted on the top of the frame with no back support. This ensures your back remains straight and your muscles, as well as core, are engaged. However, this chair might not be suitable for people who suffer from back pain.
4. Probody Pilates Ball Chair
The Probody Pilates stability ball chair for offices is a typical office ball chair with no support or frame. Instead, you'll sit on a washable fabric cover in three neutral tones instead of exposed plastic vinyl. The inner ball is composed of phthalate-free, anti-burst material, and the cover's base has silicone tabs to keep it from slipping.
5. Vivora Luna Ball Chair
Suitable for adults and teenagers, this ball chair is soft yet stable against your body and keeps you working in a relaxed, comfortable posture. The washable fabric keeps it fresh-looking, and the ball is one of the best for people looking to lose some extra calories.
6. Trideer Exercise Ball
This exercise ball mounted on the top of a tube is suitable for your office work and home gym setup. The ball is constructed of anti-slip material for maximum support and durability.
7. PharmeDoc Balance Chair
The Pharmedoc balance chair is made ergonomically to strengthen your core while working. This ball is mounted on the top of the frame with back support and wheels at the base for easy movement. The ball will substantially improve your posture while working.
8. Zenergy Ball Chair
This Zenergy stability ball chair for offices keeps your body moving while keeping your workspace looking stylish. The yoga ball at the center of the design is permanently wrapped with a basic, comfy mesh that comes in various colors.
9. Enova Starfish Ball Chair
The Enovi Starfish Balance Ball Chair is a terrific option for anyone searching for something that is both entertaining and attractive. The anti-burst ball is encased in a soft material that wraps around the ball and the four upright legs. This cloth is also detachable and machine washable, which is a plus.
10. Isokinetic Ball Chair
The Isokinetic adjustable exercise ball chair has a metal frame and adjustable back support. This balance ball chair may be suitable for you if you're seeking a chair that helps you align your back in an upright position while still providing some support.
Frequently Asked Questions
Do Ball Chairs Work?
Stability ball chair for offices work sto improve posture and engage the core while working, but long-term use can cause back problems and discomfort when used for hours at a time.
Are Ball Chairs Good for You?
Yes, ball chairs are good for you but may increase the chances of developing lower back pain and posture issues if not used properly.
How Big Should a Stability Ball Be?
The size of the stability ball depends on your height and weight. Taller people require a stability ball with a larger circumference.
Video ads for product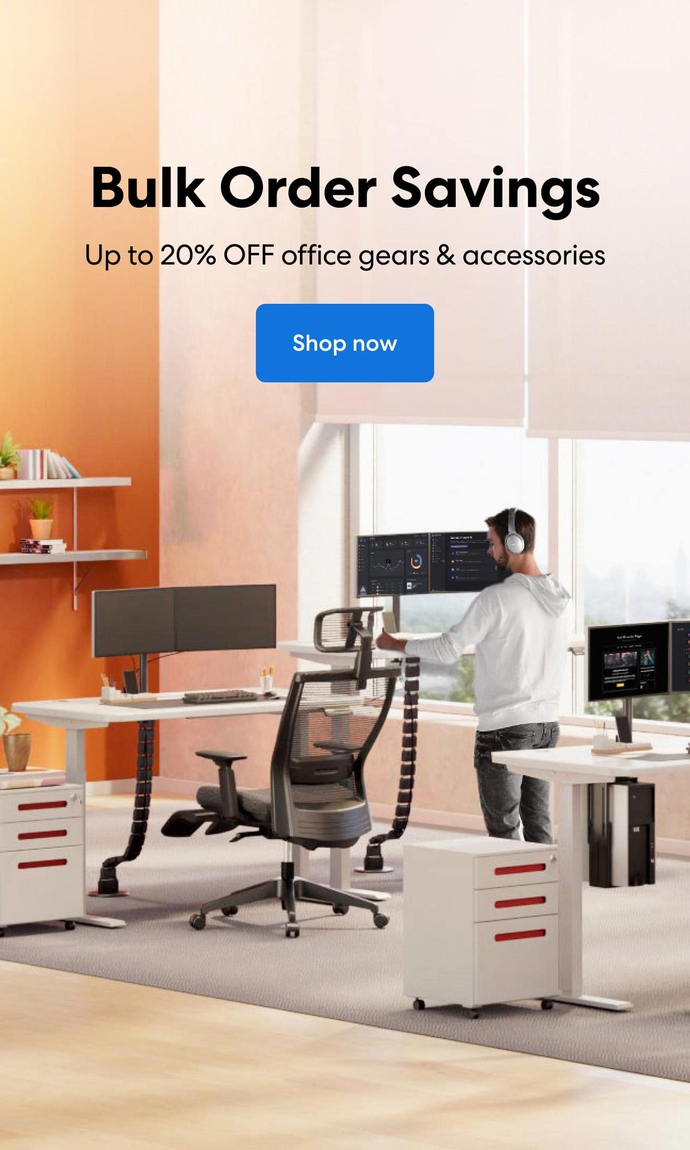 Subcribe newsletter and get $100 OFF.
Receive product updates, special offers, ergo tips, and inspiration form our team.